Canterbury City boss Ben Smith: I've said all along it is a sleeping giant. It was a Southern League club at one point. We've just got to make sure off the pitch now we move the club forward, same as we're doing on the pitch
Sunday 24th March 2019
It was a case of agony and ecstasy at Salters Lane in Faversham yesterday.


Cray Valley booked their place at Wembley Stadium in The Buildbase FA Vase Final on Sunday 19 May 2019 after beating their Southern Counties East Football League Premier Division rivals Canterbury City.

Leading 1-0 from the first leg in Eltham last Sunday, the Millers doubled their aggregate lead through Gavin Tomlin's eight-yard finish after Jack Delo blocked Danny Smith's effort, with 18 minutes of a tense and nervy game.

Canterbury City centre-half Gary Sayer scored a rare goal at the death with an overhead kick following Ryan Cooper's trademark long throw but it will be the Millers that will play Northwich Victoria or Chertsey Town underneath the arch.

The Second Leg was watched by a crowd of 1,274, which proves the City of Canterbury can have a football club in its own back yard. Canterbury City Council take note!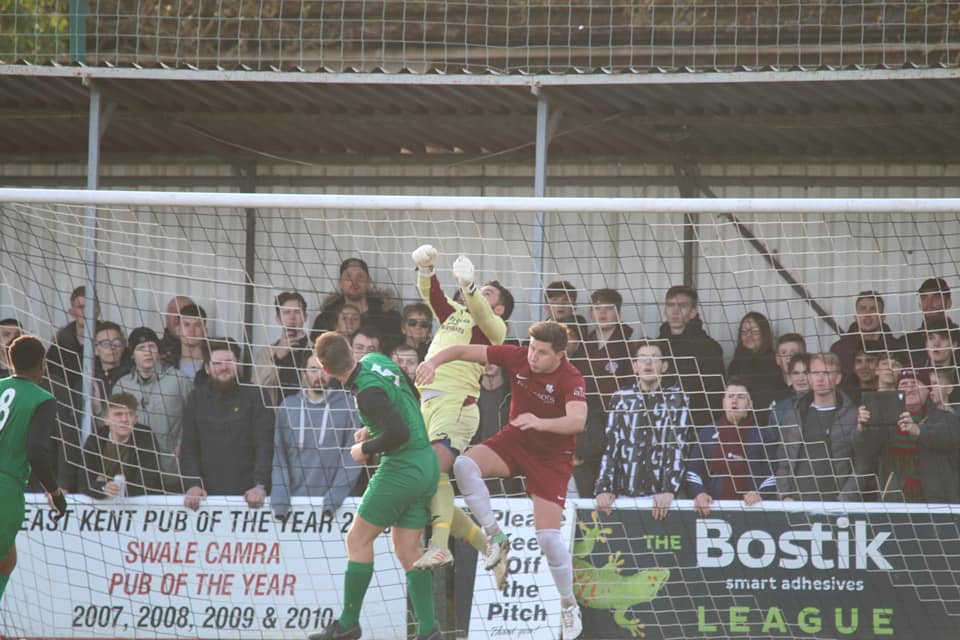 The fans turned out in force on Canterbury City's biggest day in their history, but they missed out on a trip to Wembley after losing 2-1 on aggregate to their Southern Counties East Football League Premier Division rivals Cray Valley.
Photo: Allen Hollands

"It just shows you the potential of the football club, it really does," said devastated Canterbury City manager Ben Smith.

"We had people slating the club online about crowds. Well we're nomads and we've had that crowd. I'd like to know another club that are not in their own ground at our level and Bostik League level and they've had the planning permission turned down.

"The club is on its backside and we've had that crowd. I'd love someone to tell me if another club has done that so it shows you the potential of the football club.

"I've said all along it is a sleeping giant. It was a Southern League club at one point. We've just got to make sure off the pitch now we move the club forward, same as we're doing on the pitch."

Canterbury City are now in eleventh-place in the table with 41 points from 27 games and travel to second-bottom side Rusthall on Wednesday night.

"Yes, we're inconsistent in the league and we're a midtable side but we've not had this squad all season. It feels like something special is moving forward here," said Smith.

"We've just got to get this out of our system now, it's going to take time. It's disappointing but one thing I will say, we've got big characters in this dressing room.

"We didn't get this far in the Vase because we're the best side in the Vase or one of the better sides in the Vase. We've got some b*****ks in the dressing room, that's how we got this far. What we have to do is add a bit of quality.

"We've got to pick the boys up. I couldn't give a toss really but for the integrity of the league we'll go there and we'll do our best, same as we always do.

"We have to look at the rest of the season in a couple of ways. We've got to build for next season, also enjoy it.

"We've had a lot of games with a lot of pressure. I can say we've got no pressure on us until I'm blue in the face. Of course, there's pressure. In these Vase games there was pressure because there was something at stake.

"My players wanted it so much and that got us to a Semi-Final, that will and desire. I think we wanted it more than any of the sides we've played, even Cray but the difference to Cray and the likes of Biggleswade, they've just got that little bit of extra quality and fair play to them. Kevin Watson is a top bloke so I want them to go and win it."

Kevin Watson, meanwhile, resumes their title bid with a visit from fourteenth-placed Bearsted on Wednesday night.

This is the most exciting title race at this level for a number of years as a six-horse race is now a four-horse race after Beckenham Town and Sheppey United both fell at crucial times.

Corinthian lead the way with 72 points from 30 out of 38 games played and they are followed by Fisher on 71 points from 32 games. Chatham Town are in third with 68 points on the board from 30 games, while Cray Valley are in fourth-place with 67 points from 29 games.

Cray Valley have yet tasted being at the top of the table and must beat Bearsted at Middle Park Avenue on Wednesday night.

Firstly, Watson has to scrape his players off the ceiling following last night's celebrations.

"Honestly, it won't be difficult to do," he said.

"To get to this stage I think they've had a good mentality to get to this stage and still be in a strong position in the league. They've had to be consistent so I'll be ever so disappointed if we take the foot of the gas on Wednesday. They should go into it full of confidence but Bearsted are hard opponents. We had a tough game against them last time."