Cray Valley (Paper Mills) 1-0 Canterbury City - If we're not better next week we won't progress, admits Cray Valley boss Kevin Watson
Sunday 17th March 2019
Cray Valley (Paper Mills)

1 – 0

Canterbury City

Location
Badgers Sports Ground, Middle Park Avenue, Eltham, London SE9 5HT
Kickoff
17/03/2019 15:00
CRAY VALLEY (PAPER MILLS) 1-0 CANTERBURY CITY
The Buildbase FA Vase Semi-Final First Leg
Sunday 17 March 2019
Stephen McCartney reports from Middle Park Avenue

CRAY VALLEY (Paper Mills) manager Kevin Watson says he will issue £5 on the spot fines if any of his players mention the word Wembley within the dressing room.
A record crowd of 663 flocked through the turnstiles at Middle Park Avenue to watch this FA Buildbase FA Vase Semi-Final First Leg, which Cray Valley take a slender 1-0 lead to Salters Lane in Faversham next Saturday, 23 March (15:00), courtesy of right-wing-back Ryan Flack's eighth goal of the season.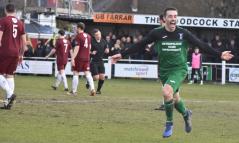 Cray Valley's Ryan Flack celebrates the goal that gives Kevin Watson's side a slender one-goal advantage to take into the Second Leg next Saturday.
Photo: Alan Coomes

Referee Josh Smith – who refereed the Vanarama National League 3-3 draw between Bromley and Chesterfield last week – had a decent game.

Cray Valley went into this game in third-place in the Southern Counties East Football League Premier Division table, having collected 67 points from 29 games and are battling it out for the title against Corinthian (72 points); Fisher (68 points) and Chatham Town (65 points).

The Millers have beaten Sutton Athletic (2-1); Hailsham Town (2-0); St Panteleimon (3-1, after a 1-1 abandonment); Badshot Lea (7-0); Sheppey United (4-0); Baffins Milton Rovers (3-1); Abbey Rangers (3-1) and Willand Rovers (3-1).

Canterbury City have saved it for The FA Vase this season as they arrived in Eltham in tenth-place in the table with 41 points from their 27 league outings.

Canterbury City have beaten Langney Wanderers (2-0); AFC Varndeanians (2-0); Saltdean United (2-1); Corinthian (4-2, after extra-time); Southall (1-0, after extra-time); Newport Pagnell Town (3-2); Leicester Nirvana (2-1) and Biggleswade (2-1).

"I thought we possibly don't deserve to be 1-0 up at this stage. I thought a draw would've been a fair result," admitted Watson, whose side are favourites to progress through and have now extended their winning run to seven games.

"I thought we were quite poor to be honest with you, which I've re-laid to the players. It seems a bit negative but it's a reality. You have to look at the performance. We have to improve next week to go through ultimately.

"I take absolutely nothing for granted. I need to calm down a little bit because I'm a little bit frustrated and assess things and talk to a couple of players to try to find out way and put things right for next week.

"I'm frustrated because we can be so much better than that. Some of those players are so much better than that and need to be better and they want to be better."

Canterbury City manager Ben Smith knows his side will have to end Andy Walker's run of five clean sheets on the spin if they are to keep their Wembley dream alive.

"I'm happy than I was at the start. Yes, we're 1-0 down but we're massive underdogs and we've had the better chances today. If that doesn't give our players belief that they're beatable then I don't know what will," said Smith.

"I just said to the players there's no pressure on you, not at all. You've done the club proud by surpassing everyone's expectations. You've put the club on the map locally with the council etc. We're now getting interest from supporters coming up here etc so you've done your bit for the club. This is for you now, if you get to Wembley. It's not for the club, it's not for the supporters, yes, they'll have a nice day out bit it's for you as players.

"I'm proud of everyone of them today. Yes, we're 1-0 down but everyone here could see we were the ones that had the chances today. Will we rue those chances? Yes, we might do but I'm more confident we can create some more chances at our place."

Cray Valley are thankful to an outstanding performance from their 37-year-old goalkeeper Walker, who made a string of fine saves during the game despite pulling his left hamstring inside the opening 32 seconds.

Walker was treated by Courtney Dobson and was called into making a comfortable save after only 182 seconds.

Canterbury City's holding midfielder Phil Starkey played the ball into Adam Woollcott and the winger hit a right-footed shot from a central position from 25-yards, which was comfortably caught by Walker above his head.

"He kept us in the game through didn't he? To be fair to Walks at the end," said Watson.

"That just shows his character playing on like that but it was a bit of a concern because we didn't have a goalkeeper on the bench.

"He dealt with that (shot) quite well so that was a measure of, ok he has hurt his hamstring but if he can still do those bits and pieces, which he did."

Smith added: "Good strike, good save. After his injury you want to get him moving around but we couldn't quite do that."

With Cray Valley playing with three centre-halves (Cem Tumkaya, Ashley Sains and Brad Potter) and two wing-backs in Flack (right) and Danny Smith (left), most of the first half was played in the middle of the park.

Canterbury City got their tactics spot on. Their midfield diamond offered protection ahead of their four-man defence, which was well marshalled by Luke Wheatley and Ben Gorham.

Cray Valley took 20 minutes to create an opening when Paul Semakula played the ball out to Flack on the right. The wing-back loves attacking but doesn't enjoy getting back to defend and he cut inside and allowed striker Gavin Tomlin to drop deep and deliver a cross which was flicked wide by Lisbie at the near post.

Canterbury City striker Dean Grant was keen to run both channels but he committed five of his side's 25 fouls during the game.

Grant was pulled back by Potter in the 26th minute but Woollcott drilled the resulting free-kick into the wall and he had a second bite of the cherry from 35-yards, which flew into Walker's midriff for a comfortable save.

Canterbury City went close to smashing the stalemate in the 33rd minute.

Ryan Cooper's long throw was headed back out to him by Flack at the near post and Cooper lofted the ball back into the box and Grant guided his header past the far post from seven-yards.

Smith said: "A good header from him. He climbed, rose well, a strong header just wide of the post. It was looking promising for us really."

Watson added: "I don't think either team had loads in the first half and there was far more for both teams in the second half. The game was probably in the mid-third a lot of the time in the first half."

Canterbury City pressed in midfield with Ollie Lee and he drove forward with the ball, skipping past three defenders but he slipped at the vital time and his right-footed shot rolled into Walker's hands.

Smith said: "That was a good chance there. Ollie has done really well there. He's nipped through a couple of players and you're thinking he's someone that can strike it well. He's just lost his footing, which is disappointing. It was looking good for us really."

Cray Valley almost snatched the lead following their second corner of the game.

Anthony Edgar swung in the ball from the left and Sains's downward header dropped inside the danger area and Lisbie drove his shot towards goal but Mobalaji Dawodu threw his body on the line to make a vital block.

Canterbury City squandered the best chance of the half on the stroke of half-time.

Dan Lawrence flicked the ball on, Grant dummied the ball and let it run through for Dawodu, who stroked a right-footed half-volley towards goal from 10-yards and a tight angle. Walker dived swiftly to his left to push the ball behind for a corner.

Smith said: "Really quick thinking from us. Good chance, tight angle and a keeper of that quality is going to save that isn't he?"

Watson added: "I thought he (Dawodu) was a bit of a threat, their two forwards were a bit of a handful. We knew that though. Dean Grant is a good player and I don't think our back players played particularly well today."

This was not a typical performance from Cray Valley, who appeared to freeze in front of their largest ever crowd.

"It's hard to get into their heads and find out way," admitted Watson.

"Some of them looked a little bit nervy. The word I'd use is slick. We wasn't slick.

"Yes, the (wet and windy) conditions were difficult – I get that – they were difficult for both teams. It settled down in the second half. Ironically, we was against the wind in the first half and then we came out second half and there's no wind!"

Both managers were asked their thoughts at the break, following a tight opening half.

Watson said: "Frustrating! We just needed to control the game more. We needed to get it down and play more. It was a little bit better in the second half but nowhere near.

"They've set their levels, those players. We try to set levels but they've shown they can be far better than that.

"To some extent, the biggest game of the season and they were no where near where they can play so that's a bit frustrating. You would presume bigger games you can play better in but football doesn't work like that. Sometimes the occasion, the performance doesn't meet that expectation."

Smith added: "Well done! More of the same again. It's given you more belief surely? They didn't overawe us. I thought our tactics were spot on. It's easy to say that, I'm the manager. The tactics we employed, I think they worked to a treat.

"I can't remember a shot (from them) if I'm honest. I don't know how many sides they've played this year who have had a half of football and they haven't had a shot off and we've done that so I think fair play to the management side."

Cray Valley created an opening after only 86 seconds into the second half when Edgar, Semakula and Lisbie linked up inside the final third and Edgar cut inside and curled a deflected shot around the far post and behind for a corner from the edge of the box.

Cray Valley grabbed the only goal of the first leg with nine minutes and 4 seconds on the clock.

Cray Valley built up patiently and Samakula played the ball out to the right to an unmarked Flack. He easily cut inside and reached the centre of the pitch before stroking his left-footed shot across unsighted keeper Jack Delo from 18-yards, the ball nestling into the bottom right-hand corner after the keeper dived too late to his left to prevent the winning goal.

"Technically, he's a very good player. He's not been in the side but he's kept going," said Watson.

"He's scored a couple of goals like this from either side this season so I'm pleased for him. It wasn't a spectacular strike but it was a sensible strike because he's got it low. In these conditions it's skipping off the floor and we needed that!"

Smith said: "It's a soft goal to be honest. If you look at the chances we've had and that's the goal that goes in, it's like, that's disappointing.

"I didn't think we had enough pressure on the ball. There's a lot of players in the way so Delo's wrong-footed in that goal. He can't do a lot with it, I didn't think he could see it but if he did see it, it's a bit too late anyway."

When asked his thoughts at going a goal down, Smith replied: "Stay in the game! We're on the ropes. It's like a boxer, he's got knocked down, he's just got up and you've got a minute or so to hold on to the end of the round haven't you and we had a 10 minute rocky spell but we hung in there. We needed to make some changes, get some fresh legs on and we did that and we stayed in the game."

Edgar swung in a deep free-kick from the left and Sains came up from the back to plant a downward header towards the bottom corner, which was held on the line by Delo, who decided to stay on his line, rather than try to collect the cross.

Canterbury City were guilty of a glaring miss in the 65th minute.

Lawrence did well to hook the ball down the line and sat on his backside to watch what happened when Grant latched onto the pass and cut into the penalty area.

Grant reached the by-line and put the ball on a plate for Dawodu. Walker was on his backside at his near post but the Canterbury City striker slid in to poke the ball straight at the keeper from four-yards out at the near post.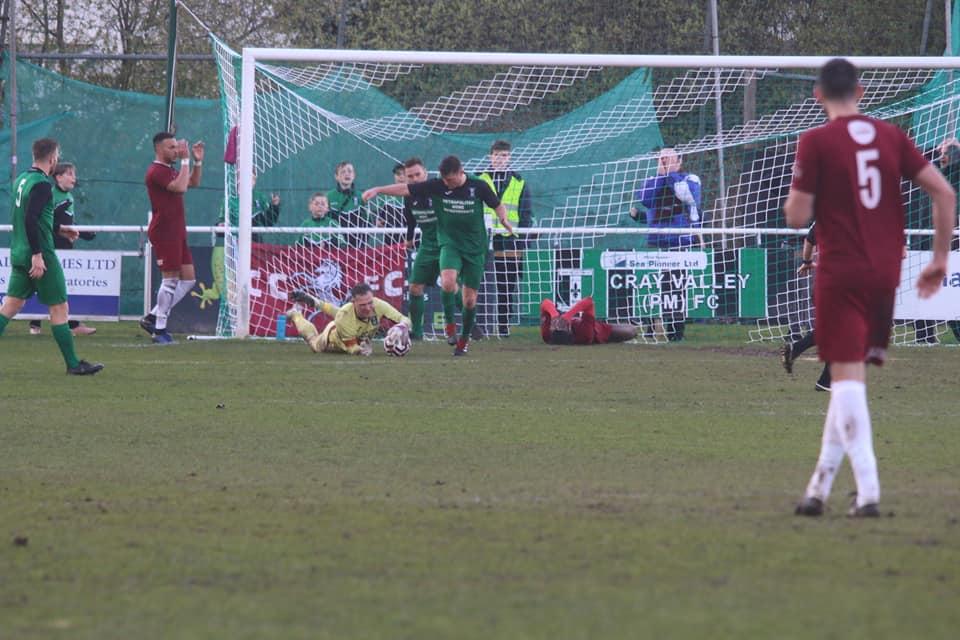 DESPAIR: Mobalaji Dawodu (grounded) cannot beleive he failed to slide the ball past the outstanding Andy Walker.
Photo: Allen Hollands

Smith admitted: "He's got to score but he's lost his footing! He's run himself into the ground for me today Bola. He's been excellent since he's been here.

"I said before the game when we get chances do we take them? They've got quality so you know they will take it. We didn't quite do it but it's great that we're getting the chances."

Watson said: "I think Walks have done well in all those ones we're going to talk about.

"The guy's the captain. I've said in there I don't pick individuals out but whether you consider the injury or not, he's the reason why we're going into the second leg 1-0 up."

Canterbury City keeper Delo was called into making a great double save to prevent Cray Valley striker Gavin Tomlin.

Potter's long ball was flicked on by Lisbie and Tomlin skipped past Cooper and once inside the box stroked a left-footed shot, which was blocked by Delo, low to his right. The keeper blocked Tomlin's second bite of the cherry and after flicking the ball with his outstretched arm whilst on the deck his defenders got back to clear their lines.

"I thought Paul Semakula was good for us today. I thought he was one of them whom doesn't seem to get fazed by it. I thought the others were below par. I thought the two up front were ok but were still below par," added Watson.

Former Charlton Athletic star striker Lisbie, 40, didn't have his best game in a green Cray Valley shirt.

"As a forward you rely on service and things like that. I wouldn't say (Lisbie) played poorly but he knows himself. It's not a personal thing when you give him feedback. He's always said if he's performing at the top of his game week-in-week-out, he'd play a lot higher levels and that's the reality of it. It is what it is. It's frustrating."

Smith added: "Delo done really, really well there. He was on the floor. He's got himself up, he's got a very good hand to it. He's defining his years there. A good save, what I liked to see from that was the recovery of the defenders getting round us and helping him out there. It was excellent defending from us."

Flack released Tomlin down the right channel and his inviting low cross was hit on the turn by Edgar, who nipped in front of Cooper at the near post, but watched his right-footed shot sail just over the top of the right-hand post from 12-yards.

Canterbury City set up to make it as difficult for Cray Valley as they could to keep themselves in the tie going back home next Saturday – but they were denied a deserved equaliser by the outstanding Walker.

Starkey played the ball out to Lawrence, who cut in and crossed the ball into the box and Grant's left-footed shot on the turn from 16-yards, bounced into Walker's hands for a comfortable save in the 84th minute.

But Walker's last two saves inside stoppage time were simply top drawer.

Left-back Gary Sayer floated a cross into the Cray Valley box, the ball was knocked down by a rising Dawodu and the bouncing ball played in Grant but Walker rushed off his line and made a brave save to his right to stop him from scoring from eight-yards.

"He's got to score, he knows that, I know it," said Smith, who believes Grant will bounce back to score a vital goal next weekend.

"But he's got good character Granty. He'll miss a few, I know he'll come back and put himself out there again.

"I can't fault the work-rate of the front two. We want Dean Grant to score goals but his work rate is phenomenal. His movement caused them a lot of problems. They didn't like playing against him. It brings us some hope that's for sure."

Watson said of Grant, "He was a handful, good play by them to be fair. It was good play. We were naïve, getting sucked in, ball watching. Not enough organisation."

Canterbury City kept plugging away and their final chance simply fell to the wrong man, a right-back renowned for his long throws.

Cooper linked up well with Starkey inside the left-channel and Starkey played a lovely short pass in behind Tumkaya to put Cooper in on goal but his weak right-footed angled shot was comfortably saved by Walker at his near post.

"I fancied him to score as well, he did at Glebe when he cut in from there. I thought Ryan Cooper was outstanding today. I thought he was very good for us," added Smith.

So it's all to play for at Salters Lane, Faversham next Saturday to see which Kent club will make it through to the Wembley Stadium Final on Sunday, 19 May.

The winners will face Northwich Victoria (Cheshire) or Chertsey Town (Surrey). Yesterday's game was postponed due to a waterlogged pitch so Chertsey travel north next Saturday, before holding home advantage on 30 March.

"They will feel aggrieved and Ben will go they deserved more out of the game – absolutely they did and I'm honest with that," said Watson.

"We are a team that have learnt to do the ugly part of the game, which I think earlier on in the season we weren't very good at so I do think we've developed into a team that can be able to do that.

"Today was an off-day and if you can end up having an off-day and winning 1-0 – I wouldn't say it was luck. There was no luck about the goal that separates the two teams.

"If we're not better next week, we won't progress. We need to go and win the game regardless of the score. We will go to win the game. They came here today to win and we will go there to win. Ben will do the same.

"There's no other mentality for me. I don't think at this level we can afford that luxury at 1-0. You can't set-up the game to draw the game. We've never set up a game to play like that anyway so it would be unfamiliar for the players but we will need to be better."

When asked about leading the club out at Wembley Stadium in May, Watson replied: "It's banned! It's a £5 fine if you mention the word amongst the lads in the dressing room.

"You can't because why tempt somebody with something that may never be. I think that's unfair to do that."

Praising their crowd for coming out on such a wet and windy miserable Sunday, Watson said: "Come back because we can be better than that! Come and give us another chance. I imagine a lot of people came here and through what's all the fuss about? How have they got to The FA Vase Semi-Final? That will be what's on a lot of people's minds. I can understand that and I agree with them based on today because we've got here because we've been better than that and hopefully we'll be better next week."

Looking ahead to Canterbury City's biggest ever home game next Saturday, Smith said; "We can look at it now and go oh no we're 1-0 down. There's no doom and gloom from our camp.

"We've got them back home. Our football club can have a big day that's the first thing and we've got absolutely nothing to lose now.

"We're good at home. I know they're good away. They're probably better away than they are at home but we're good at home and no matter what happens we're going to get a good crowd down there and again we're talking about putting Canterbury City on the football map.

"No ones ever spoken about Wembley from my football club. In the dressing room we've never had a player talk about it. It's only the journalists that talk about Wembley, we've never spoken about it at all.

"Our main aim is to see how far we can go. It's been an amazing journey so far and the beset thing we get out of it, even if we did do the impossible and get there, the best thing out of it is our football club is on the map again.

"We're a football club that could go into extinction but this has come at a very important time for our club. It seems like every month it's the club's biggest game so we're buoyed by that, we're upbeat and we'll try to take it to them."

One of these Kent clubs will make it to Wembley Stadium and we'll find out by 18:00 next Saturday which one of these clubs will grace the hallowed turf at the iconic stadium.

Watson said: "This competition is for the players. I don't get to play at Wembley do I? Listen, if my knees were alright, I would, don't worry about that, but I don't get to play there. What an opportunity for them to play at Wembley. I will never, never will play at Wembley so it's all about them."

Smith added: "It will be amazing for the football club. It's not about me and I said to the players before hand it's not so much about the club or the supporters, it's about them having a day they'll never forget! See you next week!"

Cray Valley (Paper Mills): Andy Walker, Ryan Flack, Danny Smith, Ashley Sains, Brad Potter, Cem Tumkaya, Anthony Edgar, Josh James, Gavin Tomlin, Kevin Lisbie, Paul Semakula.
Subs: Francis Babalola, Denzel Gayle, Tyler Myers, Calum Willock, Liam Hickey

Goal: Ryan Flack 55

Booked: Anthony Edgar 57, Kevin Lisbie 67

Canterbury City: Jack Delo, Ryan Cooper, Gary Sayer, Phil Starkey, Luke Wheatley, Ben Gorham, Adam Woollcott (Renford Tenyue 68), Ollie Lee (James Turner 83), Dean Grant, Mobalaji Dawodu, Dan Lawrence.
Subs: Rob Lawrence, Josh Froggatt, Kyron Lightfoot

Booked: Adam Woollcott 66, Ben Gorham 79

Attendance: 663
Referee: Mr Josh Smith (Lincolnshire)
Assistants: Mr Paul Evans (Northamptonshire) & Mr Gary Jerden (Essex)
Fourth Official: Mr Steven Hughes (Sussex)