Canterbury City 1-1 Cray Valley (Paper Mills) - It's incredible that these players are going to get to play at Wembley, says Cray Valley boss Kevin Watson
Saturday 23rd March 2019
Canterbury City

1 – 1

Cray Valley (Paper Mills)

Location
Salters Lane, Faversham, Kent ME13 8ND
Kickoff
23/03/2019 15:00
CANTERBURY CITY 1-1 CRAY VALLEY (PAPER MILLS)
(Cray Valley (Paper Mills) win 2-1 on aggregate)
The Buildbase FA Vase Semi-Final Second Leg
Saturday 23 March 2019
Stephen McCartney reports from Salters Lane

CRAY VALLEY (Paper Mills) manager Kevin Watson says it's a once in a lifetime moment for his players to play at Wembley Stadium in The Buildbase FA Vase Final.
The Millers will play Northwich Victoria or Chertsey Town at the iconic stadium on Sunday 19 May 2019 after edging two tight games 2-1 on aggregate.

Ryan Flack sealed a 1-0 win in Eltham last Sunday in the Semi-Final First Leg and they were grateful to goalkeeper Andy Walker, 37, for pulling off a string of fine saves despite suffering a hamstring injury inside the opening 30 seconds.

A crowd of 1,274 flocked through the turnstiles at Salters Lane in Faversham today and witnessed another tight, cagey, nervy affair.

Cray Valley edged into a 2-0 aggregate lead with 18 minutes of this battle remaining through Gavin Tomlin's tenth goal for the club.

Canterbury City scored right at the death through centre-half Gary Sayer but it was the favourites that progressed through for a date at Wembley Stadium.

Northwich Victoria will hold home advantage tomorrow, before Chertsey Town's Alwyns Lane stages the winner-takes-all clash next Saturday, 30 March. The Surrey side are expected to go through.

"It's probably not sunk in yet to be honest. Great celebrations in the dressing room, I don't think it's sunk in yet. It will take a bit of time," said Watson after his side extended their winning run to eight games.

"We've got a league game (at home to Bearsted) on Wednesday that we've got to prepare for now.

"I thought we started really well for about the first eight minutes, put them under pressure and we sort of took our foot of the gas a little bit. We didn't create enough clear-cut opportunities.

"The game was spoilt a little bit with a lot of free-kicks and things like that in the first half but we stuck at it.

"We were probably better in the final third in the second half at times, kept possession a little bit better but they were going to throw everything at it especially when we've scored the goal, they were throwing a lot at it."

You felt for Canterbury City manager Ben Smith, not only did his side give their all and lost, he had to clean up the dressing rooms after the game.

"It's heart-breaking isn't it, devastating for everyone, more so for the players as I've said before, I wouldn't have been able to kick a ball at Wembley, but the players would have and looking at it over the two legs, it is a huge chance that's gone begging really," agonised Smith.

"As much as I'm respectful to Cray and they are a good side but I do think they were there for the taking over the two legs but we weren't able to do it really at the end.

"I can't fault anyone for effort, desire and togetherness. It was all there across the two legs. It baffles me really that we don't see that in every league game because we wouldn't be where we are in the league if we played like that every week.

"I've been banging on saying we've got the makings of a good side here so we've just drawn one-all with them."

Cray Valley went into this game in third-place in the Southern Counties East Football League Premier Division table, having collected 67 points from 29 games.

The Millers have beaten Sutton Athletic (2-1); Hailsham Town (2-0); St Panteleimon (3-1, after a 1-1 abandonment); Badshot Lea (7-0); Sheppey United (4-0); Baffins Milton Rovers (3-1); Abbey Rangers (3-1) and Willand Rovers (3-1).

Canterbury City have saved it for The FA Vase this season as they went in to this game in tenth-place in the table with 41 points from their 27 league outings.

Canterbury City have beaten Langney Wanderers (2-0); AFC Varndeanians (2-0); Saltdean United (2-1); Corinthian (4-2, after extra-time); Southall (1-0, after extra-time); Newport Pagnell Town (3-2); Leicester Nirvana (2-1) and Biggleswade (2-1), but fell at the final hurdle to a double-chasing side.

Cray Valley created an opening after only 13 seconds when Anthony Edgar burst through but produced a poor finish by scuffing his shot well off the mark.

The first half provided very little excitement for the big crowd, with Canterbury City's tactics of keeping the game tight and hitting striker Dean Grant with balls down both channels to run onto and long throws from left-back Ryan Cooper being their only threats.

"Perfect! Perfect. I wanted it cagey," admitted Smith.

"The amount of people that said it was a nervy affair, I wanted it a nervy affair.

"At no point did we mention the word open in our dressing room. We didn't want the game open. We wanted it nervy and tight because at some point we'd knew we'd get some chances and we did over two legs.

"If you said to me before the tie would you make it tight and nervy and get some chances? Of course you would, all day long you would take that."

Edgar floated a deep free-kick in from the left and Cem Tumkaya rose at the far post to steer his header harmlessly wide of the target after 10 minutes.

Half-an-hour in, Adam Woollcott floated a free-kick into the Cray Valley penalty area and Mobalaji Dawodu complained of a shirt pull as he poked the ball on and Ben Gorham came up from the back and couldn't keep the ball in play.

Cooper joined a Canterbury City attack in the final third and his cross wasn't headed away by Brad Potter and the ball fell nicely for Grant on the edge of the six-yard box but a poor touch at a vital time ensured the Millers could clear their lines.

Canterbury City went agonisingly close to smashing the deadlock when the crossbar saved Cray Valley in the 37th minute.

An unmarked Phil Starkey floated a ball into the Cray Valley penalty area and Ollie Lee smacked a right-footed hooked volley, which screamed over Deren Ibrahim's left shoulder and smashed off the underside of the crossbar.

Smith said: "Well, when that happens you're thinking is it going to be our day because you can't hit it any sweeter, can he? I think he hit it too well and then it's all in the lap of the gods."

Watson added: "They hit the bar once, we had a couple of half-chances but it wasn't one of the prettiest of games.

"We've headed it clear and then not got to the second but look, they're going to have some chances and we're going to have some chances."

Flack delivered a deep corner from the left and Ashley Sains rose above his marker but his header was comfortably gathered by Canterbury keeper Jack Delo.

Cray Valley created the final opening of the half when Tomlin was released and he cut into the penalty area and held the ball up and with a lack of support from team-mates went for glory himself, sending his chip high and wide of the far post from a difficult angle.

"They closed him down quite quickly and we spoke about that at half-time about possibly getting your head up because they close you down quite quickly and maybe being calm and looking for the next pass," said Watson.

Both first halves were played at a slow tempo and both sides went in at the break on level terms.

Smith said: "Do it all again! It was everything we wanted. Yes, obviously you want to be 5-0 up but in the context of the tie and the side we're playing and what we've expected, yes, we were happy."

Watson added: "What was said at half-time? We went through some bits and pieces how we can be more effective. Three things that we could do better, three things that we were doing well. I felt defensively we had to be careful not to be sucked in to their long ball and our midfield needed to join in with the forwards quicker."

Canterbury City had to increase their tempo and urgency levels if they were to bring themselves back into the game and went close to scoring inside 119 seconds.

Now, with Walker on the sidelines, Cray Valley registered former Dartford keeper Deren Ibrahim just 20 minutes before the deadline on Friday 22 February, the deadline for new signings to be illegible for both legs at this stage of the competition.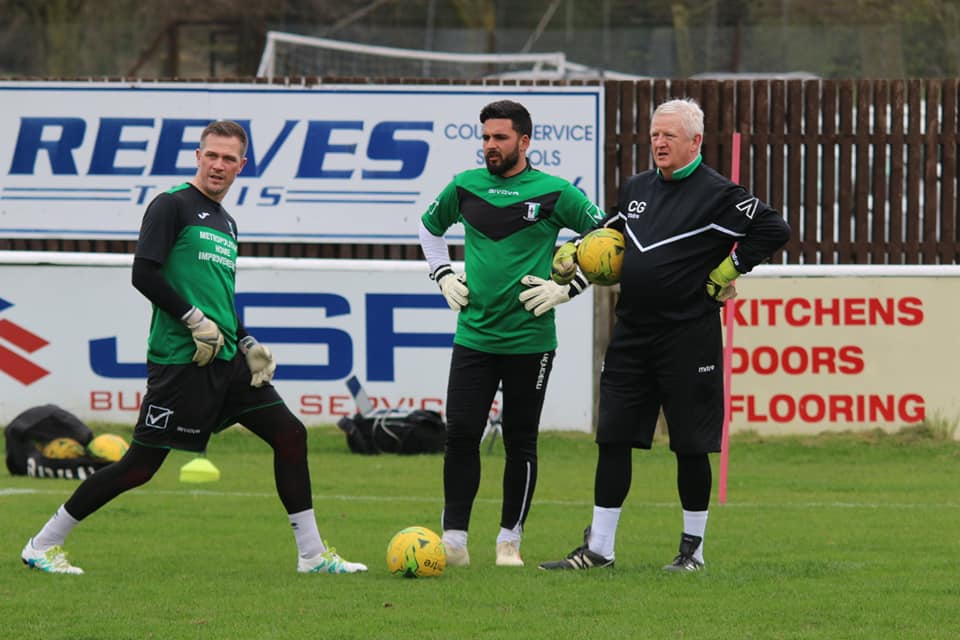 First choice Cray Valley goalkeeper and captain Andy Walker (left) missed out through a hamstring injury, so Deren Ibrahim made his debut. Craig Gibson is the goalkeeping coach.
Photo: Allen Hollands

Ibrahim was called into action when Cooper launched his fifth long throw into the Millers penalty area and Dawodu rose to loop a header towards the roof of the net, which was palmed over by the 28-year-old debutant.

Watson said: "There was no pressure on him (Ibrahim). We know he's a quality keeper. It was obviously a good decision to sign him before the deadline when we did and that was the reason for it when you call someone like him.

"Walks is one of the reasons why we're here isn't it for his game on Sunday. He always puts the team before himself. He knew that he wasn't fit enough to play and he's been speaking to Deren at training on Thursday and throughout the week to give him some information on how we play etc. Walks will play in the Final."

On the chance itself, Watson replied: "That's something that they obviously work on! They use the long-throw whenever they can. We defended it ok for the majority of the game. They probably had 25 throw ins into the box and we've defended 24 of them and they've scored from one of them."

Meanwhile, Cooper launched nine long throws that reached the Cray Valley penalty box.

Smith added: "A good save. Bola's got up and got a good header on it and when we came out like that you're thinking here we go, we're piling some pressure on early doors here, which is great."

Cray Valley produced a good move when Tomlin's flicked pass played in Edgar down the left channel. He twisted and turned Starkey by the corner flag and waited for support from Smith, who cut inside before playing the ball inside to Flack, who curled his right-footed shot just around the right-hand post from 25-yards.

"In the second half, at times when we did get it down and played a few decent passes, we started to create some opportunities," said Watson.

"It's tough. I'm not moaning about the conditions but it is tough out there, it's got more grass on it than our home pitch, but it's bobbly."

Smith got the better of Canterbury's right-back Michael Turner and hung over a deep cross for Lisbie, who looped his free header over the crossbar from 10-yards out.

"It's a tough one for him to score from but he's tried to loop it back across but there was no one really coming in but decent play," added Watson.

The introduction of winger Kyron Lightfoot off the bench in the 58th minute, lifted spirits and his set-piece deliveries into the Millers box were much better than Adam Woollcott's.

Lightfoot swung the ball in, the ball was palmed up by Ibrahim but Dan Lawrence smashed the ball wide of the right-hand post.

Lisbie was played in behind Cooper and Sayer but he slipped over inside the box but kept composed to cut the ball back to Edgar, who dug the ball out from underneath his feet on the edge of the box before lashing the ball over the crossbar as the ball bounced up.

Winger Denzel Gayle hit a ball up field, which ran through for Lisbie and he charged forward and past last-defender Gorham, he curled his right-footed shot just past the right-hand post with keeper Delo to beat in the 70th minute.

"We're confident we'll create a couple of opportunities, some of the finishing and things but I'll go back to the pitch and their defending was good at times," added Watson.

Smith admitted: "It's a let-off and then you're thinking we've missed some chances and they are now missing chances. Could it open up at the other end? You never know!"

Cray Valley had one foot in the final when they opened the scoring with 26 minutes and 18 seconds on the clock.

Holding midfielder Paul Semakula released Lisbie on the overlap and his low cross flashed across the face of the six-yard box.

Tomlin had a poor touch at the far post but kept it together to cut the ball back to Smith, who played the ball into Flack. Flack played in Smith, who played a one-two with Tomlin and was through on goal but his right-footed shot was blocked by Delo's legs and the ball fell nicely for Tomlin, who curled his right-footed shot across the keeper to find the bottom far corner from eight-yards.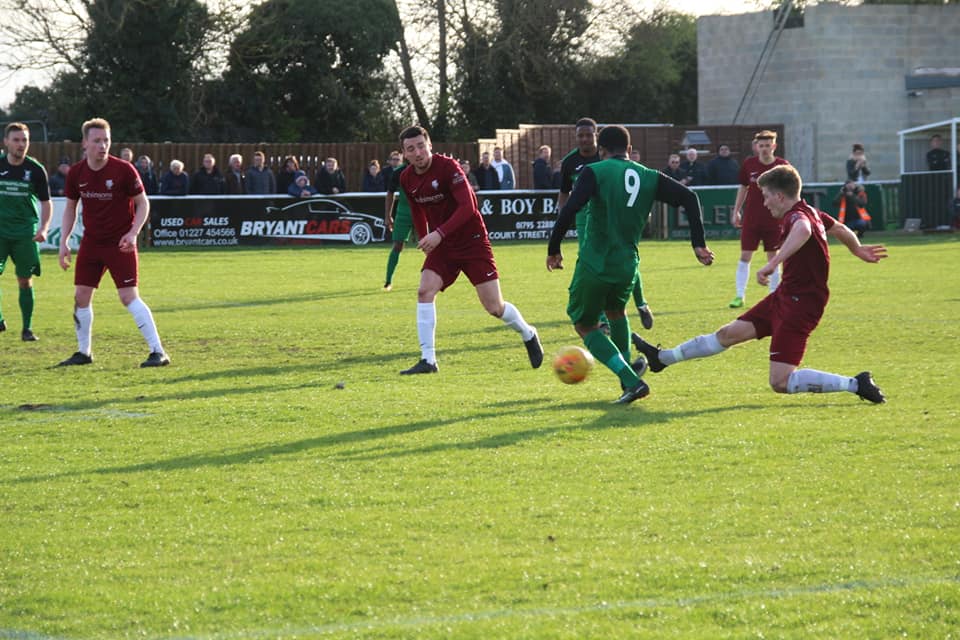 Canterbury City right-back Michael Turner cannot prevent Gavin Tomlin scoring the goal that takes Cray Valley to Wembley for the first time.
Photo: Allen Hollands

Watson said: "It's opened up for Dan didn't it, on his right foot but what a good finish from Gavin as it came out!

"They're hard those ones sometimes, it's coming at pace and you've got to get a clean strike on it and it did.

"I'm feeling relief because they've got a bit of a mountain to climb. We made a few changes. It's tough to make changes in games like that because players have got to get the tempo of the game and it's hard to come into."

Smith said: "A good save from Delo, disappointed with the way that we reacted. Again, you think about differences between the two sides, that's probably one of them. Our anticipation levels weren't as good at theirs. We weren't quick enough to read situations. We're still on the floor, he's had the shot and we're still on the floor from the tackles that we tried to throw in there.

"If you're going to go out in The FA Vase you don't want to go out to the two goals that we went out to."

Gorham was pushed up front for the last stages of this uninspiring affair as Canterbury City left it too late to stage a fight-back.

Danny Smith fouled Renford Tenyue close to the right by-line inside the final four minutes and Lightfoot clipped the resulting free-kick in towards the near post but Cooper steered his header wide of the right-hand post from eight-yards.

Despite the miss, Smith had high praise for Cooper.

"Again, you're thinking that's a good chance. It probably falls to the wrong person. He's probably our best player over the two legs. I can't blame him for going out but I think it's a good chance and he'll be disappointed not getting it on target but again we were banging on the door."

Gorham played a diagonal pass which was on the button and found Lightfoot, who brought the ball under his spell, and drilled his shot on the turn high and wide of the far post from 20-yards.

Inevitably, Canterbury City scored their consolation goal via Cooper's long-throw, timed at 44 minutes and 12 seconds on the clock, just 17 seconds after Lisbie was withdrawn.

Cooper launched his eighth long throw into the Millers penalty area and Sayer's overhead kick went through a crowd of players before trickling over the line in the centre of the goal.

Smith said: "I always felt there were two ways we could get at them. One was through Dean Grant. He's played 90 minutes there that he shouldn't really have played. He's come through injury to do that and he couldn't walk midweek.

"The other way was through set-pieces and it took us a while in the second half to get the set-pieces working properly. If you look at it we've changed players over the last few rounds – where we had to – so suddenly you've got players come in that didn't know the set-pieces and things like that so it's going to take time. We've not had time unfortunately, we've just had to go with it and hope it works but you see there in the end, we were a real threat from the set-pieces.

"We never send GS (Sayer) up! We only sent him up because it was last doors and what we've been asking from people is to react and he's reacted first to a ball, fantastic!

"I've played with him since youth team days and he hasn't scored many goals in his career and he's got one there. That will be the one that he remembers the most out of any of the goals he's scored but unfortunately it will be for the wrong reasons – but it was a great goal!"

Watson said: "I had to be careful. We had two players (Lisbie and Edgar) on a yellow card so if they had a yellow card today they couldn't have played in the final so that was on the back of my mind.

"Anthony Edgar didn't get a chance to play against Oxford City (in The FA Cup) due to suspension and I said to him that day we will create an opportunity for you to play on the big stage again and we have – hence why we took both of them off."

And on the way that Canterbury scored, Watson continued: "They're good at that aren't they? We'd probably wouldn't be so good in that position in the sense of we'd probably try to play through teams rather than play big like that but you can't blame them for doing that. The majority of the time we defended it ok."

Canterbury City almost forced extra-time but you want these chances falling to a striker rather than a left-back.

Working the left channel, Grant cut the ball back to Lightfoot, who floated in a deep cross but Cooper's looping header dropped just over the crossbar.

"He's headed it across the goal. He's done the right thing but again, it wasn't quite enough," added Smith.

With time ticking away, substitute Francis Babalola worked the left-channel at the other end of the pitch and his skill easily took him past Starkey and Michael Turner and he cut into the box and his low shot was blocked by Delo's legs at the near post, the ball looping up and clipping the outside of the near post.

"He's done so well Francis to get in that position in the first place. He's very unlucky, it would've been great for him to get a goal. I feel for him and Josh James, the players that didn't start, so I'm sure they'll get minutes on Wednesday," revealed Watson.

Smith added: "We were sending everyone up so they were going to have chances. Jack's done well there to get another shot at us as we were throwing it forward but it was not to be."

Naturally, it was agony and ecstasy in both dressing rooms but it's only a great day out if you lift that silverware at Wembley Stadium and devastation if you come home as losers.

"It's important that we got the club officials involved in the changing room. I've said all along, yes it's great for the playing staff but it's equally great for these people that have been at the club for years and years and years and work selflessly throughout," said Watson.

"I was trying to find my parents but I couldn't find them but I've seen them now.

"Look it's devasting, absolutely devastating but Canterbury City should be incredibly proud of what they've achieved and that isn't patronising.

"They're a great set of lads, look at the character that they've shown at the end etc or throughout the two legs.

"I do think we're in the final on merit. We are one of the best two teams in the country at this level and that is the first time you've heard me say that!"

Cray Valley at Wembley Stadium?

"It is a once in a lifetime, not an opportunity, what is it? It's a once in a lifetime moment I think and people have got to embrace that. It is incredible that these players are going to get to play at Wembley. The magnitude of it hasn't sunk in yet.

"Two people I need to give a mention are Kevin James and Tommy Osborne. They work equally as hard and they've got tougher jobs than I have got. I've always said I couldn't do their jobs so look this is a management team right and this team wouldn't be successful without those two.

"Of course, we can win it. We weren't the favourites today according to the bookies but yes we can potentially win it. I will have to try to get a chance to see our opponents when they're known. I'm not going to Northwich tomorrow, no chance!"

Smith summed up the mood in the Canterbury City camp.

"It's devastating. I'd much rather have got to Wembley and lost, that's for sure. We've come from nothing, we should never have got to this stage this season and we've did it so we take a lot of pride in that.

"My players wanted it so much and that got us to the Semi-Final, that will and desire. I think we wanted it more than any of the sides we've played even Cray but the difference to Cray and the likes of Biggleswade, they've just got that little bit of extra quality and fair play to them. They're a really nice bunch, the committee are really good. Kevin Watson is a top bloke so I want them to go and win it.

"I said before the game the winner of this tie will win the competition and I stand by that!"

Canterbury City: Jack Delo, Michael Turner, Ryan Cooper, Phil Starkey, Ben Gorham, Gary Sayer, Adam Woollcott (Kyron Lightfoot 58), Ollie Lee (Jordan Casey 67), Dean Grant, Mobalaji Dawodu, Dan Lawrence (Renford Tenyue 77).
Subs: Chris Saunders, James Turner

Goal: Gary Sayer 90

Booked: Gary Sayer 48

Cray Valley (Paper Mills): Deren Ibrahim, Cem Tumkaya, Danny Smith, Paul Semakula, Ashley Sains, Brad Potter, Denzel Gayle, Anthony Edgar (Lea Dawson 75), Gavin Tomlin, Kevin Lisbie (Francis Babalola 89), Ryan Flack (Josh James 87).
Subs: Tyler Myers, Callum Willock

Goal: Gavin Tomlin 72

Booked: Daren Ibrahim 90

Attendance: 1,274
Referee: Mr Carl Brook (St Leonards-on-Sea, East Sussex)
Assistants: Mr Andy Bennett (Woking, Surrey) & Mr Mike Desborough (Fareham, Hampshire)
Fourth Official: Mr Alex Blake (Waterlooville, Hampshire)