I think the sky's the limit now for Cray Wanderers, says manager Tony Russell
Monday 24th December 2018
CRAY WANDERERS manager Tony Russell wants his title-chasing players to remain as professional as possible over the Christmas period.


The Wands extended their lead at the top of the Bostik South East Division to ten points following their 2-1 win over Sittingbourne at Hayes Lane yesterday.

Russell's men struck the woodwork on four occasions with former Sittingbourne striker Joe Taylor being the main culprit as he was denied by the woodwork on three occasions.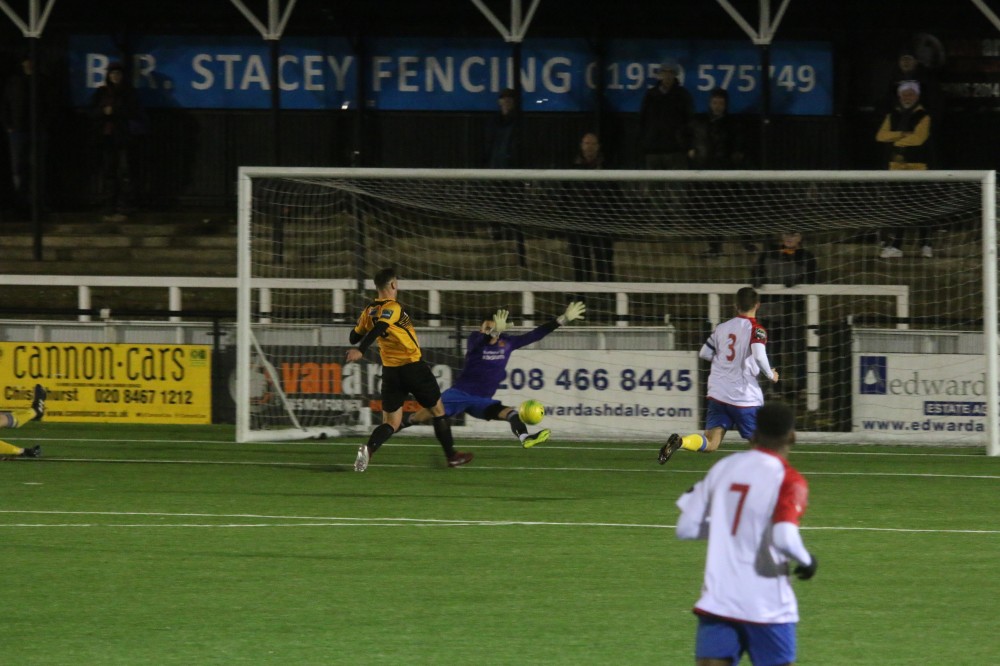 Cray Wanderers striker Joe Taylor hits the post again against Sittingbourne at Hayes Lane.
Photo: Allen Hollands

Bradley Pritchard lashed in the opening goal halfway through the first half before the versatile Ben Mundele doubled their lead in the 73rd minute before Sittingbourne left-back Chris Webber drilled in a 35-yarder late on.

Sittingbourne defender Lex Allan was red-carded by referee Matthew Pollington for a last-man foul on Taylor at the death.

Russell takes his side to Sevenoaks Town on Saturday and Oaks manager Micky Collins attended the game at Bromley yesterday on a scouting mission.

Sevenoaks are playing at this level for the first time in their 135-year history and Collins has guided his club to eleventh-place in the table with 21 points from 16 games – 21 points adrift of the Wands.

"Listen, Micky's always going to get his teams well fired up, teams have gone there and slipped up," warned Russell.

"John Wilfort is down there as well, a very good coach, he understands the game and he's got a good knowledge of the game.

"They know all about us but I back us. There's a reason why we are where we are because we're not a bad side.

"It's a lovely surface as well. I went there the other week to watch them against Phoenix and I was really impressed with the set-up. I haven't been there since they've done it all up and it's a lovely place to play football. It's a very good 3G pitch, the changing rooms looked in good nick."

The Isthmian League has withdrawn their congested festive programme with Cray Wanderers playing just Sevenoaks Town over this period, while Collins takes his side to third-placed Hastings United on Boxing Day, 26 December (15:00).

"The players are out of your hands but will they over indulge in food and drink? You just don't know," said Russell.

"Listen, don't moan if you lose if you're sitting there stuffing your face and not doing nothing. There's nothing wrong with over indulging, it's Christmas but put a pair of trainers on and go out and sweat it out next morning. That's all we've said to them, it's very important.

"We're very lucky this year, we've got no game Boxing Day or New Years Day and we're meant to train tonight but I've given them the night off so they can spend some time with their family on Christmas Eve.

"We usually train Wednesday so rather than get them in Boxing Day, we're going to train Thursday so they can have a real good time with their families, which is important. We've all got families but they are in New Years Eve unfortunately, which they're not happy about!"

When asked what 2019 could bring his club, Russell replied: "Look, I think the sky's the limit for the club now! I don't know if I'm honest, I really don't know.

"I look at where we are as a football club. We're in a strong position on and off the field. We've got solid owners, a solid football club, real solid first team.

"Look at the under 23s, really solid, the under 18s are really solid, the under 16s are winning everything, We go 13s, 14s, were in a very, very strong position now with a lot of hard work from myself, Dave Francis and Mark Simpson when he was here.

"We've turned this club around. When I turned up it was a team surviving relegation from the Ryman North with just a first team and a wage bill and that was it and now we're building an infrastructure.

"What we can't do is start thinking we're above everyone else and we're not. I'm humble, stay true to what we believe in, which is hard work and just keep turning up and give everything that you've got. I'll keep going out and watching teams and me and Vinsey (assistant manager Joe Vines) will put sessions on and game plans and keep trusting us and let's see where we end up."

Visit Cray Wanderers website: www.cray-wanderers.com

Sevenoaks Town v Cray Wanderers
Bostik South East Division
Saturday 29 December 2018
Kick Off 3:00pm
at Greatness Park, Mill Lane, Seal Road, Sevenoaks, Kent TN14 5BX