Cray Wanderers 2-1 Sittingbourne - We've got to be a litlte bit ruthless in the final third, says Cray Wanderers boss Tony Russell
Sunday 23rd December 2018
Cray Wanderers

2 – 1

Sittingbourne

Location
Hayes Lane, Bromley, Kent BR2 9EF
Kickoff
23/12/2018 15:00
CRAY WANDERERS 2-1 SITTINGBOURNE
Bostik South East Division
Sunday 23 December 2018
Stephen McCartney reports from Hayes Lane

CRAY WANDERERS manager Tony Russell says his players need to be more ruthless in front of goal despite beating Sittingbourne.
The Wands struck the woodwork on four occasions with striker Joe Taylor being the culprit three times against one of his former clubs during their 2-1 win in front of 259 people at Hayes Lane.

Sittingbourne have lost eight of their last nine games and go into Christmas sitting in the bottom four in the Bostik South East Division table with 17 points from 16 games.

Cray Wanderers – who lost their first league game of the season going down to a 4-2 defeat to Horsham in Lancing eight days ago – took the lead halfway through the first half when central-midfielder Bradley Pritchard lashed in his fourth goal of the season.

The versatile Ben Mundele, 20, tapped in his sixth goal of the season with 17 minutes remaining before Sittingbourne scored a consolation with three minutes left through left-back Chris Webber's beautiful 35-yard strike for his second goal of the campaign.

Sittingbourne were reduced to ten-men when centre-half Lex Allan was red-carded for a last-man foul on former Margate striker Taylor at the death.

"You've had the fortune or misfortune of seeing my teams play, it's just a standard game for us in terms of the pattern of it. We create a load of chances, we don't take them and make it hard work for ourselves," said Russell, whose side are now 10 points clear of second-placed Whyteleafe going into Christmas.

"I was pleased today because we haven't won in three and it was such an important game. I was concentrating on the performance, I wasn't too concerned about the result. I just said to the players just play and do what we do and I thought for 85 minutes we were excellent. To say the scoreline was flattering is maybe an understatement!

"I'm happy with the way we played. I thought we were excellent but for some poor finishing and some inspirational goalkeeping it could've been six or seven really."

Sittingbourne manager Aslan Odev said: "It was a game of ifs and buts. I thought it was a game that they started strong in at the beginning of the game and we got ourselves back in it later on and then we've had to readjust and get ourselves going again.

"I think they're a very, very good team and they're very organised and they have a very strong philosophy and I think we did everything we could to stop them and match them. The quality on the ball from us wasn't quite up to par and I think that was the big reason why we can't get ourselves into the game when we wanted.

"If they scored all of the opportunities they had it could've been a different game and the same thing as us.

"I thought it was a game that showed the qualities of both teams and I thought they're a very hard working team and they want to play the football and they do it very, very well on their pitch.

"In regard to the missed opportunities and hitting the woodwork, I think that's part and parcel of football."

Cray Wanderers created their first chance in the fifteenth minute when Junior Dadson released Taylor down the left and his deep cross was met by a towering Pritchard (who rose above Allan) to power a diving header straight into the arms of keeper Patrick Lee.

"Once we settled down I thought we were excellent and that was the start of the chances," said Russell.

"Pritchard's brilliant, he gives you great energy and he makes them late runs. We were getting the better of him out wide, it was drawing midfielders out to double up and when the ball's coming into the box, there's free room and that was probably a warning shot but it wasn't long after he was on the spot again."

Cray Wanderers centre-half Jay Leader likes running forward with the ball and he ran into the final third before playing the ball inside to Karl Dent, who leaned back and sent his shot from outside the box sailing over the crossbar.

Cray Wanderers deserved their lead when it arrived with 21 minutes and 56 seconds on the clock.

Russell revealed that his two wingers, Dadson and Jerome Federico were forced off with injuries to their toe and knee respectively during the game.

Dadson sprinted past Sittingbourne's right-back Danny Devine and played in a low centre towards the near post which was blocked by centre-half Ben Fitchett and Pritchard pounced immediately on the ball to lash his right-footed shot across the keeper into the roof of the net from a tight angle.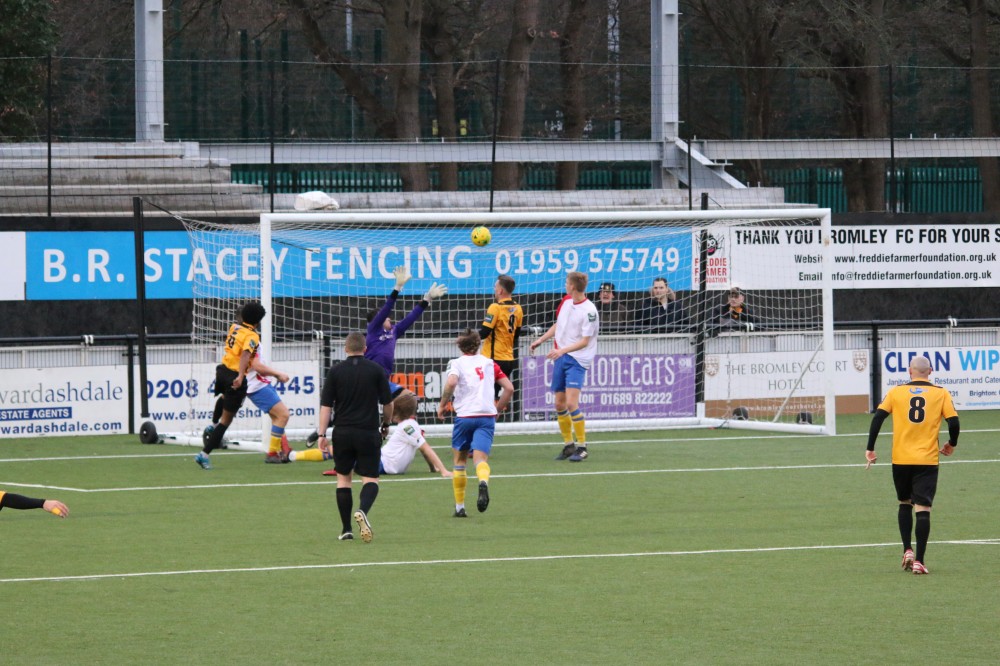 Cray Wanderers midfielder Bradley Pritchard (left, amber shirted number six) opens the scoring against Sittingbourne at Hayes Lane.
Photo: Allen Hollands

"I think more than what we deserved! By then we've taken total control of the game. I couldn't see where their goal was going to come from. I always sit there and work out their game plan but baring the long throws, the corners and free-kicks, they wasn't really causing us much problem," said Russell.

Odev added: "It's one of those when the ball sort of fell to him and these things will always happen when you're playing against a good team. They've had a lot of the ball and they're always attacking and these opportunities will arise in the game. It was a good finish from him and from our point of view we could've done a little bit more to react a little bit quicker, making sure we were re-organised but these things happen."

Sittingbourne produced a good move in the 29th minute when winger Gil Carvalho called for the ball and received it from Dan Parkinson but lost the ball on the corner of the Cray Wanderers penalty area to Mundele, who started at right-back before switching to left-wing after Dadson was forced off through injury.

Mundele charged towards the half-way line before releasing Federico in behind and he cut into the box and put it on a plate for Taylor, who lashed his first time shot over the crossbar at the near post from seven-yards.

Russell said: "I think he's got to score that! He's got to sweep it home! He's got a little bit too much on it. It's just one of these games I think. He's done everything but score. He's missed some good chances, the goalie's made some great saves. He's experienced to know you have games like that but more importantly I thought his all-round game was good. He worked hard for us so I'm more than happy with him."

Parkinson charged forward before feeling Henry Woods who was fouled by Leader and the referee awarded Sittingbourne a free-kick.

Parkinson drilled his free-kick into the base of the wall and stroked his follow-up shot bouncing past the far post from 25-yards.

Sittingbourne striker David Smith, who is on loan from Vanarama National League side Dover Athletic, cut across Mitchell Nelson, who was booked by the referee.

Smith drilled his left-footed free-kick over the wall from 25-yards and straight into the midriff of goalkeeper Nick Blue, who made a comfortable catch.

"We was so much on top and then we got a little bit sloppy, our own real doing. I think that was their only shot of the first half, a free-kick straight at Bluey," said Russell, who claimed Nelson should have only been booked and not sent-off for the foul.

"I know they made a big thing of the fact that even though Mitchell was last man but he's never ever been last man. We can send him a video clip if he wants it but I think it's more out of desperation if I'm honest."

Odev said: "I think there was a case of one of the defenders being last man, the referee could've gone a different way with the decision in regards to booking the player but he's in a good position to see it.

"The free-kick should've been a lot better, the quality that we've got. I'm sort of expecting to see a bit more danger."

When asked how Smith has performed while at Woodstock Park, Odev replied: "Really well. He's a player that we know, we had him last year and he's moved on to Dover and they're getting him out on loan for game time. He's come down to us and he's getting that. He needs minutes under his belt. He's a good player, he's got fantastic raw material and he just needs a little bit more training to hone those abilities."

Sittingbourne have two young players in on loan from Gillingham, right-back Devine and winger Woods. They were watched today by Jason Lillis.

"They're brilliant! They've got fantastic personalities and very, very good players. They're both good additions to the squad and taken us to a level where we're happy to be at. We're just hoping they can kick on.

"Danny Devine put a very strong performance in against Sevenoaks (a 4-1 home win eight days ago) and Henry Woods put a very strong performance in against Faversham so we're hoping they can carry on and go from strength to strength."

Cray Wanderers struck the woodwork for the first time on the stroke of half-time.

Dent whipped in a free-kick from the left some 20-yards from the by-line and Taylor flicked his header over the flapping keeper but against the top of the far post from inside the six-yard box.

"It was going in, I was right behind it and it was going in," Russell said of Dent's superb delivery.

"Joe's gone across and headed it and that was the first of the postgate. We decided to hit post and bar after that!"

Odev added: "It's a dangerous ball in and Joe Taylor's managed to get a connection on it, it's unlucky from Joe but these things happen."

Both managers were asked their thoughts at the break.

"I congratulated them on the way that they played. I thought we were good but what we spoke about was the only way they were going to score was from a free-kick and we were being sloppy giving them too many silly free-kicks," said Russell.

"What we didn't want them to do was go in our shell. Sometimes you want that win so much you play for a 1-0 and all off a sudden they score out of nothing. If you haven't got that second, it's 1-1 and it's two points dropped.

"I just told them to be positive and keep doing what we're doing.

"I thought Sittingbourne worked really hard just to stay in the game. I thought that might tell in the latter stages. I think that showed a little bit even when they scored they had no puff left to have a go at the end because we wore them out.

"They worked ever so hard and credit to them and their manager. They were hanging in there and throwing themselves in front of things and the goalkeeper's pulling of saves. If we can get a second let's not turn down the opportunity and when we're passing it, try to pass it forward."

Odev added: "We wanted to make sure the gutsy performance was there and we came out and carried on showing fight and carried on bringing high energy and tempo to our playing style and making sure we stopped them playing out from the back. We had to adjust slightly to make sure that our main aim was to make them think and make them think about something else rather than it being easy for them and automatic and being able to play out and I thought we did that.

"The big thing was disrupting their game and making sure when we had the ball we moved the ball with quality and we're making chances in the final third."

Sittingbourne were a well-organised outfit, who pushed men forward to prevent Cray Wanderers to play out from the back and keeper Blue often kicked the ball upfield instead of to Leader and his defensive team-mates like they usually do.

Sittingbourne keeper Lee produced a world-class save to frustrate the home side in the 11th minute of the second half.

Dent played a sublime weighted through ball along the deck from the middle of he park to release Federico down the right and he cut the ball back to Taylor at the far post who was destined to score from four-yards but Lee produced a great reaction save to his right at his near post.

"It was a great move and a long ball around the back and to be fair to Joe he's hit it as well as he could hit it and that one you have to tip your hat. It's a great save from the goalkeeper," said Russell.

Odev said: "Fantastic save. Patrick Lee had a very, very good game today. He really showed his worth. There was a little bit of extra motivation for him coming down to Cray Wanderers and knowing a few people in their dressing room and things like that. It's something we need to build upon and make sure it's not just a flash in the pan performance from him."

Dent pinged another great ball from the touchline on the half-way line but a poor first touch from Taylor on the edge of the Sittingbourne penalty area gave Lee the chance to collect.

Sittingbourne should have grabbed an equaliser following their first of two corners at the halfway point.

Parkinson swung in a great corner from the left and Allan came up from the back to plant his towering header over the crossbar from a couple of yards out as he outjumped the keeper.

Odev said: "I think Lex needs to get over the ball, he's more than tall enough. He's got the aerial ability. Maybe he just took his eye of the ball for a split second and it hasn't managed to find its way in the back of the net."

Russell said: "I wouldn't say he missed that, it was slightly above him. The corner's come in and he's stretched and he's headed it way over. That's what we're talking about, that sloppiness you have to put things away."

It proved to be a big miss as Cray Wanderers went up the other end to double their lead, the goal being timed at 27 minutes and 28 seconds on the clock.

Dent ran forward and played the ball into Pritchard's feet, who was given time inside the box to place his shot towards the bottom far corner. The ball bounced off the base of the far post and Mundele was there at the right place at the right time to tuck the ball into the net from six-yards.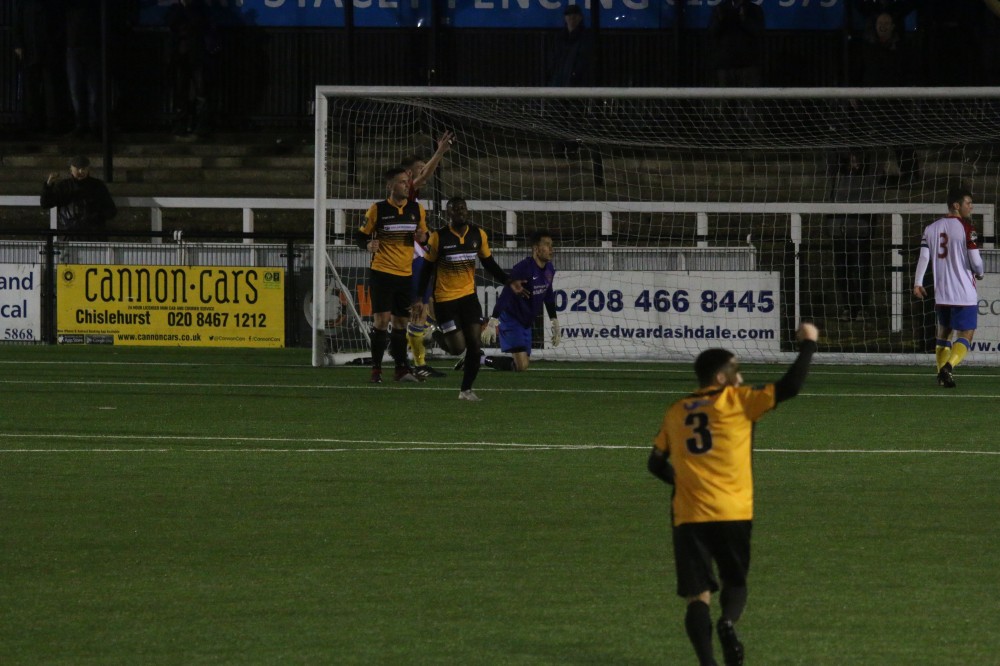 Cray Wanderers' versatile player Ben Mundele (second left) turns away to celebrate after scoring his side's second goal against Sittingbourne.
Photo: Allen Hollands

"We were playing a competition, how many times can we hit the woodwork today and luckily enough on that attempt it came straight back but I think it was more than what we deserved," said Russell.

"That's relief, it gives you that cushion and that one goes in you're thinking finally we can relax a little bit."

When asked about Mundele's versatility, Russell expects professional football clubs to take an interest during the transfer window.

"I know there's been a little bit of interest from pro-clubs. We'll see when the window opens in January if anything materialises but if not, we're delighted to have him."

Odev added: "I suppose it's one of those when you hit the woodwork four times, one of them will pay off! Maybe it could've been prevented with a little care of the ball in the midfield but if you give a team like Cray Wanderers an opportunity to attack you and counter-attack you, they will punish you."

Sittingbourne rode their luck again when in the 32nd minute of the half Pritchard played a low centre in from the right channel, Taylor turned his man to leave Allan on his backside, put the ball on a plate for Mundele, who also turned another defender before dinking his shot against the top of the crossbar and the ball dropped into Lee's gloves.

Russell said: "I think he's got to score! We were trying to walk it in by that stage. It was almost – without being disrespectful – it was getting a little bit easy."

Odev added: "It was a great reaction from Patrick Lee. He's got up very, very quickly and reacted very well and they've scooped the second ball up but these things happen in football. These opportunities come and luckily Patrick Lee was there to snuff it out. The story of the game, I suppose, was Patrick Lee's performance, very, very good."

Sittingbourne's Tommie Fagg, who played behind striker Smith, stroked a low shot past the right-hand post from a central position just a couple of yards outside the penalty area.

Cray Wanderers struck the woodwork for a fourth time with 11 minutes left.

Dent drove down the right and put in a lovely low cross towards the far post but Taylor swept his shot across the keeper and against the outside of the far post from inside the six-yard box.

"We've got to be a little bit ruthless in the final third, we know that," admitted Russell.

"What a ball from Dent though, unreal! We've opened them up. Denty with his weaker foot bent it around the back of everyone, here you go Joe, just tap that one in and I think where he's missed the chances before that I think he's trying to be too careful and he's four-yards out, just have to tap it in and he's hit the inside of the post and it's come out."

Poor defending from substitute left-back Archie Johnson let in Sittingbourne substitute wideman David Latunde, who cut into the penalty area and reached the by-line and poked the ball past Blue and past the foot of the near post from a tight angle.

The keeper required treatment to his cheek from physio Ally Maloney and the knock must have played a major part in the manner that Sittingbourne scored a consolation goal, timed at 41 minutes and 49 seconds.

Parkinson's corner from the right was cleared and the ball came out to Webber, who drilled a stunning first time shot into the roof of the net from 35-yards.

"He's said he's (smacked) it on purpose, but I'm not sure if it's true or not," said Odev.

"I think the keeper's sort of misjudged it and watched the flight of the ball rather than anything else. I thought it was a great strike from Chris Webber, he definitely rolled the dice for it to go in and luckily it's paid off but maybe a little bit too late."

Russell said: "Listen, I said to Bluey, I'm disappointed with that! He tells me that it's moved everywhere, obviously I couldn't see it from my angle. It looked straight down the middle to me but he's more qualified to tell me but maybe he did say that.

"I wanted a clean sheet. It was a decent enough hit bit we video the games so I'll watch it back but Bluey told me it moved, I'm not sure."

Sittingbourne were reduced to ten-men at the death when referee Matthew Pollington pulled out a straight red-card after Allen tripped Taylor on the very edge of the penalty area after latching onto Blue's big clearance.

The resulting free-kick was a blade of artificial grass away from the white line but Dent blasted his opportunity over the crossbar.

Russell said: "Just give a pen, it's a pen, isn't it? I really don't want to go on about referee's, they do a good job and it's a hard job. It looked a penalty for me and if he gives a pen he doesn't need to send the kid off but having given the free-kick he almost has to do it. It was a foul."

Managers get irate with referees if they dish out red-cards for one team and not the other and Odev felt Nelson should have been sent-off earlier on in the game.

"A big call from the referee. I do think it was probably a foul, of course it will have to be a red card if he's last man but again it's a little bit of consistency from the referee regards to the earlier incident.

"I think Lex Allan got the wrong side of Joe and he shouldn't be getting turned like that. He shouldn't be in that situation at all but he'll learn from that. He's a young centre-back but at the moment our disciplinary record is not too great and it's definitely something that we're stamping down on."

The outstanding Lee dived to his right to frustrate Taylor again after the former Brickie cut into the box from the right and bent his shot towards the far corner.

Cray Wanderers make the short trip to Greatness Park to play eleventh-placed Sevenoaks Town next Saturday, while Sittingbourne host bottom-of-the-table side Herne Bay at the same time.

Russell said: "I know that we've still got 19 games to go, it's such a long way to go. I'm not even interested in that (league position) if I'm honest. I just want to win the next game. We've got Sevenoaks, that's all I care about. I just don't say it for a soundbite, I really don't get excited or up myself and think I'm something special. We'll give it a go and see how we go. We'll prepare for the Sevenoaks game and prepare like we did for Sittingbourne."

Odev maintains that Sittingbourne have more than enough in the tank to retain their Isthmian League status come the end of the season, adding: "I'm sure we'll be fine. We have fantastic players in our dressing room. The things that we're doing off-the-field and on-the-field are all the right things so everything will click in place. It's just a matter of time."

Cray Wanderers: Nick Blue, Ben Mundele, Barney Williams, Karl Dent (Zak Henry 90), Mitchell Nelson, Jay Leader, Sean Roberts, Bradley Pritchard, Joe Taylor, Junior Dadson (Archie Johnson 30), Jerome Federico (Aaron Rhule 84).
Subs: Freddie Parker, Marcus Evans

Goals: Bradley Pritchard 22, Ben Mundele 73

Booked: Mitchell Nelson 36

Sittingbourne: Patrick Lee, Danny Devine, Chris Webber, Dan Parkinson, Lex Allan, Ben Fitchett, Gil Carvalho (Chimidi Otuadinma 83), Lewis Chambers, David Smith (Mobolaji Dawodu 63), Tommie Fagg, Henry Woods (David Latunde 74).
Sub: Rob Lofting

Goal: Chris Webber 87

Booked: Dan Parkinson 36

Sent Off: Lex Allan 90

Attendance: 259
Referee: Mr Matthew Pollington (Sheerness)
Assistants: Mr Dean Markwick (Romford, Essex) & Mr Jordan Whitworth (Catford, London SE6)