To Advertise on this website, please contact Stephen McCartney by Email: stephen@kentishfootball.co.uk

Latest News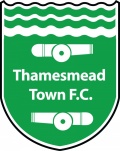 2 – 1

THAMESMEAD TOWN 2-1 HYTHE TOWN
Bostik South Division
Wednesday 16th August 207
Stephen McCartney reports from Princes Park Stadium

Thamesmead Town made it a winning debut in Dartford thanks to a dramatic late winner from substitute Paul Vines.

With both sides playing a direct style of football, Thamesmead Town created the first chance of a cagey opening inside 13 minutes when Laurent Mendy's flick flashed past the post after Jake McIntyre swung in a free-kick from the right.

Hythe Town then crashed a shot against the crossbar when Sam Adams played the ball out to right-winger Kieron Campbell, who drilled his angled drive onto the crossbar, via the fingertips of Mead keeper Lewis Carey.

Visiting keeper Will Godmon picked up the ball after Mendy played the ball inside for Dane Luchford, who swept a weak shot into the keeper's hands.

Hythe Town were caught offside on six occasions by the 26th minute. Winger Ryan Palmer cut into the corner of the box before driving his low shot past the foot of the near post.

Thamesmead Town smashed the deadlock, following their second corner of the game, in the 31st minute.

McIntyre swung in a corner from the right and Mendy powered his header through a crowd of players into the far corner from 10 yards, despite Ryan Johnson attempting to clear the ball off the line.

Thamesmead keeper Carey pulled off a great left-handed tip over to deny Kieron Campbell scoring with a volley from eight-yards after Ryan Palmer whipped in a cross from the by-line.

Hythe Town manager Clive Cook was forced into making a half-time substitution as striker Dean Grant suffered a poke to his eye so on came Kenny Pogue and he made an instant contribution by scoring an equaliser seven minutes in.

Sam Adams' hooked pass split Thamesmead's two centre halves and Pogue slipped the ball past Carey from 12-yards.

Thamesmead midfielder Tom O'Connor went close to scoring with a 30-yard curler, which only just cleared the top of the far post.

Hythe Town defender Dave Cook looked up into the dark sky while running back after planting a free header over from six-yards after Palmer swung in a free-kick from the left.

Thamesmead substitute striker Alex Teniola's right-footed curler was tipped around the post by a diving Will Godmon in the last 13 minutes after Scott Kinch played the ball out of defence and released Mendy.

Pogue could have won it at the death for Hythe when his 25-yard drive was held by Carey, diving to his left and grabbing hold of the ball.

But Thamesmead Town grabbed the victory when Carey's free-kick was knocked down by Kinch and substitute striker Vines slotted a low shot into the bottom near corner, timed at exactly one minute into time added on.
Read more


6 – 1

BROMLEY 6-1 LEYTON ORIENT
Vanarama National League
Tuesday 15th August 2017
Stephen McCartney reports from Hayes Lane

Bromley 6. That's Little Old Bromley. Leyton Orient 1. This result and performance goes down as Bromley's best ever in their 125-year history.
Read more