I'm gutted I couldn't bring silverware to Ashford, says Ryan Norman
Sunday 27th May 2018
ASHFORD manager Ryan Norman says he feels gutted that he couldn't put some silverware on the sideboard during his first season as a manager.
The club finished their Andreas Carter Joma Kent County Division Two Central & East campaign in sixth-place and were runners up in both the Kent Junior Cup and Les Leckie Cup after losing to Welling Town and Tonbridge Invicta respectively.

"Unbelievable campaign, it's been an absolute roller-coaster of a season for us," said Norman, 29.

"I was asked by the club in July to come in and take over. I turned up to my first pre-season with the boys that played for this club last year in this division. I had about 10 boys at training and only two of them are left now and I literally had to completely rebuild.

"I think I spent from the middle of July to probably October non-stop on my phone using every single football contact I had to get players in.

"Kennington's manager Dan Scorer is a close friend of mine. He's been really helpful putting over a couple for me.

"The Willesborough Borough side who done really well in Division Two last season folded and I got a lot of them in.

"We've built solidly over the season. I managed to get James Taylor and Robbie Dolan from Ashford United's under 23s.

"I'm putting together a really strong squad and the aim for the season was if I can finish the season with a cup final and a top five finish, I'd be absolutely buzzing and I've ended up with two cup finals and a sixth-placed finish.

"By all accounts as my first season as a manager I'm absolutely ecstatic with. I'm gutted for the club that I couldn't bring some silverware.

"The committee that's built this Ashford Football Club are absolutely superb. I've got to mention them because the behind the scenes work they do is absolutely outstanding.

"The boys don't pay subs, we've got some strong sponsors, they pump hundreds of pounds into this club.

"Moving forward there's so much potential in place. Most club's at this level turn up and pay £6-8 every week. These boys pay nothing and that's a massive plus for me to try to get players in next season.

"They've already told me they've got my full support to get players in and the things I want to put in place so all the ingredients is there for this club to be successful.

"I'm gutted that I couldn't bring silverware but you reach two cup finals like the Kent Junior Cup and Les Leckie Cup, which for our club are the biggest at this level and you put your name on the map and people start to recognise you.

"I've got some really big pre-season friendlies in Kennington, a SCEFL First Division team next year, Kings Hill, Halls.

"The club is starting to go places and it's down to me now to have a good summer and get some good quality signings in and kick on next year and push for the top two to get us in Division One."

Ashford lost 4-2 on penalties to Tonbridge Invicta after a thrilling 4-4 Les Leckie Cup Final at Sevenoaks Town's Greatness Park on 15 May in what was Invicta manager Lee Chambers' final game in charge after 25 years' service to the club.

Tonbridge Invicta finished two places and two points behind Ashford in the pecking order on 23 points from their 20 league outings and Chambers yesterday was appointed the manager of Rusthall Reserves, who finished level on points in ninth-place (bottom three).

Rusthall's first team were handed a reprieve from relegation from the Southern Counties East Football League Premier Division and have appointed former Hildenborough Athletic's Andrew McKechnie and Mike Cramp as joint-managers, replacing joint-managers Steve Ashmore and Steve Sands, who were at the helm for two seasons.

The pair were runners-up to Glebe in the First Division in their first season in charge but struggled in the top-flight with a zero budget.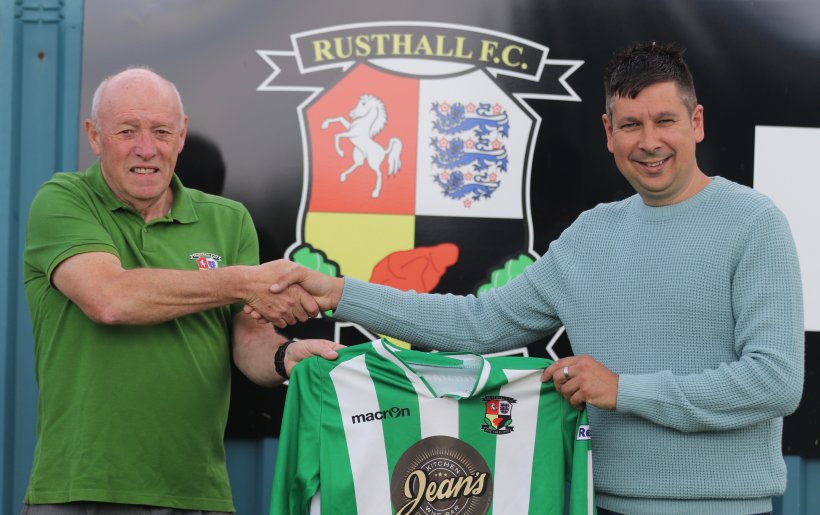 Rusthall chairman Joe Croker welcomes Lee Chambers to Jockey Farm.
Photo: Rusthall FC

Chambers told www.rusthallfc.com: "I'm really looking forward to my new challenge at Rusthall. I feel that managing the reserves and working closely with the first team, I can bring some new ideas to the club and hope that I can help the club keep pushing forward.

"I would like to thank (chairman) Joe Croker, Dave Rusbridge and the committee at the club for giving me this opportunity."

Chambers will be assisted by Nick Martin, who is a former player at Tonbridge Invicta and Hildenborough Athletic.

Former manager Dean Jacquin (who is also Rusthall's secretary) and his assistant Dennis Leigh, will both remain at Jockey Farm to undertake other roles.