Ashford 4-4 Tonbridge Invicta - It's unbelievable to go out on a massive high, says Tonbridge Invicta manager Lee Chambers
Tuesday 15th May 2018
Ashford

4 – 4

Tonbridge Invicta

Location
Greatness Park, Mill Lane, Seal Road, Sevenoaks, Kent TN14 5BX
Kickoff
15/05/2018 19:30
ASHFORD 4-4 TONBRIDGE INVICTA
(after extra time – Tonbridge Invicta win 4-2 on penalties)
Kent County League Eastern Section Les Leckie Cup Final
Tuesday 15 May 2018
Stephen McCartney reports from Greatness Park

TONBRIDGE INVICTA manager Lee Chambers hailed his players' character after coming back from the dead to win the Les Leckie Cup for the very first time in his final game in charge of the club.
A crowd of 161 witnessed an epic game at Greatness Park in Sevenoaks, which finished 4-4 after 90 minutes. Extra-time remained goal-less before Tonbridge Invicta grabbed the victory by winning 4-2 on penalties.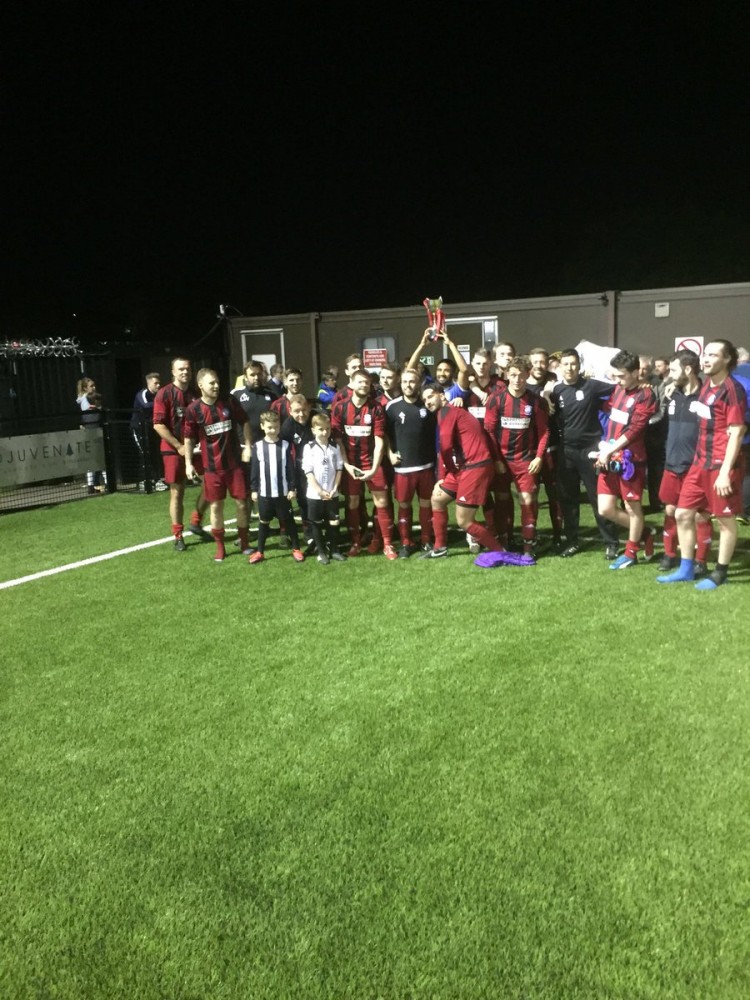 Tonbridge Invicta celebrate winning The
Les Leckie Cup for the first time in Lee
Chambers' final game in charge
Photo: Kent County League

Tonbridge Invicta completed their Andreas Carter Joma Kent County League Division Two Central & East campaign in eighth-place with 23 points from 20 games, suffering a 7-1 humiliating defeat at Rusthall Reserves last Tuesday.

Tonbridge Invicta raced into a 2-0 lead inside the opening 21 minutes, courtesy of midfielders Kane Ramsell and James Knight.

Ashford, who complete their campaign at runners-up Rochester City this Friday, are currently in sixth-place in the same division with 25 points in the bag, then scored twice in only 43 seconds to equalise.

Right-winger Josh Jones, who was the best player on the pitch, pulled a goal back before striker Matt Forster turned the game upside down.

Ashford dominated the second half, scoring a third goal early on through Forster and they had one hand on the trophy when Jones capped off a great night with his second goal.

Chambers pulled off a tactical masterstroke by throwing centre half Oliver Hogben forward as a target man and he glanced his header into the corner to score a lifeline with five minutes left, before fellow defender Jack Moore snatched a last-gasp equaliser to force extra-time.

Both tiring sides couldn't score the decisive winner and Kyle Walker scored the winning penalty for Tonbridge Invicta as this cracking game came to an conclusion.

"I thought it was a good game of football tonight, two teams that like doing things the right way, two good footballing sides," said Chambers.

"We had a disappointing result at Rusthall the other day and we knew it was a bad performance from us and I thought today was a fantastic game for a neutral and everyone involved with local football. I thought it was brilliant!"

Ashford manager Ryan Norman also saw his side lose 3-0 to Welling Town in the Kent Reliance Junior Cup Final on 5 May.

"I'm absolutely devastated to be honest," said Norman.

"We weren't in the game for half-an-hour, Tonbridge were on top of us and were moving the ball really well. We came back into it in the last 15 minutes of the half, started playing the football that we can play and we kept hitting the big centre half (Hogben) and he was eating up everything and he was very good in the air.

"I had a go at the boys and told them to start playing the way we played in both league fixtures, which was to use our wide players and we started to cause them problems and we got back in the game.

"We came out second half, same direction, same message that the boys needed to keep on top of what we were doing and keep moving the ball and keep getting it to JJ (Jones), getting it to Matt Forster and we started to have a lot of joy.

"Taking the game to 4-2 and being 4-2 up with five minutes to go in a cup final these boys needs to learn to see games out!

"I do take some responsibility. It's my first season in management and I will take some responsibility for that. I made the wrong substitutions at the wrong time but it's a learning curve for myself and being in my first season in management and getting to two cup finals it's been an absolute privilege and they've earnt the right to be there and they're a young team and they've got a lot to learn."

Tonbridge Invicta got off to a dream start by opening the scoring with only five minutes and 28 seconds on the clock when central midfielder Ramsell spotted James Atkins off his line and swept his right-footed 35-yarder over his head and into the roof of the net.

"He saw the keeper off his line," said Chambers, who felt Atkins was blinded by the setting sun.

"We spoke about it before the game that with the sun, we wanted to play with it, not against it and that went in our favour. The keeper was standing off his line, the sun probably causing a bit of a problem as well and it was a great strike to put us 1-0 up!"

Norman added: "Do you know what, over the last two or three weeks we've had a few of those. We played West Farleigh on the Bank Holiday Monday and the guy done exactly the same thing 35-40 yards out! He's run onto the ball and he's absolutely pumped it and it's flown straight over James into the top back of the net.

"There's not a lot you can do about it in a cup final. He'll claim it to be an absolute wonder strike. I look at it, it's very frustrating because form the sidelines it doesn't look like he's meant it but these things happen in cup finals. The boys responded to that brilliantly and took a 4-2 lead and they've got to see the game out!"

Ramsell found himself on the other side of the pitch when he cut the ball back for Knight, who took a touch before curling his shot over the top of the far post from 22-yards.

Ashford should have been level in the 19th minute when Jamie Aides floated in a corner from the right but striker Craig Haynes' unmarked cushioned header from six-yards sailed agonisingly wide.

Tonbridge Invicta raced into a 2-0 lead with only 20 minutes and 38 seconds on the clock.

Ashford centre half Bryan Pearce was sloppy as he lost the ball to Ramsell on the touch-line, who strode down the right before putting the ball on a plate for an unmarked Knight, who took a touch before picking his spot past an exposed Atkins.

"I thought it was a quick start from us tonight which we didn't have the other week and I thought up until we were 2-0 up, we were playing the best football at the time," said Chambers.

Norman added: "Pearcy is a really experienced defender. He was with me at Ashford Town with Steve Lovell and Hugo Langton. He signed for me at the beginning of the season, came in before Christmas and played a couple of games and he's come towards the end and done a job for me. My captain Mark Wallis has been on his honeymoon for the last 3-4 weeks so I lost him and Bryan's come in and been absolutely superb.

"He knows that he should've done better down that side and he knows he shouldn't have given the ball away in that area but from that moment he got in to the game and he's been an absolute rock at centre back with Jack Scobie."

The game should have been buried when Hogben rolled the ball to Ramsell, who took a touch on the left-hand side to curl his shot against the top of the far post from 25-yards, with the Ashford keeper rooted to the spot.

Norman admitted: "No manager will argue with you, in cup games you need lady luck on your side and we did rode that luck in the first half a hour. When they went 2-0 up it could've been game over if they put a couple of more chances away but the boys stayed strong, kept themselves in the game and kept pushing."

But Ashford turned the game upside down by scoring two goals in the 34th minute.

Tonbridge Invicta right-back Owen Reid threw the ball back to his goalkeeper Sam Jenner, whose poor clearance was controlled by Jones, who cut into the box, skipped past three defenders before placing his left-footed shot sweetly into the bottom right-hand corner from 12-yards with only the keeper to beat with 33 minutes and 14 seconds on the clock.

Norman said: "Jones is an unbelievable player, everyone here tonight saw he's an absolute asset to this side. His pace is unbelievable. I've said there's no one quicker than him in the whole of the Kent County League football. He was an absolute dangerman tonight in all honesty and didn't deserve to be on the losing side and he took his goal very, very well."

"I thought that Josh Jones was lively all night to be fair with great energy up and down the wing," added Chambers.

"It was bad defending from us at a crucial time to concede as well. Two goals within a minute really put Ashford right back in the game and when they did equalise they were the stronger team."

Ashford were level just 43 seconds later as Tonbridge Invicta lost the ball from the kick-off and Jones broke down the right to reach the by-line before cutting the ball back for Forster at the near post to sweep his shot into the bottom right-hand corner.

Norman said: "Matt Forster has been an absolute workhorse for me this season. I played with him at Kennington under Dan Scorer. I got him over in pre-season and he's been absolutely superb. He was another player who didn't deserve to be on the losing side tonight, he was absolutely superb tonight. He worked their back four, tireless running for the team and got himself a couple of goals. He was fantastic!"

Chambers said: "This is the third time we've played Ashford and Matt Forster, JJ (Jones) and Craig Haynes have been real danger players to us and that we picked out. You give them half a chance in the wrong area of the pitch and they'll punish you. It was bad defending from us, but two quick goals from Ashford.

"I know this football club and we never do things the easy way, we do things the hard way and we've done it all the time. At two-all I thought this was going to be a repeat of what happened the other week, especially when we went three and four-two down. I thought that was it, there was no way back but great character from the boys today."

Knight floated in a free-kick into the Ashford box and Connor Morrow steered his header from 16-yards across the keeper and past the far post, while Stephen Cowell failed to get the ball out from under his feet as he tried to turn in Jones' corner from the right.

Both manager's were asked their thoughts the break.

Norman said: "I said to the boys for the last 15 minutes of the first half we started to play. I had no doubt in my mind 11 men v 11 men if we could play our football I believe it's one of the best footballing sides in this league and we proved that.

"We got ourselves back in to the game. I gave them a direction that they needed to remain and keep their levels up for the first 15 minutes of the second half and the goals will come and that's exactly what happened and we took a 4-2 lead!"

Chambers said: "It was 0-0, that's what we said! This is the chat that we had at the beginning of the game. We're here in at half-time, we're level, let's go out there and the next 20 minutes is crucial. The tempo has got to be better, can we take the game to them? Can we kill it off?"

Ashford were the better and more dominant side during large chunks of the second half.

They took the lead with only three minutes and 48 seconds on the clock when wide-man Cowell's superb 30-yard chipped ball over the top was superbly brought down by Forster before stroking his right-footed shot past Jenner when he only had the keeper to beat from 15-yards, the ball nestling into the bottom left-hand corner.

Norman said: "I haven't got enough compliments for Matt Forster! He's a true hard worker, he works for the team non-stop and he gives his heart and soul into every game and gives me 120% every game and I can't fault him. He's our 20 goal a season striker."

Chambers added: "Give him a yard, he knows where the back of the net is! Great finish. At that point Ashford were really turning the screw!"

Cowell clipped a diagonal pass which was brought down by Jones on the right and he whipped in a cross but Forster's fierce volley screamed just over the crossbar from 12-yards.

Tonbridge Invicta keeper Jenner made a vital stop at his near post, spreading himself to block from Forster from six-yards after Craig Haynes' swept in a cross towards the near post from the opposite side of the penalty area in the 56th minute.

Aides then split open the Tonbridge Invicta defence to put in left-back Ben Hunt, whose first attempt, a chip, was blocked by the advancing Jenner, the second attempt clipped the top of the crossbar from just a couple of yards inside the box.

Tonbridge Invicta rode the storm, however, and went close following their first corner in the 65th minute when Ramsell's low drive deflected past the near post after Hogben rose at the far post to knock down Ashleigh Craft's set-piece.

Halfway through the second half and Ashford went close through Forster's whipped curler, which only just missed the foot of the far post, while Hunt tried his luck from 35-yards but Jenner picked the ball up.

Ashford appeared to have won the game by scoring their fourth goal with 24 minutes and 46 seconds on the clock.

Forster spun his marked to sweep the ball from centre out to the right for Jones, who kept the ball in play on the touch-line, cut into the box before placing his right-footed shot into the bottom near corner.

"Those two (Jones and Forster) were outstanding tonight, they were on a different level all night along with the Tonbridge Invicta centre half (Hogben), they were the best three players on the pitch," said Norman.

"I absolutely feel for them that they're on the losing side, they deserve to take the winners trophy home tonight. I'm disappointed for them that they haven't been able to do that."

Chambers added: "He's another one of their players that we picked out and he's on the scoresheet again and I thought we were dead and buried but we did bounce back."

Tonbridge Invicta threw caution to the wind during the final 15 minutes of normal time as Hogben was thrown forward as an emergency target man.

But Ashford could have won it when Forster released Jones down the right and his dink across the penalty area found sub James Haylock and his left-footed angled drive was blocked by Jenner's left-boot and rolled behind for a corner.

Tonbridge Invicta gave themselves a lifeline by pulling a goal back with 39 minutes and 49 seconds on the clock.

Knight swung in a free-kick from the left and Hogben glanced his header into the far corner from 12-yards.

Ashford defender Bryan Pearce, who had been substituted, was then sent-off for arguing about an incident that occurred in the build-up to the goal.

"At 4-2 you would've thought it would've killed any side but we had to think on the spot, moved Ollie Hogben from centre back to play off for the second ball and just changed the style of play that we needed to do and it paid dividends," explained Chambers.

"Great header! Ollie Hogben, AKA Andy Carroll as we call him. He can do that. I thought he was awesome today. He won a lot at the back but he's got that versatility in him where we can use him if we need to change the style of play."

"Oliver is a good centre back, he's a rock back there for Tonbridge and he's probably one of the reasons they've done so well to reach the cup final," said Norman.

"He was brilliant for them at centre back starting the game, he was a nuisance when he went up front and I don't think for the whole of the 90 minutes I saw him lose a header for Tonbridge and in my opinion he could probably go on and play at a higher level."

Ashford keeper Atkins stuck up a right-hand to tip over Josh Marshall's drive from outside the box but time was ticking away for them.

Chambers added: "A great strike from Josh Marshall that the keeper saved. If that goes in the back of the net we're right back in it but we were still pushing all the way."

A mistake from Atkins gifted Tonbridge Invicta a dramatic late equalised, timed at 4 minutes and 34 seconds into stoppage time.

Craft floated in a deep cross from the right touch-line and Atkins tried to pluck the ball out from underneath his crossbar. The ball came out to Ramsell, his low drive was blocked and Moore buried the ball into the bottom left-hand corner.

Chambers said: "Jack Moore's always at the right place at the right time. Another player that can play various positions. We were pushing and pushing and pushing then with the last seconds on the clock and the celebrations speak for themselves and to get back in the game and take the game to extra-time.

"There was a lot of character shown from the boys today. It was them that went and done the work today. They knew what it meant to me in my last game as well but they need to take all the credit today."

Norman said: "From what I remember leading up to that goal, I think we had two or three opportunities to clear that football and we weren't able to do it. If you've got the opposition team playing around your 18-yard box and they know they're in a cup final they're going to put that ball into the danger area.

"James doesn't drop many to be fair and he has done and ultimately they've filled the box with bodies and then got their goal from that so fair play to them."

Ashford pressed for the winner during the first period of extra-time as both sides tired.

"We were so close, yet so far," admitted Norman.

"Frustration is the first word that comes to mind but you can't as a manager sit there and dwell on that frustration. You are going to have a game plan in your mind of how you're going to move forward. The game is four-all, you've got extra-time coming up. I can't sit there and be angry with the boys conceding two goals in 5 minutes. I think have to come up with the next strategy of how we can push the game again and that's what we done in the first bit of extra-time."

Swarneem Gurung's chip sailed over the Tonbridge Invicta crossbar from outside the corner of the penalty area, before Jones dragged his shot past the far post and Haylock was left free in the box to steer Jones' corner over the bar.

Striker Forster then had a couple of efforts just before the end of the first period.

Tonbridge Invicta started the second period with Tyler Wait's deflected shot on the turn rolling into Atkins' hands for a comfortable pick-up.

Ashford finished the game strongly. Forster was played in and his left-footed drive was kept out by Jenner stretching to his left to make the block.

Tonbridge midfielder Chris Ells cut inside and stung Atkins' fingers before Haynes played in Jones at the death but the man-of-the-match dragged his shot past the far post when he only had the Invicta keeper to beat.

On tonight's performance, flying winger Jones is far better than the 13th tier of English football.

Norman agreed, saying: "Josh Jones was superb! I'm hoping people weren't here looking at him tonight. He was awesome tonight and he loves playing on 3G. He finds it more difficult playing on normal grass but this surface suits him down to a tee because he's a head down and run and he gets past that full-back and once he's past that centre back there's not a player who is going to catch him. He could've bagged himself a hat-trick with these chances."

Chambers said of extra-time: "The lads that have come off, do we get them back on and freshen it up a little bit. We made a few changes in extra-time. There were a lot of tired legs from both sides out there. I actually thought defensively in extra-time we were the more tired team. Going forward I thought we were the more fresher team so it was who was going to take the chance but I thought overall in extra-time it was an even match."

This eight-goal thriller was settled by eight penalties.

Jamie Hurst, who tried to rally his team-mates during the short break, stepped up and his left-footed shot was saved by Jenner, low to his right.

Tonbridge Invicta scored their first penalty as Ramsell sent the keeper the wrong way with a right-footed penalty that nestled into the bottom right-hand corner.

Jones capped off a brilliant night for him personally by striking his right-footed penalty into the bottom left-hand corner as the keeper went the other way.

Ells found the bottom left-hand corner with his right-footed penalty to give Tonbridge Invicta a 2-1 lead.

Haylock drove his left-footed penalty straight down the middle but Jenner punched the ball away just to his right.

Knight made it 3-1 to Tonbridge Invicta, slotting his right-footed penalty into the bottom right-hand corner, sending the keeper the wrong way.

Ashford keeper Atkins slotted his right-footed penalty nicely into the bottom right-hand corner.

Atkins was agonisingly close to saving Walker's right-footed penalty, diving low to his right to make the save but the ball spun behind him to roll over the line.

Norman said: "We've had two penalty shoot-outs this year in both cup competitions, the Kent Reliance and the Les Leckie and James Atkins, our goalkeeper, has been immense! He's saved a couple and he's scored a couple himself. He's a really confident young man. You saw from the last penalty he was extremely unlucky not to take hold of that and it managed to squirm under his body despite the fact that he got a lot behind it. I feel for him, he's been superb this season for the boys.

"It's Lee Chambers' last game tonight in charge of Tonbridge Invicta and his boys fought for him until the very end and this needs to be highlighted. I compliment them for that. They weren't ever going to let him down. They gave him 110% and they wanted it for him and I've got a lot of appreciation for that and I wish Lee all the best in moving forward to whatever club he moves to next."

Reflecting on the win on penalties, Chambers said: "I got the boys in, I said is there anyone that didn't want one? Our skipper Charlie Elgar didn't want the pressure of it so Kane Ramsell is our penalty taker so we named him at number one and I said to the boys who wants them and we named the five and the instructions were do not change your mind! Whatever happens now we've given a brilliant account for this football club, a great account of what we're all about and just don't change your mind! Just be positive and that's exactly what we did."

When asked what tonight's success means to him, Chambers replied: "Unbelievable to go out on a massive high! We were lucky enough over the years rebuilding this football club to pick up silverware and to add another one to the collection. Today is fantastic!"

Chambers has now left Tonbridge Invicta after 25 years and is ready to move on to his next challenge.

"At this moment in time I've still not made my decision. I need a few days away now just to switch off from football, think about what I want to do next but hopefully within the next couple of weeks they'll be a decision made by myself. I have been offered a couple of offers. I don't want to speak directly about what club's they are but I need to sit down and see what the right move is for me."

Ashford: James Atkins, George Argar, Ben Hunt (Robbie Dolan 92), Robbie Dolan (Stuart Taylor 84), Bryan Pearce (Jamie Hurst 82), Jack Scobie, Stephen Cowell, Jamie Aides (Swarneem Gurung 64, Craig Haynes 114)), Matt Forster (Josh Knight 81, Matt Forster 96)), Craig Haynes (James Haylock 59), Josh Jones.

Goals: Josh Jones 34, 70, Matt Forster 34, 49,

Booked: Bryan Pearce 76

Sent off: Bryan Pearce 86

Tonbridge Invicta: Sam Jenner, Owen Reid (Josh Marshall 72), Martin Goldsmith (Owen Reid 97), Charlie Elgar, Oliver Hogben (Kyle Walker 90), Jack Moore (Oliver Hogben 97), Jake Fairweather (Ashleigh Craft 54, Chris Ells 116)), Kane Ramsell, Connor Morrow (Tyler Wait 66), James Knight, Chris Ells (Jake Fairweather 85, Connor Morrow 106)).
Sub: Daniel Rosier

Goals: Kane Ramsell 6, James Knight 21, Oliver Hogben 85, Jack Moore 90

Booked: Kane Ramsell 27, Jack Moore 36, Josh Marshall 74, Owen Reid 111

Attendance: 161
Referee: Mr Keith Wenham (Allhallowes)
Assistants: Mr Peter Wilson (Maidstone) & Ms Kiera Gallagher (Walderslade)
Fourth Official: Mr Roger Beake (Faversham)
Coverage Sponsored by: