Bromley retain the services of Roger Johnson and Omar Bugiel
Sunday 01st July 2018
BROMLEY manager Neil Smith has retained the services of central defender Roger Johnson, 35 and striker Omar Bugiel, 24.
Johnson, a former Premier League player has signed a new deal, keeping him at Hayes Lane for the foreseeable future.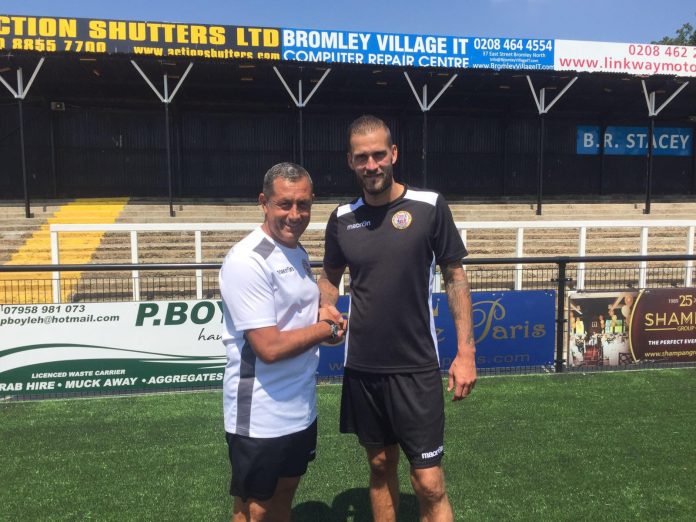 Bromley have re-signed former Charlton Athletic defender Roger Johnson, 35.
Photo: Bromley FC

Johnson adds a wealth of experience to an already strong defensive unit, brought together by the Bromley manager.

Johnson first signed for the Ravens back in October 2017 and made his first appearance in a goal-less draw at Dover Athletic in The FA Cup Fourth Qualifying Round.

The former Cardiff City, Birmingham City, Wolverhampton Wanderers and Charlton Athletic defender became a stalwart in the Bromley back-line alongside captain Jack Holland and will continue to provide guidance to the younger members of the squad alongside the management team.

"Roger came in at a difficult time last year but his experience is immense and it really helped us, especially getting to the First Round of The FA Cup and the Final of The FA Trophy," Smith told www.bromleyfc.tv.

"With a relatively young squad, it's important to have someone like Roger around and he's always a pleasure to work with. The players have and will continue to learn from him."

Sidcup resident Johnson added: "I'm glad to get the deal done. It's been a long process, pretty much since the end of the season. We can just move forward now and I can focus on getting fit and being ready for the new season."

Bromley finished in ninth-place in the Vanarama National League last season and were 19 seconds away from winning The FA Trophy Final at Wembley Stadium but Brackley Town equalised through Johnson's heartbreaking own-goal, before going on to win the penalty shoot-out 5-4 after Bugiel and Holland didn't score.
Bugiel has today signed a two-year contract to stay at Hayes Lane to become the 15th player in Smith's squad for the coming season.

Bugiel scored six goals in 22 appearances during his loan-spell from League Two side Forest Green Rovers, scoring at Wembley Stadium to give the Ravens the lead against Brackley Town.

Smith said: "I'm delighted! Omar came in midway through the season and was absolutely phenomenal when we got him up to match fitness at the end of the season.

"He was the one I really wanted this season and I'm absolutely delighted he's chosen us. There were other, so called bigger clubs who wanted him, but he chose us and I'm pleased to have him leading my front line."
Bugiel himself had plenty of choice during the summer break, but insisted his heart was always at Hayes Lane.

"I'm really happy to be here. It's good that we've managed to sort everything before the season starts. It's very important to be here for a full pre-season, as it's when you find out about and work with your new team mates.

"Last season was tough in the way it ended, but I'm ready to kick on again with the new players and those who have re-signed, and I'm really looking forward to it.

"I felt a warm welcome when I arrived and felt at home throughout the six months I was here, all the way to Wembley. Seeing over 18,000 fans supporting us there was incredible. Hopefully next season we can get even more fantastic support, as it really drives the boys on."
Smith has lost 49 goals as Louis Dennis (Portsmouth), Josh Rees (Gillingham) and Luke Wanadio (Aldershot Town) left Hayes Lane this summer.

Visit Bromley's website: www.bromleyfc.tv

Article updated: 14:45 – Sunday 1 July 2018