Brackley Town 1-1 Bromley - I'm a Bromley boy and I'm a bit devastated that I couldn't bring the trophy home, says Neil Smith
Sunday 20th May 2018
Brackley Town

1 – 1

Bromley

Location
Wembley Stadium, Wembley, Middlesex HA9 0WS
Kickoff
20/05/2018 16:15
BRACKLEY TOWN 1-1 BROMLEY
(after extra time – Brackley Town win 5-4 on penalties)
The Buildbase FA Trophy Final
Sunday 20 May 2018
Stephen McCartney reports from Wembley Stadium

BROMLEY manager Neil Smith says he feels devastated after his home-town club were only 19 seconds away from winning The Buildbase FA Trophy at Wembley Stadium before suffering a second heartbreak by losing 5-4 on penalties to Brackley Town.


A crowd of 31,430 were in attendance on Non-League Finals Day as Hellenic League champions Thatcham Town claimed a 1-0 win over Northern Leaguers Stockton Town earlier in the day courtesy of Shane Cooper-Clark's 62nd goal of the season, scoring from a 23rd minute penalty.

Although no official attendance figures from each of the four clubs were confirmed, Bromley took at least 17,000 fans and packed one end of the iconic stadium.

But having travelled 3,190 miles in this FA Trophy campaign, the trip home from Wembley was the longest that the Bromley fans had to endure as victory was twice taken away from them in a cruel fashion.

The dream was on in the 19th minute when full-time Bromley opened the scoring through Omar Bugiel's seventh goal for the club since coming in on loan from League Two outfit Forest Green Rovers.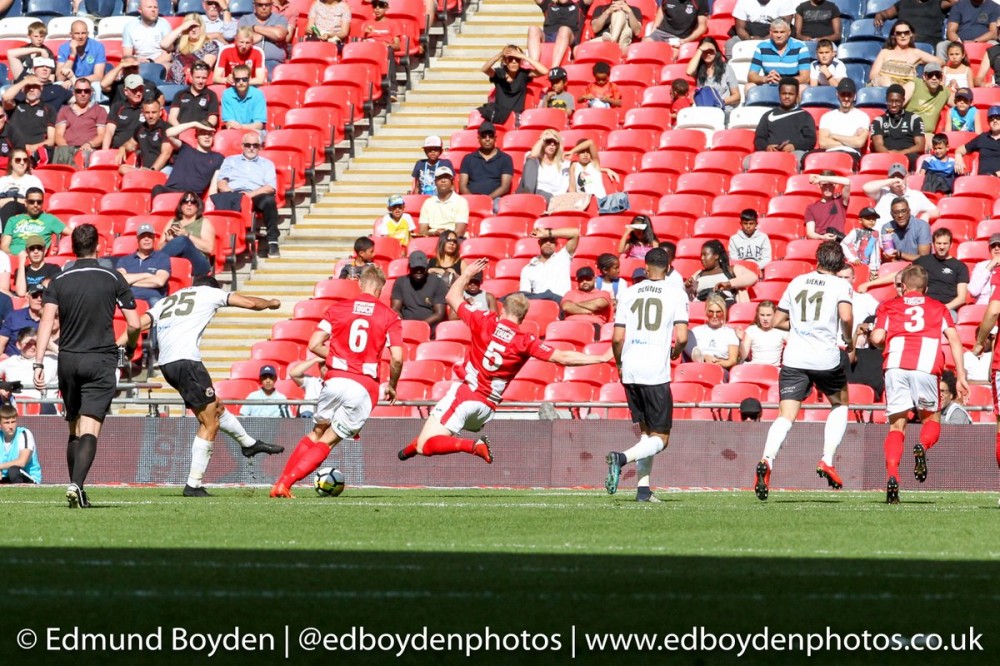 Omar Bugiel (left, number 25) gave his side an early lead but missed the penalty that would have won The FA Buildbase Trophy for Bromley
Photo: Edmund Boyden - http://www.edboydenphotos.co.uk

Brackley Town, a part-time outfit that finished in third-place in the Vanarama National League North and lost 3-0 at Harrogate Town in last Sunday's Promotion Final, pressed for an equaliser and had a lions share of possession during the game but the way that Kevin Wilkin's side snatched a deserved equaliser will haunt Bromley.

Matt Lowe's driven shot bounced off the foot of the post and Roger Johnson and Brackley skipper Gareth Dean went to flick the ball in but it was four-time Wembley visitor Johnson who flicked the ball agonisingly rolling into the bottom corner.

Bromley led 4-2 on penalties and Bugiel could have won it for Bromley but the pressure was too much and he skied his penalty high over the bar and Jack Holland then hit the right-hand post with the 11th spot-kick before Brackley's Andy Brown slotted in the winner.

"I'm just upset for the players, up until the 94th minute they done everything right until you let that goal in right at the death with 19 seconds to go and they showed character to stay in it for the extra-time and then it seems like it was snatched away again going into penalties," said Smith during the post-match press conference.

"But the players have been absolutely brilliant for me since we come in pre-season to where we are today.

"We've made massive strides at this club so I'm proud of them. I'm honoured what they've given me since the start of the season and I'm upset for them because I think they deserved to get a win but fair play to Brackley, they didn't give up and they were brilliant.

"They had chances, to be fair to them, before they scored the goal but I thought we done enough to see it out.

"I've just said how proud I am to be their manager. When we set out at the beginning of the season no one envisaged we'd be missing out on the play-offs (by four points), a trip to Wembley. We've had a great season this year. We'd love to have finished it on a high just for the supporters where they've had to travel and how far they had to travel for us to get to this situation.

"I'm a Bromley boy and I'm a bit devastated that I couldn't bring the trophy home for them!"

Brackley Town were dangerous down the right-flank with wing-back Matt Lowe dominating Bromley left-back Tyrone Sterling during the early exchanges.

Lowe drew a foul from Sterling down the right-hand channel and Shane Byrne's resulting free-kick was poked past the near post by James Armson from inside the six-yard box.

Bromley went close following their first corner of the game, which was swung in by Frankie Sutherland and cleared out to Frankie Raymond, who threaded the ball through to Bugiel who drilled his left-footed shot into the top of the side netting from 10-yards.

Adam Walker played the ball inside to Armson, whose cross from the right was cleared away from Bromley winger Adam Mekki and Armson picked up the second ball to sweep his left-footed shot harmlessly over the crossbar from 22-yards.

Bromley grabbed the lead with 18 minutes and 36 seconds on the clock and Wembley erupted.

Omar picked up the ball inside his own half and rolled the ball forward into Mekki's feet and he turned Byrne, leaving him on his backside, and slipped in Bugiel who rolled his composed left-footed shot across the keeper to find the bottom far corner from 12-yards.

"Omar was different class! He worked his socks off today, obviously getting cramp as he did late in the game," said Smith.

"He took it well. He had a chance before where he hit the near post. He should've scored it or hit it across the goal but he certainly did that the second time so yes it was a great goal."

Connor Franklin's run down the left saw him reach the by-line before his cross sailed over to Lowe, who outjumped Sterling and his downward header from 12-yards was comfortably gathered by Bromley keeper David Gregory.

Bromley were to be denied a second goal in the 27th minute due to a brilliant save from Brackley keeper Danny Lewis.

Louis Dennis, who was kept quiet by a combination of Franklin and Glenn Walker, whipped in a cross from the right wing and George Porter drilled his shot into the ground from inside the box and Lewis dived low to his left to make a vital save.

Smith said: "Great save! He pulled off a couple of saves, to be fair, the keeper and you just try to put them under pressure."

Byrne's corner from the left was punched away by Gregory and Armson's cross from the right was met by Lee Ndlovu's towering header (beating Sterling in the air) but the Brackley striker steered his header past the left-hand post from six-yards.

Bugiel played the ball out to Dennis, who cut in and found a pocket of space but his left-footed drive sailed harmlessly over the crossbar from 25-yards.

Brackley Town came close to equalising on the stroke of half-time when Franklin's long throw was cleared out to Byrne, who drilled his right-footed shot just past the foot of the left-hand post from 25-yards.

"These are a good side, they missed out playing against us in the National League so we knew they were going to be difficult. We've seen them perform and they were no different to what we expected," said Smith.

"At half-time we said just keep going, just keep doing what we're doing. We're 1-0 up, they're going to come at us and hopefully we can create some chances if they're going to open themselves up."

Bromley missed another great chance to kill the game off inside the opening six minutes of the second half.

Sutherland swung in a corner from the left towards the near post for Jack Holland to plant his header straight at the keeper from four-yards out.

"It was straight at him, he's been scoring from set-plays and it just wasn't going to be today," added Smith.

And just 35 seconds later Raymond was in space and he dinked his left-footed shot from 25-yards, which was comfortably caught by Lewis on his knees.

Lowe fed Armson and the 20-goal threat cut into the Bromley box and a diving Gregory saw the ball flashed just past the far post.

Dennis briefly got into the game as he latched onto Jordan Higgs' through ball and cut towards the edge of the box before putting it on a plate for Sutherland, who swept his right-footed shot past the far post from 18-yards.

Bromley got lucky on the hour-mark, however, when they failed to clear Byrne's corner from the right and Armson's left-footed shot from three-yards clipped the left-hand post.

Brackley then turned the screw and Gregory spread himself at his near post to prevent 35-goal striker Aaron Williams scoring from a tight angle when he was put through on goal with a diagonal pass along the hallowed turf.

Brackley Town squandered a great chance to score halfway through the half.

Walker and substitute Brown linked up down the left and Walker reached the by-line to cut the ball back for Armson and with the whole goal to aim at he leaned back and let Bromley off the hook, as his right-footed drive from eight-yards somehow sailed wide of the right-post.

"Gregaz made a couple of saves, they've hit the post so we had the warning, that's why we changed it a little bit and it nearly paid off," said Smith.

"They were always going to throw everything at it. The goalkeeper (at the end of normal time) was coming up for corners and everything else so you just hope you can see it out and in the fourth minute of extra-time they go and get a goal."

Smith replaced eight-goal winger Porter (62 minutes), 21-goal Dennis (68) and winger Mekki (72) to bring on Josh Rees, Brandon Hanlan and Ben Chorley.

Bromley went with three central defenders (Johnson (left), Chorley (central) and Holland (right) with Sterling and Higgs being used as wing-backs and this was a sign to sit back on their slender lead and use Hanlan's power and pace on the counter-attack.

With three minutes remaining, Gregory plucked the ball out of the air as Walker delivered a cross into the six-yard box from the left.

Bromley should have been celebrating a famous victory with 44:27 on the clock when Rees put Hanlan through on goal and with only the keeper to beat a couple of yards inside the box, Lewis made a vital block with his legs.

Smith said: "I thought when Brandon went through a couple of times, I thought if he puts one of those away that's the game over but he just hit the keeper. He pulled off some great saves.

"We weren't settling for a 1-0. We knew they were going to come at us and that's why I put Brandon on just to see if we could force the issue.

"Brandon gives you that little bit of power and pace when he came on. We've sort of worked on it, he just didn't take his chance."

Armson, who oozes class and put in an impressive shift, ran at the Bromley defence and his right-footed drive was beaten away by Gregory, as Bromley were hanging on as they sat back.

With whistles coming from the Bromley faithful as the five minutes of stoppage time were almost up, Brackley Town cruelly – yet deservedly – equalised with 49:41 on the clock.

Lowe cut in and his shot flashed across Gregory and bounced against the base of the far post and Dean and Johnson went for the ball Johnson flicked the ball past Gregory from inside the six-yard box, the ball agonisingly rolling into the bottom far corner of the net, breaking thousands of hearts. Referee Chris Kavanagh blew the final whistle at 51:08.

Smith said: "It hit the post, comes across and it could've gone anywhere! It fell straight to their player, I don't think he (Johnson) knew too much about it and it just rolls in. It was like agonising and we take the centre and that's the end of the game."

On Johnson, Smith said: "He feels just as gutted as when he was playing in the Premier League and missed out in The FA Cup and stuff like that.

"He's come in and he's been an absolute colossus of a man. He's guided Jack Holland through and I thought he was awesome again today, his leadership, his experience is what we needed at times.

"He's in there now, absolutely devastated that he let a goal in because he prides himself on clean sheets and we thought we done it!"

It was the most heartbreaking moment in Bromley's 125-year history.

Smith said: "I was feeling devastated but we've got 30 minutes, don't give up. I don't think we did. I thought we were on the front foot in extra-time. Again, Brandon had a couple of chances and just couldn't put them away."

Hanlan was put through on goal but Lewis made another superb save with his legs after only 14 seconds.

Williams linked up well with substitute Ellis Myles down the right and the cross was headed away by Johnson inside the box and Lowe's hooked volley sailed over the Bromley bar from 30-yards.

Bugiel went down with cramp at the end of the first half but he missed a headed chance in the fourth minute of the second period.

Referee Chris Kavanagh let challenges from Dean and then Sutherland go unpunished in the second half when both deserved to be booked.

Raymond swung in the resulting free-kick from the left flank and Bugiel rose to plant his header across goal and past the far post from eight-yards.

Bromley's Higgs slid in to win the ball from Steve Diggin and threaded the ball down the line to Sutherland, who whipped in a cross and Hanlan's headed the ball into Lewis' hands from 10-yards.

The referee then called time and Brackley Town won it on penalties.

Bromley went up first and Sutherland slotted his right-footed penalty into the bottom left-hand corner.

Bromley keeper Gregory dived to his right to save from Byrne's right-footed penalty.

Raymond gave Bromley a 2-0 lead when he slotted his spot-kick just right of centre, as the keeper went to his right.

Williams pulled one back for Brackley, sending Gregory the wrong way with a right-footed penalty that went into the left-hand side of the goal.

Brackley keeper Lewis stood no chance when Hanlan rifled his right-footed penalty high into the top left-hand corner to give Bromley a 3-1 lead.

Diggin sent Gregory the wrong way with his right-footed effort, which nestled nicely into the left-hand corner.

Rees gave Bromley a 4-2 lead when he slotted his penalty into the left-hand corner.

Armson made it 4-3 when he found the bottom left-hand corner.

The next penalty will haunt the Bromley faithful as they had to score the next one to win The FA Buildbase Trophy but Bugiel lashed his right-footed penalty over the bar and dropped to his knees in despair and Holland strode forward from the half-way line to console his team-mate.

Brackley came back from the dead to make it 4-4 but Gregory guessed the right way, to his right, and couldn't prevent Walker's left-footed penalty finding the corner.

Now in sudden death, Bromley boy and captain Holland pulled his white shirt over his face after crashing his right-footed penalty against the right-hand post.

Report follows below photograph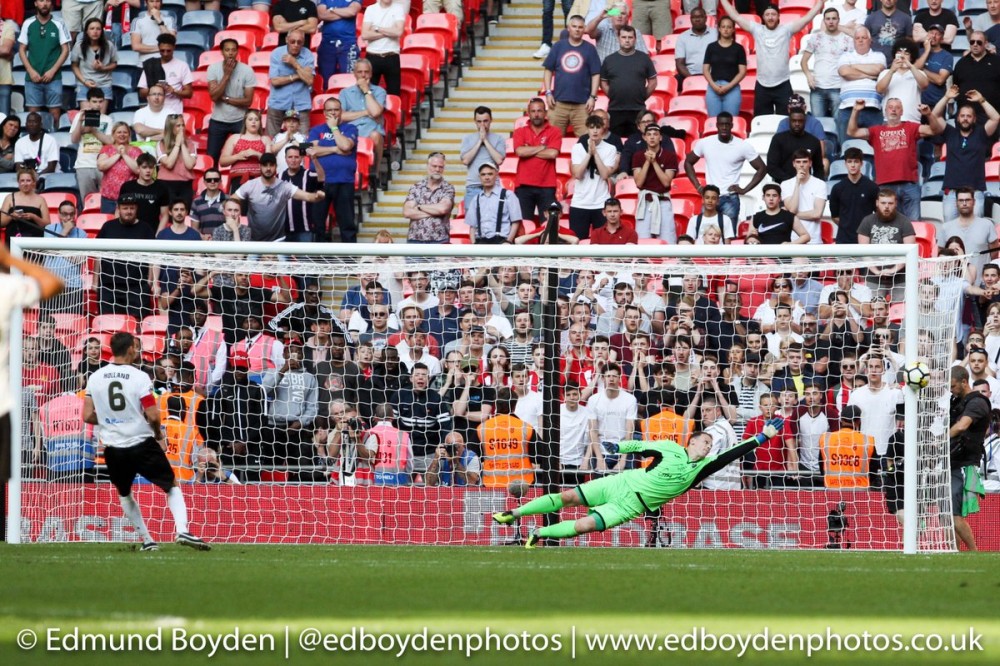 DESPAIR: Bromley captain Jack Holland hits the post from his penalty kick as the Ravens suffered double heartbreak at Wembley.
Photo: Edmund Boyden - http://www.edboydenphotos.co.uk


Super-sub Brown won it for Brackley, rolling his right-footed penalty into the bottom left-hand corner.

Smith said: "It's cruel, it feels like we've lost it twice! Omar has had the highest of highs, he's scored at Wembley and then he's had the lowest of lows by missing one.

"Jack, who's my captain, put himself up and that's what he's done. He's always led from the font. I'm not going to have a go at anyone. We've got a togetherness and we win together and we lose together."

After Holland collected his runners-up medal he led his team-mates down the steps to shake the hands of the victorious Brackley team.

"You've got to respect Brackley, this club is a fantastic club and I think they deserved a pat on the back and shake of the hands. They never gave up. Kevin Wilkin, their manager, has done a fantastic job and I'm just devasted that we couldn't finish it off.

"Jack's my captain, he leads from the front, that's why he puts himself up to take a penalty. To put yourself up in that situation, he showed guts and that's why he's my captain. He's been brilliant all season. We harp back earlier on in the cup when he scored the goal (at Workington) when we looked like we were going out so I can't fault the man. I thought he was outstanding today.

"Omar's had the highs and the very lows. He's distraught in there but what the players have had is a great team spirit so he's not there on his own. He's not to blame in any way shape or form. We've got a great togetherness and the boys are getting around him now. He scored a great goal and you have that at the end.

"Just devastating for the boys. If feels like we've lost it twice. We let them get the equaliser with 19 seconds to go and we're (two) penalties up, just hit the net and score and it seems like we've lost the game twice!"

This Bromley squad has given the club their best ever season. A record breaking 70 points, a personal best finish of ninth-place in their third season in the top flight of non-league football and three live games on BT Sport in 2018 and a day out at Wembley.

When the dust settles and the pain goes away, the Hayes Lane faithful can be proud of their heroes for their achievements this season.

Smith said: "The expectation levels will go up, everyone will expect it again and we know it's going to be another hard season but the boys can have a rest until Tuesday now and then we'll have a meeting and discussion where we're going from then. We've got players to speak to. Tonight we'll put that to bed and just go and commiserate."

Brackley Town: Danny Lewis, Matt Lowe (Steve Diggin 111), Glenn Walker, Alex Gudger, Connor Franklin (Ellis Myles 78), Gareth Dean, Shane Byrne, James Armson, Lee Ndolovu (Andy Brown 53), Adam Walker.
Subs: Luke Graham, Theo Streete

Goal: Roger Johnson 90 (own goal)

Bromley: David Gregory, Jordan Higgs, Tyrone Sterling, Frankie Raymond, Roger Johnson, Jack Holland, George Porter (Josh Rees 62), Frankie Sutherland, Omar Bugiel, Louis Dennis (Brandon Hanlan 68), Adam Mekki (Ben Chorley 72).
Subs: Alan Dunne, Dan Johnson

Goal: Omar Bugiel 19

Attendance: 31,430
Referee: Mr Chris Kavanagh (Manchester)
Assistants: Mr Dan Cook (Hampshire) & Mr Daniel Robathan (Norfolk)
Fourth Official: Mr Michael Salisbury (Lancashire)

Photographs courtesy of Ed Boyden - http://www.edboydenphotos.co.uk

Coverage Sponsored by: