Whitstable Town 2-2 Whyteleafe - We're ahead of schedule, says Whitstable Town boss Jim Ward
Saturday 21st March 2015
WHITSTABLE TOWN 2-2 WHYTELEAFE
Ryman League Division One South
Saturday 17th January 2015
Stephen McCartney reports from Belmont Road

WHITSTABLE TOWN joint-manager Jim Ward says he would like to take his club up to the Ryman Premier League for the first time.

The Oystermen are enjoying their best ever Ryman League Division One South campaign - sitting in seventh-place with 45 points from 31 league games tonight – seven points adrift of fifth-placed Worthing.

But they faced a mountain to climb when sixth-placed Whyteleafe raced into a 2-0 lead within seven minutes, courtesy of goals from Sam Clayton and Roscoe DSane.

Scott Heard gave Whitstable a lifeline drilling in his fourth-goal of the season before Tom Loynes stabbed home an equaliser from close range early in the second half.

Whyteleafe had three players sent-off during the second half as right-back Sol Patterson-Bohner, central defender Dylan Merchant and central midfielder Bentley Graham were all sent-off by referee Jack Packman, who passed the pitch playable following a ten o'clock pitch inspection.

Whyteleafe coach Rob Smith and Whitstable's joint-manager Danny Ward were also told to leave the technical area by the Margate based referee following Merchant's red.

When asked whether this was a point gained or two points dropped, Jim Ward replied: "Well, it depends when you want to ask me! If you'd have asked me after seven minutes I would have bitten your hand off for a point!

"But this set of players that we've got here, they've really got it in them to go ahead and be positive.

"I kept shouting out 'don't panic, don't panic, we'll be ok, there's plenty of time' – as it proved.

"We got a great goal from Scott Heard and then I think Aaron James got it (the equalising goal went to Tom Loynes).

"I think it's difficult when teams go down to ten and nine players and eight because from our side of things we went a bit gung-ho.

"We had too many men passing the ball when in the first place at the start of the first half and the start of the second half we were throwing, building up and getting pressure and it was maybe a little bit too much gung-ho if you like.

"But in the end of the day that's five games and we've got thirteen points and that's what a manager can only ask so much from the team and that to me was a gutsy performance."

He added: "Yes, at the end of the day it's two points dropped."

This was a game that would prove if Whitstable Town are serious play-off contenders following four wins on the spin but Ward admitted his side's start was "absolutely terrible."

John Fowler's side took the lead with only two minutes and 54 seconds on the clock.

Set-piece specialist Jason Thompson swung in a left-footed free-kick from the left, which was scooped clear, only as far as highly-talented Clayton, who cracked a stunning left-footed drive into the top left-hand corner from 25-yards.

"He was the best player on the pitch," Ward said of Clayton.

"We've had strong words in the changing room about that! The first ten minutes I thought we were terrible, absolutely terrible.

"We never won the first ball. We never won the second ball. Never won a tackle.

"It's something that we've got to learn. We're still just a young team, a young group of lads. It's easy to say this but you take the first ten minutes out of it, the referee would have stopped it because we absolutely battered them!

"You can't take the first ten minutes so you must learn, must go back to the drawing board. There's a couple of things that we're working on (in training) Tuesday night. The attacking side of it and getting the centre forward in more and also the defending side. We never lined up properly."

Whyteleafe's vocal supporters were soon celebrating their second goal, timed at six minutes and 10 seconds.

Thompson swung in a corner from the right and Whitstable Town had plenty of bodies behind the ball to initially block Shawn Lyle's shot, but DSane steered his left-footed shot through the crowd into the bottom corner from ten-yards.

Ward admitted: "It was a good goal to score, without a doubt, good goal to score but a terrible goal to let in!

"He's one of the top strikers in the division, Roscoe, been around for a lot of years, played Conference football and all that.

"You can't let him go but again he only had one chance the whole game and he wasn't in the game. It's those little things that are so important, if you want to progress."

Whitstable then created their first opportunity when Kane Rowland's cross was cleared out to Luke Girt, who scuffed his shot into Sheikh Ceesay's gloves.

Whyteleafe – who play on a 3G pitch back at Church Road and weren't impressed having to play on a muddy pitch - squandered an excellent chance to kill the game off as early as the 12th minute.

Thompson drilled his free-kick into the Whitstable wall and Graham clipped the ball back into the box but Clayton placed his left-footed shot on the turn just past the diving Luke Watkins and past the foot of the near post.

Whitstable Town right-back Jake MacKenzie progressed down the right to reach the by-line before floating over a cross, which appeared to hit striker Ian Pulman on the right shoulder and Ceesay comfortably collected the ball to his right.

But Whitstable Town pulled a goal back in the 19th minute.

Top marks must go to midfield general Nick Treadwell, who showed desire to slide and win the ball off Lyle before rolling the ball into Heard's feet, who strode forward before clipping a left-footed shot which looped over Ceesay to find the top far corner of the net from 25-yards.

"He should do more of it because he strikes a great ball, top corner, great goal," said Ward.

But Ward signalled out man-of-the-match Treadwell, for another dominant performance in the middle of the park.

"But Treadwell, when you talk about players being the best players on the pitch, their number 11 (Clayton), for me was the best football player on the pitch, but both teams would have taken Treadwell by a mile.

"I think Nicky Treadwell was the one you'd most likely sign because he was good. He was good today.

"He's not pretty is he to be fair. He does what he's best at and he's best at winning the ball and helping his team mates out. He even got a goal last week!"

Heard then played the ball up to Rowland, who hit a speculative right-footed drive past the near post from 30-yards.

Graham progressed into Whitstable's half and played the ball inside to DSane, whose shot on the turn from 25-yards rolled into Watkins' gloves.

But highly-rated Watkins kept Whitstable in the game with a smart save in the 35th minute.

Graham played a sublime through ball to put Jason Henry through on goal but Watkins raced to the left-hand corner of his penalty area and made a one-handed save to thwart the right-winger.

Ward said: "Oh yes, great save, what a great save, the one handed save. He's got in down the left and saved it with his right hand. Fantastic save.

"You couldn't fault him with the goals today. He's very good, very good. They're entitled to their chances aren't they but like I say if you've added up all of the chances that both teams have had, I think we'd be on top."

Thompson clipped the ball up towards the edge of the Whitstable box, which was headed away by central defender Luke Doherty for Clayton to crack a left-footed volley just past the near post from 25-yards.

A good run down the right by Heard came out to Pulman on the left, the Whitstable striker cutting into the penalty area and despite appearing to be held back by Jensen Grant, he managed to get a shot away, which lacked power and rolled into the keeper's hands.

The Ward brothers' wise words during the interval had the desire effect as Whitstable Town equalised just 161 seconds into the half.

Ward said: "The biggest words that we were using were 'be patient! We're on top and we'll win this game. Be positive as we always are and we'll take the game to them as much as we can, which we did."

Pulman swung in a corner from the left which was cleared out to Heard on the edge of the box and he played the ball across to Aaron James, who bundled the ball past the advancing Ceesay and was destined to score his first goal of the season – only for Loynes to pounce on the goal-line and stab the ball over the line to score his 12th goal of the season.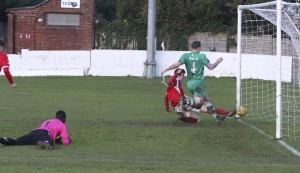 GOAL: Tom Loynes scores the equalising goal against Whyteleafe, who finished the game with three players' sent off. Photo: www.whitstabletownfc.co.uk

Both James and Loynes wheeled away to celebrate "their" goal and Ward said: "They're arguing about it in there so let them two argue about it, I don't care!

"I think Aaron James might argue about that (the goal going to Loynes).

"Aaron's told to stand in a certain spot at the far post and that's where he was and it was him that got the touch that's what's made the goal. Whether he scored the goal or not, it's something that we've worked on in training."

Whyteleafe quickly started to lose their discipline and Patterson-Bohner picked up his second yellow card in the 53rd minute for a foul on Heard.

Ward added: "I don't want to get embroiled in all of that!

"It was a heavy pitch. I know they weren't very happy playing on that pitch and there was a lot of bad feeling before the game.

"We thought the pitch was ok. The chairman and all his helpers have done a great job getting it ready but I didn't see anything wrong. The lad, who got sent off over there, for the second challenge. That was the only one I've seen that maybe was a bit harsh. That was a second booking but the rest of it, well, yes they were double bookings."

Whitstable went on to dominate the rest of the game, creating chances but they appeared to rush things in the final third.

MacKenzie clipped the ball in behind the Whyteleafe defence but Rowland's first time drive deflected across goal and past the far post.

Eighteen-goal striker Pulman then cut in from the left and Ceesay used his legs to make a fine block at his near post.

Loynes' right-footed chip looped towards the roof of the net but Ceesay made a great save with an outstretched left hand to flick the ball down into Pulman's path, who could not find the target with the rebound.

Ward said: "But the trouble is when they were short of players, did we create enough?

"We had loads of the ball, loads of stuff that looked good but the pitch at this time, it's churning up and it's heavy. We've got a lot of ball players in this team, people who run with the ball and it was getting difficult to run with it.

"We would have liked to have tested the goalkeeper more than what we did but after seven minutes I would have taken what we got at the end."

Pulman drew a foul from Merchant who picked up his second yellow card in the 64th minute, which moments later saw referee Packman send Smith and Danny Ward to the stands following a flash-point involving the pair of them in front of the players tunnel.

"The guy (Merchant) came running off and wanted to fight everybody," claimed Ward.

"The player first of all and then the assistant manager (Smith) came across – I don't know who he is – he came across and got loud to everybody and we just thought 'behave yourself, sit there or you'll get yourself into trouble.

"Why he's come across and got involved with Danny, I don't know but Danny did not do a lot wrong at all."

Whitstable Town pressed for the lead and they went close in the 69th minute when Peter Wedgeworth's corner from the right flashed across the face of goal and Ceesay used his legs to block Rowland's first time shot.

With Lyle working tirelessly for Whyteleafe up front on his own, it was down to the rest of his team-mates to prevent Whitstable Town scoring a deserved winner as the Kent side camped themselves in the Whyteleafe half for the rest of the game.

Heard released Pulman down the right but Ceesay came out of his goal to smother the ball at the striker's feet.

Heard then danced his way into the Whyteleafe penalty area, the ball looping just past the near post.

With the home side pushing men forward, MacKenzie clipped the ball up for Pulman to drill his shot past the near post, before their last clear cut chance came in the 85th minute when Ceesay dived low to his right to prevent Loynes stroking his shot into the bottom far corner.

Ward said: "Keeper done alright, but like I say he wasn't tested enough, but here we are we've played five games and I can't be critical of the boys. I can be for the first ten minutes of the game because we weren't very professional but the rest of the game, the people who were here they realised the conditions that were really hard and difficult and what they can't say is they're not giving every ounce that they've got."

Whyteleafe can expect a fine from The Football Association after finishing the game with eight-men on the pitch after Bentley was shown his second yellow card in the third minute of just over six minutes of time added on.

Ward admitted: "I thought he was unlucky as well when he got sent-off. It was something or nothing here weren't it? I don't know, letter of the law maybe it's a booking, I don't know."

The Ward's take Whitstable Town to Faversham Town – second in the table level on 68 points on unbeaten Burgess Hill Town, who have four games in hand on Ray Turner's side – next Saturday.

"Yes, we're ahead of schedule," admitted Jim Ward.

"We're a good group of lads and they need to learn. What we talk about more than anything else, they need to learn more professionalism, a bit more nous but we're ok, we'll alright.

"If we're fortunate to get into the play-offs, no one will want to play us.

"We've got Faversham next week, which is a big local derby. We've won the last three local derbies so let's see what we're up against next week."

Worthing, however, hold the box seat in the race for the final play-off berth, seven points clear of Whitstable with fifteen league games left.

"How do we get in there? Well, keep doing what we know is right. We're doing a lot of things that are right and just keep doing it," came Ward's reply to the question of grabbing a play-off place for the first time in the club's history.

"We're organised. Everything's right. The set-pieces are good. Everything's solid. We know what we're doing. All we've got to do, we've got to be a threat. We've got a lot of players that are a threat.

"We spoke before the game that there's certain areas where we could do better. I could do with more centre halves scoring goals and that's about it. We're organised, we're decent."

When asked whether Whitstable Town are ready to play Ryman Premier League football for the first time next season, Ward replied: "Are we ready this year? I don't know! I don't know. Whether it's this year or the year after or the year after that, I'd like to take these players up to the Premier and give them a chance."

Whitstable Town: Luke Watkins, Jake MacKenzie, Peter Wedgeworth (Connor Coyne 79), Aaron James, Luke Doherty (Ollie Gray 86), Nick Treadwell, Scott Heard, Luke Girt, Ian Pulman, Kane Rowland, Tom Loynes.
Subs: Joe Kane, Ollie Lee, Josh Donnelly

Goals: Scott Heard 19, Tom Loynes 48

Booked: Luke Doherty 81

Sent Off: Danny Ward (joint-manager) 67

Whyteleafe: Sheikh Ceesay, Sol Patterson-Bohner, Jordan Bird, Jason Thompson, Dylan Merchant, Bentley Graham, Shawn Lyle (Greg Andrews 90), Jensen Grant, Roscoe DSane (Ryan Fowler 68), Jason Henry (Tommy Smith 55), Sam Clayton.
Subs: Tom Pratt, Alex Penfold

Goals: Sam Clayton 3, Roscoe DSane 7

Booked: Sol Patterson-Bohner 21, Bentley Graham 55, Dylan Merchant 58, Sheikh Ceesay 73

Sent Off: Sol Patterson-Bohner 53, Dylan Merchant 64, Rob Smith (coach) 65, Bentley Graham 90

Attendance: 181
Referee: Mr Jack Packman (Margate)
Assistants: Mr Michael Marsh (Herne Bay) & Ms Louise Saunders (Rochester)