Whitstable Town 0-1 Tooting & Mitcham United - We're not ready to take this bunch of players up to the next level, says Danny Ward
Sunday 22nd March 2015
WHITSTABLE TOWN 0-1 TOOTING & MITCHAM UNITED
Ryman League Division One South
Saturday 7th March 2015
Stephen McCartney reports from Belmont Road

WHITSTABLE TOWN joint-manager Danny Ward admits his side dropped their standards after slipping up in their attempt to gate-crash the play-off party at the end of the season.

Hopes were high for The Oystermen after three wins on the bounce over Sittingbourne, Worthing and Hythe Town which put them sixth-place in the Ryman League Division One South table on 57 points from 37 games, level on points with fifth-placed Whyteleafe, who have a game in hand.

But the Kent side ran out of steam on a windy and sunny day at Belmont Road as Tooting & Mitcham United grabbed victory through Dan Summers' headed goal after only 336 seconds into a poor encounter.

However, the game will be best remembered as Canterbury-based referee Phillip Rowley dished out 12 cards in the game. Five yellow cards were handed out to Whitstable Town, while Tooting & Mitcham United face a fine after picking up six yellows and a red.

Midfielder Billy Marshall became the fifteenth player to be sent off against Whitstable Town in the league this season when he picked up his second booking at the end of an uninspiring game, which contained 38 fouls given away between the two teams.

"We've played two massive games last Saturday and Tuesday (against Worthing and Hythe Town) and it took it out of the lads," said Ward following the club's fifth home league defeat of the season.

"We didn't have much more to give. The quality that we've shown all season just wasn't there today.

"We gave away a comical goal that we've given away all season, a ball in the box, a free header, goal.

"First half we had one shot at goal and that was Scott Heard from 30-yards and we had one corner.

"We've scored fortune of goals here. I don't think the officials helped the game at all. There wasn't a tackle in the whole game and I think 11 people got booked and one sent-off. There wasn't a bad tackle!

"That's not taking away from our performance but what doesn't suit us is stop-start games.

"In the good old days what they used to say is if you don't see a ref in a match he's had a good game. Today he was the focus of attention."

Craig Tanner's side won it through their first attempt of the game, which inflicted Whitstable Town's thirteenth league defeat of the campaign.

Right-back Sam Charles floated a free-kick in from the right and lone striker Summers' free-header sailed over the shoulder of diving Luke Watkins to find the top far corner of the net from sixteen-yards.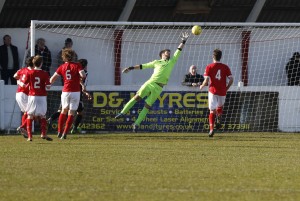 GOAL: Whitstable Town keeper Luke Watkins was beaten by Dan Summers' header.
Photo: www.whitstabletownfc.co.uk

"Good goal to score, shocking goal to concede," admitted the younger Ward brother.

"Treadwell reckons he got bumped off. Don't care! Got to be better than that! You can't have a free header in the box!

"Don't get me wrong. They're a decent side. They've got a lot of good players. I think the nine (Summers) was excellent. I thought their defenders were good. I thought they were decent. Why they're down where they are (in 12th place) is beyond me but that's up to them. I don't really care. I only care what we do and this week we weren't good enough!"

Whitstable Town's left-back Peter Wedgeworth clipped a free kick into the Tooting & Mitcham United penalty area from the halfway line but Kane Rowland's downward header bounced into the hands of visiting keeper Alex Kozakis.

A pass from Tooting & Mitcham winger Sol Pinnock rebounded off the referee, which released Whitstable's lone striker Ian Pulman, who strode forward but his deflected shot was bouncing harmlessly wide and was picked up by Kozakis.

Pinnock latched onto a loose ball before the ball bounced up off a bobble and the former Dulwich Hamlet midfielder sliced his left-footed half-volley harmlessly wide of the left-hand post from 30-yards.

Whitstable Town's best chance of the first half arrived in the 29th minute.

Nick Treadwell played the ball into Rowland, who swept the ball out to Jake MacKenzie, who played the ball inside to Scott Heard, who powered his right-footed drive from 30-yards into Kozakis' hands for a comfortable low save.

Ward said: "Scotty Heard had a 30-yard shot. Just summed us up! Good shot, comfortable save from the goalkeeper. We just weren't at the races at all."

Howard Newton progressed down the right touchline for the Terrors and managed to whip in a cross towards the near post where Marshall hooked his shot straight at Whitstable keeper Watkins, who made the catch at his near post.

Pinnock then cut in from the left to reach the corner of the penalty area before drilling his left-footed shot towards goal from 22-yards, which was expertly tipped over the crossbar by Watkins' left-hand after 37 minutes.

A first half foul count of eighteen hampered free-flowing football and the end of the first half brought relief for Whitstable Town's largest crowd of 2015 so far, 248.

When asked what was said inside the home dressing room at the interval, Ward replied: "You don't want to know! Ex-chairman Joe Brownett just asked me (in the boardroom after the game) why do they always play so well in the second half and do what they did in the first half today?

"I said, 'Joe, the first half on Tuesday night at Hythe was probably the best we've played all season in my opinion – and the second half against Faversham probably.'

"I said the problem is you've won two massive games. They've given us everything that they've got in the last week, so when I'm doing the team talk I can't start having a go at them because they've been excellent!

"But when they play like that, I explained to them that wasn't exactly good enough!

"They were told in no uncertain terms it wasn't good enough and to get their fingers out!

"Give them their due, they came out second half and battered them. I think they got away twice, I think they were long balls."

Whitstable Town made a change at the break with Ollie Gray replacing Wedgeworth. Gray slotted in at right-back and MacKenzie switched to left-back.

MacKenzie powered a right-footed drive past the left-hand post from 30-yards, as the home side found it tough to break through a resilient back four, well-marshalled by Harry Knock and David Graves.

A fine diagonal pass from Heard released Pulman, who was brought down by Charles, but the striker's right-footed free-kick from 20-yards ballooned high over the bar after 56 minutes.

Whitstable Town almost grabbed an equaliser on the hour-mark when Luke Girt played the ball out to Tom Loynes on the right. The winger cut inside and floated over a left-footed cross-come-shot which sailed over Kozakis and clipped the crossbar and Rowland smashed the rebound over the bar with the goal at his mercy.

Ward added: "Loynes' hit the crossbar and if that goes in I think we go and win the game!

"Tom came on to his left foot and swerved to the far post and it's hit the crossbar and it's come out.

"I think we might have been there until Tuesday and still not scored!

Tooting & Mitcham created their only second half chance in the 67th minute.

Pinnock whipped in a corner from the right which flashed across to Knock at the far post, who swept his shot past the near post from a tight angle.

Whitstable Town were awarded a free-kick four yards outside the penalty area and this time the set-piece was taken by Heard. The midfielder got his right-footed attempt over the wall but Koakis stuck up his right hand to push the ball over the crossbar.

With the home faithful urging their side to attack, Whitstable Town went close to equalising with eleven minutes left.

Gray clipped the ball forward from defence, the ball was flicked on by Rowland and Loynes' dipping volley from the corner of the box sailed agonisingly wide of the far post.

Tooting & Mitcham appeared content to protect their slender lead and they survived some goal-mouth scrambles as Whitstable pressed for a point.

Whitstable's last clear cut chance came from Heard's free-kick, which was punched away by Kozakis came out to Gray, whose hooked shot deflected past the post.

Tooting & Mitcham United finished the game with ten-men when Marshall was sent-off for a challenge on Heard and they can expect a fine from The Football Association for collecting seven cards.

"There was not a tackle in the whole game that I could think of and thought that was dangerous," admitted Ward.

"There was a few nudges and slides and pull backs and you're (thinking) it's a man's game of football.

"How can there be 12 (cards) in a match when nothing's happened is beyond me!"

Burgess Hill remain unbeaten in 34 league games and have collected 90 points, which is ten clear of Faversham Town, who have played three games more.

Folkestone Invicta follow in third-place with 72 points from 26 games and Merstham are in fourth with 71 points from 37 games.

But there is one play-off place still up for grabs and that is currently occupied by Whyteleafe (60 points from 37 games).

Worthing (59 points from 37 games), Herne Bay (58 points from 38 games) and Whitstable Town are all ready to pounce during the run-in.

"Don't take it away from us, we weren't good enough on the day," admitted Ward.

"To be honest it was more Saturday and Tuesday that took it out of the players than today. The size of the squad that we've got, there's not a lot we can do about it really.

"All the other teams around us won. We've got eight games left and we'll try to win the eight of them. The good thing is we have got one more midweek game left, which is at Herne Bay on Easter Monday, which will take care of itself.

"Tooting didn't deserve three points to be honest. Nil-nil should have been the result. The fare on show wasn't very good. I've said many times this season that I would pay to watch. I wouldn't have paid to watch today. I'd be asking for my money back! I wasn't very happy after the game and they were told.

"Eight games. Win eight of them and still be in the play-offs and see where it takes us, see what happens."

Whitstable Town travel to Horsham next Weekend, a club rooted to the foot of the table with 8 wins and 6 draws from 38 games and are eight points adrift of safety, taking goal-difference into account.

Ward said: "Well I can't understand Horsham. Anthony Storey took over. It was always a thorn of mine when he played for Tonbridge Angels when Ramsgate were doing very well. Excellent player. He's signed some good players and they can't win a game. He took over and they won two or three but after that he can't win for tuppence so hopefully that continues when we play them.

"I said to the lads before the game today, there's four teams vying for (fifth-spot) because I knew at that stage before the game that Guernsey got beat (2-0 at home to Faversham).

"There's four teams fighting for this position. I know there's a couple of teams, South Park and Corinthian-Casuals who have got games in hand, who can get involved in it but that would be neigh on impossible. I said if we don't win then somebody will win and they've all won and we didn't.

"There will be more twists and turns in this, don't worry about that and some massive games coming up."

Whitstable Town are usually in relegation dog-fights at this point of the season but this is the best season that the club have ever had at this level.

Ward said: "The good thing is someone said on our fans' forum the other day, 'isn't it good that we're looking up and not looking down – Whitstable have never had that!

"It's exactly what I said to the boys after the game. I keep saying it to them. You've set a standard and they've come down a standard. I felt their attitude and application today in the first half wasn't good enough.

"It's still a learning curve. But as I keep telling people, it's a work in progress. This is only one season. We're not ready to take this bunch of players up to the next level anyway so I'm not really worried.

"Don't get me wrong. You know me. You've known me a long time. I want to win everything I play. We're good enough to win everything we play but you just need a squad at this time of year and our squad is not big enough."

Whitstable Town: Luke Watkins, Jake Mackenzie, Peter Wedgeworth (Ollie Gray 46), Aaron James, Joe Kane, Nick Treadwell, Scott Heard, Luke Girt, Ian Pulman, Kane Rowland, Tom Loynes.
Subs: Luke Doherty, Sam Callender, Ollie Lee, Harry Brooks

Booked: Scott Heard 34, Tom Loynes 77, Ollie Gray 82, Kane Rowland 90, Joe Kane 90

Tooting & Mitcham United: Alex Kozakis, Sam Charles (Joel Sebuila 65), Nathan Gordon, David Graves, Harry Knock, Francis Quarm, Howard Newton, Billy Marshall, Dan Summers (Tinashe Nkoma 87), Saidou Khan, Sol Pinnock.
Subs: Lewis Gonsalves, Llon Lalor-Deli, Bobby Aspinall

Goal: Dan Summers 6

Booked: Howard Newton 37, Sol Pinnock 50, Francis Quarm 51, Sam Charles 55, Nathan Gordon 64, Billy Marshall 85

Sent Off: Billy Marshall 90

Attendance: 248
Referee: Mr Philip Rowley (Canterbury)
Assistants: Mr De Quincey Bailey (Bromley) & Mr Joe Kasper (Gravesend)