This is an opportunity to succeed as a manager and make my stamp on the game, says Will Graham
Friday 08th May 2015
NEWLY-APPOINTED manager Will Graham has been handed the remit to form the basis of a new squad at Whitstable Town.
The 30-year-old coach was unveiled as the club's new manager last night following Jim and Danny Ward's return to their Ryman League Division One South rivals Ramsgate.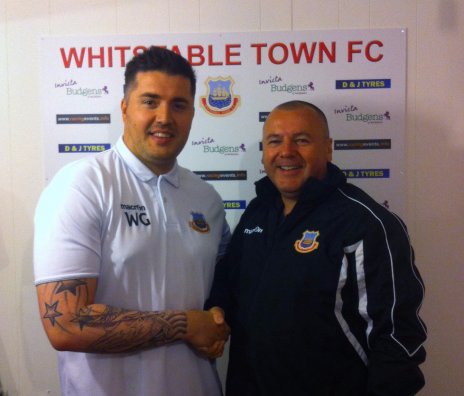 STAYING PUT: Whitstable Town chairman Gary Johnson (right) shakes the hand of new boss Will Graham.
Photo: Whitstable Town FC

The Scottish brothers delivered the club's highest ever position of eighth-place in the table during their only season in charge at The Belmont.

Graham was appointed ahead of a dozen others that expressed an interest in the vacancy despite the post not being advertised.

Chairman Gary Johnson said: "His immediate remit is to form the basis of a new squad, together with a new management team, after which he will manage first team affairs whilst overseeing the development of the club's prospects of the future via the under 18s and under 21s.
"Will Graham, although a rookie, deserves the opportunity and certainly has the club at heart having previously been involved a few years ago.

"He's local and he is a UEFA A licensed coach with connections throughout Kent.

"He is also ambitious and it appears hungry with a thirst to develop the potential within the club, something excited the club's board.

"Everyone has to start somewhere so let's get behind Will and give him every chance of success.
"Whitstable Town FC certainly do not lack ambition, but they give a chance to folk to rejuvenate themselves or like Will to emerge within the game."

Graham added: "I'm an inspiring young coach. Every manager in history started somewhere and I believe with my desire this is an opportunity to succeed as a manager and make my stamp on the game."
Pre-season training and trial dates will be announced by the club shortly and any player whom believes they have what it takes to play Ryman League Division One South football should send their playing CV and contact details to Will via secretary@whitstabletownfc.co.uk.
Whitstable Town have confirmed their first pre-season fixture as they will host their league rivals Herne Bay on Saturday 11 July to contest the annual Bruce Smith Shield.
Visit Whitstable Town's website: www.whitstabletownfc.co.uk