Welling Town 0-2 Welling United - We had to work hard tonight, that's what we wanted, says Welling United assistant Hugo Langton
Thursday 06th July 2017
Welling Town

0 – 2

Welling United

Location
Bayliss Avenue, Thamesmead, London SE28 8NJ
Kickoff
06/07/2017 19:45
WELLING TOWN 0-2 WELLING UNITED
Pre-Season Friendly
Thursday 6 July 2017
Stephen McCartney reports from Bayliss Avenue

WELLING UNITED assistant manager Hugo Langton says his side had to work hard during their opening pre-season friendly after scoring two first half goals to beat a club that are six levels lower.
Callum Phillips' dinked finish and Alex Fiddes' penalty was enough for Vanarama National League South club Welling United defeat newly-promoted Andreas Carter Joma Kent County League Division Two West outfit Welling Town.

"We got exactly out of the game what we wanted to be fair. We had to work hard tonight, that's what we wanted," said Langton afterwards.

"It's easy to go to a side and steamroll them over and you don't get anything from it and credit to Dimmo (Richard Dimmock) and his team, they gave us a game tonight and that's exactly what we wanted. Our players all around the pitch tonight had to work really hard tonight.

"Some better finishing tonight, it might've been a more flattering scoreline but that doesn't really matter. At the moment we're just looking at one or two players that's starting to get some minutes, so we got out exactly what we wanted tonight.

"You don't want to go through a whole pre-season losing. It's nice to try and build a winning mentality. The fixtures that we've got coming up, we've got quite a tough schedule and we've done it deliberately because we want hard games.

"I thought they (Welling Town) were excellent. I was just saying there to Dimmo, chatting on the touchline, I hope they do well this season. He's got some good players who are keen to run and work for him and I think their work-ethic and endeavour and their enthusiasm was excellent and I was really impressed with them."

Welling Town boss Richard Dimmock had nothing but praise to offer his side following their decent display against higher calibre of players.

He said: "They did do me proud. I said before the game, Welling United are a National League South side. League difference doesn't matter to me. I just want them to go out and do what I've told them to do. I wasn't bothered about the result. It was going to be a good work-out and you'll learn a lot from the game and they've gone out and they've done me proud tonight.

"I had five trialists there tonight, all five of them impressed me. All the trialists done really well and they'll be coming back on Saturday, Tuesday and next Thursday and we'll take them on board."

The Boots have moved into Bayliss Avenue following Thamesmead Town's decision to leave the venue and move in at Dartford and this game was played on the artificial pitch beside the main stadium.

Welling Town created the first shot on target when impressive left-winger Damilola Oni's blistering pace took him past central defender Nick Curran and his low cross found Chris Ware lurking at the far post and his shot was gathered by Lewis Collier.

Oni then stole the ball of his man and cut inside but steered his shot past the foot of the near post from 25-yards – and impressed Dimmock again tonight.

"He's a lad that I've liked since I've come to the club, he's still only 19 or 20. He's got a lot to learn and he's got the right attitude. Once he listens in, what I want him to do, I think he's got a big future in the game."

Curran was a surprise inclusion at the heart of defence for Welling United tonight, having previously played for Beckenham Town and Metrogas.

Langton said: "More than anything, he just came out and done us a favour tonight. We needed another centre half. We didn't want to play the ones that we've already got at the club. He volunteered and I thought he did himself proud. Nick had a good game and I thought Richard Sho-Silva, the two of them, I thought they done ok considering they've never played together before."

Welling United winger David Moli received the ball at his feet before unleashing a right-footed drive from 25-yards, which was comfortably saved by Daryl Fishenden, moving to his left.

Welling United built a fine move in the 17th minute when Moli switched play from right-to-left to pick out Fiddes, who played left-back Archie Johnson on the overlap and he played the ball inside to Laste Dombaxe and the central midfielder played the ball out to Callum Phillips. Striker Alex Cathline turned his man just inside the box before lashing his left-footed drive over the bar.

Welling United scored their first goal of the new season with 28 minutes and 24 seconds on the clock through a counter-attacking goal.

Wings right-back Colin Mugoya hit a long diagonal pass from inside his own half which sailed over to Phillips, who produced a clinical dink over the advancing keeper, bouncing into the centre of the goal despite Jack Upton's attempts to clear the ball.

Langton said: "Yes, great finish, happy days! There's no such thing as a bad finish, is there? He took it very well."

Dimmock added: "In my eyes, a sloppy goal to give away. They've cleared the ball, we were slow to react and get out and get back and they've caught us on the counter attack. It was a great through ball and we got caught napping."

Welling United launched another long ball out of defence to play in Moli but his right-footed fiercely struck shot was beaten away by Fishenden, preventing the ball finding the near corner.

The impressive Dombaxe clipped the ball through to put Moli through on goal but Fishenden rushed off his line to make a vital block.

A driving run forward from former Tottenham Hotspur central midfielder Dombaxe set up a chance for Phillips, whose right-footed drive flashed past the near post.

Welling Town gifted Welling United the clinching goal, timed at 41 minutes and 45 seconds on the clock.

Goalkeeper Fishenden played the ball to his right to Upton, who lost the ball to Fiddes. The Welling United man cut into the box and was brought down by the right-back – who twisted his ankle as he slid in to bring down his man – and was substituted for Raheem Chentouf, who played the most minutes for the home side.

Referee Tom Marshall pointed to the spot and Fiddes sent Fishenden the wrong way with his right-footed penalty, just left of centre.

"Alex Fiddes put in a lot of work because he's a little bit rusty," revealed Langton.

"I'm very pleased with Alex. He's been away playing aboard and he's come back to try to relaunch his career in this country. He's done well in the training sessions we've had.

"I asked the players before the game tonight, I'm more interested in their running. I told them to work hard in the game, put your minutes in and I thought Alex, whilst a bit rusty, you can't knock him for running up and down that pitch."

Dimmock added: "A silly mistake. It came out from the back. I told them not to mess around at the back and we've done that and at that level you're going to get punished.

"I didn't think it was a penalty but I'm not the man in the middle but once again you learn from your mistakes and I let them know that."

When asked about his thoughts at the break, Langton felt his forward line appeared confused.

He said: "All the players that are on trial, I need to look at them. The ones that aren't on trial, they played less minutes tonight.

"I thought our front four were a little bit confused at times because they were trying to rotate their positions amongst themselves and by doing that it caused confusion so I told them to 'just do your job, stop doing other people's jobs' and it was a bit better in the second half in terms of that."

Dimmock added: "First half I had a lot of the youngsters out so I wanted to see how they would cope. Apart from the two silly mistakes I thought they had coped quite well. It's something I've got to look at, a few positives with the youngsters and a few negatives.

"Mike Jones spoke to the team just before they went out for the second half, said what we wanted from the game and they've come out flying. I was very impressed with the second half performance from the start to the finish. I thought we were the better side, played great football and hopefully that performance, the youngsters will learn from that and we can go forward as a club from that performance."

Langton, who was in charge of the side as Jamie Coyle and Jack Parkinson took training before making their way over to watch the game from the sidelines, and made a couple of changes at the break, while Welling Town made 10 changes at the interval.

Dombaxe clipped the ball over the top of the Welling Town defence and Wings substitute striker Joel Nouble brought the ball down with his long legs before his shot deflected just around the foot of the far post.

The commanding Dombaxe hit a shot from outside the penalty area, which was comfortably saved by substitute goalkeeper Jack Moore, after the ball came out to him after Fiddes' corner was cleared away.

Welling Town, who would certainly hold their own at a higher level of football, then created chances to pull a goal back.

Tom Fitzgerald floated in a cross from the right which was met by Jon Main's free header from 12-yards, which bounced into Lewis Collier's hands for a comfortable save.

"Jon Main has had a great career, hasn't he. It doesn't matter what level of football he's playing at, that sort of player with that pedigree, you can't leave him free in the box," added Langton.

Dimmock added: "Give it another two or three weeks, let Jon get fit.

"We had a phone call today between me and Jon and he told me he's serious about this season. He wants to get mega fit and he wants to push on at the highest level."

Teddy Prosser then hit a first time drive from 30-yards, which was saved low down by the 17-year-old Welling United goalkeeper.

But Dimmock's side were desperately unlucky when they hit the post in the 63rd minute.

Central midfielder Prosser released winger Hubbard charging down the left and he cut inside and his teasing cross was met at the far post by Chentouf, who drove his shot against the near post from a tight angle.

Dimmock said: "That was a great move and it would've been nice to have been finished off with a great finish and a great goal. Once again, that's another positive to come out of the game, great football, great move and any other week that would be a goal!"

Welling Town substitute keeper Moore staked his claim for a first team place with some outstanding saves.

Dombaxe pinged a diagonal pass to pick out Adem Ramadan, the former Phoenix Sports winger cut inside and his angled drive was brilliantly saved by Moore, who dived low to his right to parry the shot before clutching the ball into his hands.

"Laste Dombaxe, when I was at Eastbourne Borough last season, he played against us in The FA Cup for Hadley and he's got in touch and we have had a look at him and you can see he's got great pedigree," said Langton.

"Adem Ramadan came through the Academy here when I was at Thamesmead Town. He's always had a lot of potential. He's been on the back of a very bad injury. I just wanted to give him the opportunity to see if, where he was at really. He was lively enough when he came on. There's more to him but we'll have a chat and see what happens with Jamie (Coyle) and Jack (Parkinson) and see what they want to do."

Moore received a huge slice of luck when he was beaten by Phillips, who skipped past him, but the winger steered his shot past the foot of the near post of an empty goal, after being released by Ramadan.

No floodlighting was used during the game and as the sun started to disappear, Welling United continued to press for goals.

Dombaxe knocked a long ball down into Phillips, who drove his shot towards goal from 12-yards, which struck Moore's outstretched leg and looped over the crossbar.

Legendary striker Main missed an excellent chance to pull a goal back for Welling Town in the final 18 minutes.

It was a trademark ball over the top – this time from central midfielder Dominic Elmes – that put the star striker through on goal but he wrapped his left foot around the ball and steered his shot miles wide of the target from 20-yards.

The crowd expected the former Welling United striker to put the ball in the back off the net – but he failed to test the goalkeeper which came as a big shock!

Dimmock responded: "Well, I'm not saying a word! Jon Main can answer that one for you! Five or six years ago he wouldn't even been thinking about that. It would've been in the back of the net!

"Give him another two or three weeks to get fit, sharp in training. He would've scored a lot more."

Durojaiye went close for Welling United, curling his shot around the foot of the far post from 20-yards after James Brown blocked Nouble's shot inside the penalty area.

Brown missed a headed chance at the other end, meeting Hubbard's floated corner from the right with a free header from 12-yards.

Durojaiye fed the ball into Dombaxe's feet and he swept his shot towards the bottom far corner from 25-yards, which was comfortably gathered by Moore as he stepped to his left.

Nouble's driving run forward saw him pass to Durojaiye, who played a diagonal pass over to Luke West and the young winger saw his shot parried at his near post by Moore.

Welling Town's defence backed off as Welling United probed with Dombaxe and Nouble before Durojaiye joined in and his shot was heled by Moore, once again stepping to his left.

Welling United's teenage goalkeeper Collier pulled off a smart save in near darkness as the game entered the final five minutes.

Prosser linked up well with Hubbard before stroking a left-footed curling drive from 25-yards, which was destined to nestle into the bottom near corner. Collier saw the ball late, dived to his right to push the ball around for a corner.

"The youth team goalkeeper had a good game," added Langton.

"Tonight was an exercise for Coylie to have a look at some players and also to have a look at trialists."

Dimmock added: "That was a great save because it was pretty dark. The keeper saw it late and he made a great little save.

The outstanding Moore saved the best for last, diving high to his left to push behind Durojaiye's deflected drive from outside the box, which was screaming towards the top right-hand corner.

On tonight's performance, Moore would be number one goalkeeper going into Welling Town's Kent County League campaign.

"He's just come back from America on a scholarship deal out there. I've brought him for the long-term project of the club and as you've seen tonight his performance was outstanding, so I'm more than impressed," said Dimmock.

"Listen, he done very, very well," Langton said of Moore.

"I think the sharper our players get, they'll finish. I'm not worried about that. We're getting in the right positions tonight and creating chances so you can't knock them for that."

Next up for Welling United is a trip to Barnehurst to play Bostik South neighbours Phoenix Sports.

"From next Tuesday onwards there will be a lot more of the first team players on the pitch," revealed Langton.

Welling Town will have to live with the expectations of being title favourites in their division and playing at a Bostik League standard stadium will put extra pressure on them this coming season.

"We've got four or five experienced players, the rest are between 17-23," revealed Dimmock.

"The youngsters will learn a lot from that tonight. We told them in the changing room after you have to look at Welling United's fitness levels to where we are. I said their attitudes are spot on. I said that's exactly what the fitness levels I want us to be in the next year or two."

Welling Town: Daryl Fishenden (Jack Moore 46), Jack Upton (Raheem Chentouf 42), Chris Weber (Leon Badu 46), Ricky Hepburn (Dominic Elmes 46), Shaun Vintura (James Brown 46), Ashley Cameron (Danny Berry 46), Keenan Hunte (Tom Fitzgerald 46), Chris Ware (Teddy Prosser 46), Joel Weston (Jon Main 46), Danny Russell (Brima Daramy 46), Damilola Oni (Lamarl Hubbard 46).

Welling United: Lewis Collier (Aaron Cathrew 86), Colin Mugoya, Archie Johnson (Jordan Johnston 46), Olumide Durojaiye, Nick Curran, Richard Sho-Silva, Callum Phillips (Luke West 77), Laste Dombaxe, Alex Cathline (Adem Ramadan 59), Alex Fiddes (Matthew Sinclair 65), David Moli (Joel Nouble 46).
Subs: Nathan Nampano, Sam Leach

Goals: Callum Phillips 29, Alex Fiddes 42 (penalty)

Attendance: 175
Referee: Mr Tom Marshall (Eltham, London SE9)
Assistants: Mr Dan Proctor (Dartford) & Mr Ray Snell (Orpington)

Coverage Sponsored by: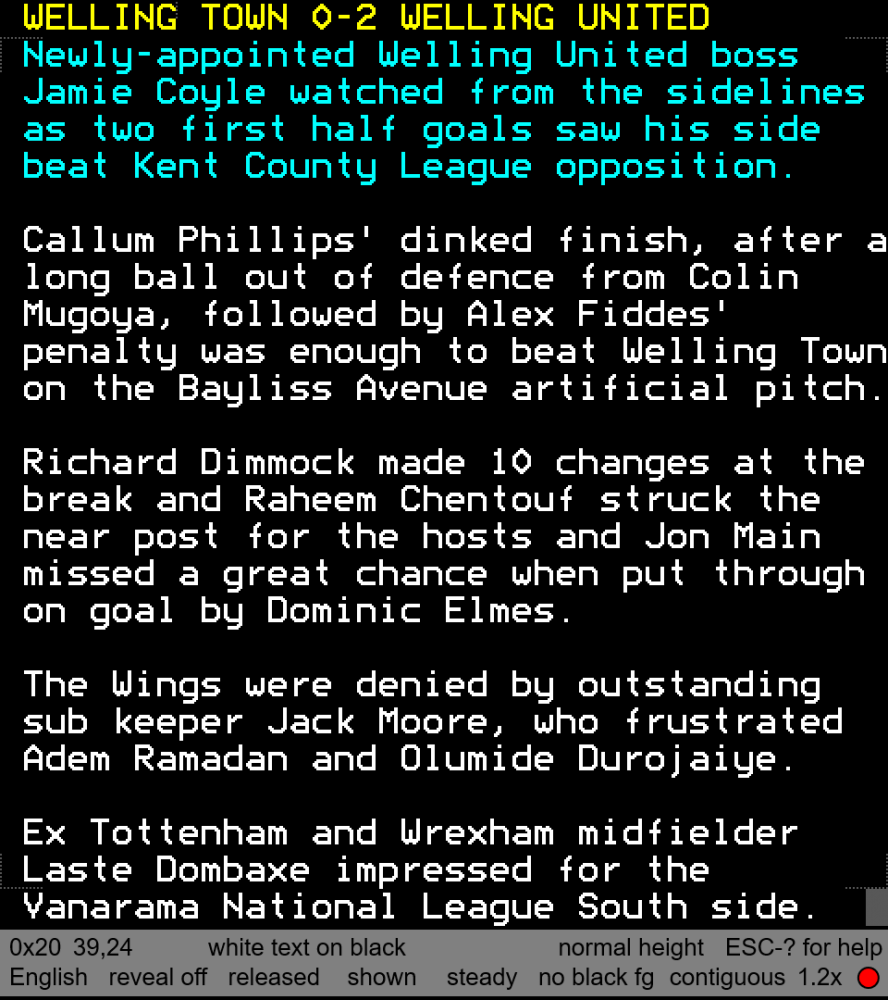 *Ex Tottenham and Hadley midfielder. Laste Dombaxe did not play for Wrexham.