We can now confirm that we have applied for entry in to the Southern Counties East Football League First Division, says Welling Town chairman Kevin Oakes
Thursday 01st February 2018
WELLING TOWN chairman Kevin Oakes says his club has applied to gain entry in the Southern Counties East Football League First Division next season.
The club play their home games at Bayliss Avenue after Thamesmead Town vacated the venue at the end of last season to agree a five-year deal to play at Dartford's Princes Park Stadium.

Welling Town are managed by Richard Dimmock and he guided the club to runners-up behind Sydenham Sports in the Andreas Carter Joma Kent County League Division Three West last season and the two sides are going tooth and nail for major honours in Division Two West this time out.

Sydenham Sports lead the table with 34 points from 13 out of 22 games, closely followed by Dimmock's men who are three points behind.

"We can now confirm that we have applied for entry into the National League System above Step Seven for season 2018-19," Mr Oakes told www.wellingtown.co.uk.

"Having been asked the same sort of questions many, many times over recent months, we always thought it best to remain reasonably quiet about our plans out of respect to other club's and all the commendable work done by volunteer officers at both the Kent County Football League and Southern Counties East Football League.

"Now the deadlines have passed for both the application for promotion within the National League System and for external applications and now that all club's have the opportunity to apply if they so wished, we can confirm that we have submitted an application to The FA, with the support of the Southern Counties East Football league to join their competition at Step Six (Division One) for next season.

"As stated previously, we do not know if we will be successful and will await a decision along with all other applicant club's at the end of the season, once normal promotion and relegation has been applied.

"In the meantime, we will continue to focus on the remainder of the season and trying to pick up some silverware."

Other clubs that have applied for promotion are Kent County League Premier Division pair Greenways and Peckham Town.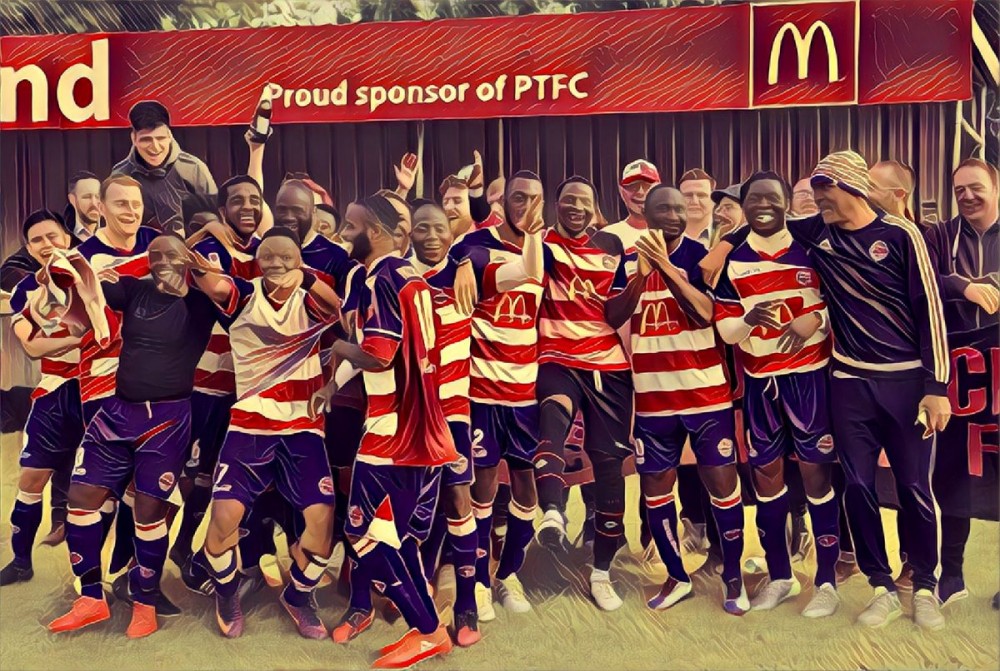 Peckham Town have applied for promotion to the Southern Counties East Football League First Division next season.
Photo: Peckham Town FC

Gravesend-based Greenways are presently in second-place in the table with 36 points are three points adrift of leaders Kennington, with a game in hand, while Peckham Town are in fourth-place.

Greenways are expected to agree a groundshare deal at Punjab United to gain entrance in the First Division next season.

Welling Town, meanwhile, host Sydenham Sports in the Kent Reliance Junior Cup Quarter-Finals at Bayliss Avenue on Saturday (14:15).

Visit Welling Town's website: www.wellingtown.co.uk