I just pray to God that Bromley are celebrating promotion on Saturday, says Cray Wanderers boss Tommy Warrilow
Wednesday 15th April 2015
CRAY WANDERERS boss Tommy Warrilow says he would love Bromley to win the Vanarama Conference South title on Saturday.

It is hoped it will be a weekend of celebration at Hayes Lane this weekend.

Warrilow guided Cray Wanderers to a 4-0 win over Waltham Abbey at the 76-year-old stadium on Tuesday night to climb into eighteenth-place in the Ryman League Division One North table on 46 points.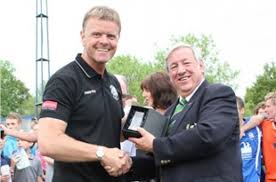 THE GREAT ESCAPE: Tommy Warrilow has lifted Cray Wanderers out of the Ryman League Division One North relegation zone after winning eight games on the bounce.
Photo: Tonbridge Angels FC

The Wands are now four points clear of the relegation zone with two games left - after winning their eighth game on the bounce.

Attacking midfielder Chris Piper scored a hat-trick, while striker Alex Teniola scored his fifth goal in four games for the club.

Cray Wanderers will be hoping for favourable results on Saturday, before welcoming thirteenth-placed Tilbury to Hayes Lane on Sunday (3pm) to continue what can be classed as title-winning form.

But Warrilow insisted that the club have someone else lined up to take charge of Cray Wanderers next season and his last games will be against Tilbury and at play-off chasing Dereham Town on the final day of the season.

Bromley manager Mark Goldberg is preparing his club for their biggest ever game in their 123-year history on Saturday where a victory will seal their first league title since the Isthmian League (Ryman Premier in today's money) title was won back in 1961.

If Bromley beat fifth-from-bottom side Weston-super-Mare on Saturday, it will be the first time that they will be playing in the top flight of non-league football - rebranded the Vanarama National League next season.

Warrilow is friends with Bromley chairman Jerry Dolke and wishes him well for Saturday's MUST-WIN showdown.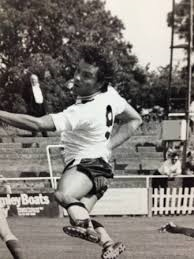 ONE WIN FROM THE TOP FLIGHT: Jerry Dolke is pictured playing for Bromley in the late 1990's.

"I've known Jerry a long time and Mark Goldberg's one of the nice people in football and I speak to him every now and then about things," said Warrilow.

"I would love them to do it!

"They just missed out last year. I think this year they've got a better squad. They've not had a bit of luck with injuries lately.

"Like every team they've had their nightmare bit like losing to (bottom-of-the-table) Staines but that's what happens.

"But it's back in their own hands now and to do it, please God, at home Saturday against Weston-super-Mare in front of a full house - that will be fantastic for them.

"I really am delighted for the pair of them and Smudger (Neil Smith) and everyone behind the scenes because they're good people and again it's a great club.

"To get to the top flight of non-league football and hopefully with the team he's got, make a fist of it, he might add a few but they can consolidate and not be in awe of it.

"But I just pray to God that they can do it on Saturday because they're good people."

Warrilow wants both Bromley and Cray Wanderers to make it a weekend of celebration at Hayes Lane.

"I'll be ringing (Jerry and Mark) beforehand wishing them well. I hope Saturday they're celebrating promotion.

"I hope we're celebrating staying up and they'll probably go and wreck the pitch after so leave the pitch half decent for us!"

Warrilow is looking to make it nine wins out of nine against Tilbury, after his side were clapped off the pitch by their long-suffering fans following their win over Waltham Abbey to the tune of The Great Escape blaring out of the public address system.

"We don't want the season to finish," said Warrilow.

"The boys are buzzing. There's strength-in-depth in this squad, competition for places and there's a shape and a system that we've worked hard for us.

"It's just been great the last eight games."

When asked how he's managed to turn around the club's fortunes, Warrilow replied: "It's just belief, systems, getting people to do their jobs, getting bodies in and bodies out."

It's now time for both Bromley and Cray Wanderers to deliver the goods this weekend!

Bromley v Weston-super-Mare
Vanarama Conference South
Saturday 18th April 2015
Kick Off 3:00pm
at Hayes Lane, Bromley, Kent BR2 9EF

Cray Wanderers v Tilbury
Ryman League Division One North
Sunday 19th April 2015
Kick Off 3:00pm
At Hayes Lane, Bromley, Kent BR2 9EF