VCD Athletic 2-0 Billericay Town - Tony Russell aint going nowhere, insists VCD chairman Gary Rump
Thursday 23rd April 2015
VCD Athletic

2 – 0

Billericay Town

Location
Oakwood, Old Road, Crayford, Kent DA1 4DN
Kickoff
25/04/2015 15:00
VCD ATHLETIC 2-0 BILLERICAY TOWN
Ryman Premier League
Saturday 25th April 2015
Stephen McCartney reports from Oakwood

VCD ATHLETIC heroic manager Tony Russell says he will sit down with his chairman in the coming weeks to settle his future after pulling off The Great Escape on another nail-biting final day of the season.
The Vickers maintained their Ryman Premier League status by finishing in eighteenth-place on 53 points from 46 games after beating Billericay Town 2-0, thanks to two very late goals from James Duckworth and substitute Larne Aziz's first goal for the club.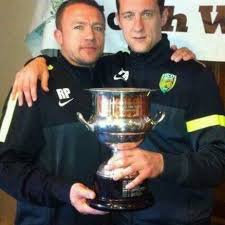 STAYING UP: Ray Powell and Tony Russell have kept VCD Athletic in the Ryman Premier League after winning their last six games.

It was another tense final day affair at Oakwood, especially after clinching the Ryman League Division One North title this time last year.

Russell, 36, who has been in charge of the Crayford club for 19 months, has been linked to the now vacant job at Cray Wanderers for a number of weeks.

The Wands looked dead and buried but Tommy Warrilow's side won their last ten league games to finish in sixteenth-place in the Ryman League Division One North table, breaking a club record in the process.

VCD Athletic, meanwhile, also looked dead and buried after going down to a 2-0 defeat at Harrow Borough on 24 March, but a crisis meeting with his squad at training two nights later proved to become a vital moment in the club's history.

VCD Athletic went on to beat Lewes (2-0); Bury Town (3-2); Leatherhead (2-0); Wingate & Finchley (2-0) and Margate (3-0); before relegating last season's Sussex County League champions Peacehaven & Telscombe, who were 2-0 up at the break today, but Hampton & Richmond Borough scored four second half goals.

"Apart from the first 20 minutes, I thought we played ok. It wasn't particularly a great game," admitted Russell after his side's fourteenth league win of the season.

"We got drawn into it. It was hard. You get to these games and they're quite nervy and the fear of failure takes over. I don't think we were at our best today. We were workmanlike at best."

When asked about his side's survival act, Russell replied: "It's massive! It is massive! It allows them to establish themselves at this level.

"We learnt the hard way. Me and everyone at the club have worked so hard since I've been here. I've been here 19 months and to get to where we are now, to throw it away would have been a disaster. I don't ever want to fail. I have a massive fear of failing."

VCD Athletic were written off following their 2-0 defeat at Harrow Borough – Russell even admitted at Earlsmead Stadium that his side were facing relegation.

"That was probably the worst coach journey home from there on a Tuesday night. It was a nightmare! The journey home was bad. I was sitting with the chairman and we were both distraught. We were both down in the dumps and sad but the training session after that was the turning point if I'm honest. If I can pinpoint anything why would you suddenly go on that amazing run?"

A crowd of 363 took advantage of "Pay What You Want" and they witnessed a tense affair against eighth-placed Billericay Town.

Needing at least a point to stay up, VCD Athletic were resilient in defence with Ben Payne scooping the man-of-the-match award, partnering Nick Reeves at the heart of defence.

Billericay Town, who suffered a 5-0 defeat to league rivals Canvey Island in the Essex Senior Cup Final in midweek, created the first chance inside seven minutes.

Payne was penalised by referee Stuart Butler for fouling 19-goal striker Ricky Sappleton, who got up and drilled his right-footed free-kick over the crossbar from 25-yards.

But VCD Athletic squandered an excellent chance to take the lead with 08:37 on the clock.

Dean Carpenter and Karl Dent linked up in midfield and Carpenter played a lovely through ball to put striker Michael Power through on goal.

Power, who has scored six goals in his last five games, skipped past advancing goalkeeper Joe Wright but scuffed a poor shot towards an empty net but Billericay right-wing-back Ola Williams got back on the line to prevent Power scoring his sixteenth-goal of the season.

"It's poor! He should have scored," said Russell.

"The keeper's in no-man's land. He comes out of his area, Shaggy goes round him for an open goal and he scuffs it. I was annoyed! I love him Shaggy, he's brilliant but that was poor from him. He knows that. He apologised at half-time as soon as he walked in."

VCD Athletic raided down the left where Duckworth's fine dinked pass put Dent in space inside the box but his right-footed shot from 12-yards went past the near post.

News had filtered through that Peacehaven & Telscombe were leading 2-0, which increased the tension at Oakwood.

Duckworth swung in a corner from the left and Payne rose above his marker at the far post to loop his header over.

But Payne prevented a disaster with a timely headed goal-line clearance in the 26th minute.

Williams skipped past Duckworth's diving tackle down the right flank and whipped in a cross into the middle where Rowan Liburd planted his header towards goal, which sailed over Nick Blue and Payne was on the line to glance his header against the underside of the crossbar.

Payne was playing his 20th game of the season and Russell said: "Payno hasn't played for most of the season for us. He started off the season and then he's got work commitments. (Lewis) Tozer got injured seven games ago so I phoned Payno up and said can you come in and help us out?

"His first game was Harrow Borough. Since he's come in he has played a massive part and that's no slur on Tozer. Payno, for me, is the best centre half I've ever seen at this level. He's top drawer."

This sparked Billericay into life and Williams once again created a chance, this time Blue skipped to his right to gather Sappleton's poor left-footed shot from 22-yards.

Duckworth lost the ball in the left-back position and Cyrys Mahler's cross was headed wide by Sappleton from inside the Vickers' box.

Billericay Town midfielder Glenn Poole picked up a loose ball but drove his left-footed shot sailing harmlessly over the bar from 30-yards, before they produced a fine through ball from Sappleton to put Liburd through on goal but Blue smothered the ball at the striker's feet.

As things stood at the break, VCD Athletic were 19th on 51 points, Peacehaven in 20th on 51 and Canvey Island were ready to fall through the trap door on 50 points, much to the delight of Billericay fans.

"I had someone on the bench telling me (the scores)," revealed Russell.

"The wind was against Billericay and I thought with the wind, their size and they're quite direct and they have pace and power and I said to the boys you've got to asses it.

"They wasn't going to play pretty football today – it wasn't going to happen!

"I could moan at them for all I wanted, it wasn't going to happen! They was in survival mode so what I said our energy levels could do better.

"If we're going to have a scrap-up, then we make sure that we're better than them at that. If that's what you want to do and you feel that's the way to do it, there's nothing I can say, you have a scrap.

"I thought second half we were top drawer in terms of that without the ball. I thought we limited them to very little and we could have scored a few more ourselves."

The second half started in an uninspiring manner but VCD Athletic created the first chance inside three minutes.

Elliot Cox looped a throw into the box, which Billericay failed to clear and Duckworth hooked his volley off target and Wright gathered.

Billericay threatened when left-wing-back Teddy Nesbitt (who won the title for Vickers last season) released Adolabi Obafemi down the left, who was tackled by Payne once he cut into the box.

With an hour gone in this game, VCD had slipped down to 20th place on 51 points as Hampton & Richmond Borough clawed it back to 2-2 at Peacehaven (now on 49 points) and Canvey Island (51) were now drawing 2-2 at home to Wingate & Finchley.

Billericay Town should have done better from a corner in the 65th minute.

Poole's out-swinging kick from the right found 16-goal central defender Richard Halle in space at the back of the penalty area but his header lacked direction and dropped in the box and Vickers cleared their lines.

But Blue kept VCD Athletic in the Ryman Premier League with a fine save just four minutes later.

The Vickers had eight man behind the ball as Williams twisted and turned Sean Roberts on the corner of the box, who cut inside and drilled his left-footed shot towards the top far corner from sixteen-yards, but a diving Blue stuck out his right hand to push the ball over the bar.

"I can tell you this because of the time this comes out, it will be handed out to him, Bluey's got player-of-the-year," revealed Russell.

"He's been top drawer for a man up until he came to us has been playing Kent League. He's grown and I'm so pleased for him.

"People question his height but he's brilliant, not only that he's like the other boys, he's such a top man to work with. He listens to ideas.

"He didn't have much to do but that was a good save that and I thought that was a great save!"

With news of Peacehaven's collapse filtering through, VCD Athletic finished the game on the front foot.

Russell said: "I felt alright in the sense that I thought we muscled, controlled the game. I think we limited them to very little and they were running out of ideas and just pumping it long.

"A little better passing and we was in a couple of times. I thought you could see it happening. In the last half-an-hour of the game, you could see there was going to be one team that would win the game."

Grant Basey, who is running the London Marathon tomorrow, came off the bench to slot in at left-back with 20 minutes left.

Roberts' hooked pass released Leigh Bremner through on goal and with only the Billericay keeper to beat he swept his shot wide of the far post from 12-yards in the 79th minute.

Russell said of his eight-goal hardworking attacker, "He'll be disappointed with that because he's done really well for us. He's changed his position in the last six games and he's done well.

"Yes, he should have scored! He knows that. When you go through on goal, I thought the goalie gave him the whole side of the goal as well. He helped him out a little bit.

"Credit to the boys creating chances. They didn't feel sorry for themselves. They didn't know what the scores were. We weren't letting out information to them."

Duckworth played a slick one-two with substitute Azeez and was about to pull the trigger on the edge of the six-yard box but Wright pounced on the ball to make a timely intervention.

Duckworth then played in Azeez with seven minutes left but Wright dived low to his left to make the save.

"It's the story of the season if I'm honest," admitted Russell.

"If we took our chances, even at the beginning of the season when we wasn't winning games we was still playing well. We just weren't putting teams away and they went up the other end and we were getting punished.

"I thought we've grown a thicker skin earlier on in the season. We'd miss a couple of chances and we'd start feeling sorry for ourselves and then we'd lose and the defence would blame the attackers for not taking their chances.

"Now, if we miss, we then regroup and we'll come at you again!"

Basey then floated his 30-yard free-kick into the side netting and the Peacehaven game had already finished and home fans were able to celebrate with the score at 0-0 here.

Russell attempted to take off Duckworth for Taylor McDonagh but seconds later Duckworth scored his 71st goal in his 251st game for the club.

"What happened was, I was going to bring Taylor on but just when we was going to do it, he couldn't find his shirt, he literally couldn't find it anywhere so we had to call it off and moments later Duckers fires it in! I can't take no credit for that unfortunately, that was a little bit of luck on our part."

The goal was timed at 42:52.

Azeez released Duckworth in space down the left, before cutting inside and with only Wright to beat, stroked his left-footed shot across the diving keeper to find the far corner.

"I thought we started to play football in the last 20 minutes – and we started to open them up," said Russell.

"It's a lovely slot in to Duckers' path. He plays out on the left but he's right-footed so I'm fully expecting him to come inside on his right foot and try something but he's hit it sweet with that left foot and I was absolutely delighted."

VCD Athletic's second goal arrived with 47:11 on the clock.

Bremner was released down the right on the break and he clipped the ball through to Azeez and with the Billericay defenders already on their holidays, the former Basingstoke Town striker drilled his shot across the exposed keeper into the far corner.

Russell said: "I want to win. Winning is like a drug. I can't explain it. I love it. I really do love winning games of football.

"Razor (assistant, Ray Powell) said to me on the bench to take a draw, but I really wanted to win.

"Lens come in, we've signed him late doors in the summer. He's a local lad, not getting much football at Basingstoke and he came in. He had to be patient. As soon as he came in he started and he got injured and we put Brems out there and then we started winning so the poor lad has had to start on the bench.

"I'm so delighted for him to come in to get his first goal for the club as well. It must have been a good feeling because for the first time since I've been here there was a noise when we scored. It was good. I felt I was at a proper football match."

At the final whistle, the home team huddled together on the pitch before walking over to their fans to clap them before heading down the tunnel. Job done!

Russell has done a great job keeping the club in the division, especially when promoted sides Witham Town and Peacehaven & Telscombe went straight back down after one season.

"You feel for them a little bit. You wouldn't want to be in that situation but like I said to the players you've got yourselves in a good position. We don't have to worry about anyone.

"I didn't want to stay up just because someone had lost. I would have taken it, don't get me wrong. I wanted to be because it was something we did.

"It's all about proving people wrong because for the first time people had angles to come at me saying you can't play football at this level of football. You're like a martyr, you're frowned upon.

"There were one or two in the nicest possible way, they were telling me to play 4-4-2 and get bodies in the box, which is very English.

"My old man is in the bar. I need to have a word with him because I think about 36 years' ago my mum cheated with a foreign geezer because I'd rather cut my c*** off and put it behind my ear than go 4-4-2 and bang it long!"

Russell and Powell were both linked with the Tonbridge Angels job – the Angels finished their campaign one place above the relegation zone – this time last year and Russell was asked whether he will still be with Vickers next season or Cray Wanderers.

"I think we stood in this position this time last year and there was the same speculation with me leaving and going to Tonbridge Angels," recalled Russell.

"Everyone knew I was definitely going and I said to you then and I'll say the same to you now is that all my focus is on is this football club. The season is over. I will have a conversation with the chairman in the coming weeks and we'll make a decision.

"There has been times this season that has frustrated the life out of me. The Bognor Regis game at home (on 17 January) was going to be my last game.

"We need to have a conversation with me and the chairman and a decision has to be made on the back of that but I love this football club, I honestly do. They've been really good for me and I've been really good for them so at the moment it's a perfect match.

"I've been here for 19 months and to take them from the Kent League so securing a year in the Ryman Premier, it's something that I'm extremely proud off."

Chairman Gary Rump insists he will keep Russell at Oakwood for next season.

The speculation doing the rounds in recent weeks has linked Russell with a move to Cray Wanderers with former Thamesmead Town boss Keith McMahon taking over at VCD.

"There's been a lot of speculation about Tony going to Cray Wanderers," said Mr Rump.

"Me and Mark Taylor (vice-chairman) has been privy to all of those conversations, Gary Hillman (Cray Wanderers chairman) and Tony.

"This year we've sat down and Tony has confirmed to us that he's fully committed to VCD next season.

"We're already planning our pre-season games away up in the north of England and nights out and nothing changes.

"We will be better prepared next season playing in the Ryman Premier than we were this season having had that experience.

"Listen, you've heard it. Keith McMahon's coming here, Tony Russell's going over there. Rubbish! It's rubbish!

"Tony Russell has assured us that all the speculation, he aint going nowhere."

VCD Athletic: Nick Blue, Elliot Cox, Sean Roberts, Nick Reeves, Ben Payne, Lea Dawson, Dean Carpenter, Karl Dent (Grant Basey 70), Michael Power (Lanre Azeez 75), James Duckworth (Taylor McDonagh 89), Leigh Bremner.
Subs: Ray Powell, Charlie Penfold

Goals: James Duckworth 88, Lanre Azeez 90

Booked: Lea Dawson 56

Billericay Town: Joe Wright, Ola Williams, Teddy Nesbitt, George Bevan (Harry Baker 85), Richard Halle, Steve Sheehan, Cyrus Mahler (Jack Edwards 82), Glenn Poole, Ricky Sappleton, Rowan Liburd (Shameek Farrell 68), Afolabi Obafemi.
Subs: Ryan Meaugh, Taku Mashingaidze

Booked: Ricky Sappleton 56, Glenn Poole 74

Attendance: 363
Referee: Mr Stuart Butler (Maidstone)
Assistants: Mr Ryan Whitaker (Bexleyheath) & Mr Steve Perry (Bexleyheath)