There's a lot of players' asking for too much money but my chairman wants value for money, says VCD Athletic boss Keith McMahon
Monday 03rd April 2017
VCD ATHLETIC manager Keith McMahon says footballers are dropping down the league's for a quick buck.
The Crayford-based club are sitting in seventeenth-place in the Ryman League Division One North table and are seven points clear of the relegation zone going into their last five games of the season.

The Ryman League transfer deadline day passed last Friday hours before Vickers claimed a point in a 2-2 draw at Aveley, courtesy of two Richard Butler penalties.

"The chairman (Gary Rump) wants value for money," said McMahon.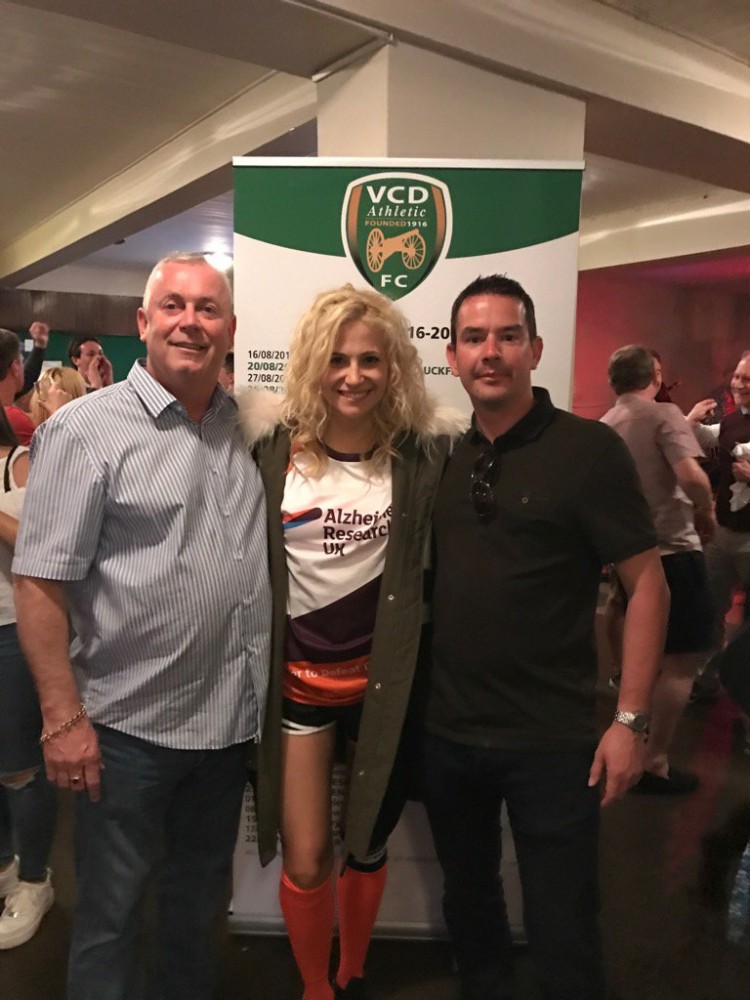 CHARITY: Pop princess Pixie Lott visited VCD Athletic's Oakwood ground in Crayford on Sunday for a charity game where she met the club's chairman Gary Rump (left) and manager Keith McMahon.
Photo: Twitter

"There's a lot of players asking for too much money and they haven't even played at this level, teams in the Southern Counties East Football League and the Kent County League are paying now, so you're trying to offer people an honest wage for what we're doing here and they're happy to play in the lower leagues because they're getting the same money or more, but it's not about money, my chairman just wants value for money.

"He wants to know the players' will put a shift in for him and give everything and if he does he'll back us. If he don't, he'll have his opinion and he's entitled to."

McMahon takes his side to Bowers & Pitsea on Tuesday night and Norwich United next Saturday.

Bury Town are the next visitors to Oakwood (15 April), before Vickers travel to Tilbury (17 April) before completing their campaign against Ware on 22 April.

Wroxham (24 points) and Great Wakering Rovers (25) have already been relegated, while Ware are battling for their lives to maintain their league status.