The future of the club looks a hell of a lot healthier, says Thamesmead Town boss Tommy Warrilow
Saturday 09th June 2018
THAMESMEAD TOWN manager Tommy Warrilow says the club is in a much stronger position with the addition of more teams to improve the structure of the club.
The club vacated Bayliss Avenue in April 2017 to move in at Dartford's Princes Park Stadium on a five-year deal and Warrilow guided the club to a tenth-place finish in the Bostik South Division with just one team representing the club in his second season at the helm.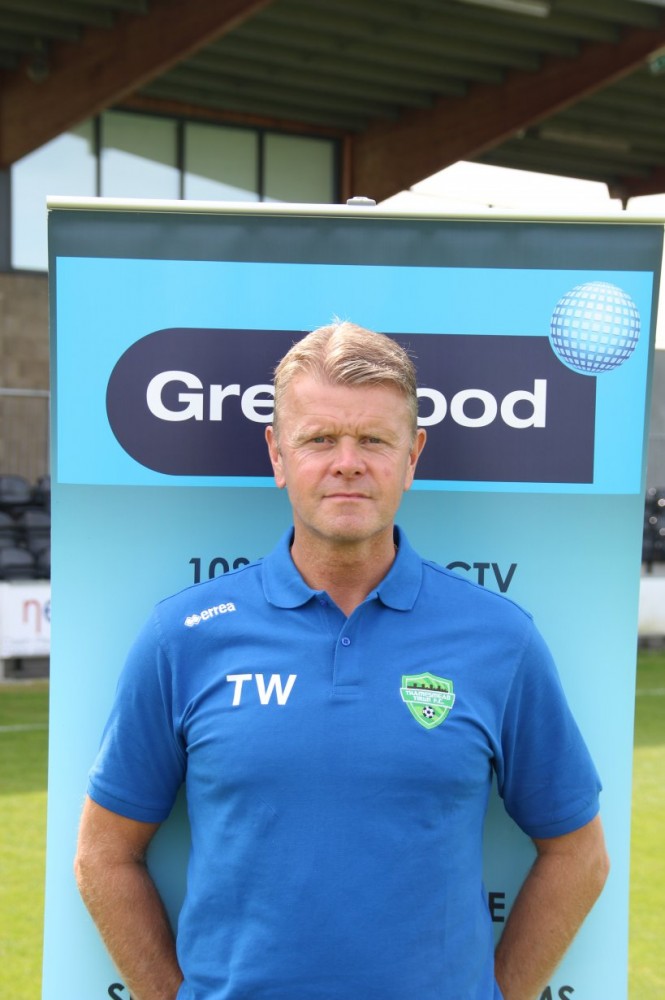 Thamesmead Town boss Tommy Warrilow
Photo: Allen Hollands

The Mead were the 20th best supported club in the division with average crowds of 94, with South Park, VCD Athletic, Chipstead and Molesey beneath them in the spectator statistics.

Warrilow, who has previously managed Tonbridge Angels and Cray Wanderers, told www.ttfcofficial.org, that the club are in a much better place going into the rebranded 20-club South East Division next term.

"Well now we have finished our first season at our new home, Dartford Football Club, I am very much looking forward to building on what has been a very positive base to build on," said Warrilow.

"I believe we could have finished higher in the league, but on reflection, and with us starting again with another new team in a transitional period, it was a season mainly of positives to build on.
"As a club we start afresh with new targets. After going all last season with just one team representing the club, we now have a reserve/ development team, and five youth teams from the age 18 downwards to strengthen the club and the first team.
"Last season, due to two or three injuries, we went one month with only 12 players, which is unbelievable at this level, but we just got on with it. We were gradually trying to rebuild the club off the pitch after losing the whole youth section when I first joined the club two seasons ago, and what has been achieved in this short space of time is truly remarkable.
"After riding out a horrendous time, the chairman (Paul Bowden-Brown) is now getting the club stronger, and the club will now only move forward from strength to strength on and off the pitch.
"Whilst we are talking about moving on, I would firstly personally like to start by thanking all the following players from last season (despite some getting new offers) who have decided to try pastures new: Lewis Carey, Jake Macintyre, Richard Avery, Ellis Green, Laurent Mendy, Paul Vines and Danny Parrish.
"The following players have been retained by the club to start our new campaign: Max Ovenden, Harvey Brand, Leon Smith, Joe Denny, Williams Danquah, Scott Kinch, Tom O'Connor. Bode Anidugbe and Richard Pacquette."
"I have been very patient with my target signings, and after talks and lots of meetings, I have signed three quality players to add to this squad and will be announcing them shortly. I hope to make it four, but as I have said before, I will have to wait and be patient as I have with the other three before announcing that!
"I'm not going down the old boring route of "this player has been offered more elsewhere and at a higher level but signed for us" etc, I will just announce the signings and anyone that knows anything about football will know what quality signings they are and realise our intent for the coming season!
"Because of our new structure, I am going for quality rather than quantity and I have the belief that our reserve/development team will have the players to push for a game in the first team. This sends the right signals out to them players too that the opportunity will be there for them to aim for!
"Apologies it has been a bit quiet, but as you can see it has been very busy time on and off the pitch but for the first time since I have been at the club, the future of the club looks a hell of a lot healthier!"

Meanwhile, the club are holding trials for their newly-created under 23 development/reserve side next Tuesday, 12 June in Eltham.

To attend the trials please email academyttfc@outlook.com to register and receive full details of the trial being held at Crown Woods School, Bexley Road, Eltham, London SE9 2PT.
Visit Thamesmead Town's website: www.ttfcofficial.org