Thamesmead Town 3-1 Brightlingsea Regent - It's nice to stay in this Cup, it's a good Cup and you want to stay there for as long as possible, says Thamesmead Town boss Tommy Warrilow
Sunday 29th October 2017
Thamesmead Town

3 – 1

Brightlingsea Regent

Location
Princes Park Stadium, Grassbanks, Darenth Road, Dartford, Kent DA1 1RT
Kickoff
29/10/2017 14:00
THAMESMEAD TOWN 3-1 BRIGHTLINGSEA REGENT
The Buildbase FA Trophy First Qualifying Round
Sunday 29th October 2017
Stephen McCartney reports from Princes Park Stadium

THAMESMEAD TOWN manager Tommy Warrilow says he wants to stay in The FA Trophy for as long as possible after producing their second upset in the competition to reach the Second Qualifying Round.

The Mead were held to a 1-1 home draw by Bostik North side AFC Hornchurch, before coming away from Essex with a shock 2-1 win to set up this clash against twelfth-placed (with 21 points from 15 games) Bostik Premier side Brightlingsea Regent.

Tom Rothery's side took the lead through midfielder Aaron Condon's fifth-goal of the season, but Thamesmead Town took only 142 seconds to level proceedings through Laurent Mendy's finish with the outside of his right-boot.

Thamesmead Town bossed the second half and a thunderbolt of a strike from highly-rated central midfielder Bode Anidugbe gave them the lead, before winger Ellis Green wrapped up the win at the death.

Warrilow has banked the cash-strapped homeless club £11,175 in prize money this season after beating four club's in The FA Cup and FA Trophy.

"Deserved it, I thought we were the better team," said Warrilow, whose side remain unbeaten in their three Sunday Cup ties at Princes Park this season.

"I just said to the boys, it shouldn't take until half-time to have a go at them because we got into some great areas in the first half and yet again it's not only giving the ball away but we gave it away for them to counter-attack. It's the same thing week-in-week-out!

"I think we created more chances to bury the game. They were dangerous with the route one ball over the top, which was causing the problems and the boy on the left (Condon) was a good player but apart from that I thought we had the better shape and we got at teams but second half we've got to start picking people out when we get into those areas as well.

"The defensive side of it we're trying to work on as a team without the ball but I'm delighted with getting in the next round and getting the money but I was pleased with the overall performance.

"We've had two tough games (in The FA Trophy) and I don't think anyone expected us to get through them.

"I'm still gutted we didn't win The FA Cup game against Billericay here but that's football. We had a little blip after the big game losing to Ramsgate at home but the last seven or eight we've been alright. We've been solid, we've introduced a few new players and different systems and the boys have brought into it and just got into it. We are sort of down to bare bones."

Thamesmead Town went into the game in thirteenth-place in the Bostik South table with 20 points on the board from their 13 league outings and on a good run of form, one defeat in six.

The Mead created their first opening after only 189 seconds into the game, played on a chilly day in Dartford.

Anidugbe played the ball out to right-back Harvey Brand, who whipped in a deep cross towards striker Alex Teniola, who rose with Matt Cripps to glance his header across goal and past the far post from four-yards out.

Brightlingsea Regent central defender Josh Gould launched the first of four long throws into the Thamesmead box.

Joe Denny, who was replaced at the interval after pulling his hamstring, jumped up with Cripps and Lewis Carey spilt the ball at his near post and the ball was cleared out to Condon, who hooked his shot into Carey's hands from 18-yards.

Denny's header out of defence fell to Teniola, who played the ball out wide to Green on the left and he cut onto his right-foot and Teniola's flicked header bounced once into Sam Cowler's hands from 15-yards.

Brightlingsea Regent, who were given good vocal support from around 40 fans, grabbed the lead, timed at 27 minutes and 25 seconds on the clock.

Striker Billy Hunt ran the left channel and his cross was cleared out to Robbie Rees, who slipped his low cross through the corridor of uncertainty and Condon ghosted in unmarked to flick his shot into the bottom right-hand corner from close range.

"From my point of view we seem to drop towards our goal when we're under pressure and really our midfield has got to pass their men on to the defenders so any second balls that come out we're there," said Warrilow.

"Our midfield went in, we then lost the first header and the second ball was a touch and a delivery which they've scored. But they shouldn't have had the second ball!

"I never worry about us going a goal down because I know we're going to create chances and the way at the moment is will we take them?"

Thamesmead Town responded superbly and it took only 142 seconds to force an equaliser.

Right-back Brand, who spent 11 years within the youth ranks at Welling United, threw the ball to Mendy, who from the right-hand side cut in, rode a challenge, cut into the box and from eight-yards he curled his shot across the keeper into the far corner with the outside of his right-boot.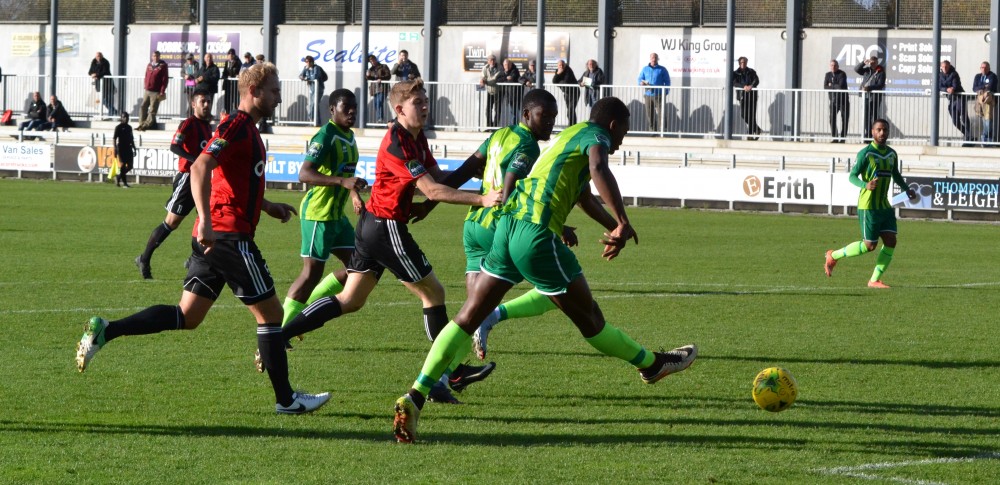 Winger Laurent Mendy cut in to the box and produced a fine finish with the outside of his right-boot to bring Thamesmead Town swiftly back on level terms.
Photo: Alan Coomes

Warrilow said: "Laurent's been brilliant for us this year. We've found a little position for him now on that left-hand side of the three (in midfield) and he's willing to learn. He's obviously going to make a few mistakes but the boy will give you everything and the energy he showed to get the ball was great. His skill is ridiculous for a lad of his size and I don't think Laurent realises how good he could be. He's a pleasure to work with. He's chipped in with a few goals lately so that's good. It was an excellent and composed finish as well, with the outside of his foot."

Thamesmead left-back Jake McIntyre hit a long-ball out of defence and striker Paul Vines' shot on the turn from a couple of yards inside the box bounced into Cowler's hands for a comfortable save.

Brightlingsea's holding midfielder, Connor Witherspoon, fed Harvey, who allowed the ball to run across him before flashing his right-footed drive just past the foot of the left-hand post from 20-yards, as Carey dived low to his right.

Richard Avery, who started as a man in front of Thamesmead's back-four before slotting in beside Leon Smith at the heart of defence during the second half after Denny's withdrawal, was given space on the right to float in a deep cross towards the penalty spot, met by Vines' planted header, which was caught by Cowler, diving to his left.

"A good cross, a good header from Vinsey. He's done the right thing, he's gone back across where the keeper's come with power and it was a good save," added Warrilow.

Condon's clever pass in behind Brand played in Jake Gould, Brightlingsea's left-back produced a great low cross towards the near post and a combination of Denny and Carey ensured Ricky Griggs didn't poke his shot over the line.

Warrilow revealed he gave his players a rocket during the half-time interval. Kinch came on in a holding midfield role at the break with Avery slotting into his more natural position.

"I had a go at them again because I think we were a little bit lethargic," admitted Warrilow.

"I thought our final ball in the final third wasn't good enough! I thought there wasn't enough energy and awareness around our play going forward and we gave the ball away too cheaply.

"I gave them a bit of a rocket, which seems to be the standard thing and I said to them we're watching the game there, trying to help you, but we know there's still a lot more and I thought second half we came out and we got a lot of second balls. We got it out in better areas and we got crosses in and we cashed in with two good goals in the end."

The Mead went close to scoring inside the opening five minutes when Smith launched a long throw into the box, the ball was flicked on by Kinch at the near post and Teniola poked his shot across goal and past the far post from three-yards.

"Again, disappointed, it should be a goal but he's tried to flick it, it's caught his toe straight on," added Warrilow.

Brightlingsea Regent made a tactical change with Harvey moving to the right-wing and moving Griggs from there to sit in behind five-goal striker Hunt.

Rees allowed James Love's throw in roll across him before drilling a powerful left-footed drive over the crossbar from 25-yards.

Brightlingsea Regent keeper Cowler, who was wearing protective headgear made famous by Chelsea and now Arsenal keeper Petr Cech, was called into flying action in the 66th minute.

Green ran with the ball before slipping the ball into Kinch's feet inside the Brightlingsea Regent half. He rolled the ball into Vines, who played the ball out to the right wing for Mendy to whip in a cross and Teniola's free-header from 12-yards forced Cowler to dive to his right to grab hold of the ball.

"He couldn't do much more really, he's got a powerful header on it, straight at the keeper," added the Mead boss.

Thamesmead Town took the lead with a magic moment of high-class quality from Anidugbe, who was quiet up until this point, scoring his third goal of the season, timed at 26 minutes and 8 seconds on the second half clock.

Anigugbe collected the ball at his feet in midfield before playing the ball out to Green on the left. He whipped in cross, the ball was cleared out to Anidugbe, who brought the ball under control before drilling a stunning right-footed drive into the top left-hand corner from 22-yards, giving Cowler no chance.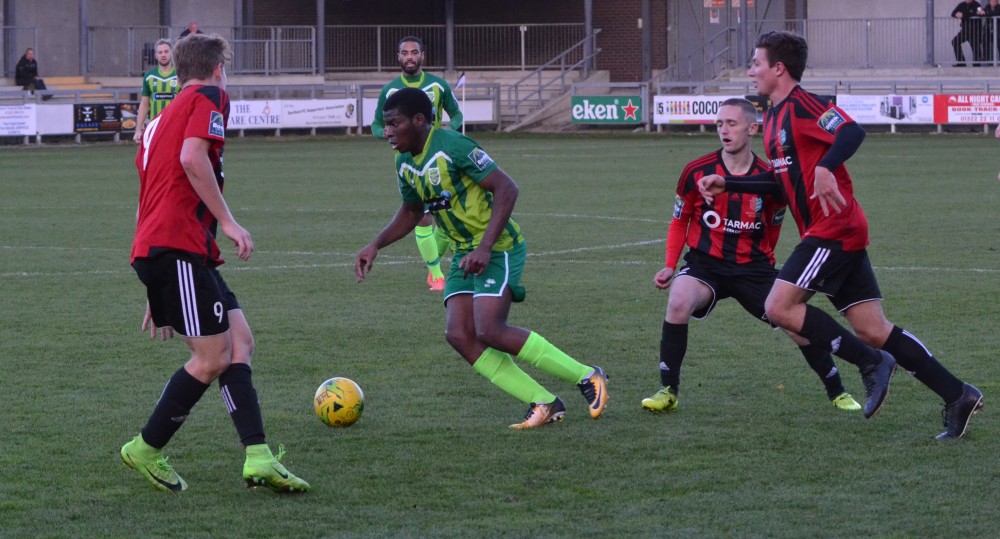 Thamesmead Town midfielder Bode Anigugbe (green)
Photo: Alan Coomes

Warrilow said: "That's what I'm saying about second balls!

"Bode is a good player, he can drive with the ball. I thought he had a reasonable good game today. That's why I'm saying everyone's got so much more to give, he can do so much more Bode. He's got so much more in his locker to give.

"He has improved massively when he first came to me last season. He didn't have a club so this is his second year with us and he's grown into quite easily one of the best midfield players - with Tom O'Connor - in our division, that's why they're both contracted.

"He had another shot later on and he's been shooting erratically but today he's had both of them, the ball under control and composed."

Jake Gould played the ball inside to Condon, who dragged his shot across goal and past the far post from 30-yards.

Thamesmead Town won their only corner of the game in the 77th minute – Brightlingsea won seven – but Vines planted his header over the bar from six-yards after meeting McIntyre's flag-kick from the left.

Warrilow said: "Again, it's a great floated ball in and Vinsey has got the bury that and he knows that! I don't know if he's miss-timed it and got under the header. Listen, I think Vinsey knows I want him to bury that, I think he would. That's what I'm saying that would've given us that little cushion."

Anidugbe shrugged past Cripps and went close to scoring from a right-footed drive which flashed just past the left-hand post from similar distance to his goal.

Dominant Thamesmead Town created further chances as the game entered the final 10 minutes.

Smith's long throw was held up by substitute striker Raphael Duyile inside the box and he played the ball on the outside to Vines, whose shot on the turn from a couple of yards inside the box lacked power and was gathered by Cowler.

Smith's third long-throw was met by Kinch's looping near-post header which was gobbled up comfortably by Cowler.

Brightlingsea Regent almost grabbed an underserved equaliser with 44:39 on the clock.

Referee Lee Grimsey, who must work on communicating with players, awarded Brightlingsea Regent a free-kick 20-yards from goal.

Substitute Freddie Gard and Condon stepped over the ball. Gard pulled off a dummy and Condon – Brightlingsea's brightest player on the day – stroked his low left-footed free-kick around the wall to force Carey into making a brilliant and vital save, diving to his right to push the ball away towards safety.

"It's a good save at a good time but I wouldn't say it was match-winning because we should've been out of sight before that anyway," said Warrilow.

"We started giving away a few silly free-kicks away at the end and you're just thinking we're going to end up going up there (for a replay on Wednesday night), it's going to come back and haunt us again but thankfully it didn't."

When Thamesmead Town held AFC Hornchurch to a 1-1 draw here in the last round, watching from the terraces was Steve King, the manager of Vanarama National League South Whitehawk.

"I've told Lewis he can play a lot better. I know a manager who has been down here, been a bit busy watching him, which gets back to you but that's football but they've got to ring me up because he's on contract but no-one's rang up yet!

"I said to Lewis he should be a star player every week. You've got to be on the edge of your box shouting and today he was a little bit back to his normal self.

"He will always make saves and do whatever but there's so much more, of course he can play at a higher level, but I think a few of my players can."

Carey's agile goalkeeping proved vital as Thamesmead Town went up the other end to score a third goal exactly 50 seconds later.

Vines played the ball inside for Green (who had moved inside from the wing) to crack a first time left-footed drive across the keeper into the far corner from 22-yards.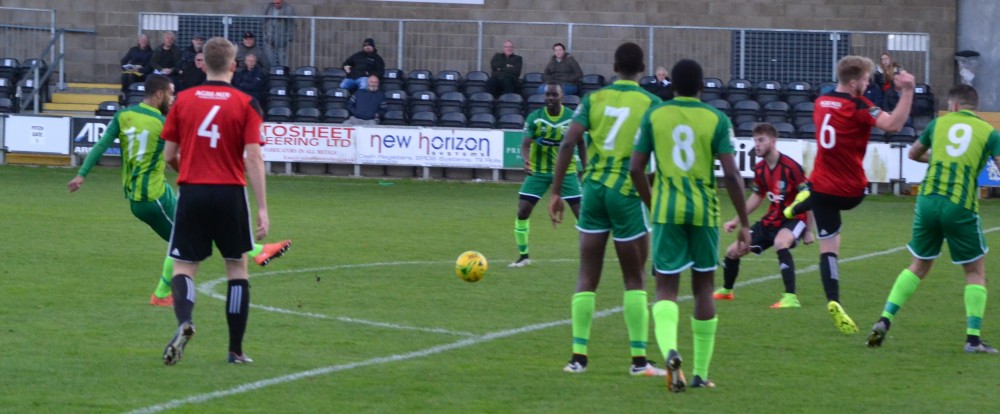 Thamesmead Town winger Ellis Green wraps up the
game by scoring the third goal late on to create a
FA Trophy upset by knocking out Bostik Premier side
Brightlingsea Regent at Princes Park.
Photo: Alan Coomes

Warrilow said: "We could put Ellis in the middle with Bode to end up with a 4-1-4-1 and asked him to get around again like Bode's, any second balls and to be fair they both cashed in from second balls from defensive headers. A great finish from Ellis."

Thamesmead Town travel to eighth-placed Walton Casuals (Saturday) and midtable Herne Bay (Tuesday 7 November) in their next two games before their next game in The FA Trophy on 11 November.

"Obviously we'd like another home draw but it's nice to stay in this Cup because this is a good Cup and you want to stay there for as long as possible," said Warrilow.

"For us it's financial and we need to get more fans here, that's the key. It doesn't seem to be happening at the moment. I know there was a few here today but after the Billericay game where we got 433 we had 74 here (against Ramsgate) and that's soul-destroying because the chairman's doing a lot down here to try to push the club on.

"I think we're doing a lot with the calibre of player that we've got here, considering we're not paying fortunes to any player and that's why I'm delighted to have these boys here and I'm lucky to have them here because they're not my mates, I love them to bits, I'm not going on holiday with them. I'm here to make them better footballers and I'm honest with them and that's all you can be."

Looking ahead to tomorrow's Draw, Warrilow wants a home tie in the next round, with another four grand up for grabs.

"I'm not bothered who we get as long as we're at home. I'm not really fussed. It would be nice to get, not so much what you call a winnable game but a game where you think that's not too bad. As long as we don't end up travelling to the end of the world and you know you're going to have a real game on your hands but whatever it is, I'm not too fussed."

Thamesmead Town: Lewis Carey, Harvey Brand, Jake McIntyre, Richard Avery, Leon Smith, Joe Denny (Scott Kinch 46), Laurent Mendy, Bode Anidugbe, Paul Vines, Alex Teniola (Raphael Duyile 70), Ellis Green.
Subs: Tobi Ajala, Max Ovenden

Goals: Laurent Mendy 30, Bode Anidugbe 72, Ellis Green 90

Booked: Jake McIntyre 42, Paul Vines 89

Brightlingsea Regent: Sam Cowler, James Love (Luke Mallett 86), Jake Gould, Connor Witherspoon, Josh Gould, Matt Cripps (Freddie Gard 62), Robbie Rees, Billy Hunt, Rob Harvey (Rocha Fosker 79), Aaron Condon.
Sub: Dillon O'Connor

Goal: Aaron Condon 28

Booked: Connor Witherspoon 80

Attendance: 156
Referee: Mr Lee Grimsey (Stevenage, Hertfordshire)
Assistants: Mr Adam Steele (Canterbury) & Mr Jordan Whitworth (Catford, London SE6)

Coverage Sponsored by: