Sutton Athletic 0-0 Sheppey United - I thought we deserved to win the game. We just couldn't stick the ball in the back of the net, says Sheppey United boss Ernie Batten
Saturday 23rd April 2016
Sutton Athletic

0 – 0

Sheppey United

Location
Lower Road, Hextable, Kent BR8 7RZ
Kickoff
23/04/2016 15:00
SUTTON ATHLETIC 0-0 SHEPPEY UNITED
Pain & Glory Sports Kent Invicta League
Saturday 23rd April 2016
Stephen McCartney reports from Lower Road

SHEPPEY UNITED manager Ernie Batten rued his side's many missed chances after missing out on the Pain & Glory Sports Kent Invicta League title in their penultimate game.
The club were 16 points adrift of the league leaders back in November and look on course for a runners-up spot after their goal-less draw at Sutton Athletic today.

The stalemate handed the Pain & Glory Sports Kent Invicta League title to Bearsted, who claimed their 28th league win of the season with a 2-0 win at FC Elmstead.

The visit of powerhouse Sheppey United attracted Sutton Athletic's largest crowd of the season but the 146 fans were treated to a decent game of football on a chilly and windy day but neither side could find the breakthrough that the game deserved.

"My thoughts are, I thought we deserved to win the game," said Batten following his side's sixth league draw of the season, that leaves them four points behind champions Bearsted on 84 points.

"We set out to win the game. We had lots of opportunities. It was one of those days sometimes in football you can't stick the ball in the net and there's no rhyme or reason for it! There were four or five players there with lots of opportunities but on the day we couldn't stick the ball in the net and we've come away with a 0-0 draw.

"We never seem to be involved in a typical goal-less draw, no. There were lots of excellent, lot of good football played and I thought especially second half that we dominated for long periods, played some exciting, good football on a firm pitch, it's not always easy and just come down to that final finish in front of goal."

Sutton Athletic manager Ben Young has guided the Hextable-based club to fourth-place but today's stalemate puts them on 76 points with three league games remaining.

"It was a good game, good spirt from both teams. Obviously we're trying to break into the top two and I thought we would be," said Young afterwards.

"Sheppey gave a very good account of themselves. It could've gone either way today.

"For me today's result, it was good to see. It just shows where we are. I mean although we've had a blip in the last couple of weeks, we put in a good performance today, a battling performance. We show we can play at times. If I'm honest I thought we created the more clear cut chances but unfortunately we didn't take them."

Sheppey United created the opening chance after only 194 seconds but David Abe's shot on the turn (after Darren Marsden's long throw) was turned around the post by Dean James at his near post.

Sutton Athletic squandered an excellent chance to take the lead with eight minutes on the clock.

Daniel Gunner floated in a cross into the Sheppey United penalty area from the right, Sheppey central defender Jon Ralph could only jump and direct his header backwards and this was pounced on by winger Jonny Murray, who sliced his left-footed shot over the crossbar from 16-yards when he only had the Sheppey keeper to beat.

"There were lots of chances, obviously we had the best chance in the first half," said Young.

"A great ball in by Dan Gunner, got flicked on, Jonny Murray gambled and nine times out of 10 that's in the back of the net but sometimes lucks not with you and it goes. I can't moan. All I want to do is for my players' to get in that position so I'm happy with that."

Batten added: "They've been scoring a lot of goals Sutton, they're a decent outfit so you expect they're going to have one or two opportunities."

Right-winger Marsden, played the ball into James Huggins and Sheppey's central midfielder found left-winger Timmy Babbington on the edge of the box but he dragged his shot past the near post.

Sutton Athletic created another great chance to score with 19 minutes gone.

Energetic right-back Luke Newman found himself in the final third and he floated over a deep cross towards Gunner, who smacked his left-footed volley bouncing into Dean Warford's hands from 12-yards.

Sheppey United's left-back Joseph Fornah launched a long throw into the Sutton Athletic box, the ball was cleared out to Marsden, who hooked his right-footed volley over the bar from 25-yards.

Newman then centred from the right to striker Arlie Desanges, whose shot deflected off Rob Saunders, which took the sting out of the shot and Warford comfortably gathered.

Sheppey United striker Abe turned defender Chris Page and his left-footed shot was blocked by an alert goalkeeper Dean James in the 28th minute.

Batten said: "First half, I thought that I didn't realise the slope would play a little bit of a part in it. Second half we totally dominated and I thought first half I didn't give any consideration for the slope. It was kind of even-Stevens first half."

A back-heel from Marsden just inside Sutton's penalty area set up a chance for Abe, who sliced his left-footed shot harmlessly wide of the far post from 25-yards.

Sutton Athletic winger Danny Ball held his head in his hands in despair after missing a great chance to break the deadlock in the 36th minute.

Central midfielder Ben Williams played the ball into advanced left-back Tom Hammond who played Ball in behind the Sheppey back four but sliced his left-footed shot over the crossbar from 15-yards.

Young said: "Again, unlucky. On another day that goes in. You could say the same for both teams today. On other days they go on but today two very good teams cancelled each other out. A draw's a fair reflection on today's result."

The hosts created the final chance of an entertaining first half.

Ben Williams' hanging free-kick from just inside Sheppey's half was met by Newman's powerful header, which went past the near post.

Somehow, it remained goal-less going into the half-time break.

Young said: "First half we started very slowly. I thought the big crowd that Sheppey brought them put us under a little bit of pressure. For me, we grew into the game. We battled, we stuck to our jobs and I thought we dominated for about 30 minutes.

"At half-time we just talked about how well they've done pressing and that we needed to keep it up. We talked about the forwards dropping off to get it and what disappointed me was our final ball. We got into some really good areas and we were let down by our final ball. Normally we're quite good and clinical with that."

Batten said: "Just carry on because we knew we were playing well. We were competing very well and I just told the lads to carry on playing their football, keep trying to create, keep working hard and the chances will come."

Sheppey United dominated the second half and created numerous chances to score and keep their title aspirations alive.

Substitute Andrew Thompson, who had replaced Adam Williams in the 25th minute after the striker injured his right knee, played in Abe, but all he could do was to steer his right-footed shot straight at James at the near post from the corner of the six-yard box after only 129 seconds.

Batten said losing Adam Williams was a blow to his team.

"I thought that affected us a bit. Adam's a super player and he holds the ball up extremely well, makes things happen for us and that was a bit of a blow to lose Adam."

Sheppey skipper Ian Batten then played Abe in behind the Sutton defence but his right-footed dink bounced across the face of goal and past the far post from 10-yards.

But Sutton Athletic almost delivered a sucker-punch blow in the 53rd minute with a great chance.

Ben Williams fed the ball into Desanges, who was given time and space to drill his right-footed shot towards the right-hand corner from 30-yards, forcing Warford to dive to his left to push the ball around the post.

Young said: "Again, we talked about it in the changing room about when the ball's coming, show, turn, find that space. He got on the half turn, a good touch and a great strike and the keeper's made a good save again. At least we're testing the keeper and putting them under pressure."

Young knows he faces a massive fight to keep hold of a striker that has scored 40 goals this season.

He said: "He's been fantastic! You see his movement and he's in the right place at the right time. He's bene absolutely unbelievable this season. I know a few clubs are looking at him and that's what he thoroughly deserves but hopefully we can keep him in the summer, fingers crossed. He's been superb and I can't knock him. Forty goals is brilliant and hopefully we'll build on that again."

Batten said: "Dean's a great shot-stopper, that's why he's been the posts. He can pull off a save like that, it was a good save."

Thompson fed Abe, who cut across from the middle to the right channel before he cut the ball back to Sheppey right-back Marvin Okundalaiya. He hung over a deep cross, which Thompson watched drop over his shoulder, turned to hook his shot over the crossbar from 15-yards as he attempted to find the top far corner of the goal.

Sutton keeper James pulled off a great save to frustrate Sheppey in the 61st minute.

Thompson played the ball into Marsden's feet and he delivered a deep cross from the right towards the far post and Batten powered his header towards the top near corner from six-yards, which was brilliantly turned over by James' outstretched right hand.

Batten added: "It was a great header at the far post and I thought that was one of the best saves of the match."

Young added: "Again, a lot of it that was our own mistake but you have to accept that they've got quality and they took advantage of it. They've put a lovely ball in and Dean's made a great save. He's anticipated, got a hand to it and done well so it was pleasing for him to do that."

Sheppey keeper Warford was forced into making another great save just 50 seconds later as Sutton Athletic hit them on the counter-attack.

Ball's sublime pass out of Sutton's half released Desanges through the heart of the Sheppey defence and struggled to reach the penalty area, opting to stroke his shot towards the right-hand corner from 30-yards, which the keeper dived low to his left to make a vital save.

Young said: "He got put through and we nicked the ball, we broke away and a great little ball through and he's got on the end of it but unfortunately he didn't have the pace or the legs to get there but he took his chance and the keeper made a good save."

Batten added: "We got caught out a little bit there. We were pushing so many people on. A draw wasn't any good for us today. We knew if we had any chance of winning the league we needed to win today and we left ourselves a man short at the back, which they broke and they played him in."

Sheppey United felt they had finally made the breakthrough when Thompson capitalised on a slip from James on the corner of his penalty area but his low shot was cleared off the line by Chris Mirlees.

Sheppey United substitute Andy Constable spun and cracked a left-footed shot on the turn which screamed just past the near post as Sheppey United's dominance continued.

Warford's big kick straight down the middle was flicked on by Constable and Marsden's shot deflected off Hammond and James dived to his left to make the save.

Sutton Athletic created a chance in the 28th minute of the half.

Ben Williams played the ball out wide to Desanges, who flicked the ball into Newman's path but his finish lacked quality and sailed over the far post from 25-yards.

Sutton Athletic's goal led a charmed life as Sheppey United threw the kitchen sink during a one-sided half.

Young was delighted that his players packed their defence and held on to dear life.

He said: "The last couple of weeks we've been a little bit unsure (defensively). That's what's given us a lot of success is by putting our bodies on the line by working hard and not think they are better than we are and today we were back to that and it got us a result, so I was very pleased and they will give everything for me and that's what makes us a good team."

Batten said: "It certainly was! We just have to keep on playing and hope that you get the goal. I thought when we get one we'd probably get two or three but I think the longer it went on and we kept trying and trying it just wasn't to be today."

Constable brought the ball down under control with his head – the hard pitch ensured the ball bounded all over the place – and turned Page and his right-footed shot was saved comfortably by James.

Ian Batten's driving run then set up a chance for Marsden, who cut inside from the left and his right-footed shot was punched towards safety by James.

Young said: "Sheppey are pushing to win the league. They've got to throw caution to the wind and they've got to put pressure on us. They bring on their big forward (Constable). That's his job. I think he's the best keeper in the league and he's pulled off one or two really good saves."

Manager Batten added: "I used to be a striker myself and when the ball's not going in you're looking at it and you're kicking every ball and you think you've got to finish that one but these days happen in football.

"The great thing is I always look to the performance and I think I'd certainly be concerned if we weren't creating all of these chances but it comes down to individual finishing, which isn't a team thing, it's an individual thing."

Saunders' diving header was saved by James after the ball came to Sheppey's central defender following Fornah launched a long throw into the box from the left.

Sheppey United celebrated with 44:06 on the clock when Constable felt he had scored his 20th goal for the club.

Ralph made a desperate run into the penalty area on the right-hand side and steered his shot towards the far corner, only for Constable to lash the ball in from close range – only for the goal to be ruled out by Peter Wilson's offside flag, which gave the title to Bearsted.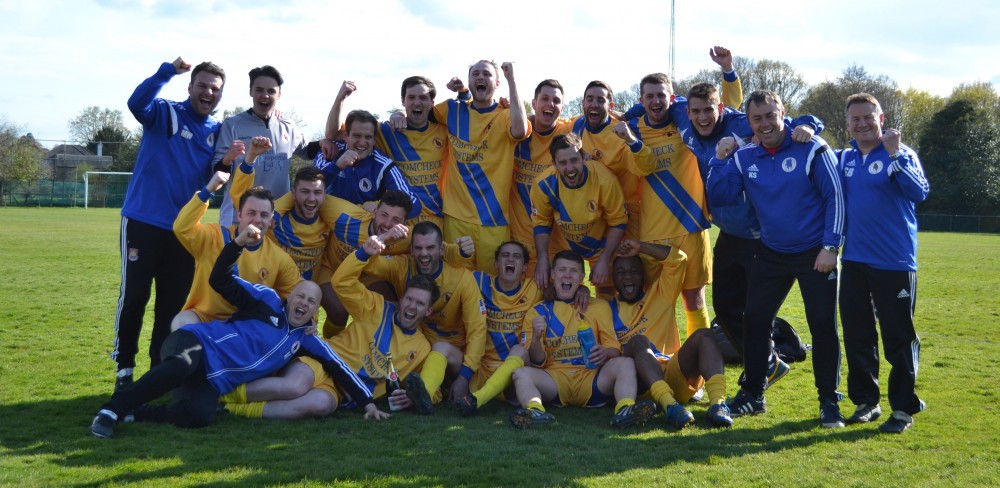 CHAMPIONS: Bearsted celebrate winning the Pain & Glory Sports Kent Invicta League title following their 2-0 win over FC Elmstead at Oakley Road in Bromley today after hearing Sheppey United were held to a goal-less draw at Sutton Athletic.
Photo: Alan Coomes

Batten said: "Yes! I ran onto the pitch. I've thrown my hat up in the air, thought we finally done it! Brilliant! Great for the fans next week we take it to the last game and I'm sure it'll be a large gate next week. I turned and the flag was up and you look to the Gods!"

Young added: "Look, they put the pressure on, they have to go for it. It could've gone either way for both teams. Fortunately for us the goal's offside.

"They put the pressure on us but it could've been said for the first half we could've scored so if I'm being honest, a draw's probably a fair result."

Bearsted celebrated winning the league title without the trophy presentation and host Sutton Athletic next Saturday, while Sheppey United will confirm runners-up with at least a point against Bridon Ropes at Holm Park.

"It's a celebration for us now, we're expecting, who knows?" said Batten, who guided the club to Kent Reliance Senior Trophy success.

"It could be 500 to a thousand people next week for our last home game.

"I've said before this is a huge club and with fantastic potential and in a couple of weeks when it all dies down and everything and the season's finished what it will mean is we've got that trophy and we're promoted to the next league.

"It's a pleasure to manage this club, it really is. I don't know how many teams at this level have away day coaches? It highlights the enormous potential of the football club."

Sutton Athletic are going in the right direction with the erection of new floodlights and a team that should be challenging for the title next season.

"I said to the boys, that's what it's all about. It's pleasing they bring a great crowd, they were brilliant, they had good fun with the keeper and stuff like that," said Young.

"That's where we want to be, having crowds like that, not so much of their magnitude but having crowds like that. We have a good support ourselves and it's pleasing to see that and it makes it more of a game so that was good. Shame no-one could score for them.

"We've got a very good squad where the average age is 21-24. There's a lot to learn but Sheppey have got some very good experienced players who have played at a higher level. We will reach that but we've got floodlights up we've got the stadium (stand) coming in. The clubhouse will be cleaned up throughout the summer so we're pushing and that's the idea so we can recruit players with what we've got now."

Sutton Athletic travel to Dartford to play fourth-from-bottom rivals Kent Football United on Tuesday (18:30), before travelling to champions Bearsted on Saturday and complete their league campaign with a trip to APM Contrast two days later.

The Sutts also travel to Sheppey United's Holm Park to play the Kent Invicta League Challenge Trophy Final against Glebe on Saturday 7 May.

"Kent Football is a local derby, it's a half-past-six kick-off which is difficult for all of our players to get there on time. Again, that's something that we have to deal with and then we go away to Bearsted. We'll be going down there to the crowned champions.

"For us, we want to finish as high as we can, get as many points and go down there and put on a show. For me, it's been a pleasing season. Hopefully we finish on a high in the Cup Final."

Sutton Athletic: Dean James, Luke Newman, Tom Hammond, Will Roomes, Chris Mirlees, Chris Page, Jonny Murray (Bill Palmer 85), Ben Williams, Arlie Desanges, Daniel Gunner, Danny Ball (Aiden Pursglove 85).
Subs: Joe Hill, Darren Wheeler, Sean Heather

Booked: Arlie Desanges 74

Sheppey United: Dean Warford, Marvin Okundalaiya (Carl Harrold 75), Joseph Fornah, Rob Saunders, Jon Ralph, James Huggins, Darren Marsden, Adam Williams (Andrew Thompson 25), David Abe, Ian Batten, Timmy Babbington (Andy Constable 63)

Booked: James Huggins 7

Attendance: 146
Referee: Mr Keith Wenham (Allhallows)
Assistants: Mr Peter Wilson (Allington) & Mr Matthew Williams (Strood)