Soccer Shorts: Folkestone Invicta elect supporters club chairman on to their board
Friday 19th August 2016
Here are tonight's Soccer Shorts articles.

CHATHAM TOWN assistant manager Darren Anslow says he's expecting a tough FA Cup tie against Walton Casuals tomorrow.

Chatham kicked-off their Ryman League Division One South campaign with a goal-less draw at Three Bridges last weekend, followed by a 3-2 home defeat to Tooting & Mitcham United two days later.

They travel to Whyteleafe's Church Road ground to play their league rivals Walton Casuals in the Preliminary Round.

"The FA have been great to us with the draws," said Anslow.

"That's a tough game, down to Whyteleafe on the 3G. They're used to it, they're playing on it. They didn't have a great start.

"They're not an easy side to play against. The other thing, as well being drawn against other sides in your own league as well, you want to have a little bit of adventure.

"Every club in the league looks at revenue from The FA Cup, sometimes the draw can be harsh. Against Walton Casuals it's a game that they can think they can win against us and we probably think we can go there and win so it's in the balance."

The winners will host Greenwich Borough or relegated Walton & Hersham in the next round on 3 September.

"Greenwich Borough is a tough draw but it's The FA Cup so you don't know what's going to happen do you? You can have a run and get a bit of luck, you know."
FOLKESTONE INVICTA have confirmed that they have completed the necessary formalities with The Football Association and Companies House have now been fulfilled and that long-serving supporters club chairman Clive Arnold is now a fully-fledged director of the newly-promoted Ryman Premier League club..
Jim Pellatt, Invicta's former club chairman and company secretary told www.folkestoneinvictafc.co.uk: "This completes the process, which was set in train a few months ago, for our supporters to elect a person to represent their interests at board level, when Clive was duly elected.

"It once again highlights our belief that supporters should have a voice at Board level, and a meaningful input into how their club is run.

"It is well documented how much the board appreciates the backing - both financial and otherwise - that our supporters have given us over the last few years especially, and it is right that we should follow through on our pledges."
GREENWICH BOROUGH player-manager Gary Alexander says he is going to blood some of the club's under 21s in their FA Cup Preliminary Round tie against Walton & Hersham tomorrow.

The Swans are now playing Combined Counties League football after suffering relegation from the Ryman League Division One South, where Greenwich Borough are now.

Alexander's side lost 1-0 at Dorking Wanderers on the opening day of the season when they were wasteful in front of goal, but they bounced back with a 4-1 win over fellow newly-promoted side Horsham at the DGS Marine Stadium.

"A break from the league sees us entertain Walton & Hersham in The FA Cup. It's always special to play in, no matter what round," said Alexander, ahead of the clash at Middle Park Avenue.

"We will be hoping for a good run but we'll take nothing for granted. I expect a real tough game as I do every game.

"My players' will be up for it after a win on Tuesday. It was nice to get off the mark after a disappointing start the week before. We showed great character to come out and score four after failing the week before so we're going into the game on a high.

"With the seven sub rule it will be a chance for some of my under 21's to get on the bench and perhaps even some minutes under their belt in the first team, which can only be good for them and us a club."

HOLLANDS & BLAIR manager Bryan Greenfield says he is looking forward to tomorrow's FA Cup Preliminary Round tie against Whyteleafe.

Blair will allow Gillingham season ticket holders to watch the Darland Avenue clash for just £3 to bring in the crowds for another historic game for the Gillingham-based club.

"Looking forward to another historic occasion for the club with it being the first time we've ever hosted a FA Cup tie," said Greenfield.

"We obviously know we'll be the underdogs in what will be a very difficult game against good opposition but one that we have to go into believing that we can win.

"Getting through the first game against Horsham YMCA was a great day for the club so now we can go on and enjoy this day."

Hollands & Blair have collected four points from their opening two league games of the new season, beating Erith & Belvedere 2-1, before coming away from newly-promoted Sheppey United with a 2-2 draw in midweek.

"I couldn't have asked anymore from the players in terms of results," said Greenfield.

"They had one bad blip in pre-season but since then they have gone on to win every game with exception with the Tuesday night draw against Sheppey.

"It's a completely new squad from last season and many will have written us off losing as many quality players as we have so for them to have won their FA Cup tie away at Horsham YMCA and to have picked four points from six against teams that should be at the top of the table, I couldn't have asked more from them.

"In terms of performances, I think we can get better and I think that side of things will improve as they gel."
Tom Benham will return in goal after coming back from a holiday, while Sam Adgie is struggling with a groin injury.
HOLMESDALE manager Ian Varley has signed target man Anthony Fenech from Southern Counties East Football League Premier Division side Sevenoaks Town. He had made one appearance for Micky Collins' side, having arrived from Seven Acre & Sidcup in the summer, for whom he scored 28 goals last season.

MAIDSTONE UNITED have sent defender Callum Davies out on loan to Ryman Premier League side Folkestone Invicta.

Davies signed for the Stones from Gillingham in December 2015 and will link up with Neil Cugley's side until mid-November and will be in the squad for Invicta's trip to Havant & Waterlooville tomorrow.

PHOENIX SPORTS travel to South Park in The FA Cup Preliminary Round tomorrow sitting proudly at the summit of the Ryman League Division One North table for the first time in their history.

The Barnehurst-based side finished in fourteenth-place in their debut season but wins over Brentwood (3-0) and Aveley (6-2) puts manager Steve O'Boyle in confident fashion going into their trip to Reigate.

"After a great start to the season we go into the game full of confidence," said O'Boyle.

"We have a fully fit squad to pick from tomorrow. It will be a tough game, especially away from home, but if we can play like we did on Tuesday, hopefully that will be good enough to win the tie."

RAMSGATE joint-manager Jim Ward welcomes an old friend to Southwood Stadium in The FA Cup Preliminary Round tomorrow.

The Rams host Southern Counties East Football League side Erith Town, who needed a replay to beat Sutton Common Rovers at the first stage of the competition, grabbing a 2-0 lead at Gander Green Lane.

Erith Town are jointly-managed by Ian Jenkins and Ricky Bennett and Ward said: "It is 10 years now since Ramsgate made the First Round proper of The FA Cup and tomorrow we entertain Erith Town.

"I go back years' with Ian Jenkins and it will be great to see him again on Saturday.

"Let us hope it is Danny and I who have the smile on our faces at the end of the game.

"We go into the game with a couple of our top players missing, Ian Pulman and George Crimmen, but no doubt the young lads that take their place will not let themselves down.

"For me and Danny, the first game in The FA Cup is one of the days you always look forward to. Who knows when your last game in The FA Cup will be?"

SEVENOAKS TOWN manager Micky Collins has brought Andy Constable back to the club, after the striker left their Southern Counties East Football League Premier Division rivals Sheppey United.

SITTINGBOURNE manager Nick Davis says he has mixed feelings with his side's first two Ryman League Division One South games of the season.

They opened with a 3-3 draw at Cray Wanderers on the opening day and they continued their goal-fest with a 4-4 draw at Woodstock Park against Three Bridges in midweek.

"It's been a real strange start to the season if I'm being honest," said Davis.

"I'm still in shock how we threw away two goal leads in both of our opening games in the last five minutes of each game.

"We felt extremely disappointed and feel as though we have lost both. A little bit of inexperience and naivety on our part and some fantastic finishing to be fair but we should be on six points right now.

"A problem for us in recent years is scoring goals and to score seven in the first two is a real plus point and we could have had more.

"It is only early days but the way we have gone forward with pace in the first two games has been frightening and the four lads in question have everything collectively as an attacking unit and it's just clicked. I just hope it continues!

"On the other had we have conceded seven, which is disappointing but in one sense if we had drawn both 0-0 I would have more cause for concern."

Davis will take a 1-0 win when league rivals Hythe Town visit Woodstock Park tomorrow (2:00pm) in The FA Cup Preliminary Round.

He said: "The draw could have been a lot kinder to us at this early stage. One of the form teams towards the end of last season and a team that will be there or there abouts come the end of the season in our league.

"But it's The FA Cup, a one-off game and we have home advantage so we will give it our best shot and have nothing to lose."

THAMESMEAD TOWN have travelled to Guernsey today ahead of tomorrow's historic FA Cup tie.

Never before in the history of The FA Cup has a tie been staged in the Channel Islands.

Chairman Paul Bowden-Brown told www.thamesmeadtownfc.com: "I feel very honoured to be involved in such a game. Last season we invited Jersey to fly over last season to play our team. That was history in its own right because it was the first game that Jersey had played out of Jersey. So here we are being involved with making history once again the following season as it's the first time that Guernsey has played a home FA Cup tie as the great old competition makes its debut on Guernsey soil.

"I'm personally looking forward to enjoying the day and hopefully being able to fly back from Guernsey with a win, but whatever the result I want to ensure we are seen by all those in Guernsey as a very professional and friendly team."

Manager Tommy Warrilow has seen his new side win their opening two Ryman League Division One North games of the season.

"We've had a very tough start to the season and to win against Heybridge last weekend and then again at Thurrock on Tuesday night was brilliant," he said.

"Two very difficult games before we even get to the Cup tie which in itself is obviously going to be a very tough game especially as we've got to travel to the Island where I know that Guernsey will be very strong.

"But what a day it promises to be for both clubs?

"It really is a huge honour for every one of the players and officials to be involved in such a historic occasion – everyone who plays the game wants to play in The FA Cup and for us to have pulled what is probably the plumb tie of the round, is great!"
TONBRIDGE ANGELS striker Andre McCollin says he won't be a stranger at the club while he recovers from a broken leg.

The new striker was stretchered off just half-an-hour into his Angels debut last weekend but still wants to play a major part this season.

McCollin told www.tonbridgeangelsonline.co.uk: "I've broken the fibula and torn ligaments in my ankle. I'm getting two screws put in my ankle.
"That's the bit they're most worried about. Because the leg is a clean break they're not too concerned about that.
"I'm quite a naturally fit person. The doctor said in eight weeks I'll be out of the cast.
"The ankle was too swolen when I went in so they couldn't operate and they sent me home."
It's clearly not the debut Andre expected, and says he felt in confident mood before the game.
"On my way to the game I said to Damian Scannell, who I travel in with, we're going to win 3 or 4 nil and I'm going to score.
"The injury ruined the day but the main thing is we won the game.
"I've had a few nice messages from fans who've wished me well, but I'm not on Twitter, I'm only on Instagram. Physio's Tina Jenner and Marvin Slight, Steve McKimm and the management team have all been very supportive. It's very encouraging they're all behind me."
The Ryman Premier League club haven't put a timescale on his recovery, but the former Aldershot Town, Cray Wanderers and Kingstonian striker certainly intends to play a major part in this season's campaign when fit, and has promised not to be a stranger while recovering.
"I was following the game on Tuesday, I was checking the score every ten minutes," he said.
"I'll be following all the scores, and as soon as I'm up and able to I'll be coming to home games. I'm not just going to hide away, because the club's been so supportive to me. I want to repay that by getting back as quickly as possible and scoring some goals."

Congratulations to Holcombe Hockey Club (based in Chatham) goalkeeper Maddie Hinch, 27, for her inspirational performance as Great Britain won Gold in the Olympic Final as Team GB beat Holland 2-0 on penalties after a 3-3 draw, where Hinch pulled off a number of vital saves to keep her side in the game.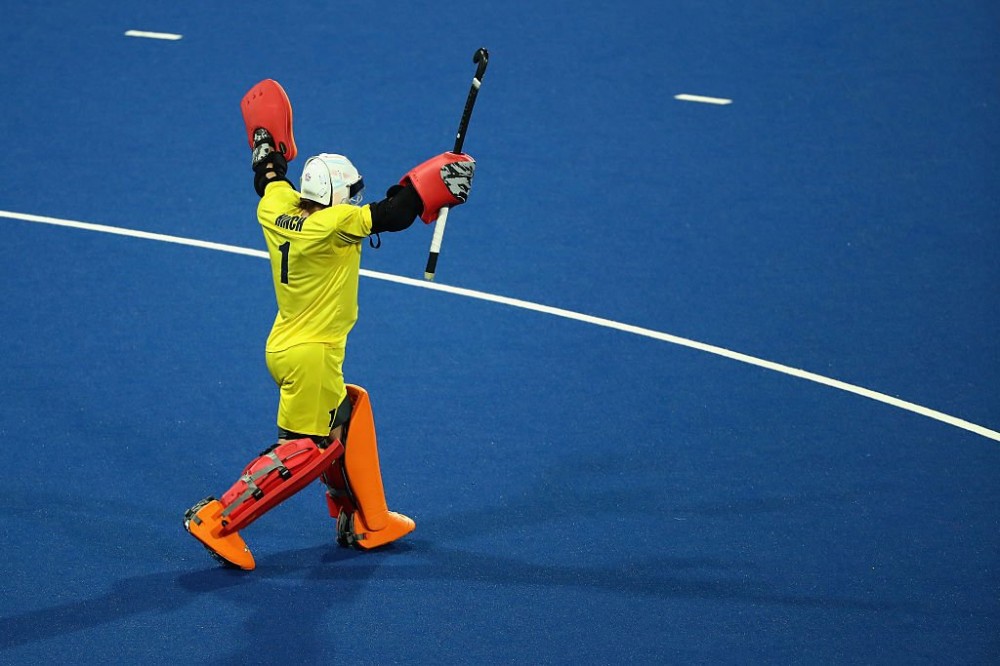 HEROINE: Maddie Hinch, 27, celebrates winning Olympic Gold as she made some vital saves to help Team GB beat Holland 2-0 on penalties after the game finished 3-3 in Brazil.
Photo: Team GB Twitter
Last Updated: 23:25 – 19/02/2016 -