Soccer Shorts: Sheppey United unveil the signing of striker Stuart King
Monday 10th July 2017
Here are tonight's soccer shorts articles
AFC CROYDON ATHLETIC have appointed their goalkeeper Dan Burnett as the manager of their under 21 team.

Burnett will work with the Academy management to lead the side in the John Bennett Under 21 League, which will be run by the Combined Counties League. Home matches will be played on Wednesday's during the season in the inaugural season of the competition.

Burnett has played 122 games for the club, the most for a goalkeeper and the third highest number of appearances for any player. He continues to be part of the first team squad.

Meanwhile, former Ram Neil Smith will return to AFC Croydon Athletic with his Bromley team for a pre-season friendly at Mayfield Stadium on Monday 31 July (19:30).

The two sides will contest the JJ Cup, for late former president Johnny Jackson.

BROMLEY manager Neil Smith has re-signed former Portsmouth captain Ben Chorley, 34.

The central defender will add experience to Smith's younger side going into the club's third Vanarama National League campaign.

"Ben is on board and has done extremely well. We do have a young side at the moment and he brings that experience on and off the pitch. He'll also come in and help coaching with our Academy," Smith told www.bromleyfc.tv.

CRAY WANDERERS have confirmed that central defender Jay Leader will be playing for the club this season – after his move to newly-promoted Bostik North side Barking fell through.

DARTFORD boss Tony Burman has confirmed the return of defender Mark Onyemah, 21, who spent a loan period at the club whilst at Luton Town during the 2015-16 season.

Burman told www.dartfordfc.com: "I am delighted to have brought Mark back to sign for us on a permanent basis. He obviously fills the void for the left-back position. Mark is a physical, young 21-year-old player, who I feel is an excellent prospect and will have a chance here to show his true potential. I am going to look forward to the challenge of making him a better player.

After leaving The Hatters, he spent last season at Concord Rangers and Thurrock and played a part in Thurrock's Isthmian League Division One North Play-Off winning promotion.

DOVER ATHLETIC coach Mark Newson believes travelling to relegated side Hartlepool United on the opening day of the Vanarama National League season is the best time to play them.

"Ideally, I would have wanted to start with a home fixture," Newson told www.doverathletic.com.

"But Hartlepool are coming into the unknown, which could well work in our favour. I think it would have been tougher playing a promoted team as they are full of confidence having been used to winning.

"We may be playing some big club's in the first couple of months, but we must remember we are not minnows anymore and a lot of teams will be pleased to get a result against us."

Newson added: "We may have lost a fair few players of late, but overall we feel we have upgraded with the ones we have brought in. We now have pace all over the pitch, something we were lacking in certain areas last season."

Dover Athletic travel to Southern Counties East Football League Premier Division side Deal Town on Tuesday night (19:30), where summer signings Mitch Brundle, Kane Richards, Jamie Allen, Femi Ilesanmi, Manny Parry, Tobi Sho-Silva and Ryan Bird expected to feature to make their club debuts.

EBBSFLEET UNITED manager Daryl McMahon has explained why he has stripped away the captaincy from Danny Kedwell and has appointed Dave Winfield, 29, to wear the armband, while Kedwell will be vice-captain.

McMahon told www.ebbsfleetunited.co.uk: "With the departure of Stacy Long from the club, Danny Kedwell will be taking over the management of the entire youth academy structure from next season.

"As such, we have had a chat and we feel that it would be asking a lot of him to shoulder the burden of the captaincy as well.

"Dave Winfield is a natural leader and a big influence in the dressing room and on the pitch and he has the respect of all the players.

"He was vice-captain last season so this is a natural step up and we are lucky to have two characters like Dave and Danny in the group."

FISHER recorded their record crowd at St Paul's Stadium when 358 fans watched Millwall come away with a 3-1 win on Saturday.

FOLKESTONE INVICTA boss Neil Cugley says he was delighted with his side following their 4-1 home win over Hythe Town in Dave Williams' memorial match yesterday.

"It was a brilliant day and could not have gone better," Cugley told www.folkestoneinvictafc.co.uk.

"We must thank everyone that helped us. Sue (Williams) was delighted and I hope that everyone enjoyed the occasion, tinged as it was, with sadness.

"I'll admit I had to fight to hold myself together when the crowd starting singing out Willo's name – and I don't think I was the only one.

"We looked good at times but it was only a friendly and there's still work to be done.

"Two or three of the trialists did well and I can see that I'm going to have to make some tough decisions, but we can't take the all on and there's no point signing anyone who isn't better than we've got."

Folkestone Invicta welcome newly-promoted Sky Bet Championship side Millwall to Cheriton Road on Tuesday night (19:30).

GREENWICH BOROUGH winger Mohamed Eisa, 22, has signed for Sky Bet League Two side Cheltenham Town on an initial one-year deal.

HOLMESDALE have signed former Phoenix Sports striker Tyrus Gordon-Young, while former Chatham Town defender Kes Metitiri has signed for the Southern Counties East Football League First Division club. Meanwhile, Ian Varley's side make the 0.8 mile trip to Old Bromleians for their opening pre-season friendly on Tuesday night (19:30).

LORDSWOOD have retained Peter Huggens, Sean Bremner and Tom Wooldridge, while striker Junior Alade returns to the club.

RAMSGATE manager Lloyd Blackman says he's searching for a new assistant manager after losing Tom Hickman through work commitments.

Blackman told www.ramsgate-fc.co.uk: "The players arrived back to pre-season training on 29 June. We carried out fitness and body fat tests at the end of last season and it's great to see every single one of the lads has come back in as good a shape, if not better, than before the break. My focus is now on making sure the players are physically and tactically prepared for the start of the new Bostik season.

Reflecting on Luke Girt's decision to sign for his home-town club Sheppey United, Blackman said: "Luke called me and explained his work situation had drastically changed and wasn't able to commit as much as he felt we all deserved, so after discussions with Sheppey, we were able to reach an agreement with both parties we're happy with. Girty is a top lad and I'm sure I speak for all when we wish him all the best for the future."

Adam Woollcott is one of many players to have left Bostik South rivals Herne Bay this summer and Blackman has pounced to sign him.

"Adam is a player I've admired for a while and was very pleased to agree terms with him," said the Ramsgate boss.

"Even in the few pre-season sessions we have done so far, you can see his ability in ball retention as well as having extremely high energy levels. He'll fit right in with the group, I've no doubt.

"Matty Adams has also agreed to sign. There are a few things to still discuss with Matty but we both understand the current situation and are both extremely happy to have him return to his local club.

"On a sad note, I've had to say goodbye to my assistant Tom Hickman. Tom's work situation changed suddenly and was impossible for him to be able to stay on.

"When I took over the job I never envisaged we would have such a good relationship. His level of respect, his organisation, his ability to communicate with the players and his general non-league know-how was exactly what I was after and I wish him all the very best for the future and hope to have the opportunity to work with him again sometime.

"Currently I'm talking to someone to replace Tom as my assistant and hope to have some news by the end of the week."

SHEPPEY UNITED boss Ernie Batten has signed strikers Stuart King
and Aaron Jeffery.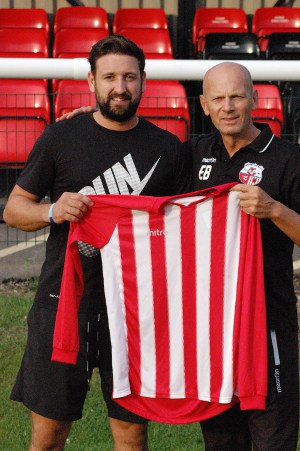 NEW ARRIVAL: Striker Stuart King
is welcomed to Sheppey United by
manager Ernie Batten.
Photo: Sheppey United

"With Richard Atkins' departure, we needed to strengthen up front and we have brought in another proven striker in King, who has bags of experience from the League above," Batten told www.sheppeyunitedfc.co.uk.

"His goal tally speaks for itself, he can score bundles of goals. King's experience will help bring on some of the younger lads in the squad as well."

Jeffery arrives from newly-promoted Glebe and Batten said: "Another great talent joining the squad in our push to climb the table. I think we are now only just one player away from completing the squad, which is unheard of at this stage of the season. He's a top player, who can't wait to get on the pitch for us."

SUTTON ATHLETIC goalkeeper Dean Nash has left the club after eight seasons.

TONBRIDGE ANGELS have signed former Dover Athletic midfielder Chris Kinnear, 27, who first turned out for the club in their youth side 10 years ago.

The Angel sent their under 21 side to play Southern Counties East Football League Premier Division side Croydon on Saturday. Croydon striker Jeff Duah-Kessie scored five goals in their 12-1 win.

Angels' under 21 manager Chris Wye told www.tonbridgeangelsonline.co.uk said of his first game in charge: "The group is not strong enough hand I need to bring in replacements. The basic things that they are asked to do should already be in them at this stage. I've seen what I've been given through the trial process I've carried out and it is not good enough!"

Meanwhile, The Bostik League will be publishing their fixtures for their three divisions on Thursday 13 July, while the Southern Counties East Football League fixtures are due to come out next week but the League haven't stated which day.

WHITSTABLE TOWN manager Scott Porter and his players will meet their supporters in the clubhouse at The Belmont after training at 20:30 tomorrow night.