Soccer Shorts: Nicky Southall scores in England's 7-0 win over USA in Seniors' World Cup
Monday 05th June 2017
Click here for tonight's Soccer Shorts articles.
ASHFORD UNITED manager Danny Lye says he has released central defender Stuart West, who cannot commit to playing Isthmian League Division One South football next season.

"We would like to thank Stuart for his superb services last season as captain," Lye told www.ashfordunitedfc.com.

"I brought Westy in last year to help us win the Southern Counties East Football League, which he helped us achieve.

"With a new League comes different commitments from the players and the club so this was the best path for both."

The former Hollands & Blair defender made 40 appearances for Ashford United, scoring six goals.

BROMLEY have confirmed that striker Tobi Sho-Silva, 22, has left Hayes Lane after scoring 11 goals in his only season at the Vanarama National League club.

CANTERBURY CITY have confirmed that central defender Laurence Harvey, their captain, is staying with the club next season.

CRAY WANDERERS manager Tony Russell begins the search for a new assistant manager following Paul Lorraine's decision to leave the club at the end of last season.

CROWBOROUGH ATHLETIC manager Sean Muggeridge says captain Lee Carey has left last season's Southern Counties East Football League Premier Division runners-up.

Carey has been approached by an unnamed club to become their player-coach.

"I'm personally gutted that Lee will not be playing for us this season," Muggeridge told the club website.

"He was the first person I signed this time last year and proved instrumental in helping me get other players to sign and play for us.

"I made him my captain and he was my leader on the pitch, making sure things ran smoothly once the players crossed the white line.

"With his experience he also proved useful during training sessions, always prepared to offer advice and guidance in the correct manner and I personally leant a lot from him during his year with us.

"I wish him well for the future and I'm sure he'll be a great asset wherever he goes."

Muggeridge has appointed Jack Walder as the club's captain next season.

The East Sussex club have confirmed that Zac Attwood, Jason Barton, Tom Boddy, Wayne Clarke, Dan Ellis, Tom Pearson, Dan Tear, Jack Turner, Lewis Unwin and Tom Vickers have re-signed for next season.

EBBSFLEET UNITED have unveiled the signing of striker Danny Mills, 26, who spent five years at Whitehawk.

With the Vanarama National League newcomers finalising new deals for existing squad members, the club have announced that nine players whose contracts expired at the end of this month will not be returning to Stonebridge Road.

Stuart Lewis, who is set to sign permanently for Maidstone United, along with Charlie Sheringham and John-Paul Kissock, who were both loaned out to Hemel Hempstead Town and AFC Telford United respectively, will not be offered new deals.

Mark Phillips, Reiss Greenidge, Billy Holmes, Mitch Chapman, Joe Denny and Hugo Atkinson will all be released at the expiration of their contracts.

GILLINGHAM LADIES manager Jack Wheeler says he is looking for a new first team coach and physio for the club's return to The FA Women's Premier League Southern Division next season. Both roles are voluntary and applicants should email jackwheeler@priestfield.com.

FOLKESTONE INVICTA boss Neil Cugley has lost his fifth player this summer after confirming that 22-year-old striker has re-signed for Isthmian League Division One South side Hythe Town.

"It's a bigger turnover than we're used to but we've already brought in Ade Yusuff and Kieron McCann to replace Ashley and Sam Beale and I'm confident that we'll have at least two or three more by the time we start pre-season," Cugley told www.folkestoneinvictafc.co.uk.

"I'm continuing to talk to a number of players and it seems that even some of those who I'd like to talk to are already on holiday or about to go away so as to be back in good time to start firming up their options.

"I'm a little bit disappointed that Ashley and Miles (Cornwell, who returns to Sittingbourne) have chosen to go back to Isthmian South rather than staying and fighting for their places in the Premier with us, but they've got their reasons and we must thank them for what they've done in their time here at Invicta.

"At his age, Ashley probably does need more regular football than he got with us so we all with him well."

Folkestone have received a small fee from Hythe Town and there is also an add-on clause in the transfer agreement.

Cugley revealed that he is now talking to an experienced centre back and a versatile defender, who can play across the back as well as a centre midfielder.

He is waiting for more news on injured midfielder Ronnie Dolan's knee operation, while the versatile Phil Starkey continues to progress following shoulder surgery.

Striker Euan Sahadow, who celebrated his 17th birthday just over a month ago, and highly rated youth team defender Ethan Madden will join the first team squad for pre-season when Invicta are expected to have a number of new faces around.

HAWKINGE TOWN have appointed former Folkestone Invicta and Lydd Town striker James Everitt as their new manager.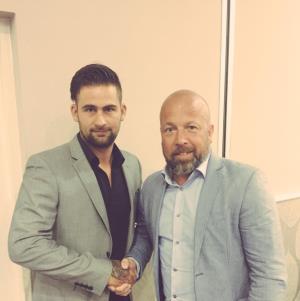 WELCOME: Hawkinge Town have appointed
James Everitt (left) as their new manager,
which is his first managerial role
Photo: Hawkinge Town FC

A statement from the Andreas Carter Joma Kent County League Division One Central & East club, said: "The club would like to announce that James Everitt has been appointed as manager of Hawkinge Town following the resignation of manager Dan Regan.

"Dan decided on a new challenge and the club would like to thank him and wish him all the best for the future. James is extremely excited about the challenge ahead and is looking forward to taking the club in the right direction."

GREENWICH BOROUGH have unveiled the signings of former Sittingbourne left-back Tom Carlse and former Millwall and Leatherhead centre-back or right-back Chris Parr, 20.

MAIDSTONE UNITED assistant manager Nicky Southall, 45, scored the first goal for holders England in their 7-0 win over USA in the Seniors World Cup in Thailand today.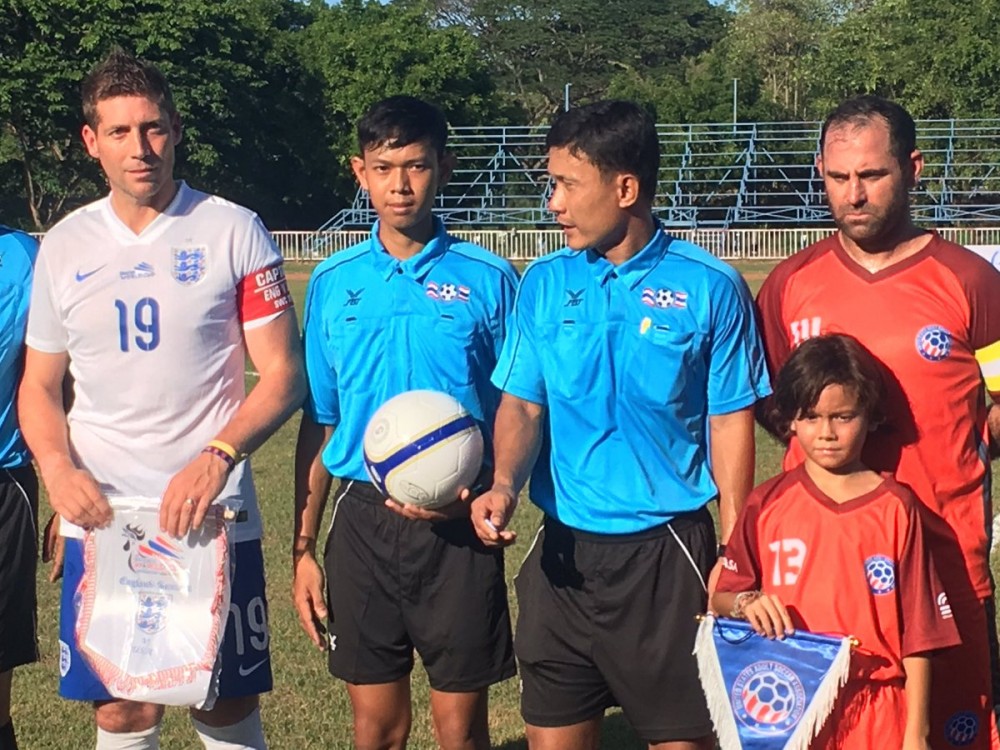 Nicky Southall (left) captained and scored for England
in their 7-0 win over USA in the Seniors' World Cup
tournament in Thailand.
Photo: Twitter

RAMSGATE manager Lloyd Blackman has agreed to sign Adam Woollcott from their Isthmian League Division One South rivals Herne Bay.

"Adam is a player I've admired for quite a while and I recommended we signed him earlier this season," Blackman told www.ramsgate-fc.co.uk.

"Unfortunately he was unavailable at the time but after a meeting together we were able to shake on a deal and it's a signing I'm very happy with.

"Not only does he have the ability to improve our squad but he's a player who fits into our philosophy and dynamic."

SEVENOAKS TOWN have signed Paul Springett, while Corey Holder, Harrison Carnegie and Billy Bennett will be at Greatness Park next season after helping the Greatness Park outfit finish below Ashford United and Crowborough Athletic in the Southern Counties East Football League Premier Division and winning the Macron SCEFL Challenge Cup last term.

SITTINGBOURNE have signed former Tonbridge Angels' central defender Laurence Ball, 30.