It's for the fans, all of them that have travelled from Sheppey, says heroic goalkeeper Dean Warford
Sunday 10th April 2016
SHEPPEY UNITED'S heroic goalkeeper Dean Warford says today's glorious Kent Reliance Senior Trophy glory is for the club's brilliant fans.
A crowd of 870 flocked through the turnstile at Maidstone United's Gallagher Stadium to watch an end-to-end goal-less stalemate before the third-placed Pain & Glory Sports Kent Invicta League side won the silverware for the first time with a dramatic 7-6 win after 20 penalties.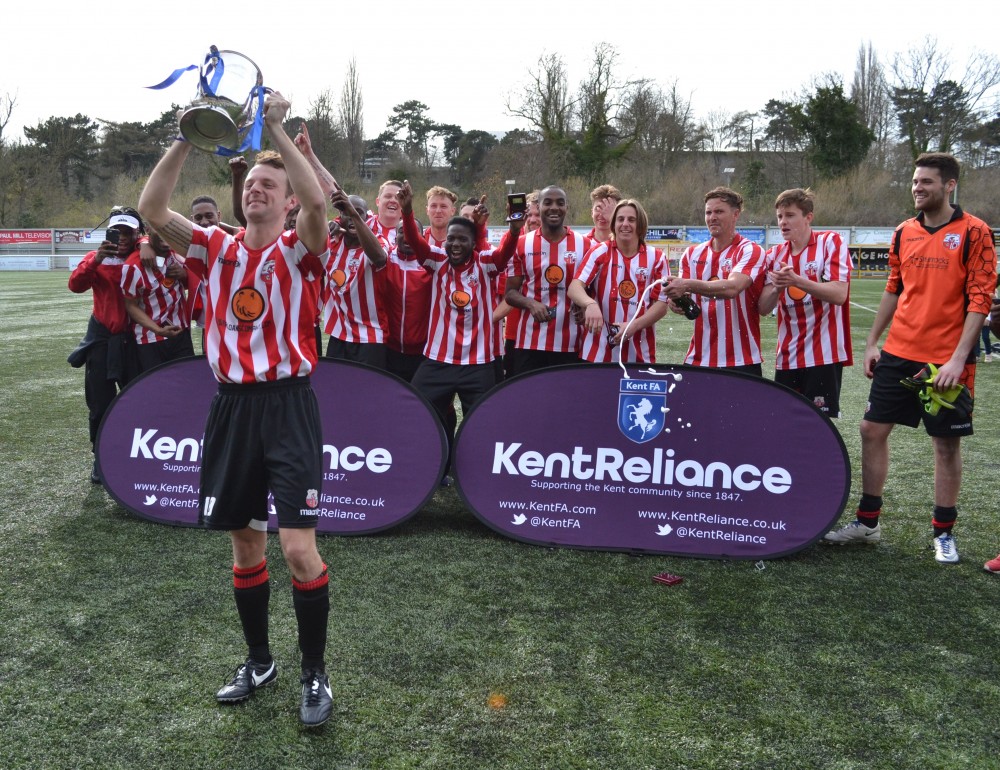 HEROES: Sheppey United celebrate winning the Kent Reliance Senior Trophy for the first time. Goalkeeper Dean Warford (orange shirt) pulled off four saves in the penalty shoot-out, which Sheppey United won 7-6 after 20 spot-kicks at Maidstone United's Gallagher Stadium.
Photo: Alan Coomes

Warford, 28, was the hero by saving penalties from Pat Kingwell, Tommy Fagg, George Savage and Luke Cuthbert.

"I think about that for a long, long time, something like that. It's not quite pulled off in the past, saved a few, but still lost but this time, I don't know, just went a bit different that time," said the goalkeeper.

"I had to do it! I had to do it! We're going out! I've got no choice have I? Obviously getting the four is a bit of a bonus!"

Sheppey United's 24-goal striker Dave Abe got the penalty shoot-out underway, while central defender John Ralph scored their last before Cuthbert's heartbreak.

"I think there's always a bit of pressure going last, especially when it comes to sudden death," said Warford.

"You have to, I don't know, you can't not miss your goal otherwise it's game over isn't it? It's game over!"

Warford would have taken the 21st penalty in the shoot-out if Cuthbert scored – and he admitted to feeling nervous in front of a lot of Sheppey supporters behind the goal.

"I was. I had a couple of mates behind the goal and I said 'I'm sh***ing it! I really do not want to go next because that will be pressure!"

Sheppey United took hundreds of fans to Maidstone and Warford paid tribute to them for their brilliant vocal support.

"It's for the fans really, that's all it is, it's for the fans. It ain't for me. It's for the fans, all those fans. I don't know how many there were? There were s**t loads more noise than anything, all them lot coming all the way from Sheppey, that's for them!"

Sheppey United go into their final five games in third-place in the Pain & Glory Sports Kent Invicta League table.

Two promotion places are up for grabs as Bearsted (79 points), Glebe (75) and Sheppey United (74) are fighting tooth and nail for them.

Sheppey United travel to the Ladywell Arena on Wednesday night to play thirteenth-placed Forest Hill Park.

They then travel to third-from-bottom side Rusthall, host basement side Eltham Palace, travel to fourth-placed Sutton Athletic and host seventh-placed Bridon Ropes on the final day of the season.

"The league, this is one game, the league is what we want to do. We want to go up and play those teams (like Ashford) week in week out," said Warford.

"Every game's a cup final so every game is a pressure for us but we've just got to go out here and do what we've done today and we'll be alright."

The heroic keeper paid tribute to chairman Matthew Smith, whose financial backing has made today possible.

"Without a doubt, what he's done to the club is something else so to see him up there winning the trophy with a beer in his hand is a special moment for him and us – we've done it for him!"

Darren Marsden, meanwhile, scooped the man-of-the-match award, despite playing in an unfamiliar right-wing position.

Marsden, 29, who was playing only his second game for the club, said: "Today was a big one and we managed to pull it off in the end.

"They started me in a different position. I found a bit of space out there.

"We had a few chances to be fair. It was quite an even game but I thought we probably had the better chances in the 90 minutes so I thought we deserved it, the final win."

Marsden felt a tinge of sadness for one of his former clubs to lose in such a despairing manner.

"It's cruel in some ways for Ashford to lose like that. I feel a bit sorry for them, those lads in there but it was a great way to win it in the end.
"It's massive, it's massive for the Island. Obviously they've got bigger expectations for the club. It's a great set-up down there and as you can see at the final whistle we had a good crowd, good support today, it's really good."

Reflecting on his man-of-the-match accolade, a proud Marsden added: "It's always difficult to play against one of your former clubs. It was good. It was nice to get man-of-the-match. I wasn't really expecting it but I've got to get it so I was happy with that.

"Today we were the underdogs really so we came here not expecting anything. We just wanted to come here and enjoy it and we've walked away with the trophy, which is a bonus really.

"The final five games we should be winning all of them if I'm being honest and I think we need to go again and hopefully get the win on Wednesday night."

Visit Sheppey United's website: www.sheppeyunitedfc.co.uk

Forest Hill Park v Sheppey United
Pain & Glory Sports Kent Invicta League
Wednesday 13th April 2016
Kick Off 7:45pm
at Ladywell Arena, Silvermere Road, Catford, London SE6 4QX