Sevenoaks Town is on the brink of a very special new chapter in its history, says chairman Paul Lansdale
Friday 19th June 2015
SEVENOAKS TOWN chairman Paul Lansdale says he is making Greatness Park a sporting and recreational hub for the whole community.


The Oaks finished in eighth-place in the Southern Counties East Football League under Micky Collins – but it's the impressive work in the local community that usually goes unnoticed at the club.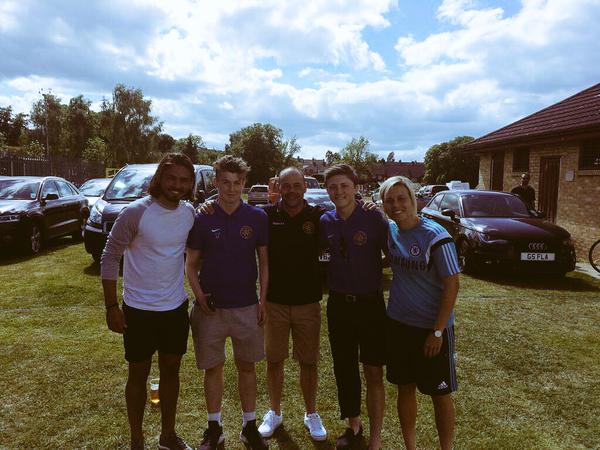 FRIEND TO THE STARS: Sevenoaks Town manager Micky Collins (centre) invited Gillingham midfielder Bradley Dack (left) and Chelsea Women's Super League defender Gilly Flaherty (right) to the club's recent Awards Day at Greatness Park
Photo: Twitter

Reflecting on Collins' first season in charge of the club, Lansdale said: "I was hugely delighted to secure Micky Collins last summer. From the moment I met with him some five years ago it was clear that he shared my vision and ambition for the club but crucially understood the holistic environment that we want to create.

"At that time the seniors and juniors were run as separate entities so it wasn't within my remit to appoint a first team manager. However, when the two sections fully merged in 2013 my first thought was to speak to Micky.
"It's widely known that our first team have had a difficult few seasons - six or seven managers in as many seasons with a new set of players every time.

"Nevertheless, Micky has embraced the challenge with a great deal of energy and his first season in charge is probably one of the success stories of the season, finishing eighth and recording our highest points tally since entering this division. The buzz is certainly back at Greatness Park!
"However, Micky's work and dedication goes well beyond just results and points. He has continued to help players from our junior teams make the step up to first team football and has also integrated the coaching and playing staff with the junior teams far more than ever before with the likes of Ben Judge, Simon Osborn, Rob Palmer, Julian Leigh and Micky himself all providing coaching throughout the year.

"In fact, despite hanging up his boots Ben Judge will now drive forward many of our community outreach programmes.
"Our aspirations as a club are largely dependent on building a successful first team. This not only creates interest locally but more importantly gives our junior players something to strive for.

"Success for us is not all about winning the league - it's about building one club with one vision where every section of the club works together to support each other. We have a significant role to play in the local community."

The club hit the headlines when former secretary Eddie Diplock announced his retirement after 63 years' incredible service to the club.
"Words cannot express our club's thanks and feelings for Eddie," said Mr Lansdale.

"He is an amazing man with such a big heart and he has been a wonderful servant to our club for over sixty years.

"It is hard to believe that Eddie has been involved with Sevenoaks Town FC for almost half of its existence having been established in 1883.
"At our Awards Day last Saturday we presented Eddie with an award for his years of dedicated service along with a special letter from the chairman of The FA, Greg Dyke.

"Roughly 1,500 people attended the event and as Eddie came up to the stage to receive his award he received an instant and full standing ovation.

"It was an unbelievably moving moment and one I hope Eddie will remember for years to come.
"Although Eddie has officially retired he has far from left the club. He has already been down to Greatness Park to help with the pre-season ground improvements and I know he will be attending as many games as he can in the years to come."

Mr Lansdale has worked tirelessly to provide the club a successful junior and community structure.

He said: "Our junior section is the life and soul of our club and in many aspects is unprecedented.

"In 2007 we had seventeen teams ranging from U7's to U18's and next season we are on course to run an incredible 50 teams after adding eight more teams over the summer.

"This includes 24 mini-soccer teams, four girls' teams, two powerchair teams, 17 junior teams, two adult teams and a veterans' team.

"We will be providing football for over 700 people on a weekly basis and we currently forecast that by 2017 we will be running 58 teams.
"The structure we strive for is where there are multiple teams across an age group accommodating all abilities so that our provision of football is as broad as possible.

"We want to provide 'football for all' whilst simultaneously helping talented players and coaches progress.

"A few years ago we had teams competing in every age group across the Kent Youth League but for one reason or another this diminished. However, we have learnt valuable lessons from that experience – for example, we are increasingly appointing an external and highly qualified coach to take care of the highest-ability team within each age group.

"We now have a number of very strong teams coming through the club that will bolster our Kent Youth League presence in the near future.
"The club also runs a thriving community scheme, of which our weekly pay-as-you-play Skills School initiative is by far the key component. This is regularly attended by over 50 children and it remains a very good feeder into our mini-soccer teams.
"We are determined to build a club whereby there are no boundaries between age groups and teams, one in which every player and parents feels part of a greater family. This leads me onto one our initiatives we are most proud of, which is our youth coaching scheme that neatly defines this ethos.
"Over the last three seasons we have encouraged and supported players from U16's to U18's to take their FA Level 1 Coaching Qualification and have then introduced them to coach our mini-soccer teams and youth teams.

"We have witnessed our young coaches develop key life skills through this scheme and they have been able to put this experience on their CV when looking for work or moving into further education.
"Running 50 teams is a massive operation and it is only possible thanks to our brilliant volunteers and sponsors. Their ongoing generosity means we can set the bar higher year-on-year."

The chairman explained why it is important for the club to focus on junior football.
He said: "Our junior section is the heart of the club - it brings positive energy and a togetherness that a community club like ours thrives on.

"We play a pivotal role in helping nurture the next generation so that they enter the real world with confidence and self-esteem fully equipped to achieve their full potential on and off the field.

"The club is a place where people can come together forming new friendships not just for the players but also their parents.
"Focusing on junior football also ensures that we are investing in the future on the pitch. We want players to join the club with an aspiration to work their way through the age groups and one day play for the first team. That 'one club' feel is fundamental to everything we do.
"Finally, an emphasis on junior football maximises retention. We find that many young people in the Sevenoaks area go off to study at university or pursue other further education routes such as apprenticeships. However, by providing our junior players with a fantastic experience over their years with the club we hope that when they complete their respective courses they will want to continue their involvement with the club either as a player or a coach."

Sevenoaks Town have plans to enhance their facilities at Greatness Park which will benefit all of the club's footballers and of course, the local community.
Mr Lansdale said: "We are making a number of ground improvements over the summer, which includes replacing our club room, installing a bespoke stand specifically designed to accommodate wheelchair users and investing more money in the pitches.
"However, with the club expanding so rapidly and with demand for first-rate facilities increasing year-on-year, we are embarking on an ambitious and exciting journey to regenerate Greatness Park into a state of the art sporting and recreational hub.

"We are obsessed with every tiny detail because this facility has to leave a lasting and sustainable legacy for decades but also has to have a touch of class.
"From a football perspective the plan is to convert the main pitch into a 3G artificial surface and build a brand new clubhouse between the two current pitches.

"This clubhouse would incorporate a built in stand seating at least 250 spectators, multiple changing rooms with a tunnel leading out on to the main pitch, physio room, gym, kit room and a large multi-purpose function room with a bar and kitchen. The hope is that this building will have viewing areas overlooking both pitches.
"Beyond football we want to transform Greatness Park into a more family friendly environment and we want to engage other local community groups including primary and secondary schools. Therefore significant thought is going into improving the landscaping and assessing whether other sports could be accommodated.
"We have recently had a positive pre-planning meeting with Sevenoaks District Council paving the way for the planning permission process to commence.
"So, the inevitable question - how long do we have to wait? This is a fast-moving project and in light of the positive pre-planning meeting the club's target is to apply for planning permission by September this year with a view to beginning work next summer."

When asked about the club's aspirations for next season, Mr Lansdale replied: "
Next season our focus is on building upon the foundations we have laid so far. Our first team and veterans' team have really taken off this year and we need to build on that success. We also need to continue to develop our youth structure.

"Finally, we want to gather significant momentum on our Greatness Park re-development project so that we can deliver this project successfully and in good time."

And speaking about the club's longer term plans, Mr Lansdale said: "At the club's AGM a few weeks ago we unveiled our visionary Development Plan, which sets out our intentions for the next three years covering everything from facilities, to furthering our engagement within the community and ensuring our provision of football across the spectrum improves.

"We've come a long way in the last few years but we have so much more that we want to achieve.
"The keystone part of this plan is the transformation of Greatness Park into a modern and fit-for-purpose sporting and recreational hub.
"Moreover, we want our first team to progress with a sense of stability and it would be great for them to challenge for silverware. Combined with this we hope that we can create more local interest in the first team, which will almost certainly be helped by a brand new facility.
"From a junior perspective, we must maintain our position as one of the leading providers of grassroots football in the south east offering football for young people of all abilities whilst giving our most talented players the chance to flourish with high level coaching.

"This also involves nurturing our brilliant community schemes and exploring the possibility of running our own summer tournament.
"Finally, behind the scenes we want to evaluate everything that we do in order to enhance efficiency and professionalism.
"Sevenoaks Town FC is on the brink of a very special new chapter in its history since being established in 1883.

"Over the last eight years we have tripled in size and we are very proud of our thriving club. The future has never looked so bright!"

Visit Sevenoaks Town's website: www.sevenoakstownfc.co.uk