Eight SCEFL First Division clubs fail ground grading criteria
Sunday 28th May 2017
The Southern Counties East Football League confirm that eight member clubs have failed ground grading criteria for the First Division.
Crockenhill, Forest Hill Park, K Sports, Kent Football United, Lewisham Borough, Lydd Town, Snodland Town and Sutton Athletic, have all failed to meet the criteria but all maintain their current League status.

The SCEFL said: "The FA has issued a directive that all non-grading clubs at 31 March 2018 WILL be relegated at the end of the season."

Crockenhill and Kent Football United are the only member clubs that still do not have floodlights at their grounds.

Crockenhill and bottom-of-the-table finishers Lewisham Borough have been given reprieves by The Football Association to stay up.

Last season's First Division champions Glebe and runners-up Rusthall have been promoted to the Premier Division and will be playing at their highest level of football in their histories next season.

There will once again be 20 club's in the Premier Division and 19 in the First Division.

Ashford United were promoted to the Isthmian League Division One South, while Chatham Town's relegation from that division to the SCEFL Premier has been confirmed.

Kent County League Premier Division and Kent Reliance Intermediate Challenge Shield winners Punjab United celebrated their first campaign in the Kent County League by winning promotion to the Southern Counties East Football League First Division at the first attempt.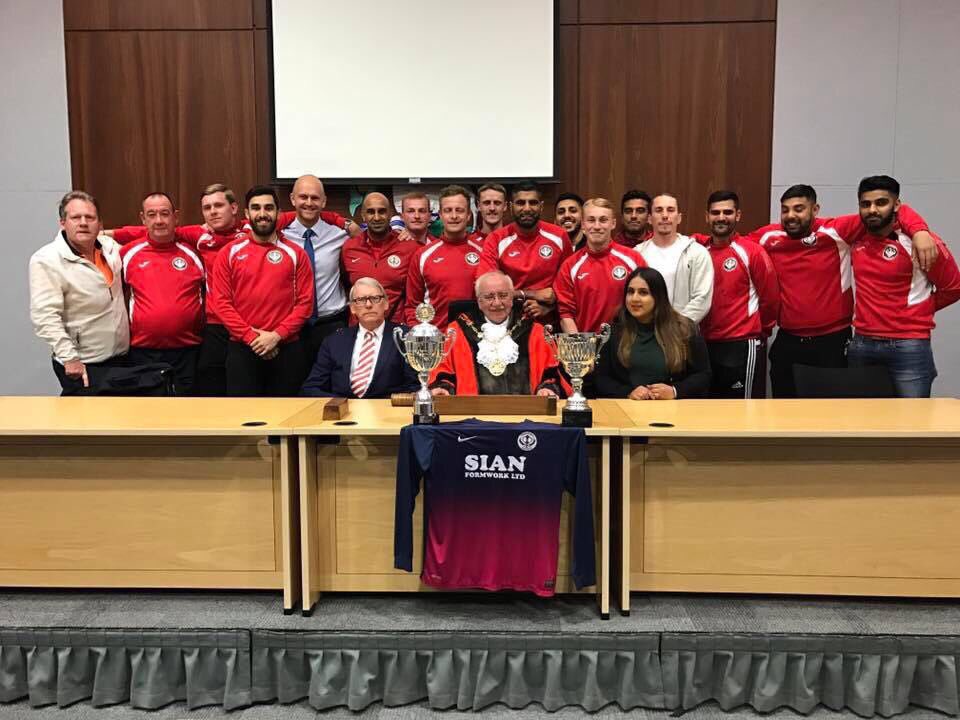 GOING UP: Punjab United will be playing in the
Southern Counties East Football League First Division
next season after winning a League and Cup double
in their dream Kent County League Premier Division
debut campaign.
Photo: Punjab United FC

Chipie Sian, the manager and chairman of the Gravesend based club, said: "We have now been accepted into Step Six and looking forward to next season in the Southern Counties East Football League First Division."

Eltham Palace are no more and they have been officially replaced by Stansfeld, who have got in via the controversial back door by taking over a floundering club and changed their name to theirs, as expected 12 months later.

Fisher and Erith & Belvedere's relegation from the Premier to the First Division has been confirmed, while Orpington's voluntary relegation into the Kent County League has also been confirmed.

Welling Town, who replace Thamesmead Town at Bayliss Avenue next season, remain a Kent County League club.

Boots' chairman Kevin Oakes, said: "We did not apply to SCEFL on this occasion. Discussions were had by phone with a League official, but no formal application."

Southern Counties East Football League Premier Division 2017-18:
AFC Croydon Athletic, Bearsted, Beckenham Town, Canterbury City, Chatham Town, Corinthian, Cray Valley (Paper Mills), Crowborough Athletic, Croydon, Deal Town, Erith Town, Glebe, Hollands & Blair, Lordswood, Rochester United, Rusthall, Sevenoaks Town, Sheppey United, Tunbridge Wells, Whitstable Town.

Southern Counties East Football League First Division 2017-18:
Bridon Ropes, Crockenhill, Erith & Belvedere, FC Elmstead, Fisher, Forest Hill Park, Gravesham Borough, Holmesdale, K Sports, Kent Football United, Lewisham Borough, Lydd Town, Meridian Valley Park, Phoenix Sports Reserves, Punjab United, Snodland Town, Sporting Club Thamesmead, Stansfeld, Sutton Athletic

A Southern Counties East Football League statement said: "Season 2018-19 will see the biggest re-organisation since the National League System was formed with two completely new divisions being formed, one at Step Three and one at Step Four.

"The new Step Three division will be controlled by the Southern League while the new Step Four division will come under the Isthmian League.

"This will mean there will be a total of four divisions at Step Three and Seven at Step Four.

"There will obviously need to be a lot of sideways moves to spread the existing clubs more favourably (from a travelling point of view) but, crucially, it will mean 26 clubs instead of the usual 14 will need to be promoted from Step Five (the SCEFL Premier) to Step Four (Isthmian North/South) at the end of the coming season to make up the required 20 teams per Step Four division.

"Which clubs, other than champion sides, will be promoted is a difficult matter for The FA Leagues Committee to carefully consider at their meeting in May 2018.

"It does mean, however, that there is a possibility that more than one SCEFL club could be promoted at the end of this coming season (it will definitely not be more than two)."

Meanwhile, Adam Woodward, who left Glebe by "mutual consent" and then took charge of SCEFL Premier side Erith Town, has had a busy weekend.

He has confirmed his management team with Timmy Warden joining him from Glebe to be his assistant manager, while former Glebe midfielder James Day has been appointed player-coach, while Peter Dale comes in as goalkeeper coach, having had the same role at Glebe and FC Elmstead last season.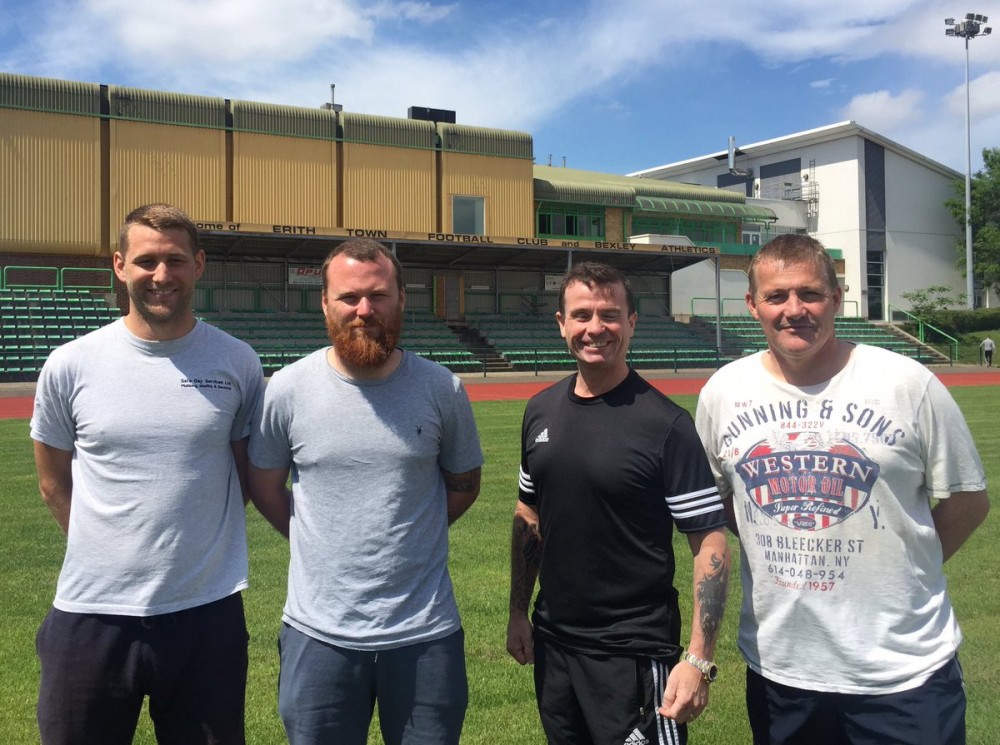 Erith Town's management team next season consists
of (from left-to-right) James Day, Adam Woodward,
Timmy Warden and Peter Dale
Photo: Erith Town FC

Striker Steve Jerrome, right-back Davy-Jo Anderson, midfielder Jack Duffy and central defender Charlie McCarthy and Sidney Warden have all left Glebe to agree to sign for the Dockers.

Maidstone United's Academy prospects, central defender Ben Fitchett and goalkeeper Tommy Taylor, have also agreed to sign for Erith Town. The pair went out on loan to Holmesdale last season to gain valuable match experience in the tenth-tier of English football.

Visit the Southern Counties East Football League website: www.scefl.com