We know what we have to do to stay up, says Ramsgate boss Simon Halsey
Wednesday 15th April 2015
RAMSGATE manager Simon Halsey says keeping the club in the Ryman League will make him a better manager in the long-term.
The Rams lie inside the relegation zone on 44 points and have two games remaining to save their bacon.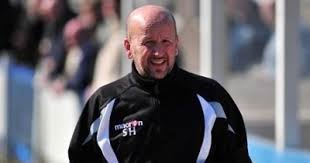 RELEGATION BATTLE: Ramsgate boss Simon Halsey says he knows what they have to do to retain their Ryman League status in their last two games.

They travel to already-relegated Horsham on Saturday, before playing mid-table Corinthian-Casuals at Southwood Stadium on the final day of the season.

Ramsgate must win both of their games to maintain their Ryman League status to avoid playing in the Southern Counties East Football League next season.

The Rams were held to a goal-less draw by Guernsey at Southwood Stadium last night and Halsey said: "It was a great game! I think we showed for most properly 50-55 minutes that we are a good side and we haven't proven it this year, whoever's been in charge. We haven't been consistent.





Ramsgate have won six games during Simon Halsey's 22 games in charge of the club


"I think that's seven points from the last three games, three clean sheets out of the last four. That's a good stead for us for the last bit.

"We thoroughly deserved a victory last night. That's just not the manager saying it. That's fact."

Horsham lost their Ryman League status by going down to a 2-0 defeat at second-placed Faversham Town last weekend and welcome Ramsgate with a record of 10 wins from their 44 games.

It's a MUST-WIN game for the Kent side.

Halsey said: "You don't know what you're going to come up against, do you?

"As I always say to everyone, myself and everyone around me, we can only control how we're going to approach the game.

"Full respect to Horsham when we get there. I'm not worried whether they're going to play because they've got a new manager (Dominic Di Paola) or they're not going to play because they're already relegated. That is out of my control. My control is how I set Ramsgate Football Club to go and approach that game on Saturday."

When asked how Ramsgate will stay up in the Ryman League, Halsey's response was simple.

"By us winning our last two games and the other teams slipping up. Fact. That is fact."

Halsey wants to enter the last game of the season against Corinthian-Casuals with all to play for.

"Both games are all to play for," he said.

"We knew the severity of every game for the last four games and the two games in front of us.
"I've got nothing but admiration for the way the lads' have put themselves out in the last four games, especially last night, proving when we apply ourselves right we are a very good side.
"The next game against Horsham, that's the one that matters and then we'll deal with Corinthian-Casuals after that."

The buzz of maintaining league status is an enthralling experience – after all it's better than sitting in midtable with nothing to play for.

Halsey said: "But we know what we've got to do.

"On a personal note being at Ramsgate Football Club has been an absolute pleasure.

"In a strange way, it's a strange situation to be in because as much as you don't want to be in it, it does make it exciting towards the end of the season, which is strange. It's strange and a lot of people are saying it.

"Hopefully it's going to make me a better manager in the long run because being at Fisher and Lordswood when it was a bit up and down, the four years' previous to that there was nothing but success (at Herne Bay) and in the long term it will make be a better manager and deal with the situations to be in."

When asked whether the club have spoken to him about staying at Southwood Stadium next season, Halsey replied: "I think the scenario is exactly the same as when I took over in January – that we'll stay up and talk about it after that.

"I don't really want to talk about next year at the moment. I just want to talk about the away game at Horsham so we'll get the season out of the way and then we'll deal with whatever I have to deal with out of the season.

"I thoroughly enjoyed it there, a lovely club, good people and if I can do my job and keep us up we'll take the next step when the people above decide what they're going to go."

Visit Ramsgate's website: www.ramsgate-fc.co.uk

Horsham v Ramsgate
Ryman League Division One South
Saturday 18th April 2015
Kick Off 3:00pm
At Gorings Mead, Horsham, West Sussex RH13 5BP