Punjab United 0-1 Greenways - It means the world, it's dedicated to Willie Miller, says Greenways player-manager Rob Jeffery
Tuesday 02nd May 2017
Punjab United

0 – 1

Greenways

Location
Maidstone Road Sports Ground, Bournville Avenue, Chatham, Kent ME4 6LR
Kickoff
02/05/2017 19:30
PUNJAB UNITED 0-1 GREENWAYS
NRG Gym Bill Manklow Inter-Regional Challenge Cup Final
Tuesday 2nd May 2017
Stephen McCartney reports from Maidstone Road

GREENWAYS player-manager-captain Rob Jeffery says he is dedicating the club's NRG Gym Bill Manlow Inter-Regional Challenge Cup triumph to club stalwart Willie Miller, who passed away in March.
The two Gravesend based next-door neighbours locked horns on a wet night in Chatham with Greenways winning this trophy for the second time, the first time since beating Lordswood 1-0 after extra time back in 1989.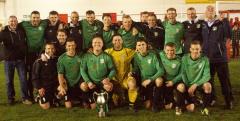 DEDICATION: Greenways player-manager-captain Rob Jeffery says
their Cup suceess was dedicated to Willie Miller, who passed away
in March.
Photo: Julie Hoare

The winning goal came after only 240 seconds through a bullet diving header from Brad Cross, the midfielder scoring his 21st goal of the season.

Punjab United went into the game with the Kent Reliance Intermediate Shield in the bag after beating Borden Village 5-3 at Sheppey United's Holm Park on 1 April.

They need just a point in the away game at Greenways on Saturday to ensure they win the Andreas Carter Joma Premier Division title at the first attempt with Greenways in second-place on 63 points, seven behind the new kids on the block.

When asked how it felt to win the trophy, Jeffery was quick to dedicate the success to Miller.

"Absolutely everything! It means the world. It's dedicated to Willie Miller," he said.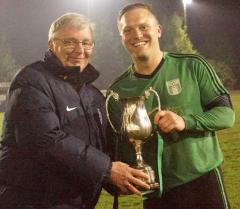 LEADER: Greenways boss Ryan
Jeffery helped his side beat
Punjab United to win the NRG
Gym Bill Manklow Inter-Regional
Challenge Cup at Chatham tonight,
as the top two sides competed in
a tight game.
Photo: Julie Hoare

"We all know we lost him not long ago now and he was the heart and soul of this club and has been for many years.

"Everything we do and everything we do from here forward is for him and I'll continue that legacy for as long as I can.

"It was a part of our motivational talk since it happened because it happened so quickly. It was such a shock, no one expected it and when you lose someone like that from a club, especially a club at our level, because people like that is what makes clubs at his level tick, so to lose him was very hard but it's brought us closer together. We're a stronger unit and we'll just continue going forward. One hundred percent that was the motivation for us tonight."

Punjab United manager Jugit Sian was clearly disappointed after losing a grasp on the treble in their first season in the Kent County League.

"Disappointed but congratulations to Greenways, they done alright. They defended well and they kept us out in the end," said Sian.

"It's just the way football goes sometimes. Sometimes you're not having a bit of luck. We missed a penalty, we missed a few chances ourselves, that's the way it goes sometimes."

Greenways won the game following their only corner of the game.

Simon Walton kicked the ball 10-yards forward and Aaron Kleman whipped in a great cross in from the right towards the near post from the by-line and Cross showed the desire to power his bullet header into the bottom right-hand corner from six-yards.

"Great cross. He scores goals, he scores goals in cup finals, he always has," said Jeffery.

"He's probably not the natural one who you think is going to get a header for us but he's a great player, box-to-box player and it doesn't surprise me that he's gone and got the winning goal for us."

Sian added: "It was bad defending, we switched off. I told them in the changing room 'don't switch off, make sure you win the second ball, make sure you win everything in the air!"

Saturday (at Peckham) we won everything in the air. We didn't give nothing to no one. Today we switched off from the first minute.

"I think we were more upset from the throw-on where we hit the ball, it hit their player, it went off, they gave it to them and we were still arguing about that."

The heavens opened when Punjab United were to be denied an equaliser inside 12 minutes.

Left-winger William Johnson-Cole split open Jeffery and Josh Taylor with a drilled sublime through ball along the deck to put Arun Suman through on goal but Josh Kleman got down low to his left to smother the ball into his grasp.

"When you see someone going through one-on-one, someone with Arun's quality, you're thinking it's going to go in the back of the net," admitted Jeffery.

"But I think nothing was going to get past Josh today. He was absolutely pheromonal so I'm happy for him because he was close to Willie. He brought Josh in from a very young age so that meant a lot to Josh today, a lot."

Sian knew it was a big chance for his side.

He said: "He made a good save Josh, a very good save. I thought he should've chipped it over, he should've chipped it over him to be honest with you. He was already on the floor, but it's one of those things. It's confidence in the end. Maybe if that had fallen to Luke (Adams), William (Johnson-Cole) or George (Goodwin) that would've probably been in."

Jeffery, 31, explained why he was trying to ping balls out of defence in an attempt to find lone striker Jonathan Rogers, who was living of scraps for the 81 minutes that he was on the pitch.

"Tactically, we know their strong, we know their solid in the middle and we know they're strong going forward but we saw a weakness at the back," he said.

"Our aim particularly in the first half, which I felt we did really well, was to try to bypass the midfield and get it straight in to the hole in behind the midfielders and the forward because at that point we can turn and get at the defenders and then they're on the back foot.

"I thought we executed that really well in the first half. I thought we got a lot of space and I thought we hurt them at times so I was happy with that but that was our game plan."

Punjab United squandered another excellent chance to equalise through a shot hitting the post and having a penalty saved in the 29th minute.

Johnson-Cole played the ball out to Simon Cuthbert out on the right wing, he cut into the box and his right-footed angled drive flashed across keeper Kleman and bounced off the foot of the far post.

Talisman George Goodwin took a touch inside the box and his legs were taken away by Ryan Perkin and referee Peter Wilson pointed to the spot and up-stepped 37-goal Goodwin.

Goodwin stroked his right-footed penalty towards goal but Josh Kleman dived to his left to push the ball onto the post and behind for a corner bringing cheers from the Greenways supporters in the crowd of 299.

"It was a pen. It was a pen, 100%," said Jeffery.

"George is very good on the ball, he's got very quick feet. We know these guys very well, they're all local lads so we know what they're all about.

"The ball broke and Ryan was stretching and unfortunately he's brought him down, but for me it was a pen.

"Unbelievable save. I don't think it was a bad pen. I know they always say if you miss a pen it's a bad one but I generally don't think that was a bad pen. I thought it was a phenomenal save, right in the corner, tipped it on to the post and wide, unbelievable."

Sian revealed: "I've not seen George miss a penalty like that! It's one of those days mate, sometimes it will go for them. It's just the way it is really, can't complain."

When asked his thoughts at the time, Sian admitted: "It's not going to be our day because I thought we dominated after that. They just defended. I don't think our keeper touched the ball after that.

"We had the whole game, we just didn't finish and we should've finished."

Punjab striker Luke Adams' drilled shot from 30-yards was blocked and fell at Simon Cuthbert's feet, but his shot on the turn from the edge of the box deflected past the post.

Unmarked Greenways left wing-back James Trueman went close with a left-footed dipping drive from 35-yards, which only just cleared the crossbar.

"He does that a lot in training, does it a hell of a lot in training but you don't see a lot during a game," said Jeffery.

"Typically we normally go four at the back, he's normally a left-back and he doesn't go that forward at times, but we played a 3-5 today so he had a bit of a licence to move forward and he nestles them in very regularly so I was hoping it would come down a little bit more."

Aaron Kleman whipped in a quality free-kick from the right which was met by another header from Cross, this time his powerful header went over.

Johnson-Cole was a threat with his pace and he cut into the penalty area from the middle to the left, skipping past three men but his left-footed shot on the angle from 12-yards was gobbled up by Josh Kleman at his near post.

Both managers were asked their thoughts at the break.

Jeffery said: "Just keep the energy up! I thought we had the better of the first half, definitely had the better of the first half hour. I thought they came back in to it the last 10 minutes.

"I just said to them we need to keep the tempo up and make sure we were confident on the ball when we had it because we've got good players but it's difficult in a Final, the emotions get away with you. In the end you're just trying to do what you need to do and get the result.

"I said to them keep working, you've got to keep working and when we get the ball, you just have to make it stick."

Sian added: "I just said we need to be a bit more, we need to pass the ball a bit quicker. We need to be a bit more up for it. We were just a bit slack in the first half but in the second half we started well. We started moving the ball quickly and I don't know how many corners we had? Nine? It was just one of those games."

The second half proved to be a cagey affair with little goalscoring opportunities created.

The closest, if you can call it that, that Greenways got to scoring arrived in the 11th minute of the second half.

Trueman floated over a deep cross from the left wing towards the edge of the box where Walton turned to smack his left-footed volley high over the bar and high over the stand roof.

Jeffery said: "I think that's still coming down now that one, I think. It's one of those things. It's one of those shots where it comes up, it's slippery out there today so one day it will go in the top corner and the next day it goes in the River Thames!"

The first goalscoring chance arrived halfway through the second half when Greenways keeper Josh Kleman made a fine save.

Adam Cuthbert, formerly of Phoenix Sports and Ashford United, when the pair were in the Kent Invicta League, stroked his right-footed free-kick over the wall from 25-yards, which was heading towards the top left-hand corner but the keeper jumped up and pushed the ball over the crossbar with his outstretched right-hand.

Sian added: "Good save, it was a great save in the end so good luck to him, it was a good free-kick, a good save."

Jeffery added: "I don't think anything was going past Josh today. I thought it was a fairly routine save. Yes, he tipped it over but apart from that it was very much a cagey affair, not a lot happening, quite scrappy, balls flying about everywhere and all about heart and desire really, luckily it came out."

That chance sparked Punjab United to up their game as Greenways parked the bus to defend resiliently with Jeffery leading by example at the heart of their defence.

"I know everyone's disappointed but they defended well. They had a game plan, fair play to them, they stuck to their guns and we should've just finished it off but we didn't," added Sian.

Adams launched a long throw into the box and Greenways had a couple of chances to clear their lines and the ball was hooked across goal and past the far post by Simon Cuthbert inside the final seven minutes.

Jeffery said: "We knew they'll come strong, especially in a Cup Final. You know you're going to be put under pressure, they're a good team so we knew that was going to happen but we're strong. We can eat stuff up. What happens in those sort of games is when it gets to the last 15-20 minutes it does tend to become a little bit more direct and that suits us so I was quite happy for them to go more direct. I think we dealt with that all-day long."

Punjab United should have equalised following their penultimate corner.

Johnson-Cole's delivery was knocked on by Salhotra at the near post. The ball was put back in by Simon Cuthbert, Goodwin headed the ball down and Salhotra's shot on the turn deflected into the keeper's grateful hands, leaving Sian a frustrated man.

"It wouldn't go in. They deserved it, sometimes it happens. They defended well, same as we played, we didn't come here to lose. It's one of those days."

Punjab United squandered another opportunity from a corner when Johnson-Cole lashed a loose ball high and wide of the far post after his initial corner from the left was headed back to him by a rising Goodwin.

But the final whistle saw jubilant Greenways' players bundle on top of Jeffery, who was a proud man when he lifted up the silverware.

"I thought on the day we just wanted it a little bit more," admitted Jeffery.

"It's an amazing feeling. Today was all about one man and that was Willie Miller. To be able to lift that for him, yes it's good for me but ultimately this was for him tonight so I'm delighted to be able to do that."

Greenways goalkeeper Josh Kleman, 22, was the man-of-the-match and he was holding back the tears during the post-match press conference.

He said: "It feels unbelievable, it's a bit overwhelming really because it's for Will. Everything was for him today. I can't really put it into words.

"To me he was in my life since I was seven. I've been at Greenways now for eight years. He's taken me from 15s, 16s all the way through. He was like a second dad on and off the field, guided me, not only me and my brother, so he meant a lot."

Reflecting on his save that frustrated Suman, he added: "I thought it sort of helped me out. It bounced just as he come in. I think it sat and he just didn't open his feet up enough and it came straight at me and luckily enough I spun around on it and got it in my hands."

On his penalty save, Kleman admitted: "A bit of luck with the pen. I played him on Sundays as well and he was looking the whole way to go that way. My dad was actually behind the goal and I said to him 'he's going that way?' Luckily enough I got two hands to it to push it around the post and got a little bit of help from the post as well."

Former Greenways defender, John Scarborough, 38, who played Ryman League Division One South football for Faversham Town and Whyteleafe this season, paid a fitting tribute.

"The Gravesham and Kent County football community were devastated to hear the news that Greenways ex-manager, chairman and secretary William Miller suddenly passed away from us. Words cannot describe how much this man gave to the football community especially in the Gravesend area over the last 50 years and the players' he produced and success he achieved."

Punjab United will win the league with a point against Greenways on Saturday or at home to Stansfeld on 13 May.

"The treble would've been nice but we're going for that (double) on Saturday. We want to win the league and we're going to win it in style," promises Sian.

"One point needed. I expect the same as today, nothing different, but I think we really need to show up and we need to show up from the beginning and I think if we do that then we'll be alright.

"I'm disappointed that we didn't do a lot better but I'm happy for them as well because they're wearing my (company's sponsored) shirts as well. I'm happy for William. I know he's not here but he would've loved that, he would've loved today as well. Fair play to him, good luck to them."

Punjab United: Richard Miles, Diljit Boora, Charan Lidhran (Ben Patrick 76), Adam Cuthbert, Rajan Salhotra, Sam Zanone, Simon Cuthbert, Arun Suman (Regan Payne 71), Luke Adams, George Goodwin, William Johnson-Cole.
Subs: Taldev Singh Gosal, Rashpal Bhens, Ben Stunt

Booked: Adam Cuthbert 62, Rajan Salhotra 73, Luke Adams 80, Ben Patrick 90

Greenways: Josh Kleman, Ross Penrose, James Trueman, Ryan Perkin (James Austin 90) Josh Taylor, Rob Jeffery, Simon Walton, Nicholas Donaldson, Jonathan Rogers (Alex Clare 81), Aaron Kleman (Harry Gann 85), Brad Cross.
Subs: James Ellis, Luke McCarthy

Goal: Brad Cross 5

Booked: Ryan Perkin 54

Attendance: 299
Referee: Mr Peter Wilson (Maidstone)
Assistants: Mr Danny Roberts (Maidstone) & Mr Simon Haydon (Wateringbury)
Fourth Official: Stephen Luke (Pembury)

Coverage Sponsored by: