I like the games over the Christmas period but believe they could give either New Years Day or Boxing Day off as it is demanding on the players, especially when you have a small squad, says Phoenix Sports boss Paul Bryon
Friday 22nd December 2017
PHOENIX SPORTS manager Paul Bryon says semi-professional footballers are playing too many games over this Christmas period.
Phoenix Sports were held to a 2-2 home draw by Chipstead last Saturday and as a result are in the top-eight in the Bostik South table with 37 points from their 24 league outings.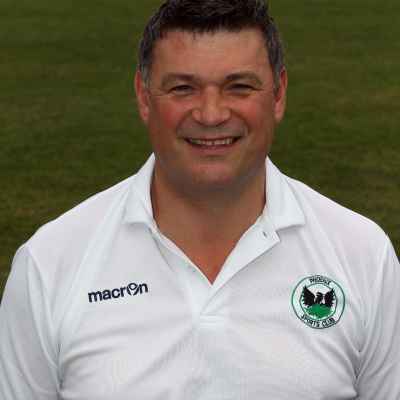 Paul Bryon was promoted
from assistant manager to
manager after Steve O'Boyle's
resignation

The club are only five points adrift of the play-off zone and travel to the team immediately above them on the table, Hythe Town, tomorrow.

The Cannons have claimed three more points than Phoenix going into the Reachfields Stadium clash.

Phoenix Sports then host another promotion chaser in the form of Greenwich Borough on Boxing Day, Tuesday 26 December (13:00), followed by Corinthian-Casuals (Saturday 30 December, 15:00), before it's the battle of Woodside Road and a trip around the corner to VCD Athletic on Monday 1 January 2018 (15:00).

"Looking at the fixtures over the next two weeks, we are going to have to be at our best to get anything from any of them," said Bryon.

"Hythe have improved since we met them at home back in August and our 2-0 win then was not as comfortable as the scoreline shows. It will be a tough test but one we are looking forward to.

"It does not get any easier with Greenwich Borough visiting us on Boxing Day. On paper they will be favourites. They are technically very good and have our ex-forward Jack Barham playing for them now, who we know will be a handful.

"We have worked on shape without the ball a lot and we need that discipline and organisation to test Greenwich.

"We have been able to use a consistent squad for the last few weeks and that has helped us immensely with everyone understanding their roles.

"Apart from Chipstead, we have been doing well and playing the way we want.

"After Greenwich Borough, we have another home game against Corinthian-Casuals, who we played away at the end of November when they were sitting on top of the league.

"We had a game plan that night and the lads executed it to perfection and I think we shocked them slightly and caught them a little cold.

"There's no doubt about it, they will be looking for revenge and be raring to reverse that score. Again, we will have to be well-organised and play with a good tempo when we have the ball.

"If those games aren't enough, on New Years Day we travel 500-yards down the road to our local rivals VCD Athletic.

"These games are always exciting, fast and furious. If you base it on the league positions then we should be favourites but that does not mean anything as results in this league are so unpredictable and I think VCD are in a false position in the league.

"I know Keith McMahon well and have watched them a few times this season and they have some very good players and will be difficult to beat.

"I believe in our squad and we know what we have and our strengths and it's just about executing our game plan on the day.

"These four games will be difficult but we had the November fixtures from hell when we had to play second, first, first and sixth in the league in the space of two and a half weeks.

"We got through that with a respectable amount of points and we will be looking for the same over the festive period.

"I don't set targets of points over periods because we want to win every game. We have a league position for the season set by the board and we work out how many points we need to achieve that. We then set our goals and work on those points as well.
"It's so difficult to set points targets over a compact period because we don't know what knocks we are going to get or suspensions and it's difficult in such short period to bring anyone in if you need to.

"I like the games over the Christmas period but believe they could give either New Years Day or Boxing Day off as it is demanding on the players, especially when you have a small squad.

"The pros do it but they have bigger squads and train every day with large teams around them to make sure they get through. I think at our level it is a little bit too much. However, I would not want to do away with them completely as they do have a special atmosphere. I think that's mainly because we almost always play local rivals well.
"A lot will be sorted out in the league by the New Year and we may see the league start to take a little more of a consistent structure.

"It is, however, very tight and two or three wins on the bounce could get you right in amongst it or two or three losses on the bounce could see you drop off it. It makes it exciting and every point counts.

"I am sure we will take our normal few roudy supporters with us on Saturday, who will always give us a lift and a laugh. These people come home and away week in week out and are really an extension to the squad. I would like to thank them for all of their support and wish them a Happy Christmas and prosperous New Year. I am sure I will have a pint with them over the period, win, lose or draw."

Visit Phoenix Sports website: www.phoenixsportsclub.co.uk

Hythe Town v Phoenix Sports
Bostik South Division
Saturday 23rd December 2017
Kick Off 3:00pm
at Reachfields Stadium, off Fort Road, Hythe, Kent CT21 6JS