We need to get back to our top level and start putting in performances we know we are capable of, says Phoenix Sports boss Paul Bryon
Thursday 22nd February 2018
PHOENIX SPORTS manager Paul Bryon insists their season is not over after going five games without a win.
The club had slender Bostik South play-off hopes after coming away with a 2-0 win at basement side Shoreham on 13 January but since then they have lost to Faversham Town (2-3), drew Carshalton Athletic (1-1) and lost to Walton Casuals (1-3), Whyteleafe (2-5) and Horsham (1-2).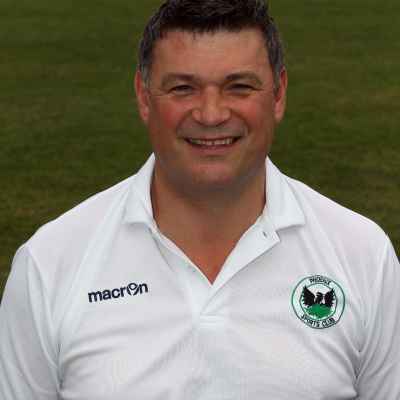 Bryon's men are now in tenth-place in the table on 51 points from 35 games and are now 13 points adrift of the play-off zone.

League leaders Lewes arrive at Mayplace Road East on Saturday. They have picked up 71 points from 33 games and have a couple of games in hand on Cray Wanderers, who are in second-place on 69 points.

"Last week was disappointing," admitted Bryon (pictured, above).

"We have not been at our best the two games previous and I was looking for a reaction to this, however the first half I did not get it! We were slow of the mark and look a little lost out there.

"No disrespect to Horsham but a few weeks ago we would have got three points from this game by the way we were playing, but I have to be honest and say we have dropped off in recent games.

"We need to get back to our top level and start putting in performances we know we are capable of.
"Second half, however, we looked sharp and positive, we were dangerous with the ball and secure without it, which was the positive but again we switched off for a second and it hurt us, one chance second half and with our missed chances it hurt us.
"The positive is we looked good again second half, and we need to bring that form to Saturday's game.

"We have dropped a few places in the league in the last few weeks and some may say our season is over. This is not the case as quickly as we have dropped we can climb again and I absolutely believe that and so do the players."

Lewes go into the game on a six-match unbeaten run and their last league defeat was away to Horsham (1-2) on New Years Day.
"We have a very tough test Saturday against the league leaders," said Bryon, who lost 1-0 at Lewes on 29 November.

"We gave them a very good game at their place and we intend on doing the same this weekend.
"We know all the top six have been strengthening and adding to their squads as I had two of them came in for one of my players, so we know it will be tough but we are up for it and looking forward to it.
"Our target has not changed since the beginning of the season finish as high as we possibly can and see what that gets us.

"We did not know a lot about the Bostik South before this season but we had heard it was tougher. I think the depth in quality is a lot greater in this league and there literally is no easy game," added Bryon, who's club switched over from the North Division last season.

"Not knowing the league we just set out to get as many points as possible. The club is still excited at playing at this level and does not take it for granted. We have come from a Junior club to here in a relatively short time."

Visit Phoenix Sports website: www.phoenixsportsclub.co.uk

Phoenix Sports v Lewes
Bostik South Division
Saturday 24 February 2018
Kick Off 3:00pm
at Mayplace Road East, Barnehurst, Kent DA7 6JT