To have my name on The FA Cup Final ball is probably my most proudest moment in football to date, says Phoenix Sports midfielder Jack Hopkins
Wednesday 16th May 2018
PHOENIX SPORTS midfielder Jack Hopkins says he's feeling proud that he will feature in The FA Cup Final at Wembley Stadium on Saturday.
The Football Association's theme for the Chelsea v Manchester United showpiece is to celebrate it as the competition 'For All', giving The FA the opportunity to champion not just the two finalists but all 737 club's who take part from the Extra Preliminary Round onwards.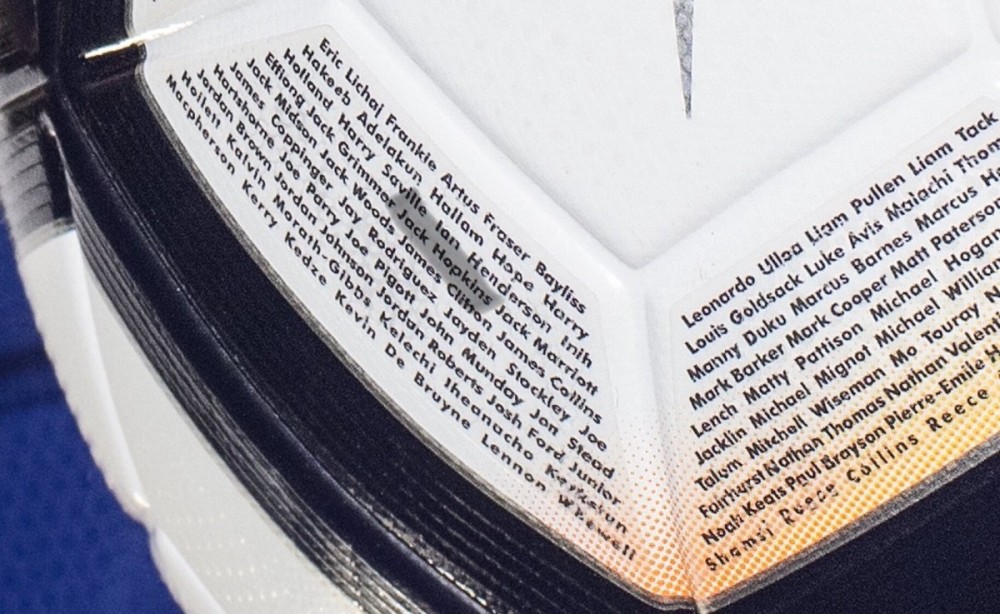 Phoenix Sports' footballer Jack Hopkins ' name will be
inscribed on the football that will be used during Saturday's
FA Cup Final between Chelsea and Manchester United
at Wembley Stadium.

The FA has placed the names of 137 goalscorers from this season's competition on the Cup Final ball to be used at the 137th edition of the showpiece fixture.

The Ball for All celebrates a selection of players from Step Six of the National League system through to the Premier League, who all share the accolade of being a goal scorer in the world's domestic cup competition.

The names have been selected to include goal scorers from every round, beginning at the Extra Preliminary Round through to the Semi-Finals, with a national spread across the country and also include a selection of the season's most memorable and impactful strikers.

The FA have selected Hopkins for his hat-trick and assist in Phoenix Sports' 5-0 win at Steyning Town in the Preliminary Round back in August.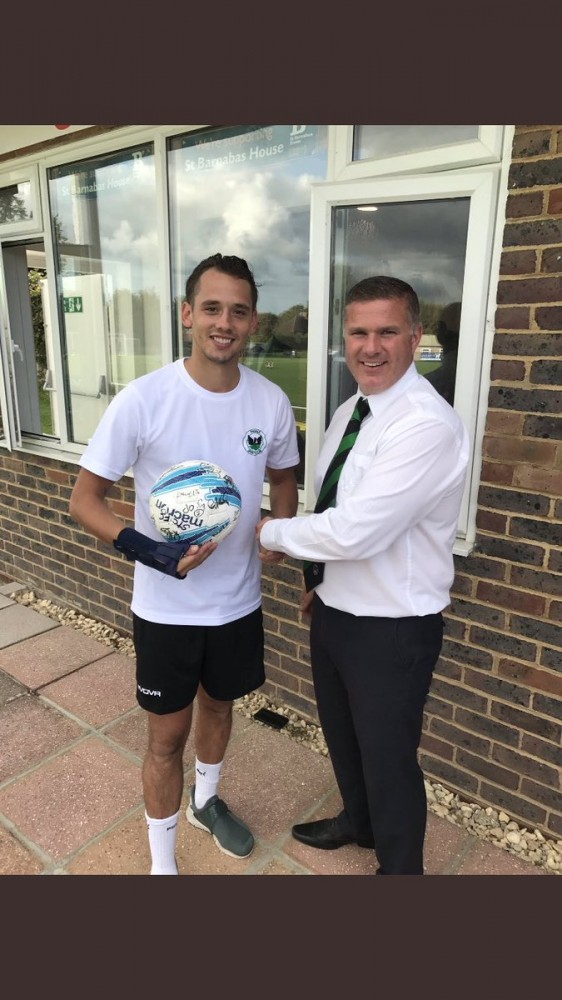 Jack Hopkins receives the
matchball from then Phoenix
Sports manager Steve O'Boyle
after scoring a hat-trick in a
5-0 win at Steyning Town in
The FA Cup Preliminary Round
back in August.

"To have my name on The FA Cup Final ball is probably my most proudest moment in football to date," said Hopkins.

"Everyone keeps saying that's one to show your grandchildren. I'm already showing my baby and she's only four months old. When I receive the ball from The FA it will sit proudly on my fireplace.

"It's a great competition, one I always look forward to competing in. It's always important to win in any match but The FA Cup especially. It gives the club something back in prize money in each round the club progresses.

"There are good people that work 24-7 to get our wages and it's always a good feeling if you can give something back big or small.

"I'd like to say to young players The FA Cup is magic and hasn't lost its romance. However, I feel The FA Cup is losing the respect it deserves in the elite teams. I'd like to winners of The FA Cup to be given a Champions League place as that will bring its importance and magic back to the elite teams."

Phoenix Sports finished their Bostik South campaign in eleventh-place in the table with 69 points from their 46 league outings.

The Barnehurst based outfit will be in the 20-club Bostik South East Division when the new campaign kicks off in August.

"I have agreed terms to stay at Phoenix for the upcoming season. It's a pukka family club and three are some big clubs there and to finish where we did most people will say that was expected. But within the camp we have under achieved! We have a lot of good footballers and some very big characters," said Hopkins.

"As a team we'll be looking to be higher up in that table and I'm sure we will!

"As always, I want to be better every season. I scored five league goals, five in The FA Cup and only missed three or four games due to suspensions."

Visit Phoenix Sports' website: www.phoenixsportsclub.co.uk