Peckham Town: We are putting plans in place to address floodlighting over the coming season to hopefully enable promotion next season
Tuesday 19th June 2018
PECKHAM TOWN are hosting an Open Day at their ground from 13:00 on Saturday 30 June to give people an opportunity to hear about the development plans at the Kent County League Premier Division club.
"We are delighted that the Mayor of Southwark will be joining us at the start of our afternoon, as part of her commitment to support grassroots football and improving childhood opportunities in Southwark," said a club statement.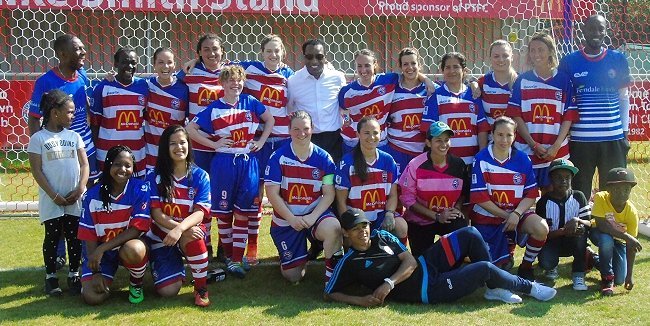 Peckham Town are hosting an open day at the end of the month
Photo: Peckham Town FC

Bryan Hall (co-chair and Peckham Town's founder), Mike Smith (co-chair), Mary Phillip (CEO and former England international) and other volunteers will be in attendance to answer questions at the Menace Arena, 37 Dulwich Common, London SE21 7EU.

A training session of some of Peckham Town's teams will take place during the afternoon. The club will also show the World Cup Second Round tie at 15:00 in their clubhouse, which will be open for refreshments.

"We are open to discussing any issues that pertain to the club at our open day. We are keen to encourage more local people to join and support our plans for growth and the benefits that this will bring to the community," added the statement.
"Youth football and community work for disadvantaged young people is at the core of our values at Peckham Town FC. We currently run several youth teams and our founder and co-chair, Bryan Hall, has worked with around 20,000 youngsters over the last 13 years through inter-estate football leagues. We would be happy to tell you more about the fantastic benefits this has achieved for young people in the local area.
"Our men's first team are currently at the seventh level of non-league football (Kent County League Premier Division), but unfortunately have been denied promotion on four occasions due to not having floodlights and other issues regarding the ground.

"We are putting plans in place to address this over the coming season to hopefully enable promotion next season.

"The women's team has had a successful season in winning their league and improved facilities will benefit them greatly as well.

"We hope to increase crowds next season to see a promotion push for both our women's and men's team."

Visit Peckham Town's website: www.pitchero.com/clubs/peckhamtownfootballclub