It's great to be able to help deliver silverware and a feel-good factor to such a genuinely supportive, caring, proud and proper football club, says Old Bromleians boss Danny Wakeling
Sunday 26th March 2017
OLD BROMLEIANS manager Danny Wakeling says he's feeling proud after delivering the League title in his first season in charge.
The Bromley based outfit became the first Kent side to win a league title this season when they celebrated winning the Andreas Carter Joma Kent County League Division Two West title yesterday.

Broms came away from Kidbrooke with a 5-2 win at Johnson & Phillips, who are managed by Ray Bagnall and Terry Malin, who have vast managerial experience in the Ryman League and the old Kent League.

Old Bromlians won 14 and drew two of their 19 league outings, claiming the league title in their penultimate league game and the pressure will be off when they travel to play South East Athletic next Saturday.

"It was always going to be a tough game at Johnson & Phillips," said Wakeling.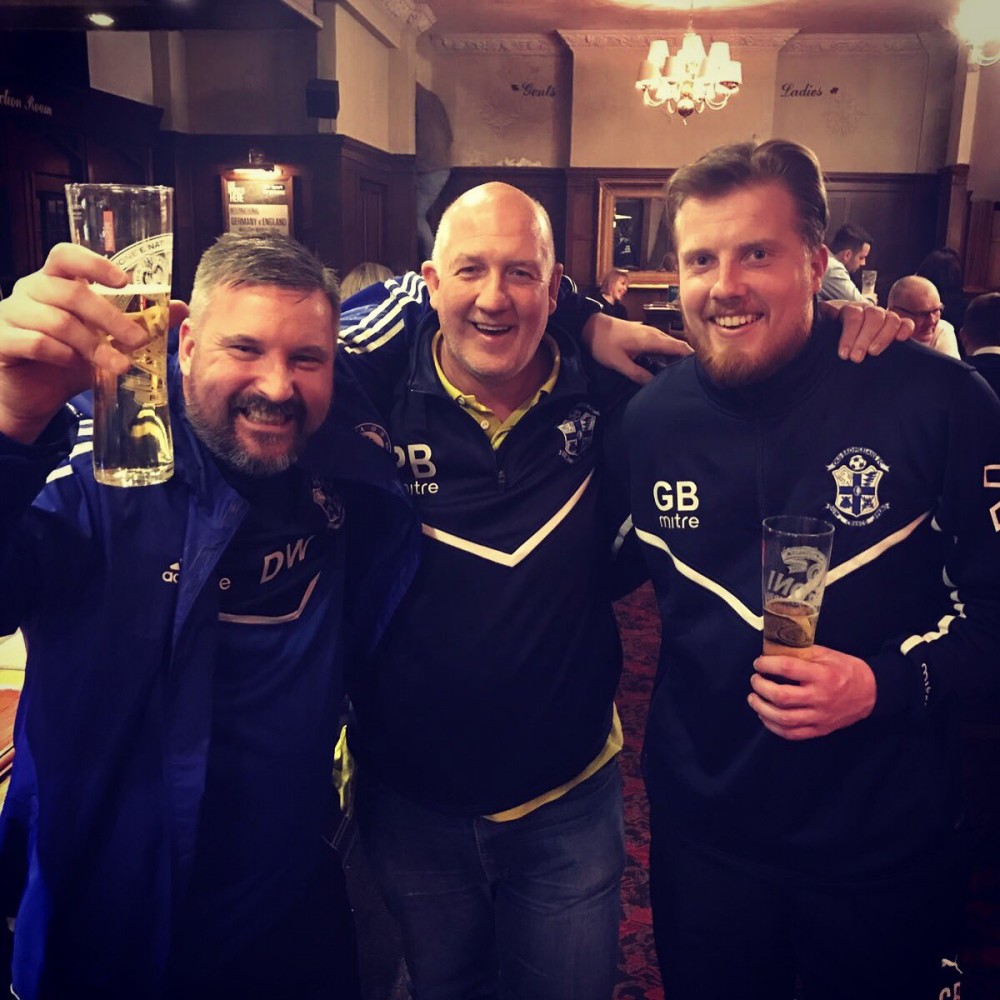 WEVE DONE IT!: Danny Wakeling (left) celebrates winning the League title in his first season in charge of Old Bromleians. Chairman Phil Barlett and assistant manager Greg Barton (right) are also pictured.
Photo: Twitter

"They're a solid outfit with some really strong experienced and proper old school players in their side and also well lead by two well-known vastly experienced football men as a management team.

"Over the years, they've been usually an obdurate and hardworking side with very good experienced players who never tend to carry any shrinking violets but our lads handled the day so well to be fair to them.

"The players haven't been constantly talking up their chances of winning the league this season. They've just gone out on a weekly basis, giving a good account of themselves more often than not."

Reflecting on the game, Wakeling, who's last managerial job was in the Kent Invicta League with FC Elmstead, said: "We adjusted to the pitch change well. We picked a squad that we felt would adapt to playing either pitch at their place and despite the lack of width on the pitch we had to play on, we altered our approach with selection of the starting XI and acquitted ourselves really well and made the most of the strong wind in our favour for the first half.

"We raced into a four-goal lead in around 35 minutes before conceding a weak goal via a penalty, which to be fair we should have dealt with prior to the correct decision being made by the referee.

"We scored a fifth before half-time to come in on the up mentally. When you consider that most, if not all of these lads haven't ever won a league before, they could be forgiven for being anxious but they were brilliant in the first half.

"They dealt with the occasion superbly. At half-time we changed things around a touch as Johnson & Phillips went down to ten-men with a red card and we had to play into the wind in the second half, so we continued to attack with our full-backs but have a better spread of players across the pitch to keep the passing shorter and sharper to retain the ball as with respect, the game was over as a contest at half-time.

"We just needed to avoid injuries as we had seven lads starting carrying knocks so we brought on fresher lads and the plan was to stay as injury free as possible and not knowing what was going on in two other games that dictate the top-of-the-table we took the stance that we would require a positive result next Saturday, so it made sense to game manage in that manner.

"We came through unscathed and promotion was secured at the final whistle.

"Around 30 minutes later we found out that the win was indeed enough to secure the title – job done.

"We have one game left ourselves and our two direct rivals have two (Nomads) and four (Welling Park) games to play, so hats off to the Broms lads for securing the title in an emphatic manner.

"We've not been perfect this year, far from it; but we are on a great path in terms of progress as a club and this team will only get better and better in time.

"Pre-season will be fantastic and the lads are already talking about it which is huge credit to them all as footballers and as men. We've three games booked already. I just have to nail a few more and we are good to go again.

"We will continue to build upon this success.

"In terms of more progression, the club committee have outlined the plans for the very near future. More will be revealed in time in a more public manner but the players were all informed last month face to face from committee members which seemingly has had an extra motivational effect.

"As far as the football side of things is concerned; we will have the usual influx of fresh faces as every club must do. It's important to keep progressing and I'm currently fielding numerous enquiries from players keen to get involved.

"I expect to add a fresh face or two in terms of the management and coaching structure at the club as well in the coming weeks but first and foremost this season hasn't finished yet. We have three points to play for and earn next Saturday and the players must play as champions and do themselves absolute justice.

"Having earned the tag as champions they must now deliver and show just why they are the champions. The bar has gone up and I've every faith that they'll keep raising that bar for themselves. Any anxiety has now gone. They can play with attacking freedom and confidence next week.

"I must say that on a personal note it was a pleasure to be able to return to Scrubs Farm and shake hands and embrace with Mr John Cooper with a title delivered.

"It was always the aim to represent that gentlemen in the right and proper manner all year and I feel the lads throughout the club have done that. It was great to shake hands with committee members and long standing Broms.

"It's great to be able to help deliver silverware and a feel-good factor to such a genuinely supportive, caring, proud and proper football club."

Old Bromleians finished second-from-bottom last season and Wakeling's aspirations were laughed at when he joined the club.

He said: "I set a target just under a year ago at the club end of season dinner for the club to deliver three achievements/trophies across our three men's sides and vets side.

"The first team have banked two and we are going strong elsewhere in the club to quite possibly add to that. I know full well 90% of people in attendance that night scoffed at the target set but we may beat it let alone just achieve it.

"We need to keep growing and maintain a winning mindset and culture down at The Broms. It's a truly great club and the atmosphere down there is phenomenal across the whole club.

"I'm very happy and proud to be involved. It feels like a family down at Scrubs Farm and I've been made very welcome. I certainly feel very much at home being surrounded by so many great people and fantastic footballers. We will absolutely all let our hair down pretty soon but this season isn't over yet and we are certainly not finished."

The club last celebrated winning the league title when Ben Kotey led Bromleians Sports to the Kent County League Division Two West title in 2003 in their debut season in the League.

Visit Old Bromleians' website: www.oldbromleiansfc.co.uk