I would've allowed someone else to have a go next year if I failed this season, says New Romney boss Dave Johncock
Wednesday 10th May 2017
NEW ROMNEY manager Dave Johncock says he would have resigned if he failed to lead the club towards promotion this season.
The Station Road outfit clinched the Andreas Carter Joma Kent County League Division One East title in their penultimate game of the season by beating Hawkinge Town 2-1 at home last Saturday.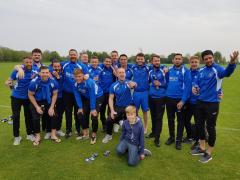 CHAMPIONS: New Romney have won the Andreas Carter Joma
Kent County League Division One West title in Dave Johncock's
second season in charge of the club.

There was a high number of ex Hythe Town footballers playing in the game. Roy Godden scored one of New Romney's goals, while Damian Abel, Kieran Byrne and Michael Yianni all turned out for Hawkinge.

"Absolutely delighted and chuffed to bits for everyone involved," said Johncock, 42, who lives in Hawkinge.

"We haven't won a title for 16 years so it's brilliant for New Romney, especially those associated with the club for a long time. Everyone deserves it from the chairman, the board, all the volunteers, the spectators and, of course, the players and their families who support them."

New Romney missed out on the title in Johncocks first season, so he wanted to improve on that statistic this time around.

Johncock said: "We missed out by just two points last season and so we were determined to go again this season and win it. It's really satisfying to then actually go and do it.

"We've had a committed group of players' throughout the season who have worked hard for nine months and I have a huge amount of respect for them all.

"Winning this league isn't easy! There are some decent teams and some quality players in this League – it's underestimated I think – and I'm sure, after last season, we were the team that others were aiming at.

"We had to work hard and keep learning and stay together.

"At the end of the season, the best team sits at the top. We had to accept it wasn't us last season – but we can enjoy it this time around and we finished where we deserved to be!"

Johncock, who has previously managed Hythe Town Reserves, Lydd Town and Deal Town as a caretaker manager, was full of praise for all players' at the club.

"All the players' have been superb," he said.

"We have a small squad but also have a close playing relationship with the reserves, who have been brilliant at supporting whenever needed. We all train together and all give 100% to the club. It's all really close and everyone knows each other and gels really well."

Johncock cannot wait to manage the club in the Premier Division of the Kent County League next season.

He said: "This is my second season. We had an excellent first season and probably over achieved but it was the perfect platform to build on for this season – and that's what we've done.

"We have some work to do at the ground but we have been working with the League and are confident that the necessary improvements will be completed by our deadline and so we can look forward to promotion.

"It's nice to have New Romney back in the Premier Division next season!

"I wanted to get promotion. I had to do it this season. Realistically I would've allowed someone else to have a go next year if I failed this season.

"Now, it's about continuing to build. We have to keep the squad of players together but we'll also look to bring a couple in to strengthen for next season in the Premier.

"We will look to win every game so on that basis we'll be looking to win it!

"We have a fantastic youth set-up, some amazing coaches and volunteers who give up so much of their time and we'll look to ensure that the links between the youth and the senior set-up continue to strengthen. It just makes the club what it is and there's a really good vibe around at the moment.

"We are making improvements to the existing clubhouse and facilities but we have a new clubhouse to look forward to – it's all very exciting!"

New Romney are at home to East Kent College on Saturday (13:30) for their last league game of their title-winning campaign. The club play at The Maude Pavilion, Station Road, New Romney, Kent TN28 8LQ.