Lewisham Borough 0-6 Ashford United - I can't allow the club that I built to fall apart, says Lewisham Borough boss Ray Simpson
Wednesday 12th October 2016
Lewisham Borough

0 – 6

Ashford United

Location
Ladywell Arena, Silvermere Road, Catford, London SE6 4QX
Kickoff
12/10/2016 19:45
LEWISHAM BOROUGH 0-6 ASHFORD UNITED
Macron Southern Counties East Football League Challenge Cup Second Round
Wednesday 12th October 2016
Stephen McCartney reports from Ladywell Arena

STRUGGLING Lewisham Borough chairman Ray Simpson has promised to stand down as manager if someone wants to come in and work without a budget to keep the club in the league.
Lewisham Borough are rooted to the foot of the Southern Counties East Football League First Division table having lost all of their 13 league games, scoring eight and leaking 40 goals.

Ashford United arrived at the Ladywell Arena sitting in second-place in the Premier Division, having collected 25 points from 11 games and are three points behind leaders AFC Croydon Athletic but with a game in hand.

It was a shock that the score remained goal-less at the break, with a majority of the 89 spectators taking shelter underneath the Clinton Rhule main stand as the heavens opened during the first half.

The floodgates opened during the second half. Substitute Luke Miller – who played 90 minutes for Greenwich Borough in The FA Trophy 24 hours earlier – came on at the break and produced a man-of-the-match performance by scoring the first and fourth goal.

Stuart West – who played up front during the first half before partnering Pat Kingwell at the heart of defence in the second half – headed in the second, before striker Shaun Welford slid in his 14th goal of the season from close range.

Ashford United's first four goals came in seven minutes as Lewisham Borough defended like a pub team.

Ryan James scored against his old club before Lewisham keeper Alexander Kibbey scored an own goal towards the end of the game.

Five Ashford fans stormed into the visitors dressing room after the final whistle to celebrate their side beating the worst football team in the entire country in this Macron Southern Counties East Football League Challenge Cup Second Round tie.

Ashford United player-manager Danny Lye said: "A good second half. The first half was a bit slow getting going. We smashed them in the end really.

"It's the first time I've played since last season so I wanted to have a little run around to have a bit of fitness just in case I'm needed.

"The first half we didn't show them any respect. The midfield wasn't pressing or getting tight so we sort of had a little go at them at half-time. You've got to beat who you're playing. It doesn't matter if you're playing Sunday League football or Premier League football, you can only beat what's out there and we didn't do that first half.

"We wanted to make sure we started the game properly otherwise it would've been a battle and we didn't do it properly and it was more what I said to them at half-time rather than at the start of the game that won us the game at the end. Well you could see they were a different side."

For Lewisham Borough it's just another tragic performance and result.

"Very disappointed," said Simpson, who has now lost 35 of his 45 games in charge since taking over from Ben Kotey last October.

"First half performance we managed to keep Ashford to 0-0 and I'm a bit in shock once again this season. We've come off and lost 6-0. I can't really quite explain how we effectively fell apart after the first goal and that's happened a few times this season.

"We have to have a major shake up of things because this can't continue. I'm trying to remain loyal and faithful to people and it was embarrassing today and you can hear in my voice how disappointed I am."

Lewisham Borough's debutant striker Danny Bransbry was keen to impress and he had three chances to score inside the opening 98 seconds.

Bransbry was released down the right, cut inside Ashford's debutant left-back Brandon Williams and his driven shot deflected into the hands of former Lewisham Borough keeper George Kamurasi – after only 27 seconds.

Bransbry then hit a right-footed speculative effort which was comfortably saved by the Ashford keeper but his third effort almost gave Lewisham Borough a shock lead.

He latched onto a diagonal pass, easily brushed past Williams and was denied by Kamurasi, palming the ball over his head and over for a corner.

Simpson said: "Danny Bransbry's first game for us today. I brought him in because up front we just haven't been quite near potent enough. He had a decent debut the first few minutes. I thought the first 10-15 minutes we were really good. Ashford came into it second half but I think we contained them pretty well and we did pretty well but he played quite well, I was quite pleased."

Lye added: "He had good pace. They were trying to get the ball over the top to him and we had young Brendon (Williams) on, his first game for the first team and George made a good save and after that they didn't have much more first half."

Lye's fine pass cut open the Lewisham back four to put Welford through on goal, cutting in before dragging his shot across keeper Kibbey and past the far post.

Lye said: "First half we didn't really create a lot. We had Westy and Welford up top, didn't have people running behind them."

Lewisham Borough's central midfielder Reece Walker released Bransbry down the right wing and his cut-back should have been tucked home by Alan Robinson at the near post.

Walker saw his left-footed free-kick from 25-yards deflect off the Ashford wall and sailing over.

Walker swung in a free-kick from the left which was comfortably dealt with by Kamurasi – before Ashford hit the crossbar in the 25th minute.

Simpson said: "Reece Walker's just coming back from injury, he's still not fully fit. He does provide us with quality in terms of passing. He wasn't as mobile as he could be but his set-piece deliveries and ball strikes are very, very good. We needed that little bit of help."

West made progress down the right and was given time and space by Jeremie Lacaze to whip in a deep cross towards the far post where an unmarked Welford saw his looping header clip the crossbar from 15-yards.

Lye said: "We had a couple of chances first half but they had a couple of chances as well. We were running past our midfield too early before actually building up the play because they thought it was going to be easy first half. They showed in the first half we didn't keep the ball, we didn't pass it and second half we passed the ball and we were different."

Simpson added: "Ashford are going to create chances, we understand that. You know that's going to happen. They've got quality players. They're not second in the Premier Division for no reason.

"That was probably their only clear cut chance in the first half. We had two or three, I think."

George Savage then drilled a right-footed shot past the right-hand post from 35-yards.

Both sides struggled to fashion any clear cut goalscoring chances in the rain, although James hit a 35-yard drive into Kibbey's hands on the stroke of half-time.

Lye dished out some hairdryer treatment to his players during the interval, took himself off for Miller and Ashford United looked a completely different side after the break, playing with a high tempo that Lewisham Borough couldn't live with.

"I just said to the boys, you have to beat what's in front of you and if you don't show them any respect and work hard then you won't get anything out of the game," revealed Lye.

"We changed it. I brought myself off, although I was one of the best players on the pitch first half, and put a bit of pace up front and obviously the results were clear second half."

Simpson added: "I was pleased and I told them but we needed to keep that going and that at the moment is our problem, to keep things going. What tends to happen to us, a goal goes in and heads drop and we fell apart a bit. In spite of this I was pleased with the first half performance because we were missing a number of players today but the players showed me good effort in the first half.

"Well, I was positive in the changing room. I haven't been that positive at half-time in many matches this season.

"We're having quite a lot of bad luck one way or another with injuries (after losing Kebapci and Emmanuel Kadiki in the first half) but I'm not going to use that as excuses."

It took six minutes and 4 seconds for the floodgates to open.

Luke Eldridge played Miller in through the heart of the pitch and Kibbey advanced to make a fine block with his legs. The ball came out to George Savage on the right, who cut the ball back from where it came from for Miller to slide the ball past the keeper.

Lye said: "We knew even in the first half, once we got one, we'd go and score more. It was just getting that first one but second half we kept the ball better, we moved the ball around and put it in behind them at the right times and we got the rewards for that.

"We had boys running in, but in the first half we put it up to the front man and there were no one near him. Second half we had a couple of shots and people followed up and we got a goal from it. If you don't work hard winning the seconds and winning the rebounds you don't get anything out of games."

Simpson knew exactly what was coming to his side.

He said: "Yes, sloppy on our part. We switched off, a lack of concentration. It's disappointing. I think we've got some players who are playing at this level for the first time and I think a bit of naivety and inexperience is clearly shown.

"They are keen, they are keen, the attendances are good at training. We're working on a lot of things but they're not quite coming together in the way that I expected them to or hoped to. We're conceding sloppy goals and the first one was and many any of them were. I think we conceded four in seven minutes."

Kibbey made a comfortable save going to his left from James' header, before Ashford United doubled their lead with eight minutes and six seconds on the clock.

Quiet winger, Ryan Palmer swung in a corner from the right and West rose to loop his header across a stranded keeper into the top right-hand corner to score his second goal for the club after scoring 16 goals for league runners-up Hollands & Blair last season.

Lye said: "That's what's Westy's there for. He's good in the air, he's strong in the air, he's scored a lot of goals last year and that's his second goal this year so he's way behind where he wants to be scoring goals but they'll come once the season starts kicking off properly."

Simpson added: "Again, we didn't compete. Heads had dropped a little bit by then. We're switching off, we're not doing the basics, the basics that you need to compete in the air and on the ground. You've got to be a little bit physical. We're not doing it. We're not keeping the ball well enough, we're conceding poor goals."

Lye threw on winger Ben Davisson off the bench and his first real attempt was a curling free-kick from just outside the corner of the box which sailed over Kibbey's head and clipped the crossbar.

Lye added: "We brought him on because he gets the ball down and gets us playing and we were a bit direct at times and that's what he can do from free-kicks."

Simpson added: "Great strike! They were on top by then. They were in full flow mood. They were just rampant after you could just see that."

But Ashford United scored their third goal – timed at 12 minutes and 26 seconds – as Lewisham Borough folded like a pack of cards.

Savage played debutant right-back Matt Kirby on the overlap and he produced an excellent whipped in low cross towards the far post and Welford just couldn't miss from two-yards out, sliding the ball into the bottom left-hand corner.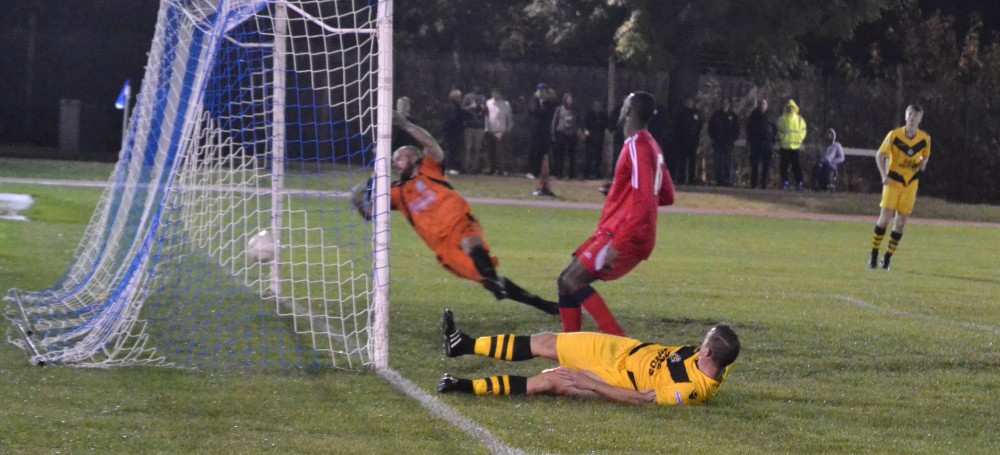 POACHER: Striker Shaun Welford (in yellow, sliding in to score at Lewisham Borough tonight) has scored 14 goals for Ashford United already this season.
Photo: Alan Coomes

Simpson said: "He's had a good start to the season Shaun. You're right, he doesn't miss from there. Players of that quality and that experience are not going to miss from there and they're going to punish us time and time again."

Welford was sent-off in last Saturday's 2-1 home win over Erith & Belvedere and Lye added: "Obviously the big man has got his suspension coming up so he wants to play every minute he can. He's a predator in the box isn't he?"

Lewisham Borough shipped in their fourth goal only 62 seconds later.

Midfielder Eldridge got down the left easily through poor defending from substitute Jite Edumijeke and centred for Welford, who was denied by a fine save from Kibbey, getting down low to his right. The ball came in from Savage on the right and Miller slammed his shot in for his second goal of the night.

Lye added: "Good again. Luke Miller gets in the right areas to score goals. He doesn't everything simple. He always makes the right decision and he was in position for that goal."

"I think that was his second, was it?" added Simpson, whose voice was now getting quieter and quieter as he reflected on all six goals.

"He had a good game. He was a decent player. It was just again disappointing, sloppy, switching off, a lack of concentration, our heads have dropped."

Lewisham Borough's other central midfielder Alan Robinson hit a speculative long-range drive towards goal, which deflected into the hands of Kamurasi, who stepped to his right initially but had time to compose himself to make a low save.

But conceding four goals in seven minutes is unacceptable at this level and Simpson must bring in better players if he is to avoid finishing at the foot of the table for the third season running next April.

"It's totally unacceptable, it's embarrassing, it's disappointing, it's frustrating," admitted Simpson.

"I said to the players apart from saying well done at half-time I did say to them because I passed the Ashford dressing room and I heard their management team going absolutely ballistic in there and I expected them to come out very sharp out of the blocks., You expect that and we had to be ready for that. I asked the players to show what they did in the first 10-15 minutes of the first half, show it in the second half and that would keep us in the game and we didn't do that!"

But Ashford United waited until the 66th minute to score their fifth goal, following a short-corner.

Davisson floated in the cross from the left and James rose at the far post to head down and across Kibbey, who got down low to his right but couldn't prevent the inevitable, as his two centre halves in front of him, Sean Jarvie and Danny Foot failed to protect him.

"His first goal for the team," said Lye.

"Second half he played centre midfield. We wanted to see how he could he play in there and he's a big lad so you put the ball in the right place, he's strong and powerful, he'll win his header."

Simpson said: "Ryan James was one of our former players actually. One of our former quality players that have left Lewisham to go on to bigger and better things and the keeper George Kamurasi, a former Lewisham player.

"Quality players come through Lewisham, our problem is we can't keep them. Ryan is a good player, he's absolutely been a good player, for the first time I saw him and he stayed with us for a while but I knew we were never going to be able to keep him."

Ashford United continued their dominance as they went in search for further goals.

Davisson's re-taken free-kick was met by Welford's free header which was caught by Kibbey, who got plenty of flack from the vocal travelling fans, claiming in a cruel chant that their 5-0 defeat was "all his fault."

Miller missed a great chance to net his hat-trick, cutting in from the right to the centre before dragging his shot past the far post from 22-yards.

"I spoke to Gary (Alexander, the Greenwich Borough manager) in the week and he's got a bit of an injury crisis and he played for them last night and then he came tonight. They wasn't really expecting him to play but he said he wanted to play rather than start we thought we'd give him half-an-hour and he ended up with 45 so he got good minutes."

Welford released Miller down the right and his floated cross was hit on the hooked volley at the far post by the unmarked Eldridge – where was the Lewisham Borough defence?

Ashford United's sixth goal arrived with 39 minutes and 42 seconds on the clock, courtesy of an own-goal from the goalkeeper.

Eldridge was given time and space to unleash a right-footed drive from 25-yards, which sailed over the keeper's head, clipped the underside of the crossbar and bounced off the keeper's back and over the goal-line for an own-goal.

"Technically, it is an own goal," agreed Lye, which is very rare for a manager to admit.

"We were winding him up just now about that. He'll always score a worldie Luke. He hit the ball from anywhere and we was winding him up saying it was an own-goal. But he can take it can't he? It was a great strike. It's unlucky to be an own-goal!"

Simpson added: "It's unfortunate. I thought Alex was our best player today. I know that might sound strange conceding six but he made some top saves in the first half and second half. He's frustrated, he's disappointed because he feels let down – and rightly so!"

Ashford United substitute target-man Callum Howland glanced his free header across the goal and past the far post after meeting Davisson's floated cross after Eldridge's corner.

Welford missed a couple of late chances, his first deflected just past the foot of the left-hand post, before heading Davisson's corner past the post as referee Valentine Anekwe ended the home side's misery just 24 seconds into time added on.

Lye added: "We were just joking there, he couldn't hit a barn door tonight Welford but I think he's up to 14 goals for the season and it's just starting October so he's on course for 30-40 goals, which is what he should get in this league."

When asked about five of his supporters storming into his dressing room after the game, Lye replied: "Our fans' are brilliant. They follow us everywhere. Five of them or 20 of them they're always signing and joyful and that's what I said to the boys at half-time. If we lose here tonight I'll be getting stick because the fans have come a long way and they deserve more and gladly we performed second half.

"These games are always funny games. You can't win. Lewisham can't do any wrong can they? They lose and they play well or they can go and nick it. It's in their favour but for us it's very hard to get going, get them motivated for these games. They came at us quite strong first half and they tested the two youngsters (Kirby and Williams) but they stood firm and they found their way into the game and it's good for them to get 90 minutes."

The statistics for Lewisham Borough are poor. The club have won only 11 of their last 109 league games. They have lost all 13 league games this season, all 14 games this season and Simpson has guided the club to two wins (one being a Hospital Cup tie) since taking charge on the pitch.

Simpson was very honest when speaking about the club's predicament, which is a shame because he always offers a friendly welcome to the Ladywell Arena.

"Well it's tough, I'm not going to lie to you Stephen, it's tough. I've never known a season like this in all my years in football, playing, coaching, managing," he admitted.

"I've put together a squad, ultimately I'm responsible, but we have to, I've got to keep trying to freshen things up, trying and new and different things.

"The directors are keeping me going. We've got a fantastic team of directors who are working their socks off. I dig deep time and time again to keep myself going.

"I'm not going to lie to you, it is tough and I can't allow the club that I build fall apart."

Simpson admitted he will step aside from the managerial role if someone offered their services.

"Absolutely, absolutely. Look, this is not about my pride and ego wanting to remain in the dug-out," he said.

"I shouldn't be in the dug-out, I know that. I want to give opportunities to talented managers and coaches. I've done that over many, many years. I know people call me the sacking chairman, that's not even true. I don't go round randomly and routinely sacking managers and coaches. I want people to come in and learn their trade and help me develop things on the playing side.

"It has to be the right people coming into the club who are prepared to work with the board in tandem. We want people to come in and express themselves and develop players, existing players who are already there. We don't want managers and coaches coming in, bring in their own personnel and when they feel it doesn't work out, they take all their personnel with them and we're left scratching around. This is what's happened to us over a period of time.

"I'm more than happy to talk to potential managers and coaches out there who are interested in the job. It's going to be a tough job. I'll back and support you all the way. It's difficult because we don't have a budget. What we do have is a great stadium, we really have, it's a great level of football."

The sole relegation place may be taken up by the lowest ranked club that have failed ground grading, i.e floodlights – and Simpson wants to avoid winning the wooden spoon again.

"There is relegation, I think, at the moment it will be one down but I'm not quite sure how things will pan out because I know there's teams who are struggling to get the level of facilities but I don't want to keep finishing bottom. I don't want to rely on teams because they haven't got the facilities up to scratch and we remained in the league through that.

"We're an embarrassment, we really are. Ultimately I take full responsibility for all of this. I brought in the personnel, I believed in them. I trusted them. A lot of them do want to stay and keep us through this."

The simple truth is that the players are not good enough and Simpson must bring in a management team and new playing squad good enough to win football matches.

"I certainly need to get out of the dug-out," added Simpson.

Lewisham Borough: Alexander Kibbey, Oman Kebapci (Jite Edumijeke 13), Jeremie Lacaze, Reece Walker (Cameron Deighton 62), Danny Foot, Sean Jarvie, David Tshibangu, Alan Robinson, Danny Bransbry, Joseph Camara, Emmanuel Kadiki (Gianluca Costa 46).
Subs: David Smith, Hamed Coulibaly

Booked: Danny Bransbry 64

Ashford United: George Kamurasi, Matt Kirby, Brandon Williams, Ryan James, Danny Lye (Luke Miller 46), Pat Kingwell, Ryan Palmer (Ben Davisson 54), Luke Eldridge, Shaun Welford, Stuart West, George Savage (Callum Howland 70).
Subs: Paul Booth, Owen McLeod

Goals: Luke Miller 51, 59, Stuart West 54, Shaun Welford 58, Ryan James 66, Alexander Kibbey 85 (own goal)

Attendance: 89
Referee: Mr Valentine Anekwe (Bromley)
Assistants: Mr Tony Woods (Bexleyheath) & Mr Kevin Greenhead (Bexleyheath)

Coverage Sponsored by: