K Sports manager Kris Browning: I'm really pleased to gain promotion to the Southern Counties East Football League Premier
Friday 06th April 2018
K SPORTS manager Kris Browning says everything will be in place to take their place in the Southern Counties East Football League Premier Division next season.
The club sealed promotion following their 3-0 win at Phoenix Sports Reserves last Saturday.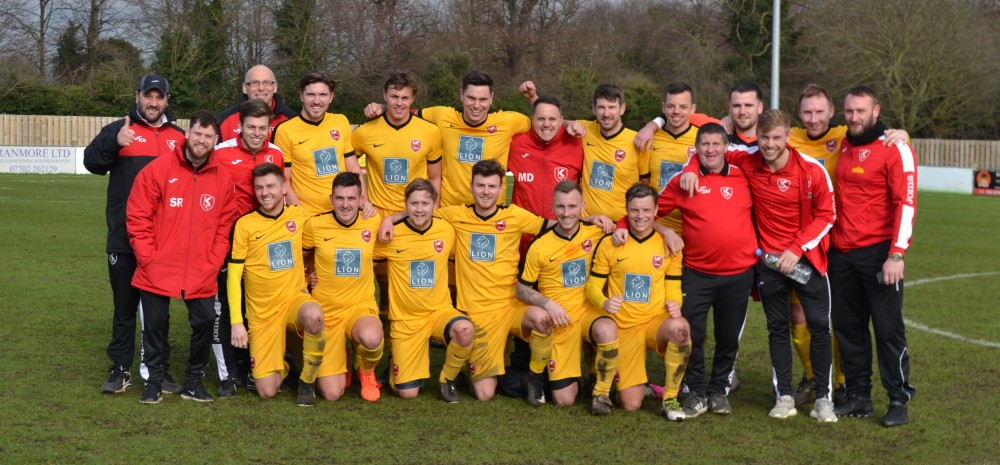 GOING UP!: K Sports seal promotion and will play in
the Southern Counties East Football League Premier
Division for the first time when the new season gets
underway in August.
Photo: Alan Coomes

Browning's side have banked 81 points from 32 games and are four points clear of Punjab United, who have a game in hand. The Gravesend based club can also seal promotion with a win at Phoenix Sports Reserves tomorrow too.

Browning said: "I'm really pleased to gain promotion to the Southern Counties East Football League Premier – as people keep saying to us "you're just a small club from Maidstone!"

"We have been hard at it since the start of June. I had two of my players wanting to do the coaching in Michael Dodsworth and Martin Di Fede and to be honest they have taken us to another level!

"We gave ourselves targets from day one. First was to try to get off to a good start. It was a mixed start to be fair and then our aim was to be in the top four by the New Year and I think we were second.

"We have just got better and better over the last few months.

"The turning point was when we got the draw away to Fisher, a penalty in the 97th minute, to be fair they battered us second half and should've been out of sight but we hung on and since that game we haven't looked back!

The Aylesford based Paperboys are putting in ground improvements at their ground.
"The ground is coming along and we will have new changing rooms and a stand being built behind the goal starting in September so we're all on track," revealed Browning.
"Alan Dennington and the K Sports organisation have been outstanding for us to be fair and we owe them a great deal! They are fully behind us!
"We have a young side and if we all stick together we should be ok for next season, obviously we will look to strengthen in certain areas as in that Premier it's a great standard with some established clubs!
"Our reserves have had a good season and we have some great talent in our under's 18's and 16's, so I won't be afraid to use them. Plus the under 19s Academy starts at the club in September run by Darren Hare.
"Off the field, Mark Pickup and Paul Atkins took over as joint chairmen at the start of the season as we unfortunately lost Phil Hudson to work commitments, Phil being the one to get the club on its feet.
"Mark and Paul have done a tremendous job for us and it's the reason we have done well this year.

"With going up we will need help in other areas of the club as with this season we have been overstretched, so if there's anyone reading this who can spare a few hours a week please contact us!"

K Sports host sixth-placed Kent Football United tomorrow.

"I like Ennio Gonnella, their boss. We have had a couple of fall outs but never anything silly and he is always first to shake hands and get on with it.

"They have been unlucky with the points loss thing but he has stuck with it when most people would've walked, that takes character. We expect a tough game on Saturday."

Visit K Sports website: www.ksports-fc.co.uk

K Sports v Kent Football United
Southern Counties East Football League First Division
Saturday 7 April 2018
Kick Off 3:00pm
at Station Road, Aylesford, Kent ME20 6AU