Isthmian League set to announce new title-sponsorship deal with a national brand
Saturday 15th June 2019
The Isthmian League will announce their new sponsor on the first day of July after announcing they have come to the end of their two-year deal with Bostik.


The League held their Annual General Meeting in Brighton today and a statement said: "The big news is that the League will have new sponsors for the start of next season.

"We'd like to sincerely thank Bostik for their support over the last two years, which has been greatly appreciated and has made an enormous difference to our club's.

"We're rather delighted with their replacements too but they will not be announced until 1 July.

"The new contract is with a national brand who wants to work with us because of our growing digital footprint and will last for an initial two years. We're excited to have them on board."

Meanwhile, Vanarama, the sponsors of the three-tiered National League, have also come on board.

"Vanarama will be our very first Vehicle Leasing Partners and we're delighted to work with a company who have, over many years, shown enormous support for non-league football," added the statement.

"Soccer Supplement will be our nutrition partner and every team will get bottles, holders and energy gels. Club's will also get a significant discount on further products."

Meanwhile, VCD Athletic manager Keith McMahon picked up the Golden Boot award for his star striker Charlie MacDonald, 38, who will remain at the Crayford-based club next season.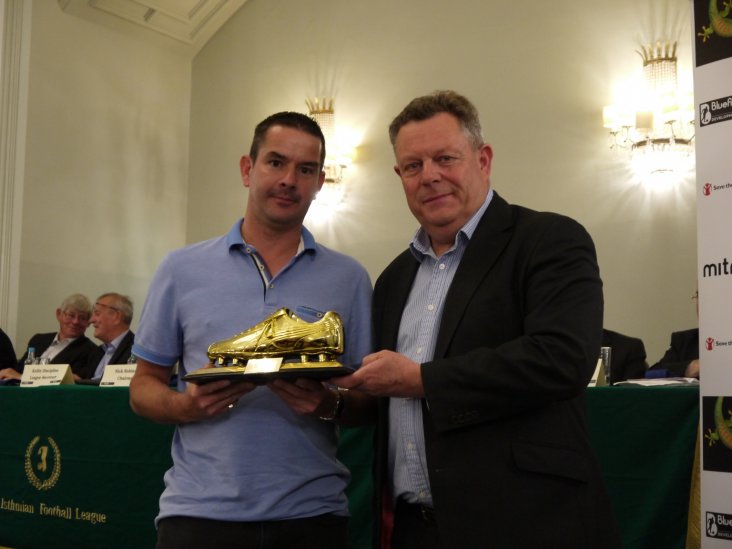 VCD Athletic manager Keith McMahon receives Charlie MacDonald's Golden Boot.
Photo: Isthmian League

Ashford United picked up an award for the best programme in the South East Division, while Sittingbourne picked up the Respect award for that division.

Fair Play awards were presented to Tonbridge Angels and Ashford United.

Visit the Isthmian League website: www.isthmian.co.uk