Sutton Athletic condemn "scumbags" on their bitter sweet day - Lydd Town defender Harry Yates, 24, involved in serious car accident on his way to work
Friday 26th February 2016
SUTTON ATHLETIC have condemned the "scumbags" that vandalised their ground at Lower Road this week.
The Hextable-based Pain & Glory Sports Kent Invicta League club issued a statement on Twitter on Tuesday about their "bitter sweet day."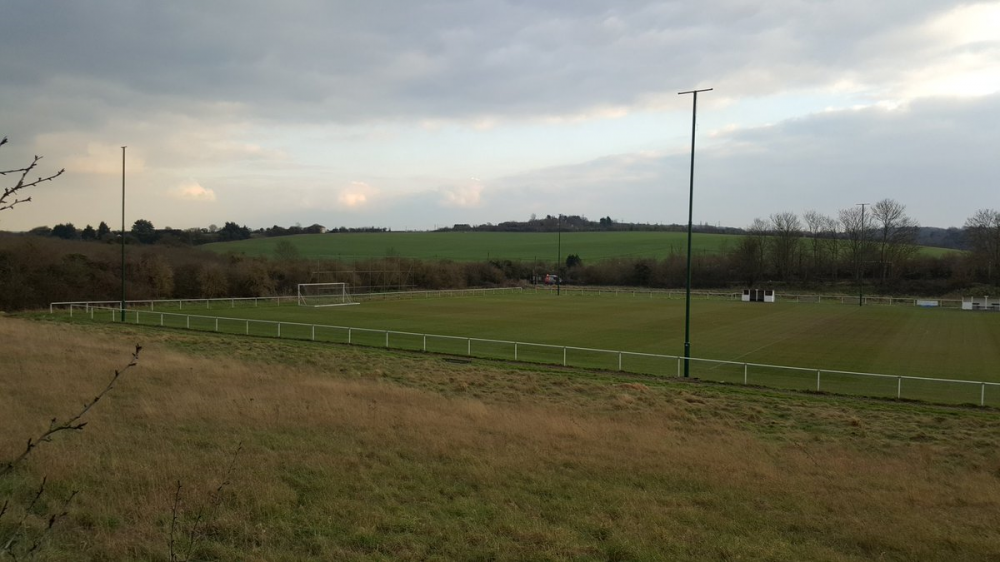 PROGRESS: Sutton Athletic have raised the money themselves to install floodlights ahead of the 31 March deadline to get their ground up to Southern Counties East Football League Division One staus for next season
Photo: Sutton Athletic FC

"Bitter sweet day for the club. On the day works have started on the floodlights we found the clubhouse had been burgled," said a club statement.

"The scumbags also vandalised the away changing room, tv's, bar stock, copper pipes and even socks and shorts were stolen."

The club feared that tomorrow's home game against Lewisham Borough may had to be called off or played at another venue.

"We will be trying our hardest to get game on for weekend. We may need to play at another venue until away changing room and showers are repaired," said the club.

The village club added: "The club would like to say a massive thank you to all the people and clubs that have shown support this week."

The Sutts are in fourth-place in the table on 52 points from 23 games, host a struggling Lewisham Borough side to Lower Road tomorrow.

The visitors' have only Eltham Palace below them in the table and have won one and drawn four of their 26 league games.

Sutton Athletic have raised the funds themselves for the floodlights and added: "Floodlight poles fully erected and painted. Should be fully operational in 3-4 weeks.

Meanwhile, league rivals Kent Football United have confirmed that AFC Mottingham will be playing at their ground at Lowfield Street in Dartford next season.

Lydd Town defender Harry Yates, 24, was involved in a serious car accident involving a crash involving two cars in Charing Hill while on his way to work yesterday morning.

Emergency crews were called shortly after 08:00 to the scene on the A254 between Faversham Road and the village of Charing.

Fire crews were called to free Yates from the wreckage of his car and he was airlifted to Kings College Hospital in London after suffering serious leg injuries.

Liam Smith, who manages the team alongside his father Dave, said: "He had an operation last night to get his knee sown back together and hip popped back in. He's not out of the woods yet."

www.kentishfootball.co.uk send our best wishes to Harry Yates and our thoughts are with his family, his friends and Lydd Town during this sad time – as well as the woman and teenager in the other car.

The Kent Invicta League will be no more after five seasons at the end of the season as it will merge to become the Southern Counties East Football League Division One.