It is a big step but I feel confident I can play in League Two and training every day will only improve me, says Alfie May
Sunday 01st January 2017
HYTHE TOWN striker Alfie May has penned a two-and-a-half year contract with third-placed League Two side Doncaster Rovers.
The 23-year-old has scored 27 goals for the Cannons this season and has signed for Darren Ferguson's side, after impressing on trial, for an undisclosed transfer fee today.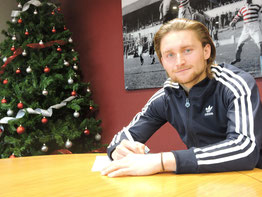 DEAL: Doncaster Rovers have signed Kent's goal-machine Alfie May from Hythe Town for an undisclosed transfer fee.
Photo: Doncaster Rovers FC
Hythe Town chairman Paul Markland told www.hythetownfc.co.uk: "Alfie has been scoring plenty of goals and has been noticed by several Football League clubs.
"Doncaster were keenest and, after a bit of negotiation, we settled on a deal that we are happy with, including a sell-on percentage. They were astute, but fair and professional, and didn't play the big club-little club card.
"I am glad we have helped Alfie into a career as a professional footballer, I'm sure he will do well."
Hythe Town have already signed Alfie's cousin, Jay May, and Dean Grant so firepower will not be a problem for Clive Cook's men as they bid to win promotion at the end of the season.
Cook added: "Alfie now has the opportunity to realise his dream to be a professional footballer and I know he will take it with both hands.
"He is a smashing lad, easy to manage, easy to get on with and thoroughly deserves to go into full-time football. That's what he wanted and that's what he has got through hard work, talent, dedication and honesty.
"Alfie came to Hythe Town 16 months ago after I became manager and the first thing that came to mind was what an incredible talent he has. He made 67 appearances for us scoring 49 goals, a fantastic return at any level of football.

"I would like to thank Doncaster for giving Alfie the opportunity to realise his ambition. Also, I was pleased to have it confirmed that Football League sides do look at non-league players. My challenge now is to find the next Alfie May, a big ask but I know they are out there!"
Ferguson told www.doncasterroversfc.co.uk: "Alfie's got good potential. There are a lot of things I like about him, mostly his attitude. He's got an absolute desire to be a player and that was the real thing for me.
"The level he's been getting goals at is obviously nowhere near what he is coming into but he is a natural goalscorer.
"He had a week with us in November, which gave us a chance to look at him and him a chance to look at us.
"Hythe have been excellent in terms of managing his situation and his manager has too, in terms of letting us do that."
Millwall snapped up striker Harry Smith from Ryman Premier League side Folkestone Invicta during the summer and the 21-year-old has scored eight goals in six appearances for the League One outfit.
May has the talent to make a name for himself in League Two with his new club.
"From the minute I met the players, they came out their way to ask where I was from and introduce themselves," May told Doncaster Rovers' website.
"It made it so much easier and took a lot of weight off my shoulders.
"It is a big step, but I feel confident I can play in League Two and training every day will only improve me.
"I've done really well in non-league with Hythe Town. I've felt they've really got the best out of me but working with Darren Ferguson as manager is different. I reckon he can get goals out of me too."
Fifth-placed Hythe Town host fifth-from-bottom Ramsgate at Reachfields Stadium in the Ryman League Division One South on Bank Holiday Monday, 2 January 2017 (15:00).
Visit Hythe Town's website: www.hythetownfc.co.uk