Holmesdale part company with manager Lee Roots despite a top-eight finish
Sunday 29th April 2018
HOLMESDALE begin the search for a new manager after parting company with Lee Roots.
The Bromley based club finished their league campaign on the back of a 4-3 defeat at Erith & Belvedere yesterday, which saw the amateur club finish in the top eight in the Southern Counties East Football League First Division table with 56 points from their 36 league outings.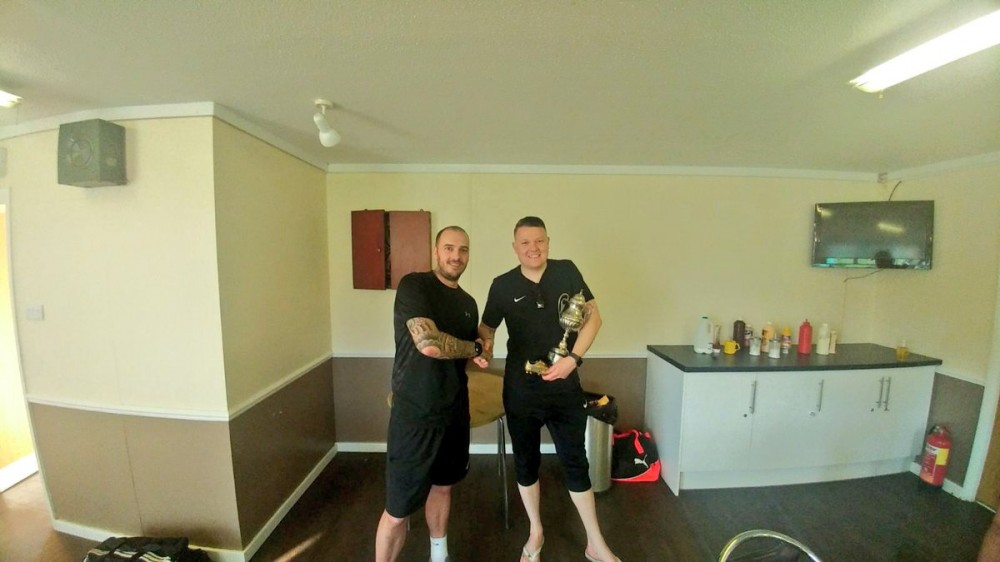 Holmesdale have parted company with manager Lee Roots (left) despite a top eight finish in the Southern Counties East Football League First Division. Roots presents striker Andy Constable, with the clubs Golden Boot award after the 39-year-old scored 24 goals in 25 appearances for the club.
Photo: Holmesdale FC

The Dalers started the campaign with Ian Varley in charge but Roots took over when Varley took over a job in the Premier Division with Rochester United but that role lasted nine games and finished the campaign as assistant manager in the Bostik South with Sittingbourne.

Roots, a former Holmesdale player, was in charge at Oakley Road for 31 games in all competitions winning 15 of them but finished the season without a win in five.

Chairman Ray Tolfrey confirmed the departure of their manager by text message at 20:13 last night, saying "Just to let you know Holmesdale part company with Lee Roots."

A club statement added: "When Ian Varley left the club to go to Rochester, Tony Beckingham was asked to manage the team with Lee until the end of the season.

"It was always Tony's intention to step down at this point and for the management situation to be reviewed.

"After several meetings with Lee, we have mutually agreed to a parting of ways.

"We would like to thank Lee for his dedication and professionalism throughout the season and as a club we wish him well in his future management career.

"We will be talking to candidates for the role over the next couple of days and hope to confirm an appointment by Wednesday."

Roots said tonight: "I can announce that I have resigned my position of first team manager of Holmesdale with immediate effect. Good luck and all the best for the future."

Beckingham will stay at the Oakley Road club in an off-the-pitch capacity.