Hollands & Blair 3-2 Lydd Town - We've got ourselves in a great position, says Hollands & Blair boss Paul Piggott
Sunday 22nd March 2015
HOLLANDS & BLAIR 3-2 LYDD TOWN
Pain & Glory Sports Kent Invicta League
Saturday 7th February 2015
Stephen McCartney reports from Darland Avenue

HOLLANDS & BLAIR boss Paul Piggott has challenged his side to hold their nerve for the rest of the season after winning a feisty top-of-the-table match against Lydd Town.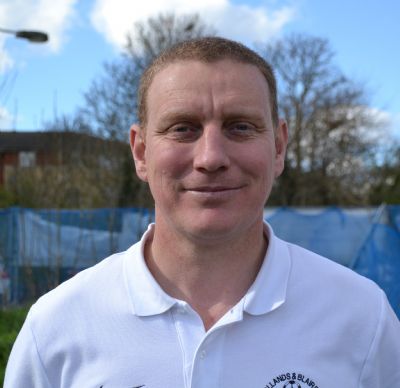 TABLE TOPPING: Paul Piggott has guided Hollands & Blair back to the top of the table
Photo: www.hollandsandblair.co.uk

The Gillingham-based side leapfrogged the Lydders to return to the summit of the Pain & Glory Sports Kent Invicta League table on 48 points from 19 games after winning their tenth game on the bounce to move two points clear of their title rivals, who have played a game more.

Referee Stuart Marriott brandished ten yellow cards (six of them going to Lydd Town) as there was no love lost between these two bitter rivals.

Lydd Town, however, drew first blood, taking the lead against the run of play, courtesy of the first of two free-kick goals scored by left-winger Matt Collins.

But two goals from right-winger Justin Ascheri put Hollands & Blair in the driving seat at the break, before Collins equalised from another free-kick early in the second half.

Stuart West's seventeenth goal of the season sealed Blair's sixteenth league win of the season and puts them in the driving seat in the title race, although Lydd Town can reclaim first place next weekend with an away win against struggling Kent Football United next weekend.

Piggott emerged from the dressing rooms first and said: "A win. That's my thoughts! We've gone top of the league. They were top. We've won and we've got ourselves three points today, so we're over the moon."

When asked about the feisty affair today, Piggott replied: "Lydd-Blair games are. They're two sets of people who want to win games of football and that's what you'll get when you get winners out there."

The Lydd Town boss replied: "It was always going to be! There's no love lost between our sides. We've played these so many times over three seasons when I've been involved. It's never friendly and that's it!

"We don't like them and they don't like us, I don't think so that's just the way it is.

"We're top sides, we've got respect for them and they've got respect for us but we won't hold back and they won't hold back. It's just what it is. It's how football should be in my eyes."

Lydd Town boss Dave Smith was bitterly disappointed with his side's first half performance after suffering their fourth league defeat of the season, one more than their opponents.

He said: "I thought we was poor in the first half, let them bully us the whole of the first half.




BULLIED: Lydd Town boss Dave Smith claims his side were bullied by their title rivals
Photo: www.lyddtownfc.co.uk

"Second half we reacted really well, played decent in the second half, got back in it, probably could have nicked an equaliser, probably could have been deserved over the 90 minutes, debatable, but I thought our play in the second half deserved another goal."

Hollands & Blair dominated the first half kicking down the slope, creating seven chances on target, five off-target, compared to two chances (one on target) for the league leaders.

They should have taken the lead after only 191 seconds when 36-goal striker James McDonald was played through on goal but Craig Smith came off his line to make the first of a string of good saves, this time using his legs to block.

Piggott praised the Lydd keeper by saying, "He made a good save. He made a good double save a bit later on from Westy. He kept them in the game, that and some poor finishing probably stopped the game being an non-entity in the first half I think."

"He (McDonald) got himself in some good positions with his movement and supply from his team-mates so he'll be disappointed. I know he ain't scored today, but he's the best finisher in the league by a country mile."

Dave Smith added: "Craig had a good game, the whole game actually. First half I thought he was outstanding, three or four brilliant saves. He's a good keeper and he proved today what a good keeper he is."

Sam Prescott then won his midfield battle inside his own half before cutting the ball back to Scottish left-back Bryan Greenfield, who clipped a long ball over the defence to release McDonald, who drove his shot past the near post when he only had the keeper to beat.

West was then released down the left and he played the ball inside to Ascheri, who blasted his shot high over the bar from 22-yards.

But Lydd Town grabbed the lead against the run of play with their first attempt after fifteen minutes.

An eagle-eyed assistant (Mark Cheeseman) alerted the referee that the ball was placed in the wrong place, so Collins was forced to move the ball forward a yard.

But Collins clipped his right-footed free-kick over the wall, leaving Hollands & Blair keeper James Smith rooted to the spot as the ball sailed into the top left-hand corner from 20-yards.

Dave Smith said: "It was a great free-kick. I think the keeper left a big hole and he put it in it. I've seen him do it before.

"It was a good start, probably flattered us a little bit because we were under pressure and they turned the screw."

Piggott added: "He scored a couple of free-kicks. There was a bit of mind games with free-kicks. He put one in one corner, the first one and one in another corner for the second one, so fair play to the lad.

"We heaped a little bit of pressure on ourselves today with silly free-kicks but when good sides put you under pressure, that's what happens. You do give away silly free-kicks because you get too eager to get the ball but it probably was against the run of play."

Hollands & Blair were keen to get the ball forward as early as they can during the first half and Greenfield swept forward a free-kick from inside the centre circle, the ball was flicked on by Prescott and McDonald's looping header from eight-yards dropped just over the crossbar.

But Lydd Town keeper Craig Smith kept his out-played side in the game by making a brilliant double save at the half-way point.

Greenfield swept another free-kick forward, the ball was flicked on by West and fell at McDonald's feet. His low angled drive from a tight angle was parried by the keeper low to his right, who recovered to smother the ball into his hands to prevent West pouncing on the rebound to score from a couple yards out.

Dave Smith said: "Again, he had a great game. His saving was brilliant and his catching. He didn't make a mistake in the whole game."

Piggott added: "Great save, especially the second one. He's reacted to get back up and make the second one. I felt he's kept his side in the half."

But the visiting keeper failed to prevent the inevitable, a deserved Hollands & Blair equaliser in the 29th minute.

Man-of-the-match Jordan Gallacher progressed down the left and whipped in a low cross across the face of the penalty area. Lydd failed to clear the ball and Ascheri swept a low left-footed shot into the bottom left-hand corner from six-yards, despite the keeper's efforts to keep the ball out beside the foot of the upright.

Piggott said: "We keep going on at our players to play in wide areas and getting into good positions when the ball's on the other side of the pitch and to be fair to him after about the 3000th time of telling him he's finally got it and he's got his goals to justify it."

Dave Smith added: "Just poor defending. We should have been stronger! All the way through the first half, we wasn't strong enough in any challenge at all."

Hollands & Blair then swept forward and created four chances to turn their dominance into goals.

Piggott said: "The goalkeeper pulled off (saves that) probably kept the game alive for the 45 minutes because I thought we dominated and created so many good chances."


Lydd Town's central defensive skipper Ryan Smith lost the ball to McDonald, who cracked a right-footed curler sailing agonisingly around the top of the far post from sixteen-yards.

Ascheri then cut in from the right and sent his left-footed angled drive sailing over the crossbar.

Steve Dampier then clipped a long ball out of defence straight through the heart of Lydd Town's defence but McDonald directed his header straight at the keeper when he only had him to beat.

Greenfield then progressed down the left and whipped in a delicious cross towards the far post where McDonald's header brought another great save from Craig Smith, diving to his right to claw the ball towards safety.

Lydd Town created their second and last chance of the first half when Collins played the ball inside to 19-goal striker Gary Lockyer, but he drilled his speculative right-footed drive sailing harmlessly wide of the far post from 35-yards.

Hollands & Blair's dominance, however, paid off, going into the half-time interval in the lead, courtesy of Ascheri's sixth goal of the season in the 43rd minute.

West fed the ball to McDonald, who rode Harry Yates' sliding challenge, before playing Gallacher in behind the defence. The winger swept the ball across goal towards the far post and Ascheri steered his left-footed shot into the bottom far corner from six-yards.

"Pretty much the same as the first goal, thins that we spoke about, people getting in the right areas," added Piggott.

"I'm glad that they've finally listened to some of the things that we're trying. We dominated quite well but they were still in the game at 2-1.

"They're dangerous, they've got people who can hurt you so although we dominated and I felt we had the better chances, it was still game on."

Dave Smith added: "Exactly the same. We wasn't strong enough at the back. We wasn't winning 50-50's, letting them create chances."

Both managers were asked their thoughts at the break.

Piggott said: "Pretty much as we were. We were a little bit disappointed with our finishing. I couldn't ask for more from the lads in the battle and creating chances.

"Defensively, I thought we done well. We can improve on our finishing but we knew they would come at us. We knew they were losing, they're top of the league and we knew they would come at us. We knew there was going to be a reaction to that first half."

Dave Smith admitted he expected better from his side.

"We was poor in the first half! I said to them at half-time, it's probably the poorest displays I've seen. We normally play football. The pitch was difficult to play on but I said there's no excuse not to try and play.

"I thought we panicked. We were trying to hit killer balls, one touch, pass straight away and we were giving the ball back. It's not the way to play these. The way to play these is to get the ball down on the floor and take them on and make them commit and get in behind them."

Hollands & Blair created the first chance of the second half when Ascheri cut into the edge of the box, before being tackled and McDonald drilled his right-footed drive over the bar.

Sloppy defending from Ryan Smith gifted the ball to Gallacher, who sprinted down the left and he played the ball inside to Ascheri, who drilled his right-footed shot into Craig Smith's hands.

But Lydd Town, who later substituted both of their full-backs to tighten up their defence, grabbed a second equaliser with 53 minutes on the clock.

Collins won the free-kick himself, despite going in strong on Prescott and stepped up to curl his right-footed free-kick around the wall and past the despairing dive of keeper James Smith to find the bottom right-hand corner from 22-yards.

Dave Smith said: "Same again, another free-kick. Different side, fooled the keeper, good finish and we deserved that by the way we started the second half."

Piggott added: "On the first free-kick he stuck it in one corner and from the same position he stuck it into the other corner from there.

"Free-kicks are free-kicks. We wasn't opened up. They're weren't people who split up in half or anything like that. It was set-pieces and sometimes when you've got someone who can finish like that, which we knew he can because we've watched him a few times. Fair play to the lad."

But Hollands & Blair maintained their push for their second successive title by scoring the winner just 233 seconds later.

McDonald swept the ball out to Gallacher on the left, who went on to whip in a low cross, which Lydd left-back Owen Kassack failed to get out of his penalty area and West pounced on the loose ball, driving his left-footed shot into the bottom right-hand corner from 12-yards.

Piggott praised his side for their character, by saying, "That's one thing this team, we've got bundles off, is character. They've shown that in the past and they've shown even now that they're still up for fighting. They still want to win games of football and they still want to win this league and that came out today, I think.

"He's a bit of a battering ram for us and he's finishing isn't probably the best part of his game but I thought he took it quite well today on his left foot.

"I thought he was quite composed and fair play to him because his work-rate alone, he deserved a goal."

By this point, Dave Smith was sounding like a stuck record when he admitted: "Poor defending again. We were hesitant again. Wrong people going for the ball, we left ourselves open for the finish, again poor. Only the poor bit of defending we did in the second half."

Lydd Town responded to that set-back and Lockyer swept his shot straight at James Smith at his near post from the corner of the penalty area.

At the other end, another Greenfield free-kick was pumped forward with his left-foot and Tom Michelson's header looped into the keeper's hands.

Lydd Town forced a save from the Blair keeper in the 63rd minute.

Steve Ward played a low ball in from the right to Carlum MacLeod, whose right-footed drive forced James Smith to make a low save to his right.

The game then turned into a midfield battle but Lydd Town should have forced an equaliser in the final eighteen minutes.

Lockyer latched onto a mistake from Dampier and MacLeod played the ball in behind Tom Staff and Lewis Taylor to put Collins through on goal but his left-footed dink from a tight angle was clawed away by the keeper at his near post.

Collins then had five chances to equalise from free-kicks just outside the Blair penalty area.

Piggott said: "We've already been punished twice with the free-kicks so one of the things we preached was not to give away any more silly free-kicks but when you're playing against good sides they put you under pressure and that's what pressure does.

"To be fair to Lydd they did come out second half and they were camped in our half quite a bit second half and that's what pressure does. It gives an opportunity for people to get in your half and get free-kicks and that's what they did."

Collins persuaded Lockyer to move away from the ball and from 30-yards, his free-kick was deflected off the wall. Boss Dave Smith insisted Blair should have been reduced to ten-men following a handball from within the wall.

He said: "I was a bit aggrieved with the one what he took and the guy blocked it with his hand in the wall, not inside (the area) but it's deliberate handball!

The manager claimed: "I spoke to the referee, he said, 'yes, deliberate handball, should've been a booking, I forgot to book him!'

"If he booked him, he's sent-off. He's already been booked. They're down to ten men with 20 minutes to go. It may have made a massive difference to us.

"The referee admits he's wrong. I don't use it as an excuse admitting you're wrong when it's so blatant. You get a free-kick and a booking wrong but deliberate handball ten yards away, that's not wrong, that's just not wanting to send a player off the pitch.

"I don't want to see a player sent-off but that's a sending off all day long! Booked, handball, off!"

Collins curled another right-footed free-kick around the wall and agonisingly around the foot of the far post from nineteen-yards.

His next one, from 25-yards, went over the wall and dipped into James Smith's hands for a comfortable save.

Lydd Town were then awarded another free-kick, this time from 22-yards, which Collins' effort deflected off the wall and dropped over the bar.

Lydd squandered an excellent chance inside injury time when substitute left-back Richard Quigley whipped in a free-kick from the right, which sailed over the keeper and clipped the inside the of the far post but Mark Wallis managed to send his header over the crossbar from inside the six-yard box.

Hollands & Blair have eleven league games left to play but before their home game against Bridon Ropes on 28 February, they play two semi-finals at home.

They welcome Glebe in the Kent Invicta League Challenge Trophy next Saturday, before Southern Counties East Football League side Corinthian visit in the Kent Senior Trophy the following weekend.

Piggott said: "We're top of the league, simple as that. That's where we want to be. We know what our main goal is this year and today's result has gone a fraction of the way of helping towards that so we're happy with our spoils today.

"We've got ourselves in a great position. We're in two semi-finals. We're top of the league but I've said before the top four sides in this league, I think, can take points off anyone so if anyone thinks they can count their chickens now will lose the title. We certainly won't count our chickens. I honestly believe that because the points alone on the table, there's still not much in it in the top four or five and they're taking points off each other so there's still plenty to play for.

"Last year we went out of two semi-finals and we were pig sick with that and we were very, very disappointed with ourselves so we've got ourselves another opportunity where we can put some wrong's right and that's what these bunch of players keep doing, they're putting the wrong's right so bring them on.

"We're looking forward to these two semi-finals. They won't be easy. We know that but we've got ourselves in good positions so we're looking forward to them."

The Gillingham based outfit have lost only one game at home and that was back in September and they've now won eight home games on the bounce since then.

Piggott said: "We like to think that we're hard to beat here so I'm sure Corinthian and Glebe will have something to say about that. They'll come here in the semi-finals, they've earned the right, the same as we have. We like to think we're hard to bear so we'll put up a bit of a contest."

Both bosses were asked how their side will cross the finishing line in first place.

Piggott said: "Discipline! That's what it takes at this time of the season and that's what I keep telling the boys now, is to keep doing the right things in training, the right things on the pitch and not getting silly bookings, not making silly decisions on the pitch.

"It's holding your nerve and discipline. I know my boys can do that. We've proved that before and that's what we need. We need to hold our nerve and we'll be in the shake-up come the end of the season."

Dave Smith added: "I'm surprised because they're now top with a game in hand so we now need to win our ten games, that's what we need to do to keep the pressure on them.

"I think they're involved in the cups next week. We've got a league game. We just need to win our game next week and go from there. It's all we can do.

"It's a similar scenario to last season. I can see it re-occuring that we're chasing them. We just have to do our bit and keep the pressure on.

"Last year we wilted a bit but this time, I've told the guys after that we need ten wins, that's it, ten wins. If we come third, fourth, second, first, if we get ten wins, we'll see where we are."

Hollands & Blair: James Smith, Lewis Taylor, Bryan Greenfield, Sam Prescott, Steve Dampier, Tom Staff, Justin Ascheri (Luke Fewsdale 76), Tom Michelson, James McDonald, Stuart West, Jordan Gallacher.
Subs: Ashley Doe, Joe Clark, Clint Gooding, Lee Challis

Goals: Justin Ascheri 29, 43, Stuart West 57

Booked: Bryan Greenfield 24, Sam Prescott 52, Justin Ascheri 68, Steve Dampier 90

Lydd Town: Craig Smith, Matt Hadlum (Barrington Beaney 54), Owen Kassack (Richard Quigley 64), Ryan Smith, Harry Yates, Guy Connelly, Steve Ward (Chris Wyles 64), Mark Wallis, Carlum Macleod, Gary Lockyer, Matt Collins.
Subs: Joe Sullivan, Chris Clements

Goals: Matt Collins 15, 53

Booked: Matt Collins 53, Mark Wallis 67, Gary Lockyer 75, Barrington Beaney 87, Richard Quigley 89, Harry Yates 90

Attendance: 89
Referee: Mr Stuart Marriott (Deal)
Assistants: Mr Mark Cheeseman (Teynham) and Jack Fagg (Canterbury)