Hollands & Blair 3-1 Glebe - We weren't at our best tonight, admits Blair boss Paul Piggott
Sunday 22nd March 2015
HOLLANDS & BLAIR 3-1 GLEBE
Kent Invicta League Challenge Trophy Semi-Final
Wednesday 25th February 2015
Stephen McCartney reports from Darland Avenue

TREBLE-CHASING Hollands & Blair manager Paul Piggott says he is pleased to have reached the Kent Invicta League Challenge Trophy Final.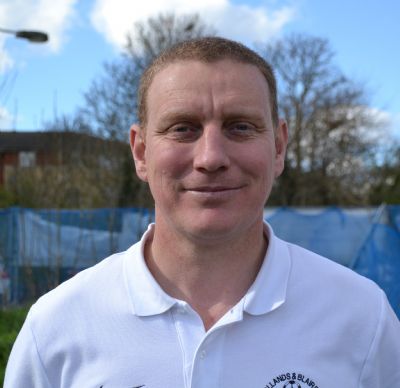 FINAL: Hollands & Blair boss Paul Piggott says he's pleased to reach a cup final this season.
Photo: www.hollandsandblair.co.uk

The Gillingham based club will play Bearsted in the Final at Meridian VP's ground in Charlton on Good Friday, 3 April, after beating Glebe 3-1 underneath the floodlights at Darland Avenue.

Skipper Stuart West opened the scoring during the first half with his eighteenth-goal of the season, before strikers Rob Denness and James McDonald got in on the act during the second half.

Ryan Golding then headed home Glebe's only goal of the game in what proved to be the Bromley-based club's biggest game in their history in only their second campaign in the Kent Invicta League.

"We're in a final. It weren't the prettiest tonight. We weren't at our best possibly but we didn't get to a final last year but we've just got to one so we'll enjoy it," said Piggott, whose side have now won their last eleven games.

"I thought Glebe got better as the game got on. They put us under a lot of pressure in the last twenty minutes. I'm trying to put my finger on how they put us under pressure but sometimes you have to credit the other side.

"There was a final place at stake today and they worked their nuts off to try to get themselves back in the game so we'll give them a little bit of credit."

Glebe manager Simon Copley admitted he wasn't pleased with his side's application during the club's biggest game in their history.

"When all the games were cancelled we spent time working on our shape against them, how they like to get the ball out wide and put the ball in the box and we worked on a bit of shape to stifle it but you wouldn't have thought that today in the first half because it was messy, it was untidy.

"There were some – I don't like to call them big name players – but players that have played at a higher level that under performed. They were lazy, didn't do what we asked and then with a goal against us – albeit a blatant handball in the box – we've got a mountain to climb.

"In the second half we gave a bit of a go at it, but it wasn't the game plan to frustrate them. I'm frustrated with us over the 90 minutes, not so much the result, I thought it was possibly fair, just frustrated with us because we didn't do what I know we can do."

Sixth-placed Glebe should have opened the scoring after only 109 seconds when a poor throw from Blair keeper James Smith was intercepted by Jaie Nuttall, who put Golding through on goal but from a tight angle he steered his shot across the keeper and past the far post.

Copley said: "Ryan Golding was put through. I don't think he should score from that angle. I think the goalkeeper should have that covered. The goalkeeper set himself and when he does go through you're hoping it goes in but I wasn't expecting it to go in."

Second-placed Hollands & Blair, who are one point behind Lydd Town, but with two games in hand, created their first opening inside nine minute when Denness' diagonal pass found McDonald at the far post and his left-footed angled drive was punched away by Glebe keeper Alfie George high to his right.

Copley, who coaches at the West Ham United Academy, was impressed with Denness.

He said: "When we played them at home he stayed in the middle of the pitch but I don't know what he's been taking but he was all over the pitch tonight!

"He caused us no end of bother at the back with his runs. Our striker (Golding) was a bit of a lone figure at times, with not much support around him, which we changed in the second half. We changed personnel, we put James (Pinnock) and Jordan (Clark) at the back to put a foot-hold in the game and we started testing their keeper a bit more. I thought we could have sneaked a couple of goals in the second half."

Piggott, who guided the club towards the Kent Invicta League title last season but were denied promotion after the club lost their appeal as their floodlights weren't ready in time, added: "The goalies had a good game today, theirs and ours but Macca misses chances but he'll still get in to the box to score."

Glebe wing-back Ryan Palmer stroked his right-footed free-kick around the wall from 35-yards, which Smith moved to his left to catch.

And Palmer's shot ricochet into Danny Gannon's feet on the edge of the box, which took a deflection and Smith made the save low to his right.

Glebe started the game well and Palmer swung in a corner from the left towards the near post and Tom Fitzgerald's near post header was cleared off the line by Jordan Gallacher.

Scottish left-back Bryan Greenfield went close when he cracked a left-footed free-kick screaming narrowly over the Glebe crossbar from 35-yards after 26 minutes.

Glebe keeper George made a fine save just 67 seconds before Hollands & Blair took the lead.

Smith launched a throw down the right to release winger Justin Ascheri down the right, who released Denness, who cut into the penalty area before cutting the ball back for Ascheri, who swept a first time shot towards the corner from 18-yards, which forced George to dive to his right to save.

But Hollands & Blair opened the scoring in the 36th minute through inspirational skipper West – although Copley argued that the goal should not have counted.

Greenfield clipped a free-kick into the box and Denness nudged keeper George before seeing his back-header clip the keeper and drop at West's feet, whom poked the ball into the bottom left-hand corner from two-yards, which angered the Glebe players.

Copley said: "I'd say handball. It's one of them. If it's my team doing that, it's not handball. The referee either sees it or he doesn't. I wouldn't say it's necessarily blatant. I think there was enough noise in the box.

"The linesman didn't give it either. He signalled it was a goal. When you play teams like this you need a little bit of luck and I don't think we had that tonight."

Piggott added: "We wanted to test the goalkeeper today to see what they're about.

"I felt we got the ball in a good area and Westy does what Westy does. The ball goes his way in six-yard boxes."

Reflecting on West's impressive goalscoring tally, the manager added: "He's played a couple (of games) up top in that little run but his goal scoring hasn't been the greatest since he's been at the club and he deserves to get a few more goals so I'm pleased to see he's got that amount."

Bromley-based Glebe were to be denied an equaliser on the stroke of half-time.

Palmer got his right-footed free-kick over the wall from 19-yards, which was destined for the top corner, but Smith produced a great save to tip the ball over the bar.

Copley said: "Very good save. I thought he could have gone the opposite side to be honest. The way he took the shot the keeper was coming across. He left quite a big gap on the other side of the post and I was hoping he'd just drill it straight into the corner but he's hit the target so you can't ask for no more than that!"

Smith conceded two Matt Collins' free-kicks in their 3-2 home win over Lydd Town in their last game.

Piggott added: "Great save because it's come over the wall and the last game we conceded two goals from free-kicks so they would have been playing on Smithers' mind tonight and we spoke about it. He's made a great save."

Both managers were asked what they told their troops at the break.

Piggott said: "Just carry on! We know how hard it is to defend that half when you're defending down that bottom goal. It's hard. You have to dig in. Your clearances are not the greatest when you're down there and we knew they had to do the same second half."

Copley added: "For the first time I'd ever given them a b*******ng for not doing what they were told to do because they were given a game plan!

"My words were I can change the shape and I can bring players on but I didn't feel we've achieved enough. I'll give it five, six, seven minutes. In that time the second goal has gone in so our hands been forced a little bit."

Hollands & Blair's first chance of the second half arrived four minutes in when another Greenfield free-kick found Gallacher out on the left and he played the ball inside to Denness, who set up West, whose snap shot on the turn went wide.

Glebe midfielder Gannon whipped in a cross from the right which found Nuttall lurking unmarked on the edge of the box, but the former Corinthian midfielder sliced his half-volley wide.

But Hollands & Blair doubled their lead in the 53rd minute, courtesy of Denness' fourteenth goal of the season.
West swept the ball out to Gallacher down the left, who danced into the penalty area before cutting the ball back for Denness to place his right-footed shot across George to find the far corner from sixteen-yards.

Piggott said: "It was a great, well worked goal, one of the goals I'm quite pleased about actually because it's one of the things we do in training. It was a little move we do in training. We tried it a thousand times in training and it's probably the first time that it's come off so that was pleasing. That's a good goal for us because it's something we work on."

Copley added: "It was a deflection, unfortunately you need these little things. I can't grumble. He's played well today. This lot are a well drilled unit and they do alright so I can't grumble. We've made a little bit of fortune for them as well."

It should have been three just on the hour mark when Ascheri whipped in a cross from the right touch-line and Denness made space in behind the two central defenders but hung his header straight at George from eight-yards.

"I think he just got underneath it," said Piggott.

"Again it was another good move, another good cross from Justin and he just couldn't quite get the pace off the ball that he needed to get it past the keeper."

Copley added: "Thankfully (it went over!). That's a little bit of luck that we needed but if that had gone in there at that time it's so deflating.

"We've given this lot a run for their money in two games, losing 1-0 and 2-1 and if you speak to their manager we've been decent in those two games but tonight we didn't perform."

Hollands & Blair duly made it 3-0 in the 67th minute when McDonald rolled in his 37th goal of the season.

Denness cut in and played the ball on the outside to McDonald, who slid his right-footed angled shot past the keeper to find the bottom far corner from 15-yards to maintain the record of Kent's leading marksman.

Piggott hailed his number nine by saying, "That's what Macca does. He goes in there earlier on in the game and the keeper makes a save and it doesn't really matter – he just keeps going!

"He's a goal machine and that comes with work rate, skill and desire to want to get in the box to score goals and he's got that in abundance. Rob and Macca link up really well, they complement each other."

Copley jibed: "He's a bit rubbish, ain't he? I think he needs to be on 40 at this part of the season! He scores a few and unfortunately he scored against us tonight.

"I understand he's had about 30 seven-dayers (approaches) put in for him already this season and he warrants that interest but if he wants to come to Glebe, he's more than welcome!"

Copley then made a double substitution and he was rewarded through Golding's header 119 seconds after the third goal of the game.

Gannon floated over a cross from the left, it was flicked on by Fitzgerald and Golding directed his header into the near corner, despite Smith getting his right hand to the ball.

Copley said: "It was actually the first time we got the ball moving from left to right and got their back four shuffling across. We moved the ball to the other side where they're weak – not weak as in their players are weak – that's where they're set.

"Golding's put it in the net and really straight after that we've got a chance of 3-2 and I'm thinking 'oh hello, you never know.' I'm looking at my watch with 10-12 to go and you never know, football's a strange game!"

Piggott admitted: "I missed it! I was just talking to Clint (Gooding), my assistant at the time and I missed the goal! I will own up to it so I'm disappointed with myself there so a lack of concentration on that one I'm afraid.

"I wished I had (seen it) so I can blame someone but I didn't see it!

"We didn't react the right way in there and we got punished for that."

The home side should have killed the game off when Ascheri swung in a corner from the left and Tom Staff came up from the back to glance his header just past the far post.

But Glebe dominated the closing stages of the game and were to be denied a second goal with fifteen minutes left when Golding was denied by a fine double save from highly-rated keeper Smith.

Piggott said: "They pushed us deeper and deeper and they pushed more bodies forward and they got the ball in well and tried to get it around us and to be fair they gave it a good go but that's one thing my players' have got – they've got a lot of character. They don't give away cheap goals. They stood firm and were counted and I felt they did that for all the pressure we was put under."

Copley added: "We didn't have much alternative really. I'm a realist so I can't say we were unlucky. We went for it. Hollands put everyone behind the ball and dealt with what came at them. I'm just disappointed we didn't do what we planned to do in the first half against them."

Golding then drilled in a low centre from the right, which Smith turned away, only as far as substitute striker James Pinnock, whose effort was blocked and cleared away.

Hard-working Blair striker Denness set up an opportunity for substitute Sam Welch, but the angle was too tight for him to trouble George, who opted to push the ball away to safety from underneath his crossbar.

Gannon hit a speculative 35-yard drive straight down Smith's throat, before Palmer's low shot across Smith was turned away to the diving keeper's strong right hand, only to see Golding stab the rebound past the foot of the post, to the delight of the fans behind the goal standing in front of the clubhouse.

Looking ahead to the Final against Bearsted, Piggott said: "Looking forward to it. We didn't get to a final last year and their good days for everybody so we're pleased to be there."

Blair host fifth-placed Southern Counties East Football League side Corinthian in the Kent Senior Trophy Semi-Final on Saturday.

"It will be another tough one especially after tonight. They'll be a few tired legs from our defending today so it will be tough," said Piggott.

"Corinthian are a good side in that league. You don't take them for granted being in the top six through a lot of hard work and determination and they've got that. We think we'll be hard to beat as well."

Blair also have eleven league games to fit in between now and the end of the season.

"I've got the fixtures today and I had a little look. I think we've got three midweek games in March. We're playing all over Easter but that's what success brings you. If you want to be successful it brings you extra games of football so we're not going to complain about that.

"It's not just Lydd. Sutton and Bearsted are on great runs at the moment in the league so they'll think they can win the league. As I've said before, any of the top four can still go on and win the league."

Dartford resident Copley takes his side to home-town club Kent Football Untied on Saturday.

"We've just signed the Williams' brothers from Seven Acre & Sidcup – they're great additions for us. The captain (Ben) in the middle of the park and the striker (Jamie). We've created a million of chances over the last couple of weeks but we haven't put the ball in the back of the net so I'm hoping the addition of those two can slightly change that."

With Glebe 12 points adrift of fifth-placed Sheppey United, Copley admits his turning his attentions to next season at their new Chislehurst based ground.

"I'm expecting to look at the two boys I've brought in, probably give them a start. Jack Clark who came on today at centre half – he's had an excellent game – and deserves a start.

"I think when you're sixth in the league and there's 12 points between us and fifth and we're building for next season.

"No disrespect to Kent Football United, I'll use a weaker team to play some people who haven't got regular minutes. We've got a squad and they've been patient and they deserve a little run around on Saturday.

"We're going to try to win every game so we finish the season on a high and on a success in terms of winning and a good team spirit and we go into next season with a new ground and the same bunch of lads and I honestly believe with two or three new additions we can win this league next year."

Hollands & Blair: James Smith, Lewis Taylor, Bryan Greenfield, Sam Prescott, Steve Dampier, Tom Staff, Justin Ascheri (Sam Welch 84), Stuart West, James McDonald (Joe Clark 78), Rob Denness, Jordan Gallacher.
Subs: Ashley Doe, Clint Gooding, Damien Hopkins

Goals: Stuart West 36, Rob Denness 53, James McDonald 67

Booked: Steve Dampier 10, Stuart West 16, Bryan Greenfield 61, James Smith 79, Tom Staff 90

Glebe: Alfie George, Jeff Allen, Ryan Palmer, Carson Dennis, Lee Warren, Daniel Palfrey (Jordan Clark 68), Jaie Nuttall (James Pinnock 68), James Day, Ryan Golding, Tom Fitzgerald, Danny Gannon.
Subs: Ismail Ismail, Lewis Gregory, Aaron Guard

Goal: Ryan Golding 69

Booked: Jeff Allen 26, Ryan Golding 70, James Day 76, Tom Fitzgerald 76

Attendance: 85
Referee: Mr Marcin Indyk (Maidstone)
Assistants: Mr Steven Martin (Orpington) & Mr Michael Kent (Sittingbourne)