BROMLEY AT WEMBLEY: Bromley captain Jack Holland reflects on historic FA Trophy campaign
Sunday 13th May 2018
Bromley Legendary captain Jack Holland has led his home-town club to a Wembley Final for the first time since 1949, when the Lillywhites, then of the now defunct Athenian League defeated Romford 1-0 thanks to Tommy Hopper's goal to win the FA Amateur Cup for the third time. It was the only time that Bromley played at Wembley Stadium.

However, Neil Smith's class of 2018, Bromley have defeated Hartley Wintney (2-0 away); Blyth Spartans (4-1 away); Workington (7-1 at home after a 1-1 draw); Spennymoor Town (2-1 away after a 0-0 draw) and Gateshead (1-1 away in the Second Leg after a 3-2 win at home) to earn the right to play Brackley Town at Wembley Stadium next Sunday, 20 May.

Holland reflects on Bromley's FA Trophy campaign.
"In that Hartley Wintney game, it was always a banana skin. They had no pressure on them, we were expected to win. It was certainly a harder game than we anticipated. They were very, very good, especially in the first half, I still remember it now. It's those games that you've got to win and you've got to come through. This year the gaffer always said it, he thinks every year we've got a chance and this year seemed to be the one.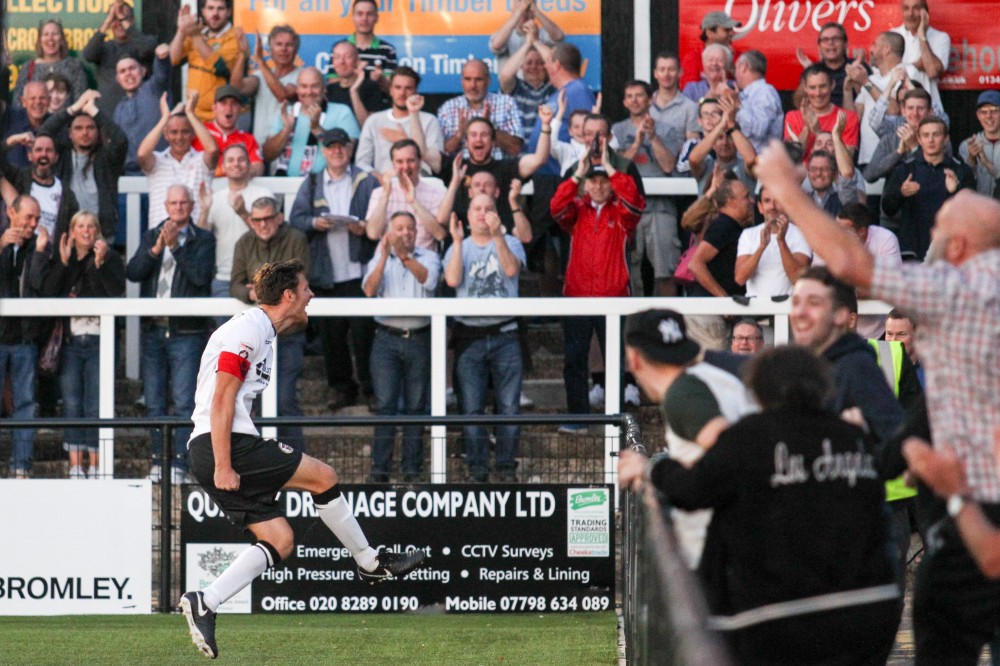 Bromley captain Jack Holland celebrates scoring one
of his two goals during Bromley's famous 6-1 home
win over Leyton Orient in the Vanarama National League
back in August.
Photo: Edmund Boyden

Blyth Spartans was another tough game. The travelling became a figurehead of our season it seemed but another good side that put us through our paces and gave us a really good game and we had to be on our point that game.

Do you know what, I remember we had a few chances at Workington and the pitch was a big leveller but fantastic credit to the boys. We kept going, we looked like we were going to score and a great ball from Frankie Raymond for the corner and I just happened to meet it and bring it back for the replay and get the win.

Those goals are always special, relief was the big one. I mean, no one wanted to go out at that point and it would've been very, very disappointing for us but I was just ecstatic to get the goal and ecstatic for the boys that we could take it back to our place and make a go of it.

It was a lot of travelling for Workington like it was for us and on a good playing surface we fancied ourselves at home in the replay. They gave a very, very good account of themselves in the first half but as it seems to be all season we get stronger in the second half. I don't know what it is, we seem to come out stronger and I think that proved it at that game.

I don't know what to say about that Spennymoor replay! We travelled up there, it got called off when we were there. There were questions of was it a trick to get us up there and travel? I think that drove us on that much more to go on and get the win when we finally played the game at Darlington. It was a very tough game and great goals and we got through that and it was a very satisfying win!

Gateshead at home in the snow. Ian Jordan is a very good groundsman. I've known him for years now and when we got it on I was surprised but he somehow did! We knew it was Gateshead, it's always a tough game and again, credit to the boys to pull out a result when we needed it. Louis Dennis, especially, one of the best goals I've seen here, the curler into the top bin, left-footed. The thing is you see that in training and he comes out with it in a Semi-Final and it's brilliant to see.

We travelled up there knowing we had to do a job. Gateshead are very good at home and it was safe to say we were under the cosh for the majority of the game. We were under pressure and the thing about this team when I look at it I look up at players and I see people will go through the pain with you and will be in the trenches with you and I think that stands out at Gateshead away. It was a hard-fought draw and even with their wonder goal from Scott Barrow.

I remember it so clearly and he's hit it and I've looked at Roger Johnson and said 'that's him!' and then there was nothing we could do about it! It just flew in and you think 'it aint' going to happen!', because their all up and you could hear the crowd. It's a very good crowd at Gateshead and that's when you get that inner belief 'right, we're going to dig in now,' we've got to see the game out and that's what we did."

Visit Bromley's website: www.bromleyfc.tv

Buy your tickets for Non-League Finals Day here: https://ticketingcontent.thefa.com/NLFD%202018

Photographs courtesy of Edmund Boyden – www.edboydenphotos.co.uk

Stockton Town v Thatcham Town
The Buildbase FA Vase Final
Sunday 20 May 2018
Kick Off 12:15pm
at Wembley Stadium, Wembley, Middlesex HA9 0WS

Brackley Town v Bromley
The Buildbase FA Trophy Final
Sunday 20 May 2018
Kick Off 4:15pm
at Wembley Stadium, Wembley, Middlesex HA9 0WS