Greenwich Borough boss Gary Alexander: Millwall means so much to me. I had some memorable times there
Thursday 28th July 2016
LIONHEARTED Greenwich Borough player-manager Gary Alexander is relishing Friday night's showdown against Millwall.
Alexander, 36, made 91 appearances for Millwall, scoring 21 goals for the Lions, netting twice in the 2009 League One Play-Off Final defeat to Scunthorpe United at Wembley Stadium.

He was an unused substitute a year later as Millwall defeated Swindon Town 1-0 at Wembley Stadium to win promotion to the Championship.

Alexander is one of a few footballers who has played for the club he supports, watching the Lions last two games of last season, at Gillingham and at Wembley Stadium to see the 3-1 defeat to Barnsley in the League One Play-Off Final.

The prestigious pre-season friendly marks Greenwich Borough's return to Eltham following the club's seven-year exile playing in Bromley (at Holmesdale's Oakley Road) and Dartford.

They have become the landlords of Cray Valley's Badgers Sports Ground at Middle Park Avenue, rebranding it the DGS Marine Stadium and painting fencing red and black, installing more seats and covered terracing, outside toilets and a club shop.

Alexander took charge of Greenwich Borough on 22 December 2015 after Ian Jenkins' 18-month spell in charge of the club came to an end despite sitting in second-place in the Southern Counties East Football League table and Alexander guided the club into the Ryman League for the first time in only his 19th game at the helm.

Alexander, naturally, is delighted that Millwall manager Neil Harris is sending a side to welcome Greenwich Borough home.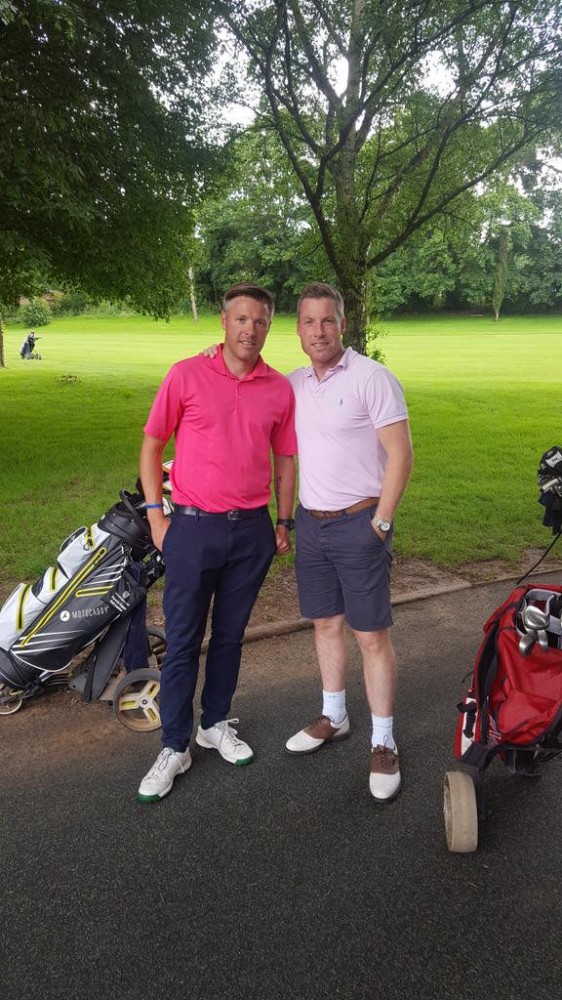 HEAD TO HEAD: Former Millwall team mates and close friends Gary Alexander (left) and Neil Harris face each other on Friday when Greenwich Borough host League One side Millwall at the DGS Marine Stadium at Middle Park Avenue in Eltham.
Photo: Twitter

"I'm delighted when Neil Harris accepted to have a fixture against us. We played together and are good friends so it's very pleasing for Greenwich Borough," said Alexander.

"Playing Millwall is massive for Greenwich, from where the club were four years' ago to where it is now, so credit to everyone who has been on board from the beginning, those people know who they are and deserve everything they get in the future.

"Millwall means so much to me. I had some memorable times there. I was brought up 10 minutes from the ground and to be able to play for, against and now manage against them for the first time makes me feel very proud.

"I'm always back down there when we don't have games, the kids love it there. It's a family club, who look after their ex-players so well.

"Words can't describe scoring twice at Wembley for them. It's a great club with many great people."

Greenwich Borough used to play at the modest and unwelcoming Harrow Meadow, which is now a housing estate, just a few minutes' walk away from their current abode.

Alexander is keen to put Greenwich Borough out in their local community ahead of their Ryman League Division One South opening home game against fellow promoted side Horsham on Tuesday 16 August 2016 (19:45).

"The club being back only a stones' throw from where it used to be ahead of the scheduled plan is fantastic," he said.

"We aim to grow our support, grow the club right through from grassroots, Academy, under 21s and first team and give something to the community that they can be proud off by building the right reputation by playing football the right way. Hopefully we can attract many people. It's a great club with a future."

Greenwich Borough travel to Gillingham to play Hollands & Blair in the Southern Counties East Football League Roy Vinter Challenge Shield on Sunday (15:00), before League Two side Leyton Orient visit the DGS Marine Stadium next Tuesday (19:45).

Alexander and his assistant manager John Mackie are former O's players.

Admission prices for Friday night's Millwall clash have been confirmed at £10 (adults) and £5 (over 65s, under 16s)

Visit Greenwich Borough's website: www.greenwichboroughfc.co.uk

Greenwich Borough v Millwall
Pre-Season Friendly
Friday 29th July 2016
Kick Off 7:45pm
At DGS Marine Stadium, Middle Park Avenue, Eltham, London SE9 5HP