AFC Wimbledon hero Adebayo Akinfenwa trains with Ryman League Division One South newcomers Greenwich Borough
Wednesday 06th July 2016
ICONIC footballer Adebayo Akinfenwa trained with Ryman League Division One South newcomers Greenwich Borough last night.
The 34-year-old striker scored a last-gasp penalty for AFC Wimbledon, which secured promotion in the League Two Play-Off Final with a 2-0 over Plymouth Argyle at Wembley Stadium.

It was to be the former Gillingham striker's last game for AFC Wimbledon and he famously said in his post-match interview with Sky Sports : "I think I'm technically unemployed, so any managers hit me up on the WhatsApp and get me a job."

Greenwich Borough sealed promotion after winning the Southern Counties East Football League title last season and manager Gary Alexander has already added striker Charlie MacDonald, 35, from National League side Boreham Wood, while Lewwis Spence and Remi Sutton have arrived from Ryman League Division One North side Thurrock.

A club statement said: "The squad was in full Beast Mode with a new addition as the gentle giant that is Adebayo Akinfenwa joined the squad as they were put through their paces last night.

"Signing off his Wombles career with the line to camera "hit me up on WhatsApp" as he revealed he had become a free agent.

"At 5'11 and 16 stone the player affectionately known as "The Beast" showed that big guys can indeed run as he showed a clean pair of heels to club chairman Perry Skinner who was watching over proceedings.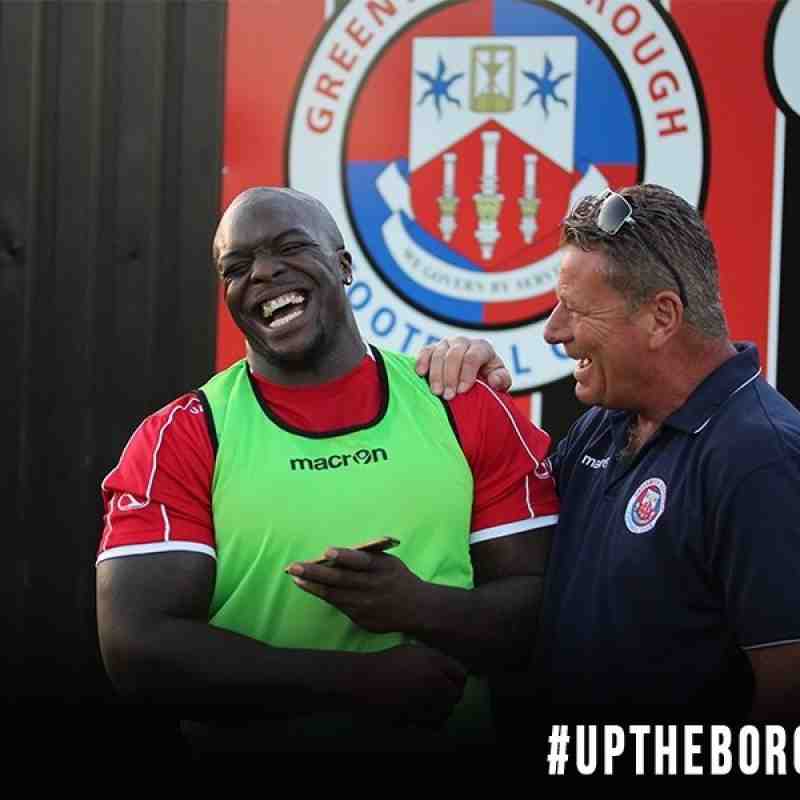 Greenwich Borough chairman Perry Skinner (right) tries to peruade Adebayo Akinfenwa to sign for the club after the former Gillingham and AFC Wimbledon striker trained at the newly-promoted club last night.
Photograph: Greenwich Borough FC

"Ade is currently on the wish list of many clubs and our club chairman did eventually catch up with him but it seems selfies were exchanged rather than a contract – but this is Borough!"

Manager Alexander told www.greenwichboroughfc.co.uk: "Pleasure to have my friend Ade train with us, the boys were buzzing looking at their running times!"

Visit Greenwich Borough's website: www.greenwichboroughfc.co.uk