Greenwich Borough 5-1 Sittingbourne - Pleasing to get back to winning ways, we've been threatening a scoreline like that, says Greenwich Borough boss Gary Alexander
Saturday 16th December 2017
Greenwich Borough

5 – 1

Sittingbourne

Location
Middle Park Avenue, Eltham, London SE9 5HP
Kickoff
16/12/2017 15:00
GREENWICH BOROUGH 5-1 SITTINGBOURNE
Bostik South Division
Saturday 16th December 2017
Stephen McCartney reports from Middle Park Avenue

GREENWICH BOROUGH manager Gary Alexander says it's pleasing to get back to winning ways after rediscovering their goalscoring touch to thrash Sittingbourne.
Greenwich Borough went into this game in sixth-place in the Bostik South with 39 points from 23 games and on a run of seven games without a win, drawing their last five games, while Sittingbourne arrived in Eltham sitting in eighth-place with 36 points from their 22 league outings.

Greenwich Borough opened the scoring through Sam Corne's third goal of the season, but Sittingbourne equalised on the stroke of half-time through right-back Salvyn Kisitu's maiden goal for the club.

Greenwich Borough then scored four goals during the final 26 minutes as Sittingbourne capitulated for the second game running, having thrown away a 2-1 lead in the 90th minute to lose 3-2 to promotion chasing Cray Wanderers at Hayes Lane in midweek.

Winger Chinedu McKenzie made it four goals in four games since his move from Vanarama National League side Maidenhead United, before striker Jack Barham curled in a beautiful strike to make it 3-1 just 96 seconds later.

Greenwich Borough added two goals inside the final 10 minutes through winger Jack Sammoutis before Barham tapped in the fifth.

"Pleasing to get back to winning ways," said Alexander after his side's 11th league win of the season keeps them in the bottom play-off berth.

"We've been threatening a scoreline like that. Anyone who's watched us over the last four games, we create plenty of chances and it was only a matter of time before two, three, four, five went in and today Sittingbourne happened to be on the end of it.

"Before the game (I told my players to) be brave, that's not being brave in the tackles, to be brave to pass the ball and get on the ball, to be in positions to take chances, keep being brave and they were.

"I've got total respect for Nick Davis, he's put together a good side there. They're up there for a reason. We're halfway through the season and they're up there challenging and fighting for a spot so full credit to Nick and full credit to Sittingbourne for the job he does."

Davis said before the game that his assistant manager Tony Cornwell will take press duties post-match.

"Very raw at the moment, obviously very disappointing result," said Cornwell.

"You can put it down to a number of things. We have a few injuries at the moment, but we still had a reasonable strong squad.

"I thought the first 45 we deserved to go in all square. We possibly had another chance, we had John Coker going through on goal and possibly could've got ourselves in front at half-time and then in the dressing room at half-time it felt good. We felt we were strong. I felt we had good opportunities.

"They're a good side, they pass the ball around well but for me in the second half we made too many individual mistakes and individual mistakes led to goals and they're a side that are capable of scoring goals."

Greenwich Borough started the game on the front foot and created their first opening after 110 seconds.

Striker Charlie MacDonald had a low shot blocked and Sammoutis's low left-footed deflected drive from 22-yards forced goalkeeper Jordan Carey to make a low save to his right.

"I thought we started the game very well. We started the game on the front foot and I thought we dominated for long periods and it was only an error that was only going to cost us," said Alexander.

Cornwell added: "Jordan's come in, we're looking at Jordan. We lost Daren Hawkes who couldn't commit to playing regularly so Jordan's come here with a good reputation and we've given him an opportunity. If I'm honest he's probably made a couple of mistakes today."

Danny Fitzsimons played a low pass out of defence into Barham's feet, who took a touch to get the ball out of his feet before curling his right-footed shot across Carey, which sailed over the top of the far post.

Greenwich Borough then created a nice move in the 16th minute and Carey was called into action.

McKenzie played the ball inside to Sammoutis and his flick pass put in McKenzie but his left-footed shot from 16-yards was held by Carey, low to his right.

"I think Chin will be disappointed. Chin's a goalscorer, he's ended up sniffing one out again later on in the game but he'll be disappointed that he didn't make the keeper make a better save than he had to. In those situations (you have to) put your foot through it and hit the back of the net, be clinical!"

Cornwell added: "I thought Greenwich passed the ball extremely well, certainly first 10-15 minutes, they dominated possession, which we're coming away to one of the top sides in the league, one of the promotion favourites.

"But I thought we done enough from long-range distance. Jordan has only had to make one or two saves and then I thought we started getting into the game. We started getting the ball up into Miles (Cornwell) and he was holding it and our game plan was to get runners off him, which I felt we did."

Sittingbourne started to get themselves back into the game creating a couple of chances around the 25 minute mark.

Central midfielder Ben Davisson played the ball out wide to winger Tyrone Guthrie, who ignored left-back Chris Elliott on the overlap, instead floating over a cross and Kane Rowland's downward free-header inside the box was blocked by Liam Hickey.

Davisson played the ball out to Guthrie on the left, he cut inside and drilled a right-footed shot from 25-yards, which was caught by vocal home goalkeeper George Kamurasi.

Cornwell said: "A shot on goal, but would you expect the keeper to spill that one? No!

Alexander added: "That's (nearly) half-an-hour and we're talking about their first attempt! That's how well we've started. We started the game well and we're taking about an attempt (nearly) half-an-hour, so I can't fault the lads for their work ethic, their desire today and their passion."

The giant Greenwich Borough keeper stood up tall and prevented Sittingbourne grabbing a 41st minute lead, courtesy of Coker's 80-yard run.

The centre-half won the ball on the edge of his own penalty area and ran uphill straight through the heart of the pitch. He played the ball out to Cornwell on the right, who played Coker in on goal and his shot from the edge of the box was blocked by Kamurasi, who had advanced towards the edge of his box to make a vital save.

Cornwell said: "Unfortunately it's somewhere John doesn't normally play! He's a centre half, although he can play in midfield but out and out he's a central defender.

"Credit for the fact that he's got there and linked up well and it was a good move but I'm a bit disappointed that he didn't put it in the back of the net if I'm honest. If that was a striker you'd be hoping the net will be bulging!"

Alexander said: "That's come from us, individual errors, the ball went into Chin, he didn't quite get hold of it and allowed them to break when we're in good possession. It's something that we have to get better at, something we will get better at, but fair play to the centre half for the run he's made. George makes saves and it was a good time to make a save.

"George is a winner, Ben (Bridle-Card, who is on loan to SCEFL Premier leaders Sevenoaks Town) is a winner as well but George is that vocal, he talks, he doesn't stop talking, even at 5-1 he's still screaming and he's still demanding and the fella wants to win and he made a key save there."

Greenwich Borough went up the other end and took the lead with 42 minutes and 33 seconds on the clock.

McKenzie released Barham down the right channel and he left Coker on the ground as he won the ball back and cut along the by-line, before cutting the ball back for Corne, who hit a first time drive into the bottom right-hand corner from 12-yards.

"Exactly what we said. We want to score what we call scruffy goals. It maybe comes of Corne's calf but he's made the run, he's shown the desire to get in the box and it's gone in the bottom corner. It's a good goal from our point of view," said Alexander.

Cornwell added: "The initial ball in, John Coker intercepted, unfortunately he's intercepted and he's had the force to knock John off his feet and they've retrieved the second phase ball and to be fair it's a good finish from the lad. He's crossed it into the area and he's put it away. It was a decent goal in the end."

Sittingbourne grabbed an equaliser, 27 seconds into time added on.

Rowland floated in a cross from the right-hand corner of the Greenwich box, the ball was headed away by Hickey and fell to Chris Webber, the winger cut onto his right-foot and his drive was palmed away by Kamurasi, stretching high to his left, but the ball dropped at Kisitu's feet and from a tight angle he buried his chance into the corner.

Cornwell said: "Our right full-back scoring the goal, first goal for Salv, credit to him, he likes to get himself forward. It was a good effort from Webber, the keeper's pulled off a reasonable save and Salv's responded well to the second ball and finished it nicely."

Alexander added: "Obviously not happy with the goal we conceded! George makes a good save and our reaction to the second ball is not good enough! We let them know at half-time but fair play to the boys, they've come out and responded in style!"

There was still time for Corne to drive his low shot through a crowd of players, which was meat and drink for Carey.

Alexander revealed he gave some of his players a piece of his mind during the interval.

He said: "There were a few home truths that came out there! Obviously, it's a poor goal to concede. We've been conceding some poor goals and we're better than the last four draws we've had and we've been conceding because of individual errors and poor play.

"But listen, we're all human and we all make mistakes so I accept that but it's how we put it right and they put it right in the second half."

Cornwell revealed: "I felt at half-time we deserved to go in at least all-square. We were actually thinking we were finishing the stronger of the half. We said although we've conceded a goal there was no way we should be coming in to the changing room a goal down. We responded within two-three minutes of their goal by equalising.

"We felt good, we felt as though if we pressed them again it the second half and don't let them play out from the back, using the slope we could nick a result. That was the belief. We started reasonably well second half but for me it's an error that's led to their second goal."

Sittingbourne squandered a glorious chance to grab the lead inside the opening seven minutes of the second half.

Elliott played the ball out of defence into Cornwell's feet – the striker ran the channels – and he played in Webber, who produced a weak left-footed angled shot from 18-yards, which was gobbled up comfortably by Kamurasi.

"Another good move. Miles has got in behind, he's created a couple of half chances and Webber is actually right-footed and he's taken it with his left foot. I think he probably had a little bit more time. If he'd had dragged it back on his right peg, I think maybe he'll find the back of the net with it.

"That's the sort of things that wins and lose games, if you take your chances. Were they falling to the people who are more capable in front of goal? They probably didn't today!"

Alexander added: "We're probably talking two or three chances that they've had in the whole game, it's going to happen, they're going to have chances.

"It's a comfortable save for George. It's not an effort where they should score. We have to be better because we don't like giving chances away but it's a comfortable save for George so we'll take that."

Greenwich Borough were clinical when it mattered and rattled in four second half goals.

Sammoutis swung in the home side's third corner of the game, in from the left, and Carey came a long way and failed to gather the ball. Tom Carlse and Barham both had shots blocked inside the box and the ball fell at McKenzie's feet, tapping the ball into the bottom corner from four-yards out, with 18 minutes and 7 seconds on the clock.

"He's come in and I think that's four in four for him and they're all from within the six-yard box and that's why we brought him in, to score those goals," said Alexander.

"We spoke about that in terms of their goalkeeper. I've watched him play and he does try to come for corners, credit to him, but he does drop a few. We were at Cray on Wednesday night and he dropped a couple and I said that to Chin, just make sure you're aware and ready because if he does drop it, you're the man to poke it in and he's done that."

Cornwell added: "As I said to Jordan in (the changing room), if you're coming off your line and claim crosses you either have got to punch them clear, you've got to get to the ball. You can't be in no-mans land with the ball bouncing in your penalty box. He admits, he knows he's made a mistake. He's tried to come for something that wasn't his and it resulted in goal. I felt today we made mistakes and they punished us!"

Ninety-six seconds later it was 3-1 to Greenwich Borough when McKenzie laid the ball off to Barham, who cut inside and curled his right-footed dipping shot into the top far corner from 30-yards, over the outstretched arm of a struggling Carey.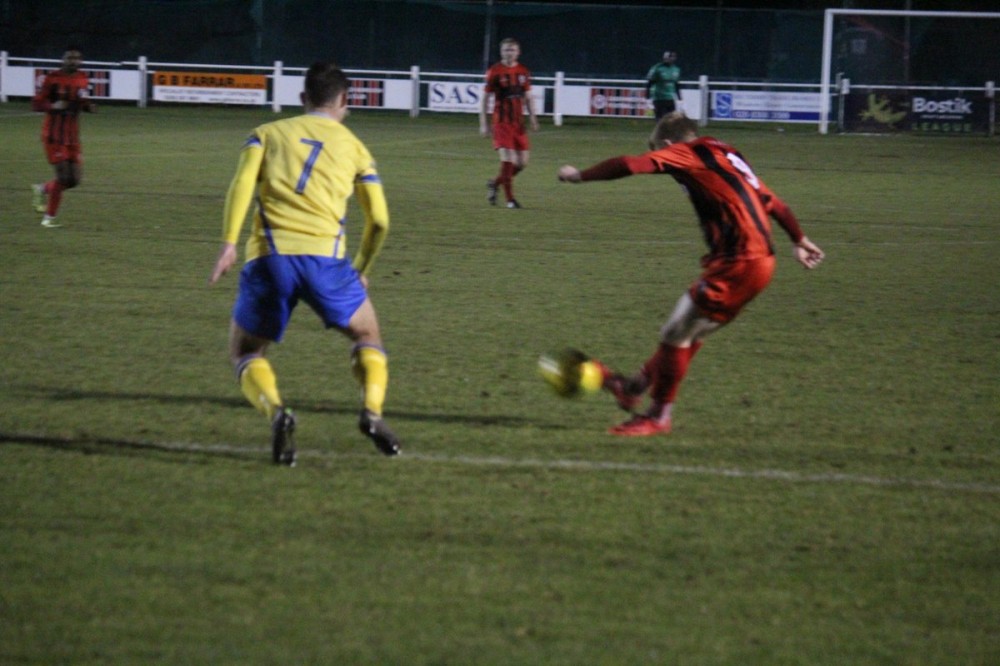 Greenwich Borough striker Jack Barham (right) has scored 15 goals this season. He scored nine for their Bostik South rivals Phoenix Sports before his move.
Photo: Dave Adkins


"Look, we've been creating chances. Jack Barham has been on a little bit of a goal drought, but do you know what? Continue to work hard and you'll get your rewards, it was a great finish from him," said Alexander.

"There's been times where maybe we've not worked as hard as we could and rewards haven't come but he's certainly worked his socks off today and he's got his rewards with two goals. It was only a matter of time with the chances we created that we were going to score goals."

Cornwell said: "I thought it was a reasonable strike but I thought it was a saveable strike. It's tough. I'm not personally a goalkeeper but Jordan's a decent keeper and I expect him to get a hand on that!"

Hickey was forced off through injury so Alexander brought on Becka-Kah Dembele at right-back and moved Nathan Paul across to partner Fitzsimons at the heart of defence, while Carlse remained at left-back.

Sittingbourne offered very little in front of goal as these four players shut the door tight.

Alexander said: "Sittingbourne came here to do a job and they're a tough side, their season shows it. They've got points on the board and they're up there challenging so we showed them total respect. You're saying that's a team challenging and they haven't offered us much threat, from a manager's point of view that's pleasing but we have to make sure we stay switched on when we're in those situations."

Cornwell added: "We could still be in the game as long as we didn't go gung-ho and try to commit men forward. The fact we had some balls in to the box but we didn't have no real shots on goal."

Sammoutis cut into the box but his low left-footed shot was saved comfortably by Carey, who was returning to his former ground but when you make a mistake at this level, you get punished.

Greenwich Borough raced into a 4-1 lead with 34:02 on the clock as Sittingbourne's defence switched off.

Sammoutis played the ball into MacDonald, who swept his cross-box pass to find McKenzie in space and he swept his shot against the underside of the crossbar and Sammoutis tapped the ball into the bottom right-hand corner from inside the six-yard box.

Alexander said: "It's something that we've spoken over during recent weeks, being on the front foot, being there to poke it in. Over recent weeks we've not quite been on the front foot and they've managed to clear it but today we were on the front foot and we were tapping them in from five or six yards, which was nice to see."

Cornwell added: "I thought they caught us on the counter-attack. We over committed men forward and didn't have the desire for our men to get back. When we got 3-1 down it felt to me we were a little bit defeated and the belief that we'd get back in the game had gone and that's disappointing."

Carey gifted Greenwich Borough their fifth goal when it was despatched with 38 minutes and 57 seconds on the clock.

Substitute winger Travis Gregory was only on the pitch for 53 seconds before the ball crossed the line.

The keeper's poor clearance went straight to Bradley Pritchard who played the ball to Corne, who played the ball out to Gregory, who slid his shot from inside the penalty area across the keeper towards the bottom far corner and poacher Barham prodded the ball over the line with his right-foot.

Alexander said: "It's nice, Travis came on and had an impact. He's been unlucky not to be playing but he's got to wait his turn. He's come on and he's done what we've asked him to do, get at the full-back, get shots, get crosses in and he's ended up with an assist, so full credit to him."

Cornwell said: "He tried to play out. I don't like keep saying the same thing but it's another individual mistake, trying to play out from the back when you're 4-1 down. Why are we trying to do that when we should be clearing our lines, let's get it away from our goal and build from there but a miss-placed pass and they punish us.

"We even said before the game started if we don't defend correctly they've got the ability in their team to score goals and they will punish us and today it proved right."

When asked what the most pleasing aspect of today's game was for Greenwich Borough, Alexander replied: "Just the way we responded after conceding right on half-time! Sometimes that can be difficult conceding a goal and give them the upper hand.

"I've gone in there and had a go at a couple of them, gave them a few home truths to a few people and they've come out and shown their character today and they've believed in and they kept going and they've got their just rewards."

Lewes still lead the Bostik South table despite losing 2-0 at Ramsgate on 48 points from 23 games, followed by Cray Wanderers, a point behind with a game in hand.

Corinthian-Casuals (45 points from 24 games); Carshalton Athletic (45 points from 24), Walton Casuals (43 points from 24) and Greenwich Borough (42) are in the play-off zone tonight.

Hythe Town (40), Phoenix Sports (37) and Sittingbourne (36) are also involved in the promotion race.

Greenwich Borough host Guernsey next Saturday (13:00), while Sittingbourne host Lewes.

"I fancy our chances against any side in the league. We're capable and we've shown it in long periods in lots of games," said Cornwell.

"We are so close, that's what's making it more frustrating to lose. That's the first time we've had a hiding and we've had to say a few harsh words in there today, perhaps some of the people were caving in and giving up, which is not good enough at this level."

Greenwich Borough: George Kamurasi, Nathan Paul, Tom Carlse, Sam Corne, Liam Hickey (Becka-Kah Dembele 71), Danny Fitzsimons, Jack Sammoutis (Tom Beere 90), Bradley Pritchard, Jack Barham, Charlie MacDonald, Chinedu McKenzie (Travis Gregory 84).

Goals: Sam Corne 43, Chinedu McKenzie 64, Jack Barham 65, 84, Jack Sammoutis 80

Booked: Jack Sammoutis 79

Sittingbourne: Jordan Carey, Salvyn Kisitu, Chris Elliott (David Smith 63), Jide Okimeji, Ben Gorham, John Coker, Chris Webber, Ben Davisson, Miles Cornwell, Kane Rowland, Tyrone Guthrie.
Subs: Lex Allan, Harry Brooks, Laurence Ball, Nick Davis

Goal: Salvyn Kisitu 45

Booked: Jide Okimeji 26, Ben Davisson 53, Chris Webber 53

Attendance: 97
Referee: Mr Andrew Bennett (Woking, Surrey)
Assistants: Mr Alastair Higgs (Windlesham, Surrey) & Mr Amadou Jallow (Brookwood, Surrey)

Coverage Sponsored by: