Greenwich Borough 1-2 Leyton Orient - My boys were fantastic today, says incredibly proud Greenwich Borough boss Gary Alexander
Saturday 22nd July 2017
Greenwich Borough

1 – 2

Leyton Orient

Location
Middle Park Avenue, Eltham, London SE9 5HP
Kickoff
22/07/2017 15:00
GREENWICH BOROUGH 1-2 LEYTON ORIENT
Pre-Season Friendly
Saturday 22nd July 2017
Stephen McCartney reports from Middle Park Avenue

GREENWICH BOROUGH manager Gary Alexander says he has 21 hungry players in his squad currently all vying for a shirt for opening game of the Bostik South season against Whyteleafe in three weeks' time.
The club finished in third-place in their debut Isthmian League Division One South campaign, experiencing a heartbreaking play-off semi-final defeat to Corinthian-Casuals after collecting 95 points from their 46 games but Tooting & Mitcham United and play-off winners Dorking Wanderers were promoted after bagging an impressive 105.

Leyton Orient were relegated from Sky Bet League Two after finishing rock bottom and losing their 112-year stay in the Football League but with new owners at the helm at Brisbane Road, they are going into their Vanarama National League campaign with greater optimism.

Returning striker David Mooney, 32, headed Leyton Orient into the lead after only 111 seconds on a miserable, wet day in Eltham.

The O's doubled their lead through striker Macauley Bonne, 21, but Greenwich Borough capped off an impressive performance by pulling a goal back through Jack Sammoutis, 23, a summer signing from their league rivals Walton Casuals.

"Very pleasing, for long periods of the game we had good spells, we had chances," said Alexander, 37, who scored 52 goals for Leyton Orient during his spell at the club between January 2003 and May 2007.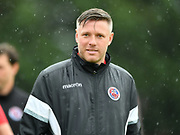 Greenwich Borough boss Gary Alexander
says he was "incredibly proud" of his side
after losing 2-1 to Leyton Orient.
Photo: Keith Gillard

"Two errors probably cost us two goals. That happens when you play against better teams. That happens, you get punished but I'm incredibly proud of those boys there. We don't train every day, they do. We're part-time, they're not.

"It's great that we've got a relationship with them. We've got some good friends there. That club has been through terrible times and it's great to see them back. At one point, during the off-season, we didn't even know we'd have this fixture because they didn't know they'd have a club, so it's fantastic to have them back."

Steve Davis' side got off to a flying start when Bonne chipped in a cross from the right towards the far post for Mooney to flick his header across the keeper into the far corner.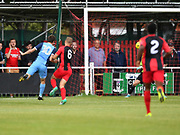 GOAL: Leyton Orient's David Mooney (left) heads in an
early goal for the National League side at Greenwich
Borough.
Photo: Keith Gillard

"It's a mistake from us. We gave the ball away in midfield with a sloppy pass but I want the boys to get on the football so I accept that," said Alexander.

"We'll learn from that and we don't give the ball away in areas like that we don't concede the goal. It's pre-season, we've got to learn, now!"

Greenwich Borough could have folded but they hit their full-time opponents on the break and could have equalised shortly afterwards.

Striker Charlie MacDonald skipped past George Elkobi just inside the O's half, raced down the right and whipped in a lovely low cross, which was hit first time by Travis Gregory, but keeper Charlie Grainger made the save with his legs.

"Good move. We said we're playing against higher quality opponents and we matched them for long periods," said Alexander.

"We've had a move there where the keeper's made a cracking save. Travis has got on it, Charlie's makes a run, unlucky not to score."

Leyton Orient pinged the far post with a left-footed drive from 25-yards by a man wearing the number 21 shirt, one of four on the teamsheet called "Trialist."

Alexander said: "They moved the ball pretty well. We gave them an opportunity to do that having conceded the goal so early, putting them in the ascendancy but we responded well. I thought we moved the ball just as well."

Leyton Orient played a crisp passing game on a soaked pitch – as did Greenwich Borough and this pre-season friendly was entertaining to watch between two teams who liked to keep the ball on the deck.

Charlie Lee drove forward, released Bonne down the left, he cut inside and curled his right-footed shot towards the top far corner from 25-yards, but Greenwich's borrowed keeper from Millwall, Ryan Sandford, 18, dived high to his left to use his right hand to tip over the bar.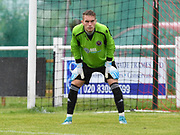 SAFE HANDS: Ryan Sandford, who came
in from Millwall, had a great game in goal
for Greenwich Borough.
Photo: Keith Gillard

"Ryan's a top keeper and I thank Neil (Harris, Millwall manager) for lending me him," said the Borough boss.

"My keeper (Ben Bridle-Card) has pulled his thigh but it's credit to how far this club's come to be able to get players like that on loan or to play games for us. Neil trusts us and it was a pleasure to have Ryan involved today.

"He made great saves, you saw his quality. He's good with the ball at his feet, he can makes saves and he's got a bright future."

Winger Steve Alzate and Mooney linked up well down the left and the ball was played inside to Craig Clay, who swept his first-time left-footed curler just around the top of the far post from 22-yards.

Greenwich Borough were no walkover and they carved open a great chance to equalise in the 35th minute.

The impressive winger Francis Babaola sprinted down the left with the ball at his feet and played Charlie MacDonald in behind the O's defence but his dinked shot was blocked by Grainger, low to his left.

Alexander admitted he's got a headache whom to select for their opening Bostik South game at home to Whyteleafe on 12 August.

He said: "I've got a front six there in Travis Gregory, Malachi Hudson, Francis Babaola, Becka-Kah Dembele, Charlie MacDonald and Jesse Darko, whichever three or four play, but hopefully if they can become part of the squad, I've got a front line that can cause problems and you saw that today."

Leyton Orient's left-back Joe Widdowson played a low pass inside to Mooney, but his shot lacked conviction and was comfortably picked up at his near post by Sandford.

Leyton Orient liked getting their full-backs forward and Widdowson's pass zipped off the wet turf, was dummied by Alzate which released Bonne and his low centre was poked past the foot of the left-hand post, first time, by Clay.

"I thought we gave the ball away to concede the goal so early in wrong areas of the pitch but I thought we matched them for long periods. Ryan's had a couple of saves but their keeper's made a couple of saves.

"We were more than in the game, we just said to them at half-time go out there, match them as much as we can, press them and win the ball and be patient and I thought we were in the second half and we scored a cracking goal."

Greenwich Borough were the better side during the second half as they came out with a higher tempo and with a more attacking game-plan.

However, disaster struck, as Leyton Orient were gifted a second goal with seven minutes and 36 seconds on the clock.

Right-back Nathan Paul attempted to play a back-pass back to his goalkeeper Sandford, but the ball went straight to Bonne, who was in acres of space to flash his right-footed drive underneath the left-arm of the diving Sandford, the ball nestling into the bottom far corner of the net.

"Ryan's in there disappointed, he's saying he should've saved it but the mistake, I think, was the one where we gave the ball away but again I'm asking them to play that way, quite expansive and if we give the ball away I can accept that," said Alexander.

"We will learn from that and we move on. I'm not going to be slaughtering anyone at this stage of the season. We learn from it. The boys are disappointed to concede a goal like that, it's a great learning point."

Clay released Alzante down the right and he whipped in a cross for Bonne, who's glancing header forced Sandford to dive to his right to hold, pleasing former Millwall man Alexander.

"Ryan's a good kid. There's plenty of goalkeeper's out there but Ryan's an exceptional goalkeeper. You don't play international football at lower levels for England if you're not very good. Ryan's a top keeper and he's there to make saves and he's made some cracking saves and done himself no harm at all."

Greenwich Borough produced a slick passing move of their own, to deservedly pull a goal back with 15 minutes and 13 seconds on the clock.

Paul played the ball inside to Gregory, who found Sammoutis, who played a one-two with MacDonald before stroking his right-footed drive nestling into the bottom left-hand corner from 16-yards.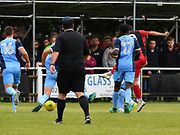 CRACKING GOAL: Greenwich Borough
sub Jack Sammoutis (red) scores after
playing a one-two with Charlie MacDonald.
Photo: Keith Gillard

Alexander said: "We had chances today, Jack's come on, he plays and moves and Jack's done what he does best, driving us forward, playing one-twos and scored a cracking goal, Charlie linking."

Leyton Orient responded by making seven further changes and Greenwich Borough improved their game further.

Midfield playmaker Peter Sweeney floated in a free-kick, the ball was flicked on by sub Callum Donaghey and Babaola rose to steer his deflected header into the hands of substitute keeper Sam Sargeant.

Greenwich Borough then produced a couple of great chances to score.

Left-back Tom Carlse played the ball into midfielder Sammoutis, a clever foot flick released striker Becka-Kah Dembele, who crossed for Babaola to set up MacDonald, who swept his first time shot on the turn past the post.

A poor back-pass from defender Daniel Happe gifted a chance for Jesse Darko, who lacked composure to slide his shot past the foot of the right-post when he only had Sargeant to beat.

"It's pre-season, we see the boys two days per week. We haven't had much time on finishing. We're more working on our shape and keeping possession of the football at the moment. I think people can see that today that we can keep the ball and we can move the football so I'm not going to have a go at them, they put themselves in a position and we're unlucky not to score. When we start working on finishing, those chances will be going in."

Tristian Abrahams nicked the ball off Sweeney, released Romauld Boco down the right and he set up Josh Keoroma, his deflected shot was blocked by Sandford, who has a good future in the game going by this performance.

The longer the game went on, the younger and quicker Greenwich Borough were getting and they were denied what would have been a deserved equaliser with 13 minutes remaining.

Travis Gregory swung in a corner from the left, which Leyton Orient failed to clear at the near post and the ball fell at the feet of Chris Parr, who drilled his low shot towards goal, only to be denied by Sergeant at his near post.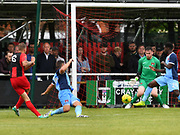 Greenwich Borough's Chris Parr (left), who along with
goalkeeper Ryan Sandford played the entire 90 minutes,
is denied by Leyton Orient sub goalkeeper Sam Sargeant.
Photo: Keith Gillard

Alexander said: "Chris has anticipated, it's dropped and he's anticipated and hit the target. What more can we say? It's a great save from their keeper but as we said, it's good that we're a threat from set-pieces."

Sandford made another great save in the final four minutes, coming off his line to spread himself to thwart Boco scoring with a powerful drive from eight-yards after Keoroma played in Jobi Mcanuff with another pass on the deck, just the way football should be played.

Alexander said: "I thought we was on top for the majority of the second half. I think they scored against-the-run-of-play when we gave the ball away but I think possession wise in that second half we were pretty dominant, I think anyone would admit that. Although they did have chances, it was going to happen, they're higher opposition and a quality of play. My boys were fantastic today and we dominated that second half."

Greenwich Borough travel to Southern Counties East Football League First Division side Sutton Athletic on Tuesday night, before hosting Millwall on Friday.

When asked how he is treating their trip to Lower Road in Hextable, Alexander replied: "Same as any other game. It's a pre-season game for us. We'll go there, same as we did on Tuesday night against Beckenham (where we won 4-1). They're all tests and all different sort of test for us, what we've worked at pre-season and Sutton will be no different. They'll probably give us a different type of game to Orient today, but we'll go there and take it like any other game. I'll be going there with a strong squad."

And on the visit of his beloved Millwall, Alexander added: "We'll probably see Ryan in the opposite end of the goal! It's another great game for the lads to express themselves. I've got a young side. At the end of the game the eldest player on the pitch was probably, what, 22-23 and that's fantastic for this football club and a chance to showcase them against another professional team."

Greenwich Borough have beaten two lower league teams in the shape of Club Langley (6-0) and Beckenham Town, and have lost to Sky Bet League One side Charlton Athletic 4-0, but all this is preparation for the visit of Whyteleafe on 12 August when the real stuff begins.

"Do I know my starting 11? I probably do, but things change, injuries and suspensions so I wouldn't like to say. I've got 21 players in there all vying for 11 shirts so it's great competition. I've got people who are hungry to be playing in that team and hungry for the shirt."

"It's at home, we could've have asked for anything better. Whyteleafe, I'm sure they'll be a good side, they've got a good manager in charge. We'll take every game exactly the same, we treat every game no matter who we're playing exactly in the same way. We'll work out what we've got to do against Whyteleafe and show them all the respect in the world."

Greenwich Borough: Ryan Sandford, Nathan Paul (Cameron Reardon 89), Lewis Clark (Tom Carlse 58), Peter Sweeney (Eric Demelo 87), Liam Hickey (Callum Donaghey 54), Chris Parr, Francis Babaola (Josh Shobinbare 75), Bradley Pritchard (Jack Sammoutis 58), Charlie MacDonald (Jesse Darko 67), Travis Gregory (Luke Miller 81), Malachi Hudson (Becka-Kah Dembele 58).
Sub: Guy Tresor Mpungi

Goal: Jack Sammoutis 61

Leyton Orient: Charlie Grainger (Sam Sargeant 61), Jack Caprice (Ryan McClean 61), Joe Widdowson (Trialist C 61), Charlie Lee (Henry Ochieny 46), George Elkobi (Daniel Happe 46), Trialist A (Michael Clark 34), Trialist B (Tobi McAnuff 46), Craig Clay (Josh Keoroma 61), Macaully Bonne (Tristian Abrahams 61), David Mooney (Trialist D 61), Steve Alzate (Romauld Boco 61).

Goals: David Mooney 2, McAulley Bonne 53

Attendance: 471
Referee: Mr Thomas Marshall (Eltham, London SE6)
Assistants: Mr Nick Fruin (Beckenham) & Mr Neil Davies
Fourth Official: Mr Joe Dann-Pye (Maidstone)

Match Photographs:

Keith Gillard:
http://topsnapper.photoshelter.com/gallery/Greenwich-Borough-v-Leyton-Orient/G0000PYEPrQFX8Z4/C0000OhEAYo5aUWM

Dave Adkins:
https://www.flickr.com/photos/138942267@N08/sets/72157683958329263

Coverage Sponsored by: