Gravesham Borough appoint Ricky Tompkins: It's a foot in the right direction towards, hopefully, a long path in management
Tuesday 23rd May 2017
RICKY TOMPKINS has been appointed Gravesham Borough's new manager after one season managing in the Andreas Carter Joma Kent County League Division One West.
Tompkins, 31, issued a come and get me plea on this website after guiding Otford United to a runners-up finish in his only season in charge of the club and Gravesham Borough have come calling, giving him the job last night.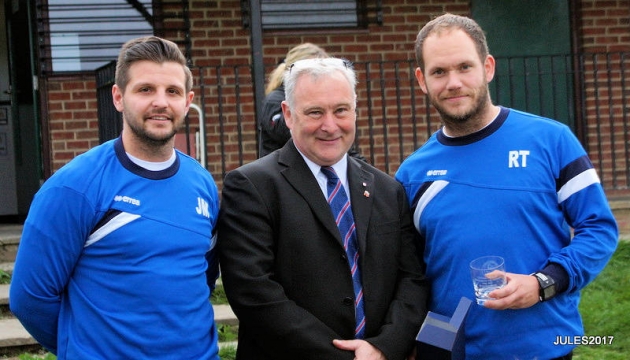 GRAVESHAM BOUND: Jimmy Matthews (left) and
Ricky Tompkins have left Otford United to join
Gravesham Borough.
Photo Julie Hoare

Gravesham Borough finished their Southern Counties East Football League First Division campaign in the bottom four, with a playing record of eight wins, eight draws and 20 defeats in the League.

The club were searching for a new manager after Kevin Hake quit the club to become the chairman of relegated Chatham Town, who will be playing in the Southern Counties East Football League Premier Division next season.

Gravesham Borough are preparing for their second season hiring Chatham Town's Maidstone Road ground.

"I'm delighted to have got the job at Gravesham Borough," said Tompkins.

"It's a foot in the right direction towards, hopefully, a long path in management and I'm delighted to have got the position at such a great club.

"The facilities are fantastic at Chatham Town so I'm very happy.

"I played a lot of years' in this League so it feels like I've returned home.

"Next season is massive for me after such a successful year at Otford in my first year but this League has fantastic teams, club's and great people.

"I'm realistic and I want to bring the club as high as I can. People who know me know I won't sit back and I will get the boys to fight for their shirt every game.

"If you get the discipline and the dressing room right, the rest follows."

Tompkins' assistant manager Jimmy Matthews is following him to Gravesham Borough.

He said: "After one year at Otford, I'm so happy with the amount of support people have shown me and helped me a long the way.

"I received a lot of pointers and tips and everyone needs that because no one is perfect. I'm so glad that I got noticed and really I would like to say a massive thank you to Otford and my assistant Jimmy Matthews. Without them this year would not be happening.

"Otford are a fantastic club and are really nice people. I hope I've helped them like they have me and they can push on as a club and be a success in the future."

Tompkins is still to complete his management team, ahead of the new season, which kicks off on Saturday, 5 August 2017.

He said: "I am currently speaking on the phone every day since the appointment trying to get players' in that fit my plans and way of playing. I can't say who will be coming but I will have a good side that will compete every week, but the signings will be announced nearer to the start of the season.

"My management team will be James Matthews. There will be a goal keeper coach and a coach coming on board but again until we have sat down and spoken I can't say nothing on that part. The club are looking for a physio though so anyone interested please get in contact.

"I look forward to a good year and we will work hard during pre-season training. I want a strong, fit side so we have to push ourselves to get there. I also look forward to seeing some friends and previous clubs this season and I hope for a great year all round."

Meanwhile, Mike Langston, has left Southern Counties East Premier Division side Rochester United, where he was assistant manager.