Glebe 2-1 Sutton Athletic - All the boys have said they want to come with us to Holmesdale, says cup double winning boss Simon Copley
Saturday 07th May 2016
Glebe

2 – 1

Sutton Athletic

Location
Holm Park, St Peters Close, Queenborough Road, Halfway, Sheerness, Kent ME12 3BD
Kickoff
07/05/2016 15:00
GLEBE 2-1 SUTTON ATHLETIC
(after extra time)
Kent Invicta League Challenge Trophy Final
Saturday 7th May 2016
Stephen McCartney reports from Holm Park

GLEBE manager Simon Copley and his assistant manager Ian Varley were appointed as Holmesdale's new management team after guiding Glebe to a cup double.
The pair agreed with chairman Rocky McMillan that they would take charge of their last league game and their two cup finals despite knowing that they would not be in charge of the Chislehurst based club after finishing their Pain & Glory Sports Kent Invicta League campaign in third-place, as Sheppey United and champions Bearsted were promoted into the Southern Counties East Football League top-flight.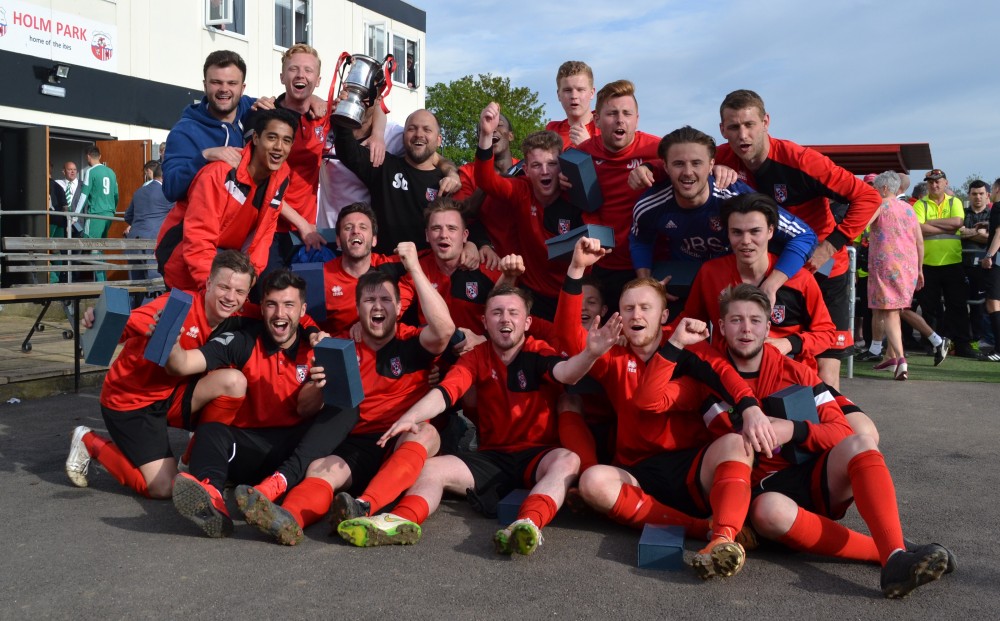 CUP DOUBLE: Glebe celebrate winning the Kent Invicta League Challenge Trophy despite manager Simon Copley and his assistant manager Ian Varley being axed before guilding the Chislehurst based club to a cup double.
Photo: Alan Coomes

Glebe claimed the London Senior Trophy for the first time when they comfortably defeated Tooting Bec 4-1 in Enfield during midweek.

But they needed extra-time to beat fourth-placed finishers Sutton Athletic to put the Kent Invicta League Challenge Trophy in the cabinet.

Sutton Athletic took a tenth minute lead through Jonny Murray's sublime curling shot into the far corner, the left-winger scoring his 24th goal of the season.

But they parked the bus as soon as central defender Chris Mirrlees was sent-off for a professional foul just six minutes later.

It was inevitable that a poor game would go into extra time and James Alderman drilled in his 17th goal of the season as Glebe forced a late equaliser.

Glebe won it with arguably the best goal in the Kent Invicta League's five-year history, as striker Ryan Golding came off the bench to produce a world-class finish, hitting an overhead kick straight into the corner inside the second period of extra-time.

Copley and Varley were to lift the silverware together as Copley's 32-month stay at the club came to an end with a bitter sweet double cup victory.

"It sounds good, doesn't it?" said Copley afterwards. "It's not Simon Copley's cup double winner, it's Simon Copley and his players double winners so I'm pleased for them, nothing to do with me, I'm pleased for them."

Sutton Athletic manager Ben Young has guided the Hextable-based club to a fourth-placed finish and cup final heartbreak.

He said: "Gutted! I thought we were the better team, maybe we didn't have the ball but we were the better team that wanted it but if I'm honest Glebe got away with that!

"We was in control and all of a sudden we had a man sent off and it kind of dictated the game. Our discipline and our work-rate was unbelievable and we broke with purpose. It was just unfortunate we're on the end of a 2-1 defeat today."

A sun-kissed crowd of 173 watched the Final at Sheppey United's impressive Holm Park ground.

The first real chance went Glebe's way when Jaie Nuttall's ball over the top released recalled striker Jamie Williams through on goal down the right but his angled drive was saved by Dean James, smothering the ball low to his right.

"We decided to play Jamie and Danny (Gannon) to give us a little bit of pace up top and they're quite good at getting in behind and off the shoulder and making some runs," said Copley.

"They always get shots on target, whether they get you as many goals as you'd like is difficult for them because we keep moving the front four around. It was a good effort and the keeper made the save."

Young added: "He had a little snatch shot, it was a comfortable save from Dean. He can deal with them all day long anyway, so it's not a problem."

But Sutton Athletic were to draw first blood by taking the lead with a quality finish just 33 seconds later.

Ben Williams played a sublime pass which cut open Jordan Clark and Carson Dennis and Murray bent a brilliant right-footed shot around Alfie George into the far corner of the net from inside the left-hand side of the penalty area.

"We talked about pressing high, the boys done that well. We said we could expose them at that. They're quite weak at the back," said Young.

"A lovely ball through from Ben Williams and Jonny Murray's took it first time and bent it around the corner. I was screaming cross it but he proved me wrong and stuck it in, so yes happy days.

"He's had a great season. He's one of our new players. He can beat players, he can go either side and cross and score and that's what you want from him."

Copley said: "It was a big mistake by us. It was a good finish from the lad. I'm not taking anything away, it's a great finish from the lad but it's a curled pass. He's had time to put curl on the ball and put it between our right-back and right centre half and why we're so separate I don't know. I can't portion blame because my lads are good honest lads and it's unfair to say that's the reason why they scored but I think we could've defended it better."

Any chance of Sutton Athletic walking away with the silverware were damaged when Mirrlees was shown a red-card by referee Daniel Doyle after bringing down Danny Gannon after a poor clearance by keeper James.

James made amends, however, as he dived to his left to tip Nuttall's resulting 25-yard free-kick against the post.

Young said: "It's not Chrissy's fault if I'm honest. I think he'd would've been through on goal and scored. I spoke to him at half time he said he was wrong footed and it came from our own mistake, a rubbish kick and they've capitalised and after that it kind of killed the game for us really."

On the resulting free-kick, Young added: "Great save! He's got us out of trouble there again. That came from our mistake but he's done well and made a great save so I'm happy with that."

Copley said: "It wasn't a great game to be fair. They had a man sent off after 16 minutes. I think it was the right decision to send him off considering he was the last man and he was restricting our player getting a clean shot on goal.

"The goalkeeper made a mistake but it actually worked against us because they did very well at being organised. They've got a very good team spirit Sutton so they worked really hard getting behind the ball and they've got a get-out ball up top.

"I was really frustrated with us. We didn't do anything for at least 60-70 minutes! It looked like we had the same number of players as them and we didn't capitalise on it but bit-by-bit they got a bit tired and we moved things around and we started getting a bit of success."

Reflecting on the resulting free-kick, Copley added: "If that goes in, all off a sudden our tails are up a little bit."

Sutton Athletic responded by moving central midfielder Daniel Gunner into left-back and parked the bus – but they created the next chance of the game in the 31st minute.

Right-back Luke Newman played the ball into Arlie Desagnes' feet, who trapped the ball well before setting up Frazer Walker, the winger's right-footed drive from 20-yards bringing a comfortable save from Alfie George.

Glebe's set-piece specialist Nuttall bent his right-footed free-kick around the four-man wall but the ball bounced into James' hands for a comfortable save.

Glebe created the last chance of the first half as skipper Daniel Palfrey pumped forward another long ball into the box and Nuttall's towering header was beaten down by James' outstretched left hand.

Both managers were asked their thoughts at the break.

Copley said: "Ian (Varley) tore into them before I had time to say anything. He was full northern twang going at it telling them it weren't good enough!

"I got amongst them and said 'is that how we bow out as a group?' They've got one less player which means they have to work a bit harder. They tired. There's going to be gaps. It still wasn't brilliant but it was better than the first half."

Young added: "I just said they were fantastic! They worked every so hard. They kept their shape, they stopped them from playing. All Glebe could do was try to kick it over the top. I thought we dealt with them very comfortably. Again, we broke and we were unlucky ourselves."

Sutton Athletic were to be denied a second goal after only 122 seconds into the second half.

Man-of-the-match, central defender Sean Heather played the ball up to Walker, who played a one-two with Desagnes and his left-footed hooked shot was blocked by George's left leg.

Young said: "Either side that goes in! Again that kind of sums up our luck today. A nice bit of football, a nice flick by Arlie. Unfortunately, Frazer's hit's the keeper. It's just one of these things."

Copley added: "They put it over the top and Alfie's stayed on his line and our centre halves were looking at each other, no communication and the lad's nipped in so I'm glad he saved it but equally they've made the mistakes by letting him in, in the first place."

Glebe striker Gannon went close when he turned his man on the edge of the penalty area and steered his shot just past the right-hand post.

Heather made his first goal-line clearance when he cleared Jamie Williams' shot off the line ten minutes into the second half.

Glebe substitute winger Ismail Ismail was played in behind the Sutton defence and steered his shot past the advancing James and the ball seemed destined to nestle into the back of the net but Heather showed enough desire to get back on to his goal-line to hook the ball off the line and behind for a corner on the hour-mark.

Young said: "We were expecting them to put the pressure on, which they did. Our boys were getting tired and space and gaps would open up for them and it did. He anticipated and he's done well and cleared it off the line.

"Our boys have had a fantastic season and if I'm honest they (my players) deserved to win that today but it doesn't always work that way. They wanted it. They showed resilience. They showed that we're capable of competing."

Copley admitted his side failed to show the same desire as Sutton players, especially Heather.

"I thought we rode our luck. I know a couple of their guys and I'm shaking his hands and they said 'you didn't deserve that!'. I thought ok, you can say it, if you want to say it but I wouldn't say it myself but I understand it because I don't think we deserved it.

"They showed better spirit with ten men so I think they deserved more than what they got. I think they deserved something. I'm not saying they deserved to win but they had more spirit than us with ten men so they deserved more than what they got. We didn't use the extra man well."

Golding knocked the ball down for Ross Morley, but the unmarked midfielder drilled his right-footed shot over the bar from 25-yards.

Ismail then hit a first time left-footed drive towards the bottom left-hand corner from 20-yards, but highly-rated James got down low to his right to make a vital save.

Sutton Athletic were clearly putting men behind the ball and created a rare chance when Gunner hit a speculative left-footed free-kick into George's hands in the 66th minute.

Sutton Athletic keeper James proved that he should be playing at a higher level when he pulled off a brilliant diving save.

Morley pumped a long ball into Sutton's box and Golding got away with a handball before looping his left-footed shot on the turn towards the top right-hand corner, which James flung high to his left to tip over the bar. Brilliant save!

"It was a great save, it was a great save," said Copley.

"I'm on the pitch at that point. That's a great save. He's tipped it over. I don't think he saw it until the last minute but it was a great save from the keeper. Ryan hasn't done a lot wrong."

Young said: "Great save from Dean. Again we gave them too much time in the box to do it. I believe it's handball. Our player's kicked the ball and it's struck his hand. It bounced to him and he's got a shot in there. We'd have been disappointed if that had gone in!"

Alderman put in the corner from the right and another Glebe chance went begging as Ismail planted his left-footed drive just past the left-hand post from 20-yards.

Young added: "We looked very comfortable. They didn't have many ideas. We were dealing with it. We looked well on the break and we was very unlucky.

"The boys made me proud today, what they've done."

Ismail penetrated the left-hand side and put in a cross but Alderman sliced his shot just past the right-hand post from the edge of the Sutton penalty area.

The Sutton Athletic manager made a tactical error when he took off pacy Walker and brought on Aiden Pursglove, who held the ball up well but didn't have the same pace as the player he replaced.

Glebe deservedly equalised with seven minutes of normal time remaining.

Palfrey launched a long throw into the penalty area, Gannon laid the ball into Alderman's path and he drilled his right-footed shot past James' despairing dive to his left, the ball bouncing in off the foot of the right-hand post.

"To be honest because of our circumstance because we're in our second cup final, we were told we're not having our jobs two weeks ago so I've been so relaxed for these two cup finals," said Copley.

"To me it's like I'm babysitting someone else's baby at the moment because after departing with Rocky and that was a mutual decision, it's hard for me to worry too much about what Glebe does if you like but for my boys I'm prepared to say if we lose the game so what? We've had a good crack with it this season.

"Fortunately for me Mr Alderman comes up trumps and spanks an absolute worldy into the corner. It's a good finish from him."

Young added: "Again, it was from a long throw. We didn't deal with it but again ten men for that amount of time, the boys are going to get tired and switch off.

"A great strike from him but if we had 11 men someone, I think, would've pressed enough to get out there and stop him to get the strike."

Sutton Athletic defended for their lives and the game went into extra-time.

Both managers were then asked their thoughts going into the extra period.

Young said: "We just said keep doing what we're doing, be tight, get it forward. We created more chances again.

"We had a good chat, the boys were so up for it and pumped and said 'let's go and win this!'

"I can't blame them really, they were very good today."

Copley admitted: "My thoughts at 90 were my wife's waiting for me at a party with my children (in Dartford) – she said 'don't be late!' and I'm thinking I'm in trouble when I get in but I better win so I can justify getting home late and that's my god honest thoughts when we're in extra-time."

Glebe created the first chance of extra-time after only 48 seconds when Jamie Williams' first time drive from 30-yards bounced into James' hands for a comfortable save after James Day's pass.

Jamie Williams then latched onto Gannon's cross and hit another first time shot from 22-yards which was caught by James, stepping to his left.

Palfrey pumped a long free-kick into the penalty area and Gannon looped his header over the Sutton Athletic bar from 12-yards.

Alderman went close too, seeing his right-footed free-kick from 19-yards dip just over the crossbar as Glebe started extra-time on the front foot.

Copley said: "He's whipped it and I said you've got to hit the target! He's meant to hit the target, he's not meant to miss!

"It's hard, it's a long day, these boys are tired. It's that little bit of refining when you approach the ball and he's a bit unfortunate."

But Sutton Athletic striker Desagnes went agonisingly close to scoring his 43rd goal of the season with a brilliant piece of skill in the 101st minute.

Pursglove clipped the ball over the top of Palfrey, Desagnes used his pace to shrug past the Glebe left-back. He hooked the ball over his marker's head and cracked a stunning dipping volley across the keeper and sailing just past the far post on the angle from 15-yards, holding his head in his hands in despair.

Young said: "He said it was inches (wide). He's had a fantastic season. Aiden's showed a lovely bit of skill, he's got that ability about him. A lovely pass, a great turn, held the ball up well and picked out Arlie.

"Arlie's been superb all season. So unlucky! I thought it was in. I was up off running but that's the fine margins. That goes in it's a different story. Credit to the two, it was really good.

"Aiden and Arlie were working well. We kept going into Aiden. He found Arlie in space. They were causing trouble. The boys were getting tired and it was taking its toll and they was unlucky with that."

Copley added: "I said to the boys, I've known Aiden a while. No disrespect to Aiden, he's not as mobile as he used to be but he's good with his feet and he'll hold the ball up well. I said we need to screen that because he'll get the ball to feel, he'll turn and feed the other one. If you stop him doing that they haven't really got a threat from a counter-attack and we didn't do that. He's done that twice and we got let off!"

Glebe should have been celebrating the winner when Gannon cut the ball back for Alderman to place his first time shot just past the foot of the left-hand post, holding his head in his hands in despair also.

"Gannon's set him again and he's just smashed it, he's put it wide. I'm thinking we've won the game then. They were getting more and more tired and at some point something had to give. I'm not saying we deserved it but we pushed enough to get something."

But Golding produced a world-class goal to seal a cup double with six minutes of extra-time remaining.
Palfrey launched a long throw into the Sutton Athletic penalty area, Golding had his back to goal and used his right-boot to acrobatically launch a bicycle kick over his shoulder, which screamed across goal into the far corner from the corner of the six-yard box.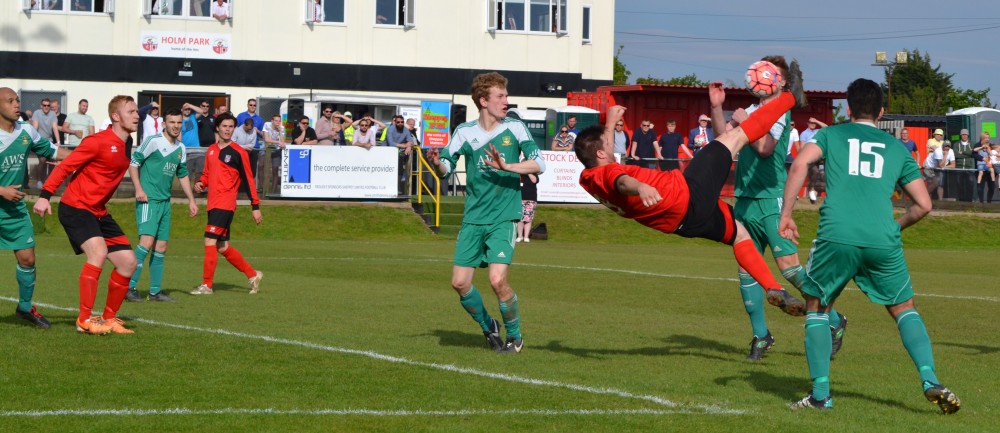 PARTING GIFT: Striker Ryan Golding produced a moment of world-class quality by scoring the extra-time winner as Glebe win the Kent Invicta League Challenge Trophy
Photo: Alan Coomes

It was a goal that Copley would see on a regular basis on the training pitches at Premier League Arsenal, where he coaches their under 11s.

"I spoke to them all and said we've got 15 minutes left together as a group and just turn it into the box. We used Golding and a little bit of power. We're getting knock downs, they're getting tired, just keep turning the ball in.

"I wasn't expecting what they created but what a goal!

"I don't think I can really need to say anything! I'm chuffed to bits for Ryan. He's got his 30th goal in a cup final on Tuesday when he made a beeline for me and jumped all over me and then he's made a beeline for me again. I'm thinking 'what a goal, what a goal!' and I'm thinking he's running towards me again!

"But that was a great finish. That was a great finish at any level. Chest, set himself up, do the bicycle, put it in the corner. It's just a great finish!

"He gets abuse for his weight and his size and numerous other things. That is why he ran in front of the other bench rubbing his stomach.

"That (goal is) class at any level, that's class and I'm glad it was him that scored it because he's been with me a long time."

Young added: "Good finish. I think we probably could've probably dealt with it. We know what he's about, he's strong and he wants to get behind it. We could've doubled up on him but when you're a man down and you're tired people switched off so I can't knock them, they were unlucky."

Sutton Athletic had one final chance and Gunner was given the chance to become his club's hero when faced with a 30-yard free-kick.

Unfortunately, he drove his free-kick into the wall and smacked the rebound, a left-footed drive through the crowd and past the far post.

Inevitably Copley and Varley lifted the silverware together – a nice touch from Palfrey.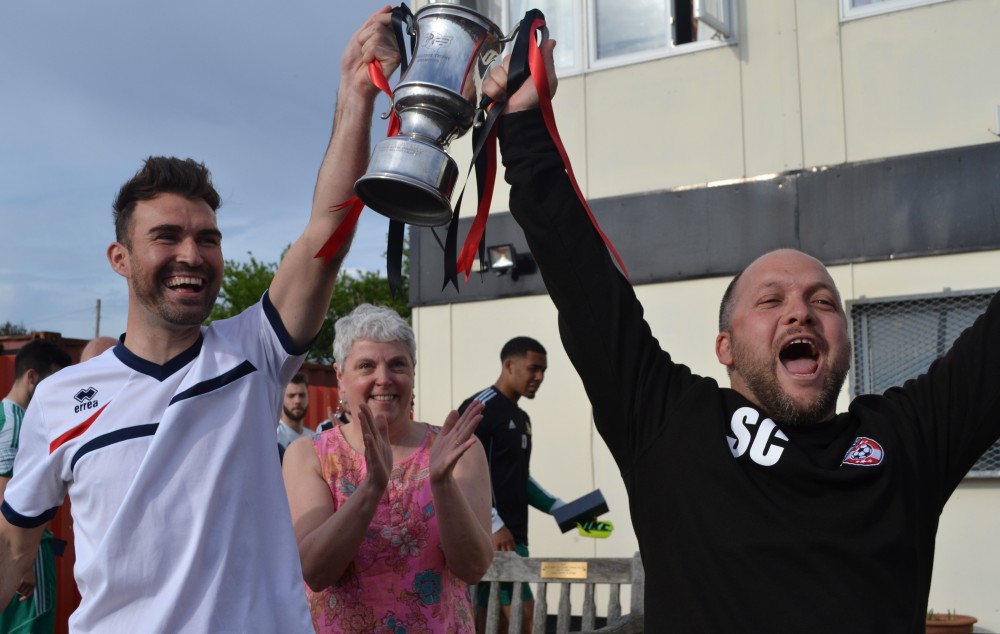 HOLMESDALE BOUND: Ian Varley and Simon Copley were unveiled as relegated Holmesdale's new management team after guiding Glebe to a cup double despite being axed with three games left.
Photo: Alan Coomes

"The boys made a suggestion, Palfrey made a suggestion - you do it! It's kind of wraps up a bizarre season where I think 99 out of 100 other chairman would want their team to win two trophies and finish third and keep that management team long-term.

"Our chairman has decided his priority was promotion and he's made changes and us two lifting the trophy was me and Ian and our players signing out into a little bit of style and a little bit of loyalty and a bit of togetherness. It was their suggestion. I won't say quite moving but it was quite a nice touch for them to do that for us."

Once the press conference was over, Copley took a call from Holmesdale – bottom-placed finishers in the Southern Counties East Football League – and the Bromley based club unveiled the news on their Twitter account at 18:40.

"All the boys have said they want to come with us. I know Rocky has spoken to the boys individually but they've explained to me at the end of Tuesday's cup final and now in the dressing room they want to stay with us and go on to bigger and better things.

"But I'm also not naïve to believe that when other clubs will look at that they know we're departing, they'll see some of the names we've got playing for us and they might come knocking and say here's £100 to come and play for us.

"Some of those players may have to do that because they've got young families. I won't blame anyone but if we can keep this group together with a team they're going to with a chairman who wants us to be there and wants us to have a go, I think we'll be alright."

Young added he wants to have a crack at the title next season.

He said: "We should've finished higher up, we should've finished above Glebe but our thoughts turned to this and we switched off.

"I've learnt a lot about our players. We want to push on and do better. They know what they need to do. We will be a good side. We'll recruit one or two players. I can't knock them. They've given me everything this season and I'm a very proud manager today.

"Next season we want to try to go and win the league. We'll see what happens. We've got some very good players, they're all young so they've learnt from this so hopefully we can go from there."

Young faces a fight to keep keeper James and striker Desagnes, who should be playing at a higher level next season on this season's performances.

On Desagnes, Young said: "There will be a few clubs looking at him. We hope to keep him through the summer. He's still got a lot to learn. I think he's at the right club for him. I think he'll do even better and push on if he stays with us but I can't begrudge him if he moves on because he's a young, hungry footballer who wants to do well. I will be trying to keep him."

Glebe: Alfie George, Jordan Clark (Ismail Ismail 46), Daniel Palfrey, Jack Hooper, Carson Dennis, James Day, Ross Morley, Jaie Nuttall (Ryan Golding 46), James Alderman, Danny Gannon, Jamie Williams (Jamie Rawsthorne 99).
Subs: Cameron Reardon, Connor Charlton

Goals: James Alderman 83, Ryan Golding 114

Booked: Jamie Williams 87, Jack Hooper 103

Sutton Athletic: Dean James, Luke Newman, Tom Hammond, Will Roomes, Chris Mirrlees, Sean Heather, Jonny Murray (Chris Page 66), Ben Williams, Arlie Desagnes, Daniel Gunner, Frazer Walker (Aiden Pursglove 81).
Subs: Darren Wheeler, Danny Ball, Dan Mills

Goal: Jonny Murray 10

Booked: Luke Newman 70, Chris Page 80, Ben Williams 96, Aiden Pursglove 100

Sent off: Chris Mirrlees 16

Attendance: 173
Referee: Mr Daniel Doyle (Walderslade)
Assistants: Ms Kirsty Dowle (Canterbury) & Mr Dan Friar (Rainham)
Fourth Official: Mr Anthony Andrews (Erith)